You can read Part 1 of my Season Review on Aprilia and KTM here, and then Part 2 on Honda and Suzuki here.
In Part 3 we talk about Yamaha, a team that found some salvation but may have inadvertently papered over some cracks in the process. And finally, the constructor's champs in Ducati, the team with the most obvious of glaring weaknesses that just… didn't seem to matter. I told you this was a weird season, didn't I?
---
Yamaha – The Fabio Bandaid
Lin Jarvis is sleeping well. Because for the first time in six years, they won a MotoGP Championship. (And just about everything else that mattered this year – World Superbike, British Superbike, MotoAmerica and Japanese Superbike Championships) That in itself feels like a dirty word given their last champion was.. *checks notes*… Jorge Lorenzo? Phew. I feel old. But Lin Jarvis is definitely sleeping better at night because of Fabio Quartararo, who single-handedly spared the factory's blushes, and probably a lot of jobs too.
Fabio Quartararo was fantastic. Simple as that. It was hard to be massively critical of him last season, because on one hand he'd won three races and taken a big leap forward. Ultimately, we were still talking about a 21-year old finding his way in just his second year of the top flight. Let's not forget, his entire top flight career was on a punt by Petronas. On the other hand, he collapsed at the end of the season when he had one hand on the title and cleared the way for Joan Mir and Franco Morbidelli to take over. But Fabio was open and honest with his own shortcomings, hired a sports psychologist and then proceeded to beat the field to a pulp for two thirds of the season. It's hard not to admire someone using mental health and its potential to channel it into making himself a better rider and person.
And I think Fabio will be the Gen Z Superstar that MotoGP's been waiting for. That title win at Misano 2 was the first time I looked at a now 28-year old Marc Marquez in the paddock and thought, "He looks old". Can't say I'm the biggest fan of the augmented reality dancing devil and the use of the "Floss", but I'm 29 and he's not made for me. He'll be made for the Fortnite crowd, the younger motorsport fans piling on in droves. The French adore him. Kylian Mbappe, Paris Saint-Germain football club, Jean Todt, hell, even President Macron congratulated him as France's first ever top-flight champ. He's a disgustingly humble, likeable, energetic young man and I can't wait to see his reception when 100,000+ French fans come down for Le Mans next May.
On the track, he had double digit podiums, 5 wins, and only twice outside of the Top 8 all season. Jerez, where he suffered compartment syndrome in the middle of a race, and the other at Portimao after the title was already won. He maximised days where Yamaha had clear weaknesses, like a wet Le Mans podium, or 7th when all hell broke loose at Styria. It wasn't all plain sailing. He really should have been DQ'ed at Catalunya for ripping his chest protector out, and he definitely tailed off a little bit at the end of the season. But going from Row 5 to 4th at Misano 2 to seal the title was a reminder that he's just the best all-round bike rider in the world today. Elite qualifier, consistent in race-trim, mitigating weaknesses. It's about all you can ask for in a modern-day rider.
…And yet, Fabio almost had to be perfect. Because looking at the rest of Yamaha, things were bleak. Maverick Vinales had for a lack of a better set of words, a long-term mental breakdown that almost derailed his entire career. It's hard to say directly how much Fabio's early winning was responsible for that. But by the Summer Break; he'd already ran at the back of the field on purpose for "testing" in Germany, lashed out at the team after suggestions to copy Fabio's setup, cancelled the final year of his Yamaha contract, and then over-revved during the Austrian GP on purpose in frustration. That led to a sacking, and shockwaves within Motorsport.
Yamaha absolutely made the right decision to sack Maverick. If you can't trust someone with your multi-million pound bike, they can't race for you. Period. But I also said that doing so would cost them any chance of the Triple Crown, and it did. Frankie Morbidelli's season was essentially a write-off via a combination of knee surgery to repair a completely destroyed set of collateral ligaments, and starting the season on a two-year old Yamaha for "budgetary reasons" citing COVID-19. I always thought it was bullshit, and Yamaha were hedging their bets in case the 2019 Yamaha was still rider-friendly enough to challenge like it did in 2020. And it failed.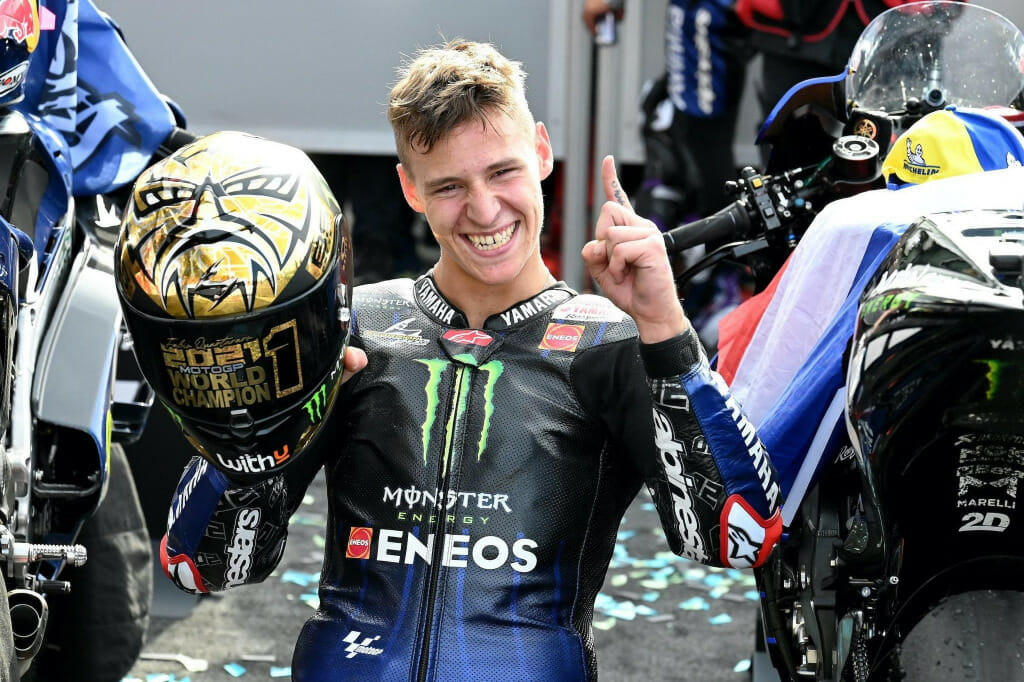 The reshuffle led to nothing in terms of production. Frankie came back far from 100% and way down the order. Cal Crutchlow filled in and rode like a dinged-up part-time test rider does. And Valentino Rossi was just… there. His finishing position in GP's was only a single-digit once, despite being on the same bike as Fabio. But let's be real here, no-one gave a shit. His leaving party was exactly what we thought it was. The sport's greatest rider and cultural icon, saying goodbye, the whole field thanking the man who made their sport relevant in the first place. There'll be a lot more content on Valentino Rossi on Motorsport101 soon, but for now, let me just say… Vale, it's been an honour and privilege. Go get Le Mans.
And by the time Andrea Dovizioso came about, it was almost essentially a warm-up for 2022, and that's where I'm concerned regarding Yamaha most.
Fabio sits on a house of cards. He's brilliant. Everything else has severe question marks. This is still a bike with a fundamental flaw, in that its lack of power means it can be a nightmare to pass more powerful bikes without potentially overheating the front tyre. Yamaha can't seem to get any more power out of the M1 at this point. Honestly, having Dovi on board could be big in terms of feedback. He is one of the most versatile riders we've ever seen in GP, and if someone could steer a factory in the right direction, it's him.
Frankie Morbidelli needs a full off-season to rest that knee and we just don't know what he's going to be when he comes back. And the satellite partnership with the new WithU RNF team (the artists formerly known as Petronas), is only a 1-year partnership, and their riders are Dovi in his Age 36 season, and Darryn Binder, doing the double class jump. A rider with such a poor reputation of dive bombing riders, the sport's riders were actively discussing a Super License scheme to avoid a repeat of his promotion. Ouch.
At least Yamaha seems to finally have a greater idea on developing riders from lower classes via a partnership with the VR46 team in Moto2. Wonder how much of that was to do with them missing out on Raul Fernandez on the negotiating table. Because you look at their main competition and how Ducati have more depth than anyone, and they can't afford to lose out in that arms race again. Especially when Fabio Quartararo is in a contract year for 2022 and already hinting that he'll look elsewhere if Yamaha can't make gains.
Remember, this was Yamaha's first Championship in six years and it still has a lot of its house NOT in order. This will be an even more important year for Jarvis and crew as a massive silly season looms over the horizon.
---
Ducati – Strength In Numbers
Ducati are such an easy team to criticise on paper. We all know how this works. Build a 300bhp+ Exocet missile of a machine that can crack 225mph in open air, but can't turn to save its life. The media leaned towards Andrea Dovizioso when he walked away from the negotiating table in 2020, mentioning the same old problems and the bizarre relationship between him and Luigi Dall'Igna. And yet… despite losing their best rider since Stoner last year, this new Ducati is… working?
It's amazing how while all the contenders around Ducati have tried ever so hard to make gains, Ducati's stuck to its principles, focused on rider quality and spreading their machines out, and they themselves have become "Ol' Reliable". The all-rounder. The highest floor with the ceiling that seemingly only one rider can reach. The biggest thing that stopped Andrea Dovizioso from beating Marc Marquez over a season was that on bad days, Marc could still finish 2nd. Dovi's bad days were the 6th and 7th places. That just doesn't happen anymore. Part of that is that the bike is definitely better. The other part of it is Ducati now has something no other manufacturer has. DEPTH.
Enea Bastianini is Ducati's 5th option. FIFTH OPTION. And he finished on the podium twice this year. I'm not sure the mainstream will ever make MotoGP's Manufacturers Championship a thing (It barely is in the far more popular F1), but Ducati has essentially built its operations with this in mind. I mean, look at this for a depth chart. If you don't know, a depth chart is where you lay out the order of strength for people in one position. Very common in American Sports. See below, and I've even added the other factories for comparison:
Ducati: Bagnaia, Miller, Zarco, Martin, Bastianini
Honda: M.Marquez, P.Espargaro, Nakagami, A.Marquez
Suzuki: Mir, Rins
Yamaha: Quartararo, Morbidelli, Dovizioso, D.Binder
KTM: B.Binder, Oliviera, Gardner, Fernandez
Aprilia: A.Espargaro, Vinales
The #4 on the Ducati list won a GP this year as a rookie. The #3 was a title contender for the first half of the season. The #2 won multiple races this year. And Francesco Bagnaia… Man, what a talent.
If you said to me right now that Pecco was the fastest man in the world, I wouldn't argue with you. It was like he'd seen Krillin die and he became Super Saiyan over the final third of 2021. He finally got over the hump of being winless, and then taking four of the final six race wins (And he really should have had five given Misano 2's ending). Had 5 pole positions in a row to close things out. And he even left a stark warning after the Jerez test; "Ducati have improved on the perfect bike". Bagnaia could be like Stoner and Dovi before, the rider who pulls the sacred sword out of Ducati's stone. He who can make it turn. It's an X-Factor that made him stand out when every other Ducati contender tripped over themselves at some point.
Jack Miller for example, is a weird one. He finally won his first GP in nearly five years. Then went back-to-back and took Le Mans. Looking back… It might have been a bit of a catfish. Both those races, you could make a case, he wasn't the best man on the day. Jerez had Fabio Quartararo suffer arm pump mid-race and fade badly. Le Mans, we all kinda know deep down, Marc Marquez looked the quicker out there.
Which is to say, Miller's form was all over the place in 2021. Sure, five podiums and a couple of wins are great, 4th in the Championship is decent, but 4 DNF's is a sticking point. And it was the timing of the crashes that really stung. Assen and Austria back-to-back essentially ended his title campaign. It all may boil down to perception here. Is Jack Miller just a fun upper-midfielder who can occasionally win? Or is he someone who can lead a factory team to a title? Where that perception lies, will determine how good his season was, at least to me.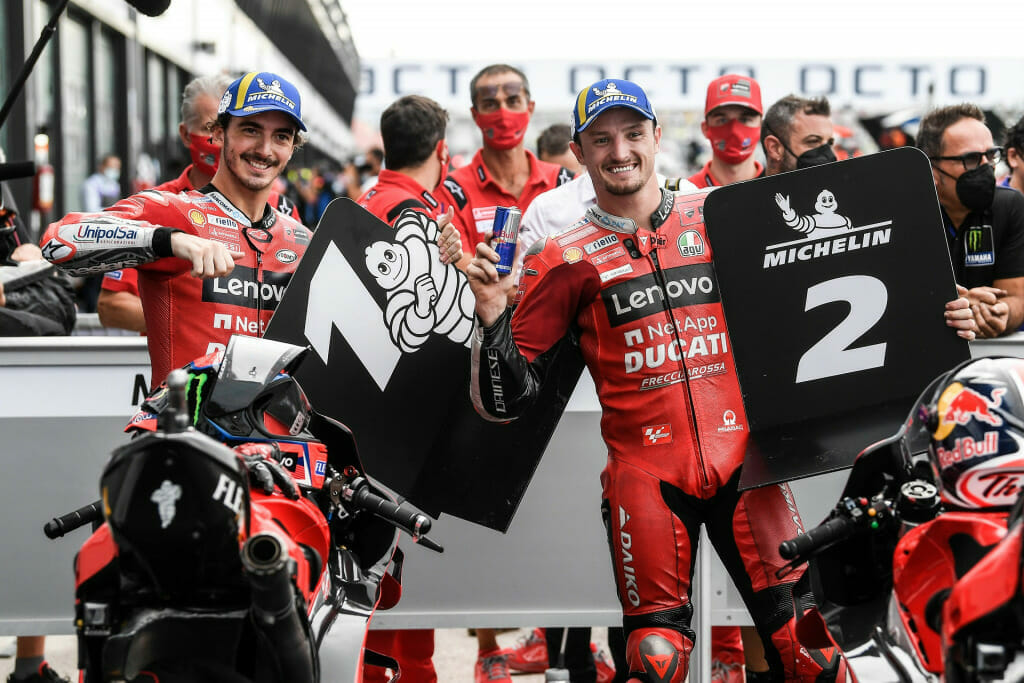 The Pramac boys were superb backups to have for Ducati. Johann Zarco had a decent argument to be on the factory Ducati over Bagnaia a year ago, and had his moments. He must be really sick and tired of finishing 2nd – Eight times now in his top-flight career without winning. But for a good half the season he was runner-up in the Championship via four second places in the first seven rounds. But then a miserable run of results after the break from Austria onwards where he went DNF, 11th, 17th, 12th, DNF. It completely destroyed any chance of a title challenge. 5th overall is still his best season in MotoGP but it continues to frustrate watching Zarco because you know he's better than what he is, and 2021 was no exception.
Also, look at KTM's depth chart again – Remember how I said they had the closest we've seen to Ducati for depth? Don't forget, they let Jorge Martin walk and he might be a more talented rider than anything they have in their own backyard right now. This kid is a monster who validated everything we knew about him as far back as his Moto3 days. Break. Neck. Pace. Out the ass. A pole position and a podium in his 2nd ever race in the class? That's Pedrosa, Lorenzo and Marquez levels of "hitting the ground running".
It's a darn shame he missed four rounds of the season after a nasty wreck in Portimao 1 put him in the hospital. But he bounced back and then won in Styria holding off the reigning World Champion. At the end of the season, he finished 2nd to Bagnaia despite pulling an all-nighter dancing around his bathroom toilet after suffering food poisoning. Yeeted out at Silverstone by Marquez too. Like with any rookie at this level, there are peaks and valleys. But the peaks are insanely high.
Enea Bastianini in the Avinita deserves a shoutout. On a two-year old Ducati he closed out the season with six straight Top 10's including a pair of sensational podiums at Misano. Pace was so strong there you'd think he was a member of Rossi's academy. Looking forward to seeing what he can do on last year's title winning bike in 2022.
And that's the scariest part of Ducati, they're only growing further with yet more depth. The VR46 team and Gresini split next year adds Fabio Di Giannantonio and Marco Bezzecchi into the top flight, both were very solid competitors in Moto2. For Ducati, the game is strength in numbers, and no-one else can compete with them there. The question is, can all that depth and resources finally craft a rider that can win them their first riders title in 15 years? Francesco Bagnaia could be the one.
---
2021 was a fascinating MotoGP season. It was never going to be the sheer chaos of 2020, and that's okay. Because what 2021 did was show us what a post-Vale world would look like. There's still a dream scenario in 2022 where Marc Marquez, Fabio Quartararo, Francesco Bagnaia and Joan Mir – For me the four best riders in the world, could be on four different bikes fighting for the title. That is dream land. It's not unthinkable, and that prospect is salivating.
Some of my favourite moments of the year? Martin's Doha weekend. Johann Zarco and Brad Binder shocking the world by hitting 225mph on their bikes, obliterating speed records the world over. Brad Binder's unbelievable "hero" call in Austria to win on slicks in the pouring rain. Francesco Bagnaia beating Marc Marquez and Fabio Quartararo in dogfights within a week, his "Welcome to the big leagues" moment. Marc Marquez's emotional return to the winner's circle in Germany. And of course, Valentino Rossi's final goodbye in Valencia. In the lower classes – Remy Gardner and Raul Fernandez put on Moto2's greatest title fight in years, both displaying incredible skill. And the rise of Pedro Acosta had to be seen to be believed. Man won a race from the fucking pitlane after all.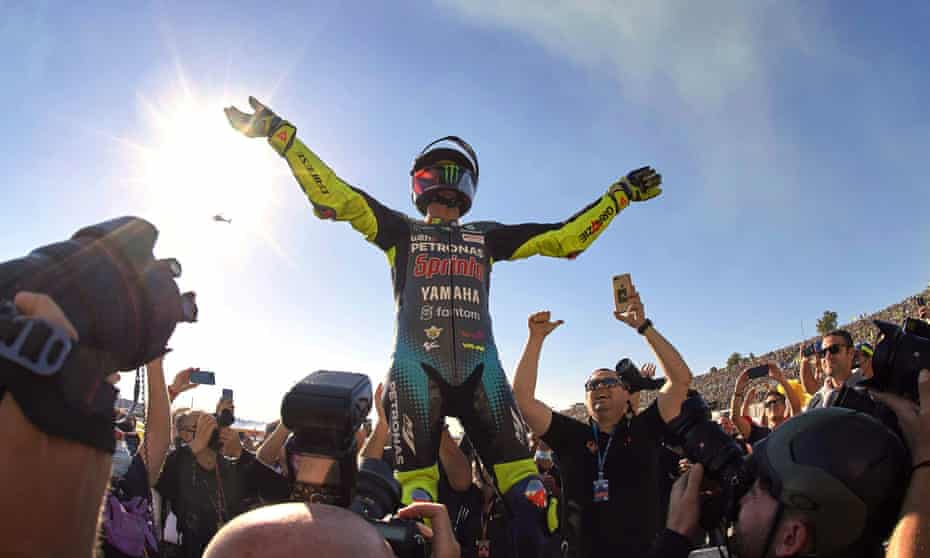 This season still had some incredible moments, even if it was a lot more straight-forward. And Dorna deserves praise for putting on two great seasons in the midst of the COVID-19 pandemic, no easy task at all.
I'm a little bit fearful as well that the sport following F1's land in wanting to expand is questionable. MotoGP is set for its biggest ever season in 2022. 21 races on a calendar exactly eight months long. The prospect of returning to Brazil in 2023 meaning we could be at 22 soon. Riders are going to get dinged up, the medium-level injuries will add up, and I'm not sure guys potentially riding through pain is a great look for the series.
And of course, the questionable state of the juniors after deciding to increase age limits. It was a horrible year for bike racing in general, with Jason Dupasquirer, Hugo Millan and Dean Berta Vinales passing away in various series, and difficult conversations still need to be had about the future of bike racing. I wrote about it in greater detail here, but long story short – Increasing the ages seems to be an accidental case of kicking the can down the road via damage control. When the real problem, could very well be the bikes themselves.
I'm wary into 2022, but MotoGP still continues to be one of, if not the best series to watch in Motorsport weekend by weekend and 2021 was no exception. Even if it left a lot more intriguing questions than answers. Hope you enjoyed the series, and these posts, as much as I did.