You can read Part 1 of my Season Review series on KTM and Aprilia, here.
In Part 2, we look at the two factories that still showed flashes of their past glory, but still had significant stumbling blocks in their seasons. Some more than others. The boys in blue at Suzuki, and what's left of the Repsol Honda factory team. Picking the bones out of all of this is going to be… tricky.
---
Honda – So, what about your year was good?
Positives… Erm… Phew… Marc Marquez still wins races? It almost sounds like a broken record at this point, because it's hard not to talk about Repsol Honda without talking about how lopsided it still is in MM93's favour.
Marc Marquez can take a hell of a lot away from 2021. He overcame an arm injury and the complications that came with that and STILL won three times (Once at a round that wasn't one of his anti-clockwise bankers), and as the year went on, looked more and more like his old self. And that includes his red-misty Silverstone "pass attempt" on Jorge Martin. 7th in the Championship having missed four rounds and was far from 100% in the rest is a heck of an achievement no matter which way you slice it.
Which is what makes his latest injury all the more frustrating. A re-emergence of his nerve damage in his eye from 2011 that cost him a shot at a Moto2 title, and potentially his whole career. We'll know more around Christmas time, but it's going to make most fans nervous. Marc has taken a lot of wear and tear in his still relatively short career. Four of the last five off-seasons he's had have been hampered by injuries, whether it be a broken arm, or a leg, and now this.
I don't care what you tell me, or how much yellow lives in your biking wardrobe, the sport is a better place with him in it. He is a phenom, for me, the greatest athlete in Motorsport today. He could be a vital piece for a 2022 title fight where the four best riders in the world are on four different machines. For his sake, and the sport's, I hope he'll be okay.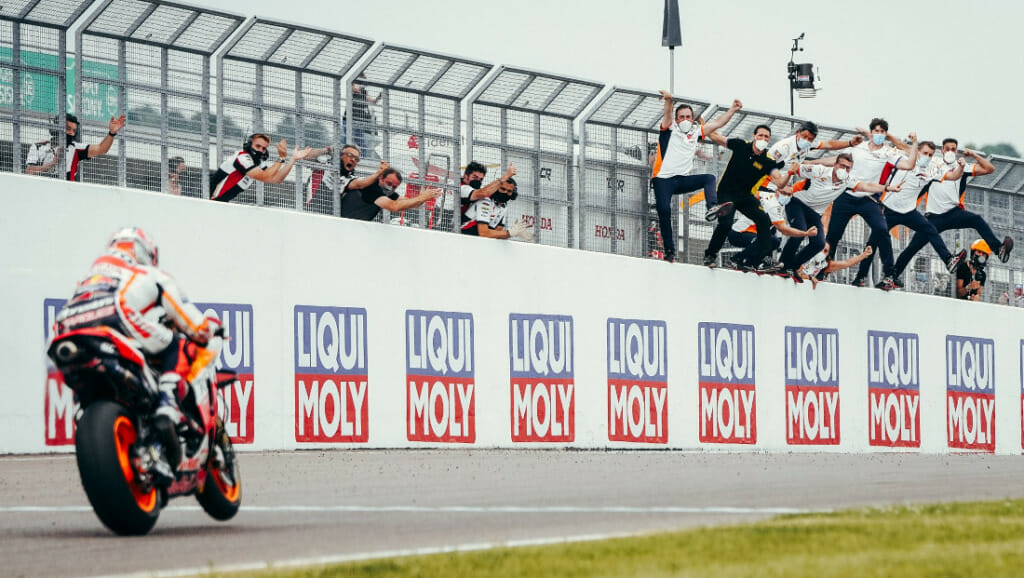 Which goes to show you how Honda needs to start thinking about the bigger picture more. Pol Espargaro was fools gold as a #2 rider. Seemingly brought in because of his physical riding style and tendency to make the most out of bad machinery ala 2019 KTM, but was… mediocre at best. It's hard to justify hopping on the wagon and being critical of the team when things were rough when you were only top Honda when Marquez failed to finish. He was certainly a tad better in the second half of the season though, so maybe there's some hope for 2022. But given Alberto Puig and how he treats his riders, he might already be on borrowed time.
LCR just straight-up went backwards. Taka Nakagami is a tragic case of what happens when you stop supporting a guy. Honda went all-in on him during Marquez's injury and he showed definite improvement. Was even an outside title contender when he missed a golden chance to win at Aragon. 2021 came along, Marc's back… and Taka got kicked to the curb. His worst season since his rookie year and not entirely his fault. Doesn't help that like Henry VIII, Honda's eyes may be wandering towards another suitor for the top flight in Moto2's Ai Ogura for 2023. A big season is needed for Taka next year.
Alex Marquez is still a total enigma to me. I think he still has way more upside than most of the grid, and Portimao, where he was knocking on the door of a podium out of nowhere, is the peak AM73 experience. Not there when he should be, suddenly competitive where he shouldn't. Unfortunately, he didn't do much to prove Puig wrong on the demotion to the LCR team. If anything, I want to see him on a different manufacturer to see what he can really do.
And that's Honda's problem, they only have one rider out of 4 that they can rely on, and for other reasons, he's not been reliable for two years now. Not since Dani Pedrosa's departure has anyone been consistently able to get anything out of the RC213. If Marc Marquez has already proven he can ride over any existing problems the Honda has, build the bike for everyone else and let MM93's talent make up the difference. Not to mention there's still rumours that Repsol might be leaving as title sponsor going into 2022.
So once again, I ask… What about Honda at the moment is good? Where's the promise? The riders seem much more optimistic about the 2022 revised Honda, given almost everything on it is new. But we still don't know how that will hold up until next March. Because otherwise it's leaning on Marquez's questionable health, and vibes. And that's not going to win them anything anymore.
---
Suzuki – Misdirection Perception
Suzuki missed the wagon in 2021. I think a part of that was losing team boss Davide Brivio to the Alpine F1 Team. They had a Championship-winning bike and narrowly missed out on the manufacturers title in 2020, despite only winning twice. Suzuki is still a high-floor rider's bike, with an abundance of rear grip and the ability to turn on a sixpence, but still lacking top end grunt and qualifying pace. It's a story as old as time by now, and it showed. And they decided to just… not develop the bike very much. It's the iconic line from the movie Dodgeball of: "It's a bold strategy Cotton, let's see if it pays off for them."
To put into perspective, Suzuki didn't have a holeshot device on the bike until the Summer Break. A device that Ducati invented at the end of the 2018 season. Alex Rins reckoned it was costing them as much as 0.3 seconds a lap. I don't know if it was fear of upsetting a winning formula, lack of resources, or just arrogance to think they could coast to the title when 2020 was a year of unpredictability and chaos. Because it's clear in 2021, the goal posts have been moved with Yamaha and Ducati making significant gains.
Joan Mir did his best out there, but I don't think he ever had the machine capable of defending his title. It showed when he made a series of aggressive, uncharacteristic pass attempts (ask Jack Miller), to try and make up for his bike's shortcomings. I know a lot of people were down on Mir for his Championship in 2020 with just one victory. But this season should be proof that he's not just a flash in the pan. It worked in 2020 because the series had no proven big hitter who was racking up the normal 5+ wins to take the title. When Fabio Quartararo ripped off 4 wins by Assen this year, Mir was never going to be the guy taking big swings to reign him in. And that's where he fell short. Mir still needs more qualifying pace and the ability to take the front more often, he cannot reasonably expect to win another title off finishing between fourth and sixth again.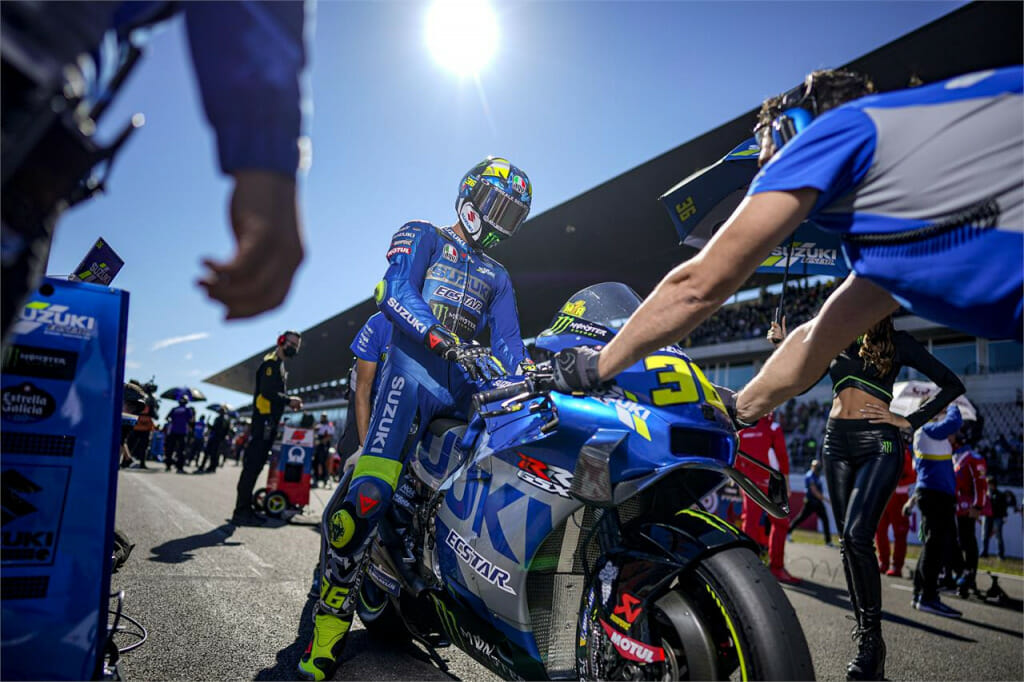 I still debate with members of the M101 Discord as to who's stock took more of a beating in 2021, Alex Rins or Maverick Vinales… and if I have to think about that question, it's not a good sign for Alex. At all. Pound-for-pound that might have been the most disappointing season of anyone given reputation and machinery. 5 DNF's via crashes, beaten by Mir nearly 2:1 on points. And this is a man who's a perennial Top 5 runner in the Championship. Remember, he also missed a race this season after being hit while on the phone riding a bicycle. Yeesh.
It's what makes his 2021 season so infuriating because Rins has every tool to be a success but he's now been surpassed by Mir and he still makes basic errors you just don't normally expect from an experienced runner at this level. Another year like that and Suzuki might be forced to look elsewhere. Don't get me wrong, if Alex Rins is your second option, you're not doing badly at all. But when Ducati are going to have EIGHT bikes on the 2022 grid, it leaves you with very little margin for error.
Suzuki are going to have to be more aggressive in development and perfect in execution to bridge that gap. The bosses need to start cutting more cheques. They've floated around the idea of a satellite team, but it's never quite materialised and now would be an ideal time for one. Joan Mir is a proven top contender now, but they NEED Rins back on song to help, and even that might not be enough. Suzuki are the "Ben Stokes" quality all-rounders of MotoGP but 2021 was a big hiccup for a team that seems to have lost some direction.
See you back in Part 3 for Yamaha, Ducati, and some extra words on the season as a whole.