It's been a… strange MotoGP season in 2021. Still fresh off the back of "The COVID season" where chaos reigned and a plucky Spanish kid won a Championship with ONE whole victory. The story was a little more straightforward this time, but it left us with a lot of great action, emotions, and some clear signs for the sports future going forward as it heads into a Rossi-less world for the first time in 27 years.
In this three-part mini-series, I'll talk about all six major MotoGP factories and talk about this season, their riders and their futures going forward. In Part 1, let's talk about Aprilia and KTM.
---
Aprilia – The Foundation Is Being Laid
There's no doubt about it, Aprilia definitely took a big step in the right direction this season. Aleix Espargaro challenging for podiums was no longer a surprise. And when he finally got one at Silverstone, the team's first since 2000, there wasn't a dry eye in the garage. It was a just reward for a man who's made a career out of making chicken salad out of chicken shit.
He still has some of his old tendencies of overdoing it and crashing when conditions weren't optimal, 5 DNF's on the year isn't great. But 8th in the Championship is a damn good job for a team many haven't taken seriously in this Championship since the days of Stefan Bradl and Alvaro Bautista.
There's still shades of the old Aprilia and their questionable man-management in there. They let Bradley Smith go late in 2020 for Lorenzo Savadori, who was sadly awful. So of course, one of the best riders in the world fell into their laps when Maverick Vinales became available after his Yamaha sacking.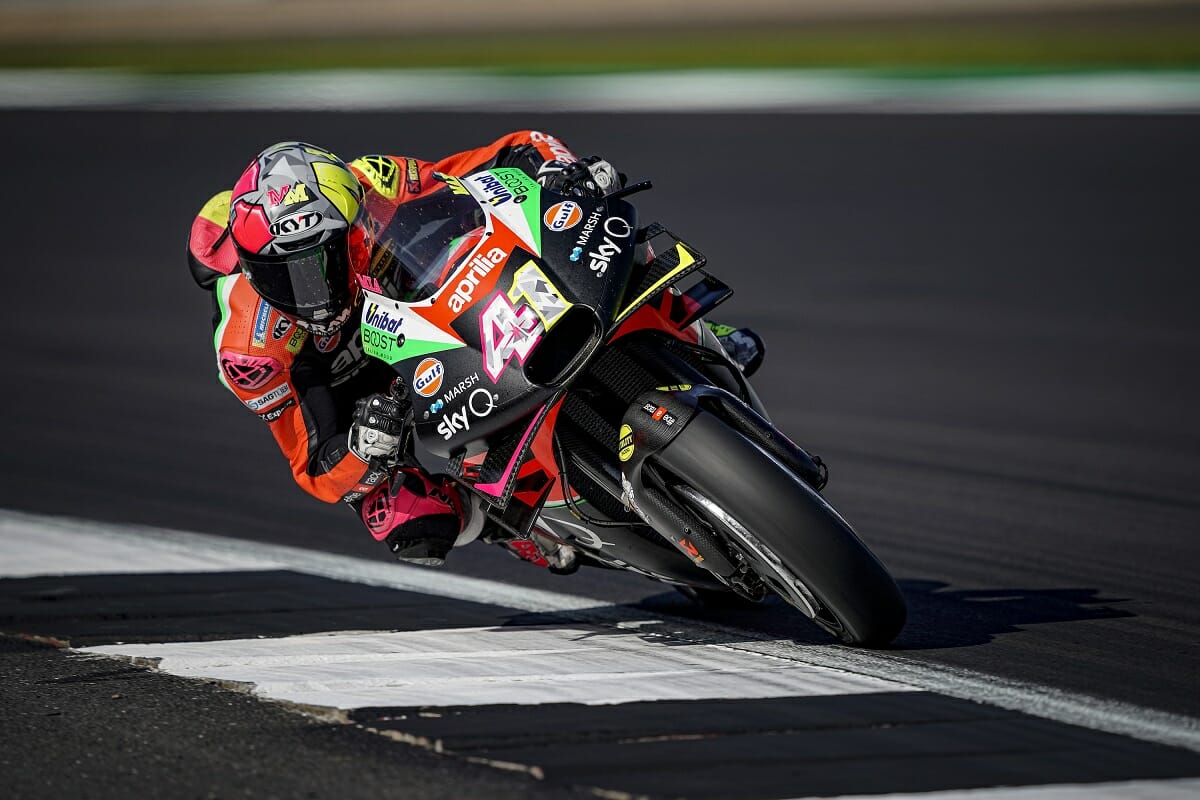 I have empathy for Mav. No really, I do. Man has had arguably the most chaotic year of anyone in Motorsport in 2021. He became a dad. Won the opening round. Wouldn't see the podium until Assen, while Fabio asserted his title bid. Complained over setups. Break off with Yamaha early, then deliberately over-rev his bike to get sacked immediately. Then his cousin was killed in a tragic accident. I mean… that's a lot. I sincerely hope that a fresh start with a team keen to build around him can unlock his full potential. Because we all know what he's capable of. The 8th at Emilia Romagna was a promising sign.
Watching Aprilia this season, I came to the conclusion that the riders might now be the biggest hurdle the team has to jump over to be truly competitive. They no longer have that excuse. Aleix has clearly made gains and Maverick's a proven race winner. And with concessions still in their favour until a dry win, or combination of podiums, more will be expected in 2022. 
---
KTM – A (Very) Hot Mess
KTM is a very baffling case study. They started ice cold, got white-hot when upgrades landed at Mugello and it briefly turned Miggy Oliveira into an absolute demon. Then it all fell apart again when Miggy's form dropped off like a stone. And as much as Brad Binder winning at Styria was my personal favourite moment of 2021, it was also a total outlier given how that race ended. And the satellite team with Tech3 had nothing to write home about either. 
Miguel Oliveira is a rider who I'm a huge fan of, but it is also such a puzzle that Batman's "Riddler" would struggle to solve. When Mugello hit with the upgrades, Miggy had a four-race run of 2nd, 1st, 2nd and 5th. The best he'd looked since his Moto3 days. Only Fabio matched him over those four races. Then he binned it in both Austria races and he wouldn't see the Top 10 for the rest of the season. 
Can't even blame the bike as a total excuse either because Brad Binder was consistently in the Top 10 for most of the year. 14th in the Championship dispute winning a race on merit shows to me that there's chronic inconsistency and he'll be disappointed with how the year played out.
As for Binder, damn. Lowkey might have been rider of the year. I was genuinely shocked when I double checked and saw he was 6th in the friggin' Championship. Even ignoring the Stryian miracle he only had 1 DNF for the year and finished every other round in the points. No wonder KTM tied him down for 3 years.
He seemed to have a knack of being able to ride-through KTM's teething problems in development and moulded his riding style around Sunday, and in particular late-race pace. It reminded me a LOT of his 2020 season where his race pace was as good as anyone's, but mistakes or poor qualifying meant it didn't show up on the Wikipedia page.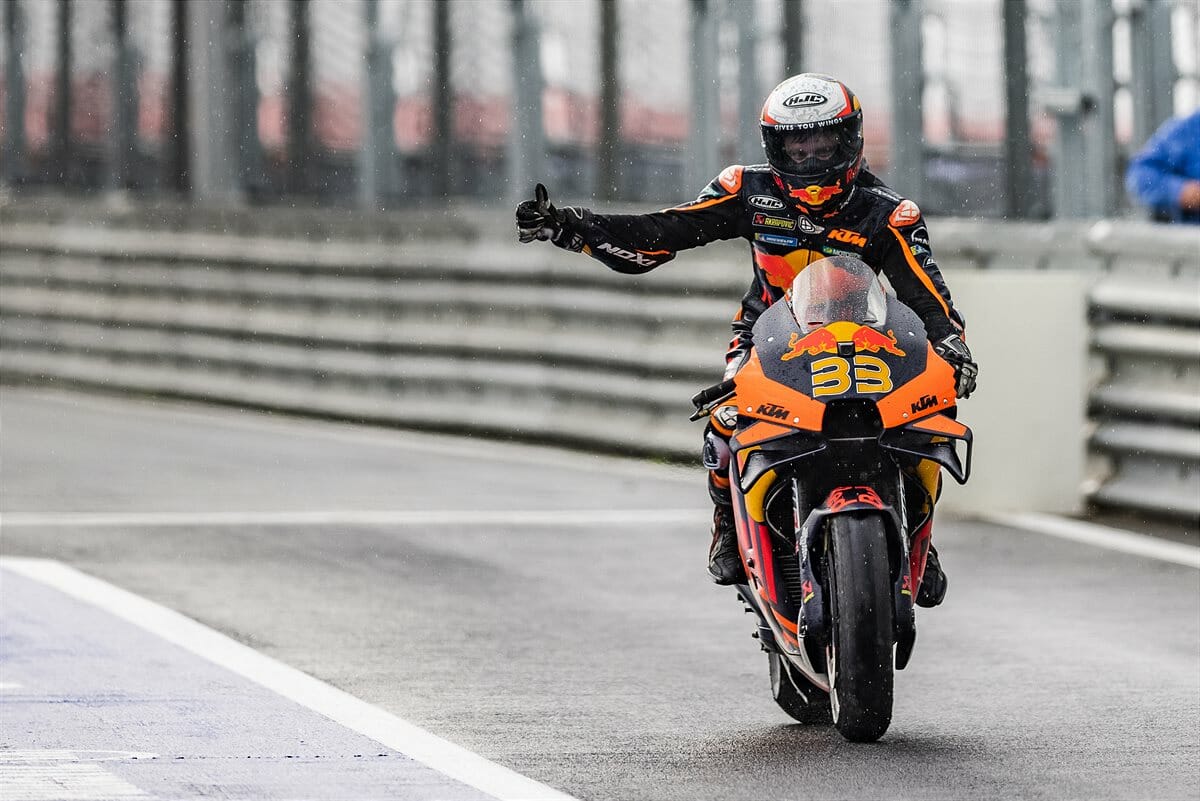 He still has a big fundamental weakness – He's a mediocre qualifier and he often gives himself too much work to do. The ol' Suzuki problem. He only made Q2 seven times out of 18 this season. But in the final third of a race, he's as good as anyone in the world. If he can figure Saturday's out, he's got the means for a title challenge. 
It'll be easy to dismiss everything that came out of Tech3 this season, but Iker Lecouna still might have been the most improved rider of 2021. There were a couple of races there like Austria and Silverstone where he was challenging for Top 5 finishes and you go; "Man, this guy has something." But an awful finish to the year might have been the validation some needed for his departure. I think he's still rough around the edges, but there's a lot of potential with Lecouna and I'd have liked to see him get another go, especially after he allegedly broke down in tears in Austria when they announced he'd been sacked for Remy Gardner. Brutal. Inevitable, but brutal. Wish him well over at Honda for their World Superbike team in 2022.
And I have to give a shoutout to Danilo Petrucci, who is way better than the KTM made him look. As much as this season was a write-off, it'll suck to say goodbye to the gentle giant, and one of the sport's genuinely great people. A World Superstock 1000, Ioda project sufferer, who ended up on a Factory Ducati and won two races. We'll always have Mugello. A remarkable accomplishment in a great career. Go get that Dakar, Petrux.
So KTM still has a ton of money and resources, but still can't quite piece together a consistently winning bike. But now they have arguably the most talented group of riders in the sport, with Remy Gardner and Raul Fernandez coming up having dominated the Moto2 Championship together… even if the latter made it quite clear he felt let down by his team. Dear Raul, there's no such thing as a "Moral Champion".
Fernandez might be the most exciting prospect MotoGP's had since Marc Marquez. But I fear he harbours some resentment that he wasn't allowed to leave for Yamaha when they were preparing to buy out his old contract for 500 grand. Keeping him sweet could be the Austrian factory's toughest job, because he is an outrageous talent. And I've not even mentioned the youngest lightweight World Champion since 1990 who's moving up to Moto2 aged 17 next year… #VoteForPedro
…See you in Part 2 for Honda and Suzuki.