And now, the main event and the moments you've all been waiting for, as I take on the top teams of Red Bull, Williams, Ferrari and Mercedes, the same Top 4 of 2014, but the order jumbled around in ways we didn't expect, and some ratings for the top drivers as always. If you've missed previous installments in the series, you can check them out below:
Part 1 (Manor, McLaren-Honda, Sauber) – https://www.motorsport101.com/dres-f1-2015-season-review-part-1-manor-mclaren-sauber/
Part 2 (Toro Rosso, Lotus, Force India) – https://www.motorsport101.com/dres-f1-2015-season-review-part-2-toro-rosso-lotus-force-india/
---
[fusion_builder_container hundred_percent="yes" overflow="visible"][fusion_builder_row][fusion_builder_column type="1_1″ background_position="left top" background_color="" border_size="" border_color="" border_style="solid" spacing="yes" background_image="" background_repeat="no-repeat" padding="" margin_top="0px" margin_bottom="0px" class="" id="" animation_type="" animation_speed="0.3″ animation_direction="left" hide_on_mobile="no" center_content="no" min_height="none"][fusion_imageframe lightbox="no" style="bottomshadow" bordercolor="" bordersize="0px" stylecolor="
" align="left" animation_type="fade" animation_direction="right" animation_speed="1″][/fusion_imageframe]Red Bull Racing
Constructors Position: 4th (187 points)
Best Finish: 2nd (x2, Hungary/Singapore)
Biggest Positives: The Kyvat gamble worked, the aero is still REALLY good
Biggest Negatives: Engine politics, worst team spending ratio
Oh how the mighty have fallen, again. I warned people to expect Red Bull to take a drop in my season preview back in February, and it turned out I was more right than I even realized. Red Bull were the first team in F1 history to drop over £200m in a season on development, and it didn't really get them anywhere.
To a degree, I get their frustration. We all knew quite early on that Renault's power unit just wasn't on the same level as Ferrari and Mercedes, and that was something that was out of their hands, especially when they kept blowing up in the early stages of the season, something Renault themselves couldn't address in the short term. Hence the enormous BS rumours and political warfare that Red Bull got themselves into for over six months as they angled in desperation for a new Power Unit, that they were never going to get. I mean, would YOU want to be the team that eliminated Red Bull's only real weakness?
Because again, on some tracks, Red Bull were right up there, the more technical Hungary and Singapore, they were superb, and signs of 2014 were there, where the deficit wasn't so great. But as I said during that season, Williams looked to be more than a match for them and they had to be careful, and it turns out, Williams AND Ferrari both surpassed them in 2015.
And it's a shame, because both drivers did a pretty darn good job with what they were given, and it's clear the strengths of Red Bull, it's chassis and aero are still there, but it's a Power Unit sport now, and they're shackled with a supplier that's so lacklustre, fans and their bloodlust for entertainment, wanted it opened up, purely so they could catch up.
Red Bull's got some work to do, and I fear that unless Renault have some major improvement, this is far as they will go for at least one more season.
Daniel Ricciardo – 7.5/10: I suspect the honeymoon period is over after being 2014 Driver of the Year on this site. He was still the faster of the two Red Bull drivers on paper, but was slightly unluckier, or on the unfortunate end of incidents like Hungary, where on another day, it could have had a much more negative outcome. But no matter which way you slice it, he should have done a better job on handling Kyvat, even if things had gone his way a little better. Wonder if he has an exit plan if Red Bull mess up again, because whether he likes it or not, his stock is slipping…
Daniil Kyvat – 8/10: When I gave Kyvat the #4 spot in my Top 5 video, a lot of people called me out on this, but here's the long and the short of it, Kyvat has taken two opportunities these last two years and ran with them. He was called out by fans for being the bad choice when Vergne didn't replace Vettel, due to potential, and he's proven it with a great second season. Sure, his outright speed isn't on Daniel's level, but you have to remember, he's been around in F1 for half the time, and had an awful start to the season with not even making the grid in Australia, and an engine failure in China. So for me, Kyvat has shown great promise, and I look forward to seeing him develop. Beating Danny Ric was a bonus on what would have been a great year regardless. Kyvat belongs. Period.
Dre's Overall Team Rating – 4/10: Not very much positive to take away at all, the biggest victims of the rest of the field moving the goalposts. 4th, when spending £200m is never going to down well with the bank manager.
---
[fusion_imageframe lightbox="no" style="bottomshadow" bordercolor="" bordersize="0px" stylecolor="
" align="left" animation_type="fade" animation_direction="right" animation_speed="1″][/fusion_imageframe]Williams Racing
Constructors Position: 3rd (257 points)
Best Finish: 3rd (x4, Canada, Austria, Italy, Mexico)
Biggest Positives: They're still good.
Biggest Negatives: That's not gonna cut it anymore.
Hmm, is it just me, or was I wrong to expect a bit more from Williams this year? Much was made of their 2014 breakout year, their awesome top end speed and aerodynamic efficiency, but it seems Williams were caught between a rock and a hard place in 2015. A team that was single-handedly outscored by Sebastian Vettel. Ouch.
It's a weird crux for the team to be in. They did beat Red Bull, who were in front of them last year, but they were both caught and surpassed by a resurgent Ferrari, so that automatically makes Williams season a bit hard to rate. Ferrari were a more solid #2 team than Red Bull was last year, where I feel Williams themselves got a good foothold on them in the 2nd half of the season. They had nine podiums last year, with only four this year, so all that, makes it a bit of a head-scratcher.
The team making errors in the pits, like the embarrassing Bottas mess-up in Belgium, only compound the problem, and the car has a serious weakness around the slower tracks like Monaco and Hungary still. I fear that with Williams being a customer, they naturally can only do so well, and I fear they may have found their limit, especially given the bonus money they would have got from finishing 3rd last year too.
It's always going to be tricky at the top of the customer charts, and I think we're seeing that right now with Williams. I'm not sure where they go from here, given the only teams better now, are factories with near limitless spending power. Meeeeeeeeeeeeeh.
Valtteri Bottas – 7/10: Is it wrong for me to also think that despite this being his third season in the sport, I have no idea how good Val actually is? He was a DOTY contender in 2014, but was only really ever "good" this season, and just didn't have the car underneath to get the serious "Future World Champion" status he deserved last season. Also, just me who was surprised he only beat Massa by 15 second time around? I mean, if you can't handle the guy Ferrari chopped for Raikkonen, why should they hire you as a replacement?
Felipe Massa – 7/10: Given how so many can't wait to write him off at every given opportunity, Massa was very solid again this year. Had no problem leading from the front at Silverstone, showed great defensive nouse against Bottas there and at Monza, and was again, a good match for the more hyped up Finn. Still more than good enough to warrant the seat. Get down, Alex Lynn fangirls!
Dre's Overall Team Rating – 6/10: Not much they could really do on 2014 by the looks of it. AND CAN THEY PLEASE CUT THE STUPID MISTAKES?!
---
[fusion_imageframe lightbox="no" style="bottomshadow" bordercolor="" bordersize="0px" stylecolor="
" align="left" animation_type="fade" animation_direction="right" animation_speed="1″][/fusion_imageframe]Scuderia Ferrari
Constructor's Position: 2nd (428 Points)
Best Finish: 1st (x3, Malaysia, Hungary, Singapore)
Biggest Positives: Sebastian F***ing Vettel, Allison in the technical department
Biggest Weaknesses: The Iceman Is Melting
Welcome back, Ferrari. After four years of sizzling mediocrity, the prancing horse is set to gallop again.
Without question, Maranello had its biggest improvement in the 2015 field, a team stripped back to the bare bones and rebuilt in the image of Maurizio Arrivabene, a guy who plugged in James Allison in the technical department, focused on getting the power unit up to scratch, and then a new centrepiece in Sebastian Vettel, who was brilliant pretty much all season long, and the only man to even get close to the Mercedes on a semi-regular basis.
They're still not close enough to be a constant threat to the Silver Arrows, but given where they were last year, you have to give them serious credit, they are probably two seconds better than what they were. The only question really remains, is can they find that little bit more to take them over the top. They have the tools, and at least one of the drivers in place for it. With limitless spending and James Allison being one of the best car designers in the field, the potential is there alright.
Sebastian Vettel – 9.5/10: Realistically speaking, outside of that bad day in Mexico, what more could Seb have done in his first season with the team? This is the same level of season we would so often praise Fernando for when he was at the team. 13 podiums 17/19 races in the Top 5 and 3 wins over Mercedes on sheer merit. It's the kind of season that people genuinely believed he could be Champion, or at least beat Rosberg. A magnificent season by any measure for the former Champion, at a time when he needed it most.
Kimi Raikkonen – 5/10: Oh Kimi. He spent way too long dealing with a pair of Williams that had a worse car on paper, but Kimi looks like he's nearly done. Not very often at all was he in Vettel's league, and often struggled. And it makes you wonder, if Ferrari really want that title push, they need TWO top drivers there, but Kimi is not going to be that guy, and they didn't want to pull the trigger on Bottas just yet. Kimi has to improve for Ferrari to have any real chance in 2016.
Dre's Overall Team Rating – 9/10: They couldn't have done much better if they had tried, and emt every target they set for themselves. The decision to keep Kimi though, might come back to haunt them.
---
[fusion_imageframe lightbox="no" style="bottomshadow" bordercolor="" bordersize="0px" stylecolor="
" align="left" animation_type="fade" animation_direction="right" animation_speed="1″][/fusion_imageframe]Mercedes-AMG F1
Constructors Position: Champions (703 points)
Best Finish: 1st (x16)
Biggest Positives: Nothing's changed
Biggest Weaknesses: Complacency
The best, get better. Somehow. Even if it's only by 2 points. But there's not much to be said here that hasn't already been said before. Mercedes is just that bloody good, and no-one's quite there yet to challenge them. As long as their drivers don't kill each other, they're getting at least 40 out of 43 points most weekends.
The dynamic between Hamilton and Rosberg is not relevant when the car is this much better. What could be a problem, is so often their strategist makes a dog's dinner of it when under some pressure. They got it wrong in Malaysia, they very nearly got DQ'ed in Monza, and the mysterious Singapore race still hasn't explained. And the reliability of the car still needs a bit of work. IF there's a threat coming, it'll be interesting to see if Mercs can handle the pressure.
But until then, the worst Mercs will ever have to cope with, is being excessively corny on Twitter, and dealing with haters for not giving Hamilton a different strategy. What a fuss!
Lewis Hamilton – 9.5/10: Again, what can you say that hasn't already been said? This was the best Lewis we've ever seen, becoming the first driver to win 10 races in two consecutive seasons. He eliminated that pesky qualifying weakness in his game from 2014, and dominated when it counted. We are witnessing a legend of the sport in front of our eyes. We should be #blessed by his ability… Shame about the fashion sense and the bitchiness though.
Nico Rosberg – 7.5/10: Oh, Nico. It's not that you were bad or anything, it's just, you were half a step behind one of THE great F1 performances. He finally seemed to get it together in the 2nd half of the season, but after his engine failure in Monza, and the throttle failure in Russia, his season was over before he had any chance to pull it in. His run from Brazil onwards though, was fantastic, and a great reminder that on any given weekend, he can be just as good as Lewis. Heck, if it wasn't for Russia and the COTA choke, he could have won the last five. He just needs to put it altogether and he can be that title contender we all so badly want him to be, rather than just "the other guy for Mercs".
Dre's Overall Team Rating – 9.5/10: They weren't perfect, but they were pretty darn close. If they iron out the kinks with their reliability and a little bit of their strategy, they're flawless. Still the yardstick for everyone else.
---
Dre's Final Thoughts
Overall, it's been an okay season. To be honest, I think we've been spoiled in recent years for title fights and a lot of the drama of 2015, happened off the track, with engine talk, Honda's failures, and Hamilton and Rosberg being more about sanitary towels and hat throwing than any actual fights on track. But there you go, they can't all be winners.
Sebastian Vettel became the People's Champion (Who would have thought that 2 years ago?), Max Verstappen became the beacon for entertainment, Carlos Sainz impressed in a strong rookie class, and we had just enough to keep the optimisim going, even when Lewis was made Champion. That's good enough for me.
Thanks for reading all my F1 coverage in 2015, as always, it's been a pleasure. And of course, Salut, and take care Jules. We miss you.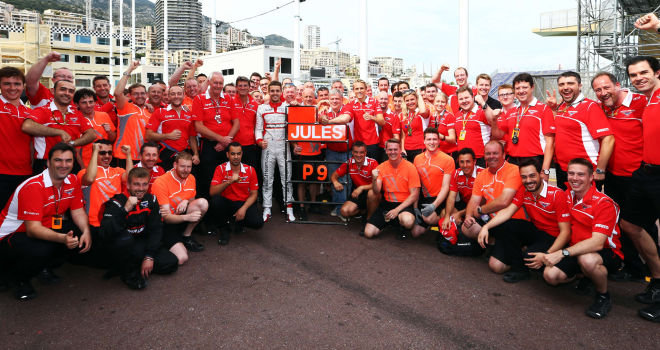 Dre[/fusion_builder_column][/fusion_builder_row][/fusion_builder_container]