"The greatest MotoGP Season ever."
Wow. 2015 was one of the most incredible MotoGP Seasons ever, definitely the best since I started watching. It had just about everything, from dramatic races, to ridiculous stories and narratives that chopped and changed throughout the season. From Jorge Lorenzo's awful start to ridiculous run, to the resurgence of Dani Pedrosa, and of course, Rossi vs Marquez, the reigning Champion crippled by a Honda that didn't want to work for him. And of course, some star making performances further down the field, and a brief return to form for Ducati as well. Let's try and break it all down as I review the 2015 MotoGP Season. Emphasis on try.
---
[fusion_builder_container hundred_percent="yes" overflow="visible"][fusion_builder_row][fusion_builder_column type="1_1″ background_position="left top" background_color="" border_size="" border_color="" border_style="solid" spacing="yes" background_image="" background_repeat="no-repeat" padding="" margin_top="0px" margin_bottom="0px" class="" id="" animation_type="" animation_speed="0.3″ animation_direction="left" hide_on_mobile="no" center_content="no" min_height="none"][fusion_imageframe lightbox="no" style="bottomshadow" bordercolor="" bordersize="0px" stylecolor="
" align="left" animation_type="fade" animation_direction="right" animation_speed="1″]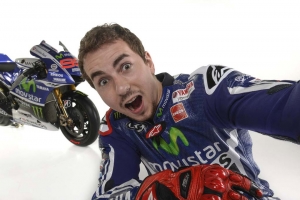 [/fusion_imageframe]Lorenzo The Great
If there's one crazy thing to stand out about Jorge Lorenzo winning his fifth World Championship, it's that he won seven races this season, and only twice was Championship leader – When he won in Brno in August, and most importantly, right at the end in Valencia.
Jorge had an awful start to the year by his standards, a helmet malfunction in Qatar obscuring his vision as he limped to 4th, followed by bronchitis dropping him to two 5th places, but then went on a tear with four consecutive wins, often winning by multiple seconds. Can't lie, by the time Mugello came and went, smashing Valentino on his home turf, I thought he was going to run away with it.
Now, while that obviously didn't happen, it was rather crazy to see the story of the title battle unfold with him. Because of Rossi's brilliant start to the season, going the first 12 races of the season without stepping off the podium, Lorenzo never really gained a foothold in the Championship, and just when he was knocking on the door, Rossi found away to pull back in front, often through the power of Marquez.
No doubt, Jorge was the fastest man on the field by the law of averages. He wasn't on pole every time, but you could see that almost every weekend, he'd have enough to put Yamaha on the front row, and when you combine that with some blistering starts, and an uncanny ability to lead from the front, you had a combination that was nearly unbeatable when 99 was on his game, something Rossi just couldn't do race-to-race.
Sure, there was moments of petulance with Jorge when things weren't going his way, like his paranoid comments and mentions of bad luck around Motegi, but overall, I think the right man did win overall. Jorge more than ever is the most consistent man in the field, and while he may not be the crowd favourite, he's the perennial force that the sport needs. Anyone betting against him for 2016?
[fusion_imageframe lightbox="no" style="bottomshadow" bordercolor="" bordersize="0px" stylecolor="
" align="left" animation_type="fade" animation_direction="right" animation_speed="1″]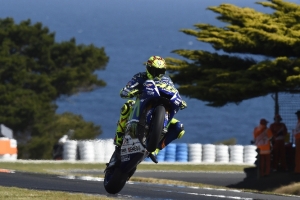 [/fusion_imageframe]The Time of the Doctor
And on the other side of the garage, Valentino Rossi. He turned 36 the month before the season began and was able to captivate the world in whatever he was doing. He was back. Properly this time. It's easy to forget he was runner-up last season too, but this time he was competitive right from the start. And of course, nearly every time a race was epic, it was Valentino at the centre of it. From the epic dogfight at Qatar, to the rain-affected Silverstone, to the furious comeback in Argentina. I think Rossi is always going to captivate because of who he was, but for the first time in six years, he had a legitimate chance at the title, and that was cool to see.
Now, I've spoken enough about his mentality post-Philip Island, but we all know that changed the dynamic of the Championship, and maybe the closing of a chapter of his career, Rossi meeting Marquez, a man who idolized and learned from him, and not giving back the same amount of fucks that he did when 46 made a name for himself. I still believe he let this personal feud blind him in his path of what would have been a historic, 10th Championship.
As I've mentioned before on BikeLive too, I don't care for whether Rossi won the title, in the same way when Adrian Peterson came back from an ACL to run for 2,100 yards, just 9 shy of Eric Dickerson's all-time NFL single-season rushing record. I didn't need that record broken for AP to prove he was one of the greatest, in the same way I didn't need Valentino to win to know this was one of his greatest achievements in what's already been a legendary career. He's the greatest rider of all-time for me, it's just a shame his character may have been ruined in the process in order to get there. I wonder if he has anything left for 2017, was this really his last chance? Or does Rossi have one last swansong left?
[fusion_imageframe lightbox="no" style="bottomshadow" bordercolor="" bordersize="0px" stylecolor="
" align="left" animation_type="fade" animation_direction="right" animation_speed="1″]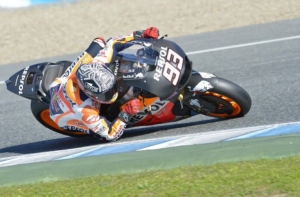 [/fusion_imageframe]Marc Marquez is Human
Man, what a puzzling season Marc Marquez had. It was known fairly quickly that Honda had severe problems with their 2015 bike, a machine with an engine far too aggressive for purpose, nullifying Marquez's greatest asset, his stunning engine braking. Obviously, this led to a handful of unforced errors from Marquez, like at Mugello, Catalunya and Aragon, but it's hard to be truly harsh on Marc, given his bike was far inferior to a resurgent Yamaha.
And despite all this, Marquez still won 5-times, and outscored Pedrosa by 36 points, despite having 6 DNF's to Pedrosa's 4. The man's upside and raw speed is still incredible, as highlighted by COTA and the best qualifying lap I've ever seen, or his final "Lap of the Gods" in Phillip Island.
This was a season of adversity for Marc. For the first time in his career, the cards he got dealt didn't come up with aces. Whether Honda will bounce back or not, remains to be seen, but the main is still box-office entertainment, and I admire the way he still rode on despite ridiculous criticism from his peers and fans, the nature of what happens when someone dares to upset Rossi. I would say "He'll be back", but in some ways, he's always been there.
[fusion_imageframe lightbox="no" style="bottomshadow" bordercolor="" bordersize="0px" stylecolor="
" align="left" animation_type="fade" animation_direction="right" animation_speed="1″]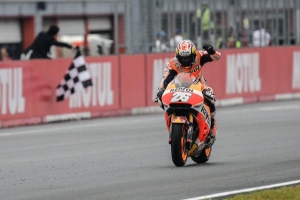 [/fusion_imageframe]The Heart of a Lion
And his teammate had his own story too. Dani Pedrosa looked finished after an arm pump operation after Qatar, threatened to end his career. He missed three races, and while it took him a while to get back to speed, he showed his true class at the end of the season, with arguably his greatest career win at Motegi, coming back from nine seconds down to win, as well as Sepang, a track he loves, for Career Wins #50 and #51. Only the eventual Champion outscored him in the final five rounds.
The brilliant fight against Rossi in Aragon, a dogfight he won, might top the lot as a landmark moment, an exhibition of good, hard racing that Pedrosa was able to get one over on Rossi, a turn up for the books given the run of form for the season.
Dani's now 30, so I'm not sure just how many good years he has left, but it was brilliant to see the plucky Spaniard show his best form to end the season. The sport just isn't the same without him at the top.
[fusion_imageframe lightbox="no" style="bottomshadow" bordercolor="" bordersize="0px" stylecolor="
" align="left" animation_type="fade" animation_direction="right" animation_speed="1″]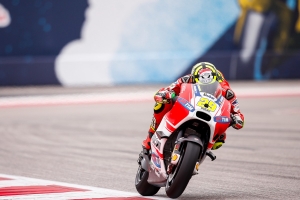 [/fusion_imageframe]The Brief Return of Ducati
Ducati's back! Briefly! But yay! They started the season super strong, challenging for wins in the early going, Dovi with three straight second places to start the year, but their hopes quickly faded as the European portion of the season kicked in.
But as Andrea Dovizioso struggled in the middle part of the season, it was Andrea Iannone who had another outstanding season to become Ducati's leading rider. Three podiums and 14 straight races in the Top 8 before an awful run of luck, three retirements in the last four rounds, but with 188 points and 5th overall, he took Dovi's mantle as "Best of the Rest", even more impressive when he rode with around half a dozen injuries over the course of the season – Including a broken leg and twice separating his shoulder. Yikes.
Also, Phillip Island – Best. Overtake. Ever.
Not sure what happened to Dovi in 2015. He's normally one of the most reliable and consistent riders in the field, but his season completely faded after Le Mans. Hope he bounces back, we need as many guys up the front as possible.
[fusion_imageframe lightbox="no" style="bottomshadow" bordercolor="" bordersize="0px" stylecolor="
" align="left" animation_type="fade" animation_direction="right" animation_speed="1″]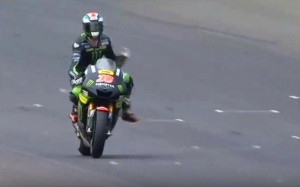 [/fusion_imageframe]Bradley Smith, Welcome to the Top
The comeback rider of the year without question was Bradley Smith. I still remember Germany last year, and how he crashed five times that weekend, and had the hot seat as leading contender to lose his job. Bradley was the first guy to admit he was riding for his career, and came back strong to secure an extension, but just for a year.
And how does he respond? By smashing the crap out of Pol Espargaro. 14-4 head-to-head to be precise. And Espargaro, had factory support throughout the season. That's one way to upset the apple cart. Not to mention, he became just the fourth rider in the sport's history to score in every single round of a season. The 2nd place at Misano, riding through the storm when he knew what the weather situation was like, was superb, his greatest performance to date. You can't ask for much more than what Bradley did, and here's hoping that the Factory support for 2016 can only encourage him to push and challenge the Factory runners a little more frequently, especially given, it'll be the bike that won this season's Constructor's title.
Also, Pol Espargaro finished one point ahead of Danilo Petrucci. Who spent more than half the season on a Ducati GP 14.1. Ouch.
[fusion_imageframe lightbox="no" style="bottomshadow" bordercolor="" bordersize="0px" stylecolor="
" align="left" animation_type="fade" animation_direction="right" animation_speed="1″]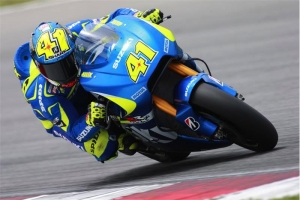 [/fusion_imageframe]The Blues Brothers
I think Suzuki on the whole can be very happy with their first season back, all things considered. They used their concessions well, and showed excellent qualifying pace as a result. Their 1-2 in Catalunya's qualifying was a wonderful moment, I genuinely can't remember the last time I saw so many grown men cry at one time.
Aleix Espargaro's experience lead the way, and Maverick Vinales was one of the stars of the season, a superb, consistent first season in the big leagues, and actually beating Aleix up until the last few rounds – Phillip Island his personal highlight with a sixth placed finish, just a handful of seconds off the win, showing the potential the GSX-RR has. And it's easy to forget, they still don't have that vital seamless downshift on their bikes yet, not expected until the 2016 season starts.
If Suzuki can find another half second, I wouldn't completely rule out podiums for next season. They have the talent, on and off the bikes, and their progress from Randy de Puniet's disappointing test times make for a promising outlook.
[fusion_imageframe lightbox="no" style="bottomshadow" bordercolor="" bordersize="0px" stylecolor="
" align="left" animation_type="fade" animation_direction="right" animation_speed="1″]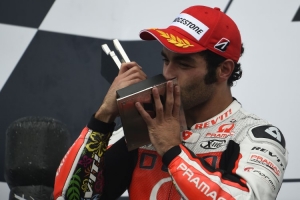 [/fusion_imageframe]The Stories of the Midfield
Cal Crutchlow and Scott Redding were largely disappointing this season, despite both getting on the podium once each. Now, I don't want to condemn them for it, they were both on a clearly flawed Honda where everyone on it suffered to varying degrees, but it'll be interesting to see where they both go from here, especially Scott Redding, who'll be on a GP16 by the time Qatar rolls around, and with him, it's going to be a make or break year, given he's often moaned about his tools, and he's about to enter Year 3.
Pol Espargaro was another big disappointment. This was a guy who some labelled as a rider of the year for 2014 for how impressive his rookie season was, but he was well and truly humbled by Bradley Smith this time around. He was given Factory Support for most of the season, and he's now lost that advantage after Bradley was so good, it forced Yamaha to change the issue. Needs a big 2016 to throw these new doubts away, as it's easy to forget, he's the man that Yamaha have chosen to be the "next Valentino", if such thing exists.
Danilo Petrucci was superb this season, ultra consistent throughout 2015, especially on the GP14.1 at the start of the year, including that magnificent Silverstone podium in the wet. The man's cojones are undeniable, and it made for a real feel good story after three years of being held back on that shitty Ioda. A real shame he left a bitter taste in my mouth when he pulled over for Valentino during Valencia. A loss of the some of the respect I gathered for him.
Loris Baz was a very easy figure to dislike after his breaching of Team Orders at Qatar, during World Superbikes 2014 season finale, upset a lot of British bike fans due to Tom Sykes' expense. He's shattered all those perceptions and has been superb this season, finishing 2nd out of the Open Class runners to Hector Barbera, and of course, that sensational 4th placed finish in Misano, with one of the bravest calls in the sport's history. The Ducati GP14.2 next season at Avintia should be a good step-up alongside Barbera, and I'm curious to see how he progresses.
And finally, I'm very happy Stefan Bradl was given a second chance at Aprillia, and he was solid in his return. I can completely understand his breaking off from Forward Yamaha after they were unable to guarantee his seat in future races. And as much as Bradl was unceremoniously dumped for a rider like Cal, who hasn't really proven to be a surefire upgrade, it's a nice way to stick it to "the man" on it. Hopefully, an ever improving Aprilia team will given him the bike he needs, especially with Sam Lowes waiting in the wings for 2017.
---
The Arbitrary Award Section
The "Estoril 2006" Award for Race of the Year
Runner-Up – Misano: "What a fucking race!" was my first words as Marquez won, the first 2-stopper in the sport's history and for sheer ridiculous crazy shit, it's a must see race.
Winner – Phillip Island: My overall race of the year in ANY Motorsport. A brilliant, exhilarating race from start to finish, that told so many stories, and had so many unbelievable moments.
The "Shit, we can't give it to Fabio award" Award for Breakout Star of the Year
Runner-Up – Danilo Petrucci: The first year the shackles were taken off for the Italian Homer Simpson, and he delivered in emphatic fashion, picking up where Andrea Iannone left off.
Winner – Bradley Smith: With his career on the line for the last season and a half, he has stepped up and delivered in every conceivable way, so much so, it's forced us to question Pol Espargaro, a World Champion on a superior bike. #38 has arrived.
The "Inevitable Jerez Divebomb" Award for Best Overtake
Runner-Up – Cal Crutchlow on Andrea Iannone (Argentina): What a stunning move on the final corner for Cal to take his first Honda podium, a brave and bold pass that anyone would be proud of.
Winner – Andrea Iannone on Rossi and Marquez (Australia): The greatest pass in the history of the sport. That's one you tell your fucking grandkids about. "Yes, and then I dived through the hairpin and passed two of the greatest riders in history!"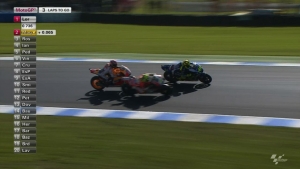 The "Forward Yamaha" Award for Biggest Disappointment
Runner-Up – Andrea Dovizioso: I thought this would be the year where combined with the Ducati GP15, he'd finally make a title push. Turns out, he was thoroughly outclassed to the point where he isn't even the best "Andrea" in the sport anymore. Ouch.
Winner – Valentino Rossi: For everyone post-Sepang, for essentially proving that 36 year old men can still have temper tantrums because someone actually stood up to the bully, while wearing a tin-foil hat. Yeah, this guy's the ambassador for the sport. Fuck.
The "Valentino Rossi in Valencia" Award for Individual Ride of the Year
Runner-Up – Loris Baz and Bradley Smith at Misano: Brilliant, brave, bold in their own ways. Fortune really can favour the brave, and they earned their rewards at the end.
Winner – Danilo Petrucci at Silverstone: What the Italian for Rainmeister?! A sensational performance when the rain came pouring down, the first showing to the world of what Danilo can really do.
The "Thank God it's Not Marquez" Award for Rider of the Year
Runner-Up – Valentino Rossi: He continues to shatter any notions about decline and retirement, with one of his greatest ever seasons, in a valiant attempt to reclaim the world title after a 6 year drought.
Winner – Jorge Lorenzo: On his day, he is simply unbeatable. Incredibly fast, seven race wins, lead more laps than anyone else, and was the field's second best qualifier. More than worthy credentials for a five-time World Champion.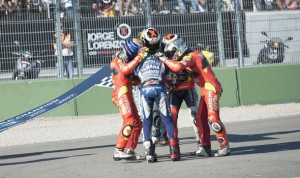 ---
Dre's Final Thoughts
It's been an incredible MotoGP season, one that I'll never forget, and one that more than anything else, told so many stories. The rise and fall of Valentino Rossi (The sequel), Jorge Lorenzo's return to the top after a patchy three years, Marc Marquez still captivating in success and failure, the redemption of Pedrosa, Bradley Smith's resurgence, and so much more. And while it was a shame we never had the two title rivals at loggerheads on track, we did get the mind games and drama that you would normally expect in a soap opera.
The standard of racing was ridiculous. Four times this season, I scored a MotoGP race the maximum 10/10 (Qatar, Argentina, Misano, Phillip Island), and a few others were still great in their own right too, and even the more mediocre races, had some amazing highlights, like Marquez vs Iannone at Le Mans, or Pedrosa vs Rossi at Aragon.
And while it's a real shame it all boiled over and got a bit ugly at the end of the season with the accusations and political warfare of the sport, let's no forget how lucky we were to witness such an incredible season, and a sport that seems to be changing very quickly for the better, with a stronger Ducati and Suzuki presence, a more balanced field, and KTM waiting in the wings, with Michelin providing more change for the riders to adapt too.
Thanks for reading and following my coverage of MotoGP for 2015, it's been a pleasure to share my experience with all of you. Till next season, don't ever forget, I most certainly get a "kick" out of all of you. Sayonara!
Dre[/fusion_builder_column][/fusion_builder_row][/fusion_builder_container]