"Rule Britannia."
Moto3 has almost always been the series for entertainment, and this season didn't disappoint in that regard. It was a tale of two seasons in one, for me, as Danny Kent would dominate the early goings of the season, whereas after the summer break, it was the surprise elements of Miguel Oliveira, Enea Bastianini breaking the glass ceiling, and Niccolo Antonelli doing the same. Let's a take a trip down memory lane, and review the 2015 Moto3 Season!
So, the season started in Qatar, and some things were very different. Kiefer's Moto2 pedigree with Stefan Bradl in 2011, came down to Moto3, and poached a super-team of Danny Kent, Efren Vazquez and Hiroki Ono, while Red Bull had replaced the renegade Miller with Miguel Oliveira and Brad Binder. And of course, all the excitement in the air over Fabio Quartararo, the dominant Junior Champion debuting with EG 0,0 at the tender age of 15.
But some things very much stayed the same, a ridiculously close qualifying session with Alexis Masbou on pole, but with the Top 12 covered by four tenths, and a massive leading pack of 10 on race day. Miguel Oliveira was bumped off the road at Turn 1, but clawed his way back to narrowly miss out on points in 16th, as well as some incredible racecraft shown by Quartararo. He belonged.
[fusion_builder_container hundred_percent="yes" overflow="visible"][fusion_builder_row][fusion_builder_column type="1_1″ background_position="left top" background_color="" border_size="" border_color="" border_style="solid" spacing="yes" background_image="" background_repeat="no-repeat" padding="" margin_top="0px" margin_bottom="0px" class="" id="" animation_type="" animation_speed="0.3″ animation_direction="left" hide_on_mobile="no" center_content="no" min_height="none"][fusion_imageframe lightbox="no" style="bottomshadow" bordercolor="" bordersize="0px" stylecolor="
" align="left" animation_type="fade" animation_direction="right" animation_speed="1″]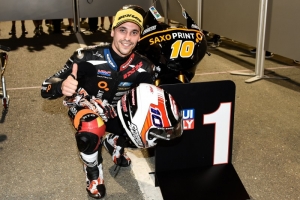 [/fusion_imageframe]Amazingly, a Moto3 race was won from pole, as Masbou narrowly pipped Enea Bastianini for RTG's one and only win of the season. It still confuses me as to where it all went wrong for Saxoprint, given they were one of the strongest teams in the field to end 2014. Bastianini and Kent on the podium, the first of many for both of them…
To COTA for Round 2, and it was a very different story. If you ever needed a "coming of age" moment for a rider, this was Danny Kent's weekend. He qualified on Pole with a lap record, half a second faster than Oliveira, and would then actually break the leading pack to dominate and take the win by 8.5 seconds, something I had never anticipated. Especially around COTA, where it's very easy to pick up a tow on its lengthy straights. A stunning victory, and rightly, one that got a lot of people excited.
Further back, it was Fabio Quartararo that showed his Qatar performance with no fluke, with his first podium finish in 2nd, narrowly beating Vazquez, 13 years his senior. Oliveria had hit the deck, putting another huge dent in his season before it had even started, and Alexis Masbou threw away a podium after crashing at the final corner.
To Argentina, and shockingly, more of the shame. Sure, Miguel Oliveira got his first pole position, but the mentality of the field had changed. We saw more following antics in Qualifying, as Danny Kent was now the field's marked man, and Romano Fenati shut Niki Ajo's engine off in a classic case of biking handbags. Fenati was demoted to the back for his petulence.
[fusion_imageframe lightbox="no" style="bottomshadow" bordercolor="" bordersize="0px" stylecolor="
" align="left" animation_type="fade" animation_direction="right" animation_speed="1″]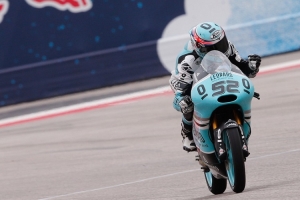 [/fusion_imageframe]In the race, we got a combination of Rounds 1 and 2, with Danny Kent experiencing an even bigger winning margin – 10.3 seconds and the biggest dry winning margin in class history, but then there was just 2.2 seconds covering 2nd placed Efren Vazquez, all the way down to 15th placed John McPhee, as we got a classic Moto3 warzone scrap for the points. Miguel finally got some points in 4th, but in a flash, Danny Kent already had a 17 point lead in the title race ahead of his teammate Vazquez.
Next up Jerez, and familiar grounds for Fabio Quartararo, the Junior Champion ticking another milestone off the checklist as he got his first pole position, ahead of Kent and Oliveria. Only a leading pack of 4 in the race though, but it proved one thing – Kent wasn't going to run away with it this time, and despite that, he was able to win one of the scrappier races too, a last corner dive bomb attempt from Fabio failing, and Kent coming through to win by a bike length over Oliveira and Binder. Shrewd move by the teenager, but it wasn't to be. Also, the race had a bitter moment as Hanika took Juanfran Guevara out of the race on the cool-down lap on purpose, making him crash and dislocating his shoulder in the process. Hanika was given a one-race suspension.
Round 5, Le Mans, and a very different weekend. A Qualifying session where it rained very quickly, leading to chaos as riders would try to set their fastest times ASAP, on a slippery track. EG 0,0 got it nailed on, getting Fabio his 2nd straight pole and a 1-2 for the team with Navarro close behind, and Mahindra's Francesco Bagnaia on the front row too. Danny Kent's Leopard caught out in 31st place.
But the race was in the dry, and we saw the greatest performance of Kent's career, a storming comeback from 31st to 4th, and a real chance of the win in the leading pack, the ultimate damage limitation job. It was Romano Fenati who took his usual shrewd win at the front, Enea Bastianini behind with another 2nd place and Bagnaia 3rd making it an all Italian Moto3 podium. But Kent was the real winner, extending his Championship lead to 37 points after just 5 races.
[fusion_imageframe lightbox="no" style="bottomshadow" bordercolor="" bordersize="0px" stylecolor="
" align="left" animation_type="fade" animation_direction="right" animation_speed="1″]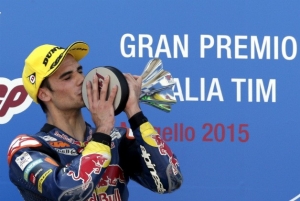 [/fusion_imageframe]Mugello next, the blue ribbon race, and it was Danny Kent out of nowhere with a pole position lap of of the Gods, with only the slipstreaming Hiroki Ono behind getting within 7 tenths of what was a scintillating Lap Record. And for just the second time in his career, Romano Fenati was on the front row too!
Despite the four way Italian charge of Antonelli, Bagnaia, Fenati and Bastianini, it was Miguel Oliveira time to shine, his first Moto3 Career win, and the first ever win in any GP Series for his nation of Portugal, a wonderful moment as Miguel celebrated with his team, crying. But Kent was once again there in 2nd, further extending his title lead, with Fenati third, just two tenths covering the Top 5.
To Catalunya next, and it was the first time we saw "Beast Mode" for Enea Bastianini's first pole position ahead of Kent, who were both half a second faster than 3rd placed Jorge Navarro. The race itself was one of the best of the year, with six riders a step above the rest, Kent, Bastianini, Vazquez, Antonelli, Oliveira and Navarro. It was anyone's guess, until the final lap, where Kent swung around the outside from 6th to 2nd in one move, an incredible pass that got him the win over Bastianini yet again by just 3 1/100ths of a second. Enea's first win was coming, his 5th career second place. Also one to look out for on a second watch, Efren Vazquez's stunning move on Niccolo Antonelli at the final corner to deny him his first podium, ala Valentino Rossi in 2009.
Assen was more of the same, another incredible race, Enea Bastianini with another pole position ahead of Jorge Navarro and the surprising Karel Hanika in 3rd, Kent just not able to put a lap together in 4th.
The race was manic, another multi-man scrap from start to finish, and a preview of more to come down the road as Miguel Oliveira's racecraft gave him a bike length win over Fabio Quartararo in 2nd and Danny Kent 3rd, as his teammate and title rival Efren Vazquez crashed in the early going, effectively ending his chance of a title to finish his Moto3 career. As I said, a sign of things to come…
Oh and let's not forget the greatest finish in Motorcycle history:
Germany's Sachsenring next, and a game-changer to the title race. An injury in practice put Miguel Oliveira out for the round, a hammer blow for what had been a season so far of incredible highs and wretched lows. To make matters worse, we got Danny Kent at the maximum, dominating qualifying by half a second (In an 86 second lap?!), then winning the race by 7.5 seconds, ahead of teammate Vazquez in 2nd, and in a hearty Italian-baked scrap for third, Enea Bastianini won the war over Fenati and Antonelli by a couple of hundredths each.
Heading into the summer break, Kent had a 66 point Championship lead over Bastianini and a record haul for a season through 8 rounds. Enea Bastianini was the surprise name in 2nd, very easy to forget that he was 17 and in just his 2nd season, and Miguel Oliveira was 3rd, 88 points back. Remember this folks, it becomes important later.

So, the break came and went, and Indianapolis was here. And it was BONKERS. Kent took a narrow pole ahead of Miguel Oliveria and of all people, Zulfahmi Khairuddin! Yes, he actually existed, he's not just a made up backmarker on the video game!
But, given it had rained on Saturday morning, the changeable conditions created chaos on the grid. The vast majority of the field had started on the wet tyres, except for two riders – Livio Loi, who had gambled on slicks, and John McPhee, who left it so late to change, he had to take a ride through penalty for his team not coming off the track fast enough. Turns out though, that the gamble had paid off – The track quickly dried out, and everyone was in for dry bikes, the team practising fast changeovers being the deal breaker, and the big winner in all of it was German, Philipp Otell, who had come through to finish in 3rd. Bastianini was 6th, but the other title rivals had bad days at the office, with Oliveira 15th and Kent a lap down in 21st, given bike changes can take a good couple of minutes.
[fusion_imageframe lightbox="no" style="bottomshadow" bordercolor="" bordersize="0px" stylecolor="
" align="left" animation_type="fade" animation_direction="right" animation_speed="1″]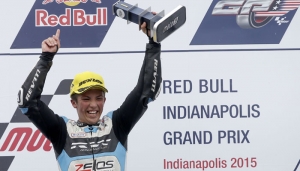 [/fusion_imageframe]It was the happiest GP podium of all time, Livio Loi winning his first ever race, the 18-year old Belgian was unceremoniously dumped from Marc VDS at this very race a year ago, now he came back a GP winner with RW Racing, and with the biggest margin of victory ever – 38 seconds! John McPhee's gamble paid off, he finished 2nd, his first career podium after coming close on so many occasions, and Philipp Otell 3rd, replicating his Dad from 1988. Smiles all round!
Brno next, and it was another breakout performance, only this time, it was from Niccolo Antonelli. He qualified on pole by just 2 thousandths of a second from Kent, then took a measured and controlled win from the front, ticking off his "first podium", "first pole" and "first win" accomplishments in one fell swoop. A magnificent ride from Niccolo and one that was a long time coming. Anyone else get a Marco Simoncelli vibe about it?
Meanwhile, guess who was in 2nd? Of course, Enea Bastianini again, his 6th career 2nd place without a win, and Brad Binder scored another podium in 3rd, Kent falling to 7th, who then throw salt at his Leopard team for not having a fresh tyre for the restart, after an 8 bike pile lap caused a red flag in the original race. Oh dear. And just like that, Kent's Championship lead had gone from 66 to 45…
Luckily for Kent, it was his home GP at Silverstone next (Who needs Wales?!), but in Quali, it was Jorge Navarro who obliterated the field by half a second to take his first career pole, ahead of Hanika and Kent.
[fusion_imageframe lightbox="no" style="bottomshadow" bordercolor="" bordersize="0px" stylecolor="
" align="right" animation_type="fade" animation_direction="right" animation_speed="1″]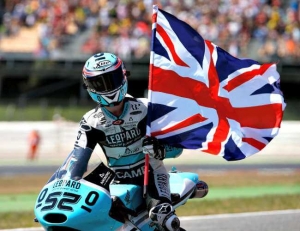 [/fusion_imageframe]In the race, it was the Danny Kent show. The rain was chucking it down as Moto3 closed the weekend, and we got chaos in the early going. A river at Becketts downed half a dozen riders, including front-row sitters Navarro and Hanika, race leader Issac Vinales (Dumped by Husqvarna and picked up by RBA), Brad Binder and Jorge Martin. It was a war of attrition, with every major title contender hitting problems, Bastianini, Oliveira and Fenati also crashing, with Kent taking a dominant home win by 8.5 seconds over Jakub Kornfeil in 2nd and Niccolo Antonelli with back-to-back podiums in third. Livio Loi a stunning 5th as well. Just like that Kent's title lead was 70 points, and the title looked as good as over…
Then Misano happened. Enea Bastianini had gone blonde, and it seemed to make him faster, taking pole, and then narrowly beating Miguel Oliveira to FINALLY take his first Moto3 victory, at his 31st attempt. Antonelli keeping his great form going for his third straight podium in 3rd place, as Danny Kent had to settle for 6th, punished for exceeding track limits. Gap back to 55. Game on?
Aragon for Round 14. Five rounds left. And it showed, as both title contenders cracked under the pressure. Bastianini was on pole, and had a chance for the win against a resurgent KTM team, bolstered by a new 2016 chassis that debuted in Misano. The final lap came around, and Bastianini made a reckless move at the top of the hill, crashing into Binder to take the both out. All Kent had to do was take a safe third to practically seal the Championship, but he bottled it at the final corner crashing, as Miguel Oliveira took the win, with Jorge Navarro scoring his first podium in a home grand prix in 2nd place. Enea gets a lucky break, and Danny Kent blew a chance to put the final nail in the coffin.
HOLY CRAP, A FENATI POLE POSITION AT MOTEGI. Ahem. Sorry. Had to get that one in. But in a shortened race affected by a damp track and heavy fog, it was Niccolo Antonelli who managed the conditions well enough to take his second win of the season, ahead of Oliveira, who very quietly was going on a tear, and Jorge Navarro scored his 2nd career podium in third. Issac Vinales in 4th, RBA's best finish of the season, ahead of Khairuddin and Danny Kent in 6th, beating Bastianini for 7th after slipping to 16th on the opening lap.
[fusion_imageframe lightbox="no" style="bottomshadow" bordercolor="" bordersize="0px" stylecolor="
" align="left" animation_type="fade" animation_direction="right" animation_speed="1″]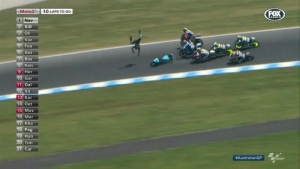 [/fusion_imageframe]Phillip Island, the race where the title race took another turn, as Kent had his worst day of the season, a leading pack where Francesco Bagnaia… banged him off the road (See what I did there), and in Kent trying to make a furious recovery from 16th, he was too aggressive outside Turn 2, and crashed into the side of Niccolo Antonelli's bike, resulting in a huge crash and the leftovers collecting Enea Bastianini's bike, taking him out of the race, and the Championship. Why? Because Miguel Oliveira rode another stunning race to take his 4th win of the season, just beating Efren Vazquez (Remember him?) and Brad Binder.
So, with two rounds to go, only Miguel Oliveira could catch Danny Kent now, 40 points behind with only 50 left on the table. Two to go, Sepang next…
It was a very intriguing, tactical race. Danny Kent had now adopted this role of being super conservative, hanging off the back of the leading pack. He knew a 5th place would win him the Championship, but the leading pack was 7-strong, and despite a Niccolo Antonelli mistake and a Francesco Bagnaia crash, Kent was bull-rushed on the final lap, finishing 7th and to sum up Kent's near-worst case scenario, Oliveira won yet again to take the title fight to the final round, the gap reduced to 24 points. Kent's super-conservative race at left the door open, against Miguel was who was as in form as any rider on the planet.
Valencia… Well, we know what happened. Miguel did all he could, winning his 6th race of the season, but it was Kent, who again chose to be ultra-safe, who prevailed in 9th to become the 2015, Moto3 World Champion, Britain's first World Champion in any GP class since Barry Sheene in 1977. Miguel Oliviera had to settle for 2nd, just 6 points further back, with Enea Bastianini 3rd with 207 points, his season falling apart right at the end.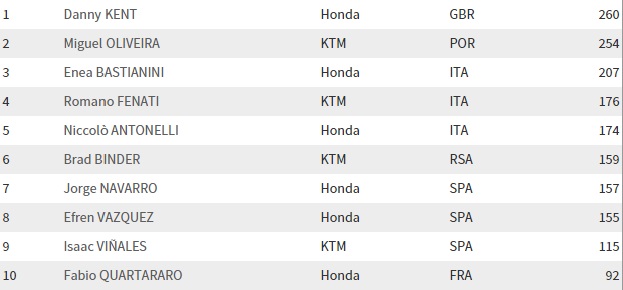 ---
So, what did I make of Moto3 this season? Well, it was nice that we had another title fight that end up going to the wire. Sure, it didn't have the back and forth nature that Miller vs Marquez of 2014 had, and it was more a matter of Kent surviving as Oliveira and Bastianini whittled his lead away, but that's ultimately what made it so intriguing. The KTM upgrade at Misano changed the season and tipped it on its head. Miguel Oliveira scored 140 out of the last 150 points on the table, more than double what Kent managed after the Summer Break, and that tale of two seasons dynamic is what made it exciting. After Germany, heck after Silverstone, we all thought Kent had it in the bag.
Kent's mentality in the second half, the pressure he had to endure as he challenged for his first World Title was interesting. Instead of being the dominant leader of the pack who could win in nay kind of format, he started blaming his team, then cracking himself under pressure, making critical errors at Aragon and Philip Island, big chances to seal the Championship up. It's why many are questioning how he'll fare in Moto2 again alongside Oliveira at Leopard, given how amazing his last 6 races were. And I'm still disappointed at some of his xenomorphic comments towards the Italians, based off of one accident.
Pour one out for Enea Bastianini. It's so easy to forget, he's 17 years old and was in just his 2nd season, yet he had 6 podiums and finally got his first win at Misano, a brilliant home win. I think he's got to be the favourite for 2016, his promise at 17 is terrifying, maybe even more than what Quartararo ended up showing, even if he was plagued with injury after a nasty crash at Misano.
Right, let's hand out some highly generic awards:
Race of the Year – Catalunya: There was four or five names you could pick out right here, there was many a crazy race as ever in Moto3, but Assen was my personal favourite. A crazy 6-bike brawl, the unpredictable nature of the slipstreaming into Turn 1, and two ridiculous passes on the final lap for Danny Kent to win, and to have Efren Vazquez on the podium. For me, it just beats out Assen and Mugello.
Breakout Star of the Year – Miguel Oliveira: There was five names that could very easily have won this one. Miguel had flashes of brilliance, but was held back by an inconsistent Mahindra in 2014. And despite the early teething problems at KTM this year, he showed brilliant speed right from the start, and *that* run at the end of the season was unlike anything I've ever seen in the class. Nice to see he got the credit he deserved for a incredible comeback. Enea Bastianini, Niccolo Antonelli, and Jorge Navarro could also have easily won this award too.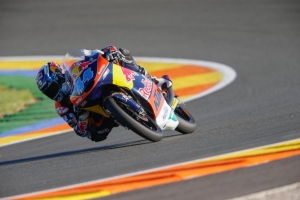 Individual Performance of the Year – Danny Kent at Le Mans: This was when we knew the Kent hype was real. Breakout wins are one thing, going from 31st to 4th was a demonstration of sheer brilliance. He could have won if he felt like really pulling the trigger, but nonetheless, a magnificent example of what 52 could do at the peak of his powers.
Dre's Favourite Moment – Enea Bastianini's First Win: A wonderful moment for the kid, to win his first GP after 6 second place finishes, and to do at home, Rossi-land, must have been something special. Nice work following his footsteps with the Italian flag hair-dye. Nice work. The Indianapolis podium is right up there too.
Biggest Disappointments – Saxoprint RTG: Seriously, what the hell happened? They started so well with Masbou winning the opener, but McPhee and him never really kicked on. They ended 2014 as one of the best teams in the field, and Masbou replacing Vazquez was a pretty smart move in my opinion… Welp. Honorable mentions here include Keith Huewen, commentating half the races this season with his trousers around his ankles, and Danny Kent's "casual racism" against the Italians out of sheer paranoia.
Dre's Rider of the Year – Danny Kent: Had to be really, didn't it? I was very tempted to pick Miguel here, but Kent's 190 points through Germany was absolutely ridiculous. It made the British media excited and got people into Moto3. That's something very important in a sport still struggling for relevance in this country. Sure, he slowed down towards the end, but he got the job done. Easy to forget, Miguel's first half of the season was pretty drab too.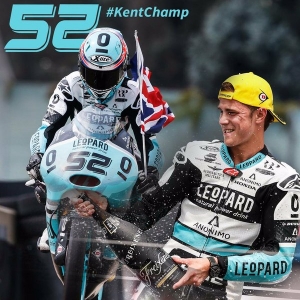 Overall, it's been a rather awesome Moto3 Season. A season with six different winners, new stars made, a title fight that told quite the story, and a lot of reasons to be excited for next year, with Fenati, Antonelli and Bastianini leading the Italian trifecta as title favourites, and a rivalry between Oliveira and Kent that is set to continue into next year.
Thanks for reading, and stay tuned for Moto2 and MotoGP down the road. ;)[/fusion_builder_column][/fusion_builder_row][/fusion_builder_container]