In the final part of my season review of MotoGP in 2022, I write about Ducati and the general vibe of the sport as it enters 2023. If you missed Parts 1 and 2, the links are down below:
Part 1 – Honda, Suzuki and KTM: https://www.motorsport101.com/dre-reviews-the-2022-motogp-season-part-1-honda-suzuki-ktm/
Part 2 – Aprilia and Yamaha: https://www.motorsport101.com/dre-reviews-the-2022-motogp-season-part-2-aprilia-and-yamaha/
Ducati – Long Live The King
Remember the previous era of the Ducati? Before Dall'Igna arrived? The days of Casey Stoner were filled with success, but regret. Valentino Rossi, the undisputed greatest bike rider of all time came with his motley crew and just assumed that what worked with Yamaha would work with Ducati.
He gave up after two years and crawled back to Yamaha with his tail between his legs. If Rossi couldn't save them, we weren't sure anything would. The GP12-14 Desmo's were fast in a straight line but had the turning circle of a boat. It made mincemeat of big-name riders the world over.
Then the GP15 showed up. Smaller, nimbler, but with the same rocketship of an engine. Ducati was competitive again. It took them another year before the winning really started, but a foothold was clearly there to build on. There was hope. While Andrea Dovizioso was never quite good enough to overcome the prime of Marc Marquez, his legacy and that bike's evolution have led to Ducati becoming the new juggernaut of this sport.
I've said it many a time on this blog. Up to as recently as five years ago, this was a two-bike sport. You didn't win if you weren't on a bike painted orange or blue. Now, Ducati has a third of the field, five bikes in the top nine of the championship, and their first World Champion rider in 15 years.
…And it almost didn't happen. Ducati was winning early on, but it was a mess seeing which Ducati was winning. Between their four teams, they had three different specs of engine. The GP22 was run by Pramac, the GP21 by Gresini and Mooney, and a hybrid setup on the factory team after Francesco Bagnaia apparently didn't like the GP22 setup after the final Indonesia test.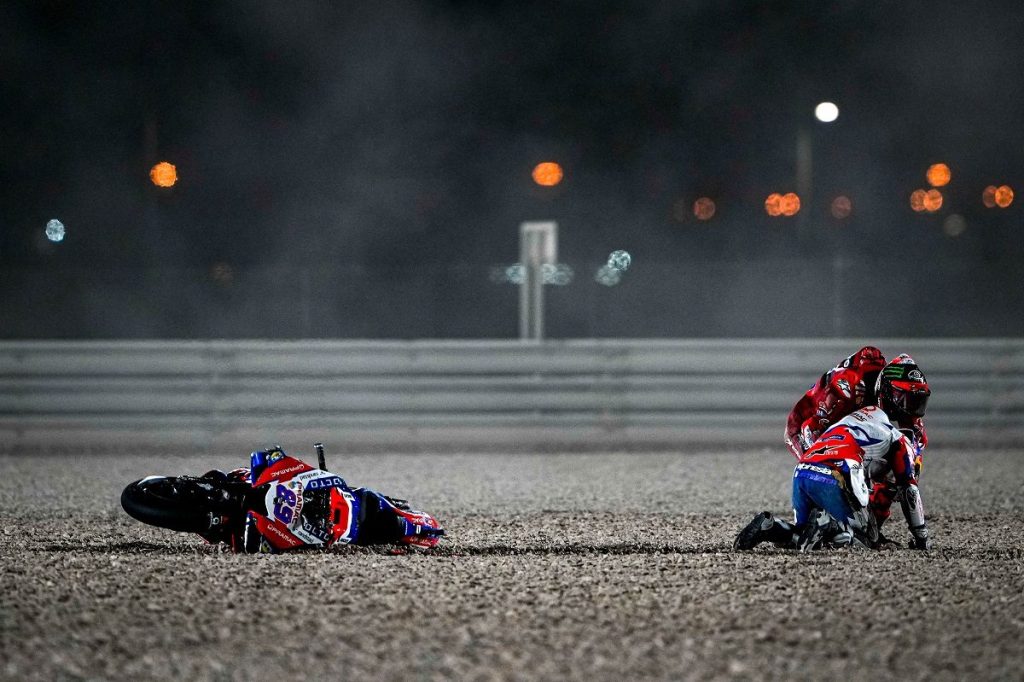 Seven races in, Enea Bastianini had won three times on last year's machine, Francesco Bagnaia had just one win and a handful of middle-of-the-road points finishes, and Jack Miller already had knives out in the boardroom for his culling. None of this was supposed to happen. Say what you will about Bagnaia's comeback, but he was 91 points down in the first place for a reason. We thought for a hot minute that this was the 2019 Bagnaia who was tucking the front with reckless abandon.
Bagnaia then scored 120 out of the next 125 points available. A combination of blistering outright speed, demonically late braking and being able to mitigate anyone who challenged him. (Except Bastianini by a nose in Aragon.) He's hardly been perfect. Nearly half of his title-winning haul came in those five races. He's the first MotoGP-era Champion to win it with five DNFs. 265 points is an alarmingly low total for the biggest-ever season at 20 races, the lowest since the brand change. He left a lot on the table like everyone did this year. But he smashed the field over their heads with seven incredibly important wins. Bagnaia might be under more pressure in 2023 if people behind him find some consistency.
Jack Miller is just a solid bike racer at this point. Japan was a wonderful example of what he could do when everything clicked. His greatest top-flight performance was one of dominance and skill. He still had the front tucking that Ducati is known for, five DNFs of his own. But Jack finishing in the top five of a championship isn't a surprise anymore. Enea Bastianini taking his seat next year is an upgrade, but not as big a move as some might think.
The Pramacs were sort of just… there. At times, they were blistering. With seven pole positions, no team had more. Jorge Martin had five of those. But they couldn't convert any of them into a win. Johann Zarco just doesn't have the ceiling to compete at the very highest level (15 podiums without a win!) Meanwhile, Martin has that ceiling, but his floor is tucking the front and ending in a gravel trap. Weekends like Malaysia and Austria are exactly why Enea Bastianini beat him to the factory job.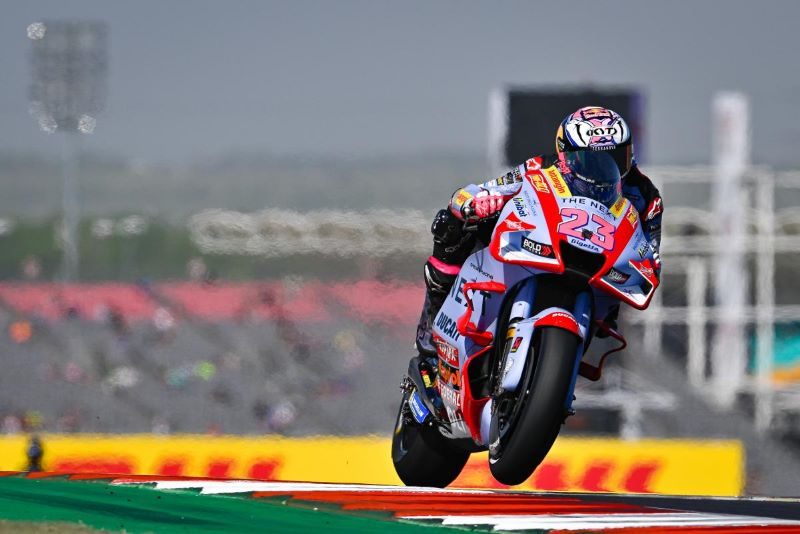 Speaking of the latter… Qatar. It feels like so long ago, but the first race was a special one. Enea's first top-flight win way before it stopped becoming a surprise. Taking advantage of the field saving tyres and crushing them in the second half to win. And the first-ever MotoGP win for a team owned by a woman, Nadia Padovani, in tribute to their late founder and husband Fausto Gresini. Their first win since the Estoril 2006 stunner from Toni Elias. It was a wonderful, emotional, touching moment for a team still hurting and a sign of what was to come.
Enea Bastianini is what I like to call "Baby Bagnaia". Another peak and valleys Ducati rider, who was a lot of what Bagnaia brought to the table, but softer around the edges. Only four wins, to Pecco's seven. Only four DNFs to Pecco's five. But that floor of just too many occasions where the GP21 wasn't working for him and he could only manage a midfield spot. Seven times last season he finished between eighth and eleventh. He's now walking into a team with a very powerful teammate and without his long-time crew chief Alberto Giribuola, who's heading to KTM.
I'm being ultra-critical because he's now going to be evaluated as a title contender and not a breakout star anymore. But if Enea wants alien status, he needs to step up and give the boys in red something to think about. I worry his former teammate Fabio Di Giannantonio might be a bit out of his depth at this level, maybe Alex Marquez will be a fairer yardstick for him in 2023. But in any case, we'll always have Mugello.
And the Mooney VR46 deserves a mention. Marco Bezzecchi was a rider that always in the shadow of others as he climbed the ranks. Stunned by Jorge Martin's speed in Moto3, and the avalanche of KTM's Moto2 team. The 2nd place in Assen, a pole position in Thailand and a handful of other top five's is a really, really good season. He was only nine points off teammate Luca Marini, who's also improved and went about his business nicely. In the middle of the season, he was making top-six finishes a habit. A lot for the VR46 team to build on.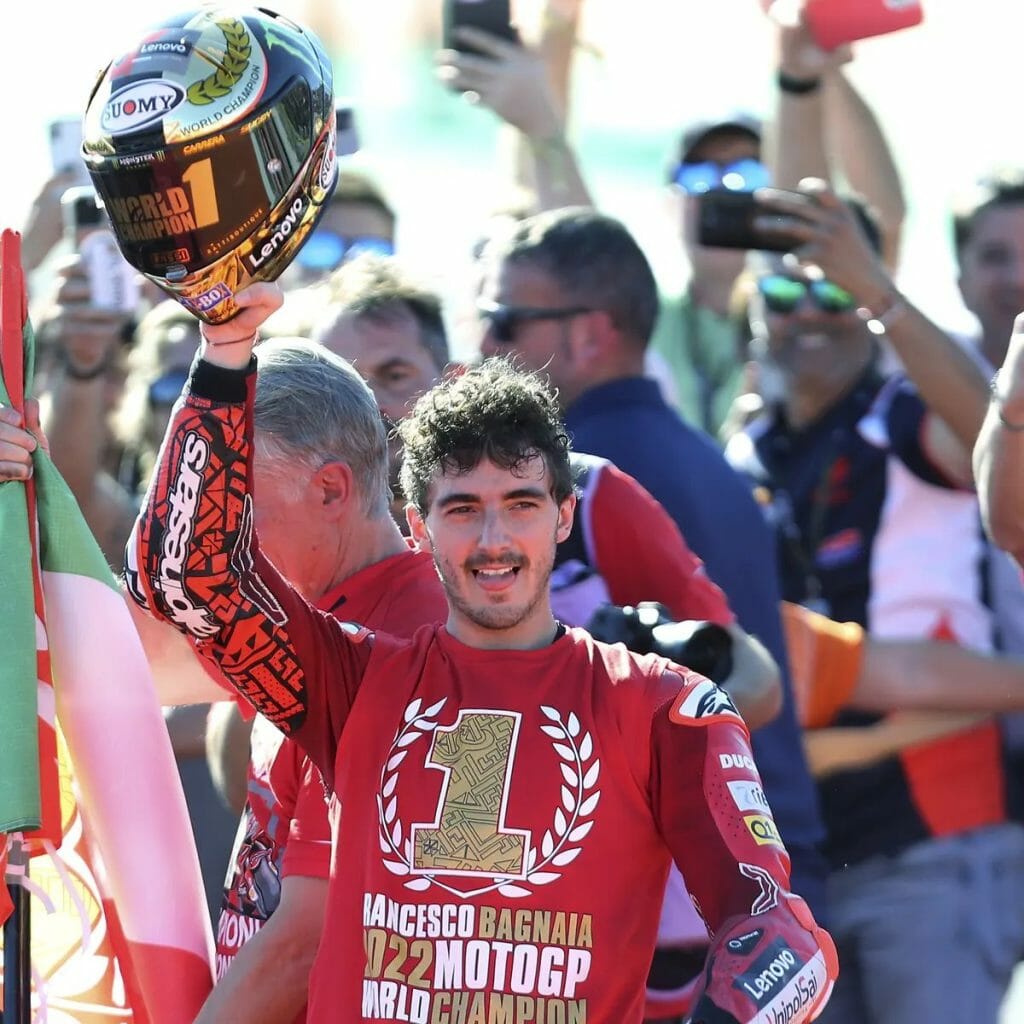 But all of this, all of the last 1,000+ words is only the frosting on a perfectly baked cake. Since that GP15, Ducati has been the constructor most willing to push the needle in this sport's development. They developed the electronics package that became standardised in the sports push for competitive balance. They were the ones to open the door of Pandora's Box with aerodynamic fairings. And they invented the holeshot devices on the rear and now front of the bikes to aid acceleration and corner exit. They've been the innovators. They've forced the field to respond to their advancements. They're digging their heels in over those very holeshot devices politically, even if the front ones are being banned for 2023.
Japan sat back and grew complacent in their two-and-a-half bike cabinet (Hi Mir in 2020). Europe has arrived and it has blown them away. Ducati has had the best bike in the field for the last three years and just won the Triple Crown for the first time since 2007. Aprilia should have finished 2″ best as a team and as a factory until the end of the season and really aren't far away from being a consistent threat. The jury's still out on KTM, but they've absolutely improved in the last couple of seasons with multiple wins and are now frequently mingling with the best. Suzuki is gone, and Yamaha and Honda haven't looked this out of sorts in the top flight… ever?
Call Kevin Nash and Sean Waltman, it's a New World Order now.
---
Okay, I'm now going to talk about the series as a whole. If you've made it this far and you only care for the teams and the riders themselves. You can stop reading now. Honestly, it's okay, I understand. But there's been too much that's irked me about the state of the sport that's come out this year to ignore.
This was the most disappointing season for on-track action that I can remember. The sport has absolutely gone too far from a technological standpoint. I'm all for innovation, but you have to consider "the show" at times, and MotoGP had taken massive amounts of pride in having a must-watch product on a week-to-week basis. 2022 was precisely not that. Races like Le Mans had four total overtakes at the front of the field.
The holeshot devices, combined with the dirty air generated by the aero on fairings, and a front tyre designed by Michelin that was already unpredictable but now unable to handle to load pressure of everything above… has led to stalemate racing. Jerez was excruciating to watch as Jack Miller spent 20 laps backing up Marc Marquez and Aleix Espargaro until all hell broke loose when Marquez took a dive at him and nearly tucked the front a lap later. As much as I dunked on Fabio Quartararo for his Assen lunge, I understand why he did it. Those are the sorts of moves you have to make in the sport now and hope you don't get a sidepod in your ribs.
The action got a little better towards the end as we did have some very close 1-on-1 racing toward the end of the year, and Philip Island delivered as it consistently does. But most of those infights were one-and-done passes that never really went anywhere outside of the tension of the closeness itself. Like watching the car in 2nd in an F1 race try to wrestle with the dirty air and stay within a second without cooking their car, not actually passing for the win. This has to stop. It's going to really hurt the sport long term if the action itself is just two-wheeled F1.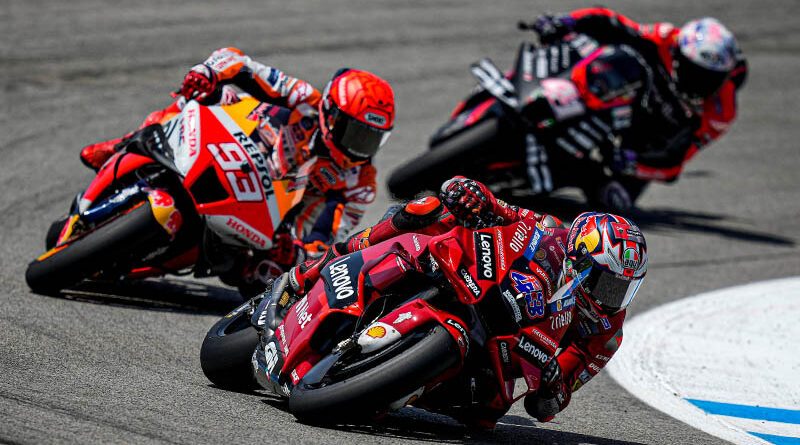 And the teams know it too because Mat Oxley exposed everyone gaming the rules by running illegally low tyre pressures. Why? Because the engineers got fed up with trying to play fair. Francesco Bagnaia won the Jerez GP with an illegal bike, and no one cared because the key shareholders had a handshake agreement to turn a blind eye to it. An embarrassing look for the sport from a technical standpoint.
Race Control is still a hot mess. The stewarding system is not working properly. Taka Nakagami was responsible for a three-bike pile-up at Catalunya on Turn 1 and faced no formal punishment for it. Almost as a make up call, a lot of the sport lost their mind when Fabio Quartararo divebombed Aleix Espargaro and got clapped with a Long Lap Penalty. We're still seeing weaving and dawdling in Moto3 get ignored despite repeated pleas for stricter punishments. I thought they were finally getting their house in order towards the end of the year but then Jorge Navarro nearly bled to death on a horrendous broken leg at Philip Island and the race wasn't stopped with marshals only yards away from a live track.
The sport's very image is also under threat. MotoGP was not prepared for life after Rossi.
Demographics in a lot of key markets like Catalunya, Mugello and Silverstone were all massively down. I still can't believe my home race pulls a third of what F1 does on WAY more expensive tickets. I sincerely hope the global economy's inflation struggles and cost of living crisis were the big factors in this and this was just a dip, but it's not a good look.
The HR vibes run deeper. Francesco Bagnaia was caught in a drunk-driving scandal and faced next to no formal action, despite his team running a road safety campaign. He was allowed to run a race helmet dedicated to an alleged rapist and domestic violence abuser in Dennis Rodman. A week after their fan survey had them beating their chests about wanting to appeal to more young women. Good luck with that. And when called out for a lot of this in the media, Mat Oxley who I mentioned earlier, was banned from Ducati itself. There's almost enough here to make Red Bull blush.
I have no beef with Sprint Races, but I can certainly see why others might. In a sport where we care more than ever about the health of riders, doubling the amount of meaningful action and racing together at full speed in a now bloated 21-race calendar is not ideal to me. Let's not forget, the riders themselves were given zero consultation about this. And the idea of a rider's union, a fair question asked by the press? Passively-aggressively laughed off.
The riders will never agree to it, but the sport is begging the riders to revolt. And if the action is still so blatantly flawed, why do we want to watch more of it? Given the fan survey explicitly said it didn't want Sprints, I suspect they've done it, to copy F1 and their World Superbike counterparts, where format changes have been hammered through.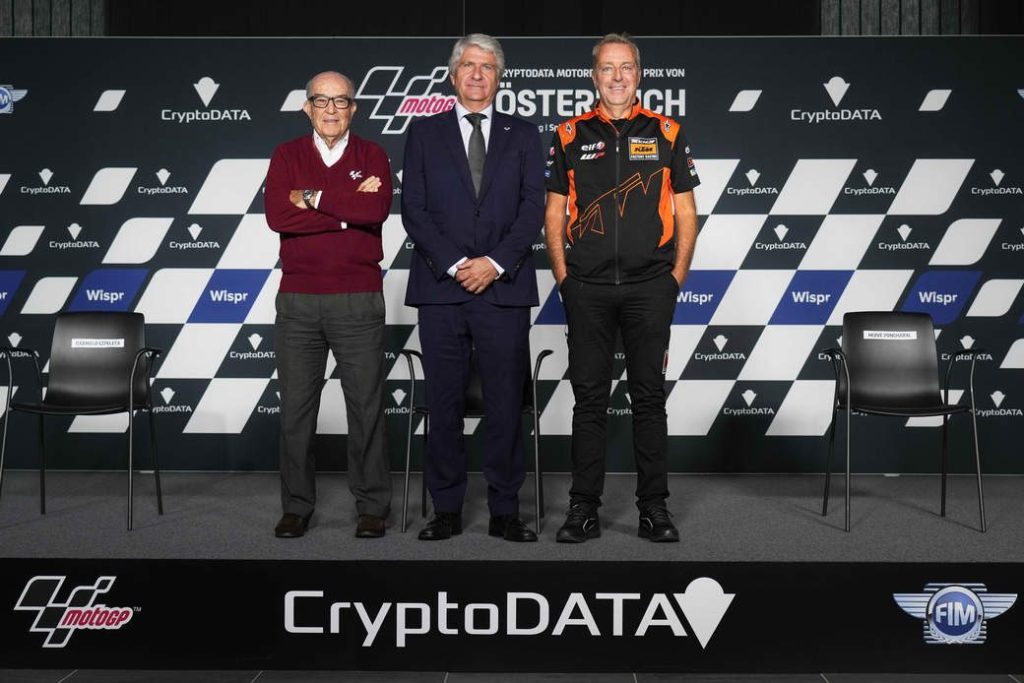 I've yet to hear a single good reason why we're going to race in Kazakhstan. I do find it kind of "sus" that CEO Carmelo Ezpeleta's nephew, who was running that track, is now the sport's new safety officer. Got his girlfriend a gig as a steward now too. Adding pretty blatant cases of nepotism isn't got to reassure anyone about this hire when there have been so many calls for change in terms of safety. I know Dorna is a family affair, but… yeesh.
Moto3 went viral for all the wrong reasons in Aragon when two Max Racing Team mechanics deliberately impeded Adrian Fernandez's bike from leaving the pitlane. The two mechanics were fired but only on a delayed basis because the teams' competitiveness had to be protected. This happened again when another member of the team was given a delayed sacking for a video of him assaulting former rider Tom Booth-Amos. Who was pressured into maintaining his silence? In a video of his own assault. Which was initially released as a joke. I repeat what I said at the time if that goes public and is deemed as "small", what doesn't get reported? A chilling thought.
If you had one of these paragraphs in a season, you'd probably shrug your shoulders and look at the bigger picture. But when half a dozen rolls up, you wonder if the series you love has genuine problems. I love MotoGP, but these problems are more than just niggles. They're fundamental problems with the sport's direction, appeal, image and product.
I know the series will be fine. And I know that a lot of this, wouldn't take a huge amount of work to fix. But man this was the hardest season I've had to follow for MotoGP since I started making videos on it in 2013. The product has cracked for the first time in a decade, the threat of one-make dominance looms over the series, and we can't pass easily anymore. And that's just what we watch on TV.
I don't want to worry about this sport. But I'm not going to pretend it's in the best of places either. I sincerely hope 2023 brings us brighter prospects.