It is the most clichéd way of starting a season review but in 2022's case, MotoGP really was an interesting year. A year where the sport was humbled in many ways. The action, the normally most bankable attribute of a series struggling to find an identity post-Valentino Rossi, vanished behind incredible technology that wouldn't look out of place in Formula 1. There was no dominant rider to take the series by the scruff of the neck as Ducati, Yamaha and even Aprilia tripped over each other. It often became a game of "Who can fuck up the least?", and that included the series itself on many occasions.
But here, I'll try my best to make the most of what was the year of MotoGP in 2022. From the factories, teams, riders, and even the sport itself. We'll keep the 2021 format of going in reverse Championship order, so here's… *checks notes* … Honda. Oh boy…
Honda – The Marc Marquez Dependency
Honda has an addiction. It's an addiction to Marc Marquez, and like many addictions in life, it's a hard vice to break and they can't get enough of him. At this rate, Alberto Puig might soon resemble Tyrone Biggums from The Chapelle Show.
Back in 2019 when Honda was celebrating their Triple Crown Championship with Marc Marquez's season one of the greatest in the sport's history; I warned many a person that Honda might become too dependent on their star rider. To a degree, I don't blame them. Mick Doohan was the only other rider who had given them more success. But when you throw money at Jorge Lorenzo and he scores like a backmarker, it raises eyebrows as to the house of cards your team is seemingly run on.
And we all know what happened next. One horrible crash and an avalanche of bad luck and recklessness later, and three prime years of Marc Marquez (And £75m, allegedly), have meant nothing. If anything, 2022 just doubled down on what we already knew about them. Marc Marquez has been the only bright spot to come out of this factory all season.
He only took part in 12 out of the 20 races this year due to a reoccurrence of his 2021 Diplopia in Indonesia and a fourth, all-or-nothing surgery at the Mayo Clinic to finally fix his arm. WHICH HAD ROTATED 34 DEGREES AFTER THE THIRD SURGERY DIDN'T WORK. Everything about Marc Marquez is spectacular. Even his injuries.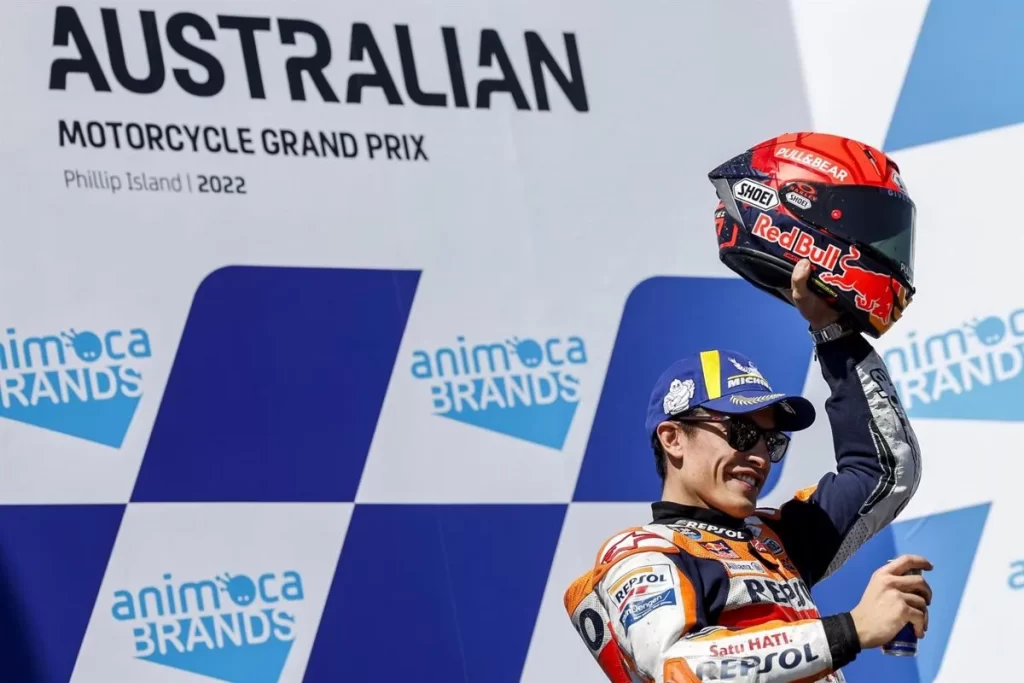 Despite that, Marquez (113) outscored Pol Espargaro and Alex Marquez, combined (106). Take away the otherworldly ability that Marquez has to mitigate Honda's well-known problems and you're left with the worst bike in the field, and a house with no foundations left to prop up its very fancy chandelier. Cam Buckley, my Motorsport101 co-host, summed the Honda up best in Valencia; "It's like it turns in installments."
Germany just about summed up Honda's season. Normally, their talismanic riders showcase round. A decade-long winning streak is guaranteed to go. In its place, Pol Espargaro withdrew through an injury he suffered when he crashed in practice. Taka Nakagami crashed in the race, Alex Marquez had to stop due to his ride height device locking, and Stefan Bradl burned his foot due to the heat the Honda's chassis was giving off. He finished last on the road. For the first time in 40 years, Honda left a premier-class motorcycle Grand Prix, without scoring a single point.
Pol Espargaro just didn't work out. The logic was sound, he'd done good work with a KTM that rewarded his aggressive, physical riding style. But his two years at Honda consisted of a bike that didn't have rear traction, then didn't have front traction. By Year 2, he was moaning so much it was obvious he was going back to KTM. 
The LCRs weren't anything special either. Alex Marquez never seemed fully dialed in with the RC213, even his flashes of brilliance in 2021 were gone. And Taka Nakagami's season highlight was head-butting a motorcycle before Turn 1 at Catalunya. His desperation to ride a home race for the first time in 3 years, caused him to miss three races due to damaging his tendons. "It was like riding a glove full of blood", he said. Risking permanent damage to your fingers to finish a race in twentieth. Wonderful.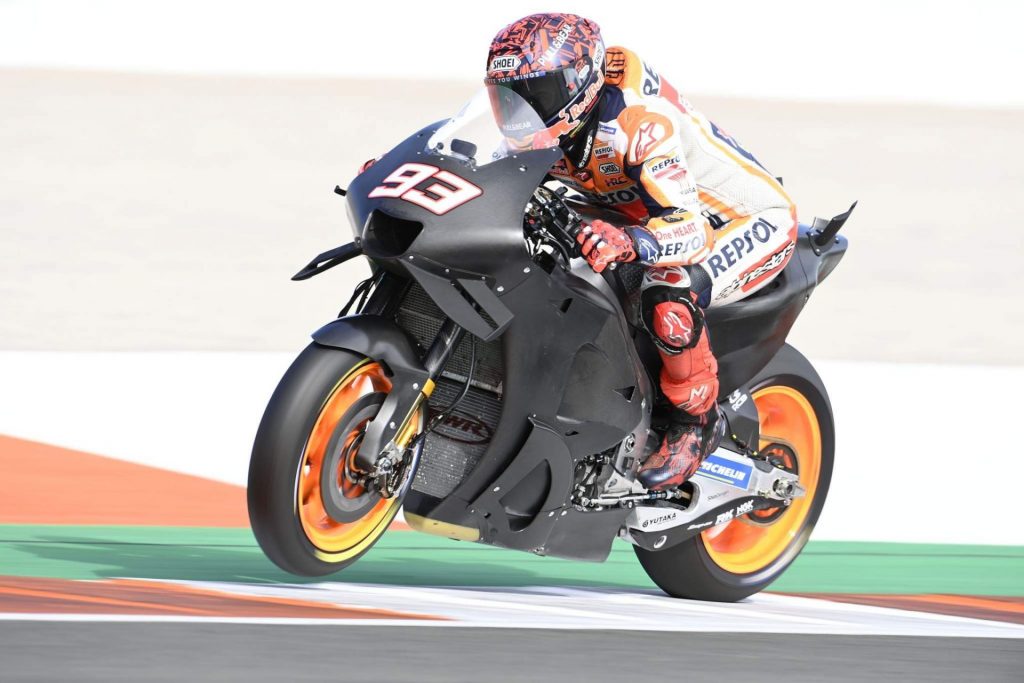 And yet, because of Marquez's comeback, there's still hope. He came back at the end of the season and was as good as he's ever been. A pole position at Honda's home in Motegi and the 2nd place at Philip Island were reminders of his class. Gavin Emmett said it best at Valencia when he crashed from the Top 5. "He's ready to win again, Honda isn't."
Honda is under severe pressure and they know it. They've gone all in on their attempts to fix the foundations. Suzuki's loss has become their gain with both Joan Mir and Alex Rins onboard. The first problem is – They might have put them on the wrong bikes. Yes, Mir's the former World Champion and almost certainly had more negotiation power on the table. But right now, Alex Rins is the stronger rider and he's on the satellite bike. Hmm.
In any case, Honda can now claim they have three of the best six riders in the world on their machinery. Outsourcing their swingarm to Kalex was a clear sign that they are prepared to read the room, at least a bit. But there is no longer an excuse, they have to produce a winner. There's no bigger indicator of that than this being Marc Marquez's final year on his massive four-year contract, and Marc was honest in saying earlier this year that he feels he has to be with a "winning project". If yesterday's Valencia test was a sign, things aren't looking good.
But you have two men on your lead machine who won in very different ways. Suzuki's pickaxe to Honda's sledgehammer. Can you afford to cater to the masses when the only thing that's brought you success in the last decade is threatening free agency?
Honda is at a crossroads. This was a disastrous season. Bottom of the constructor's standings. Arguably their lowest point as a manufacturer in four decades. And this is a factory that nearly quit in 2008, and pushed for a prototype era they largely sucked at until the end. What they do now and how they perform in 2023 could define them for a long, long time.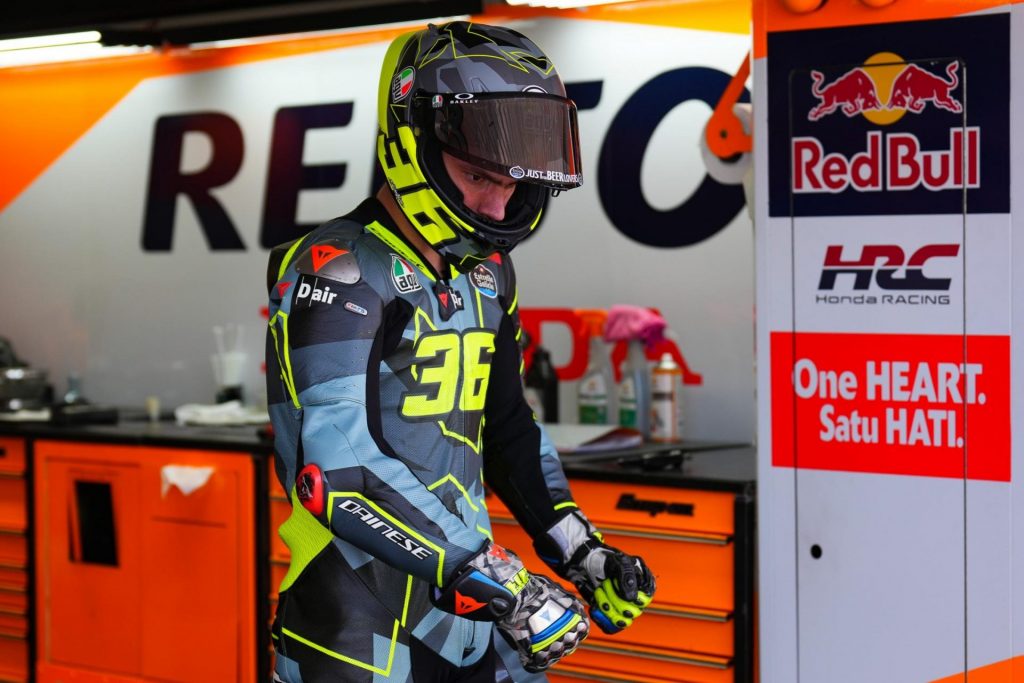 Suzuki – The Lost Manufacturer
Jerez had just been and gone and while Joan Mir and Alex Rins hadn't been spectacular, they were in the mix in that early season; "Everyone's tripping over each other" energy that often defines the early part of a wide-open championship. Mir was finishing 4th or 6th like it was going out of fashion.
From out of nowhere, just a day later, Motorsport.com reports that Suzuki was set to leave the sport, only 18 months after winning its first World Championship since Kenny Roberts Jr. in 2000. I still remember our Discord scrambling together to talk and figure out what was going to happen next. 
On May 12th, it was made official. Suzuki quit MotoGP and Endurance Superbike Racing, just a year after signing a manufacturer's agreement designed to keep them in the sport until 2026. They've not said why publicly; but depending on who you ask, they're moving away from Motorsport to focus more on selling electric cars.
We knew pretty much the same time the team did, as they were preparing for a test. It was an earth-shattering announcement, where at one point we were considering whether lawyers would be involved, the similarities between this and Kawasaki's shock departure in 2008, the credit crunch that nearly killed MotoGP. A situation where Honda only decided to stay at the eleventh hour to honour their founders.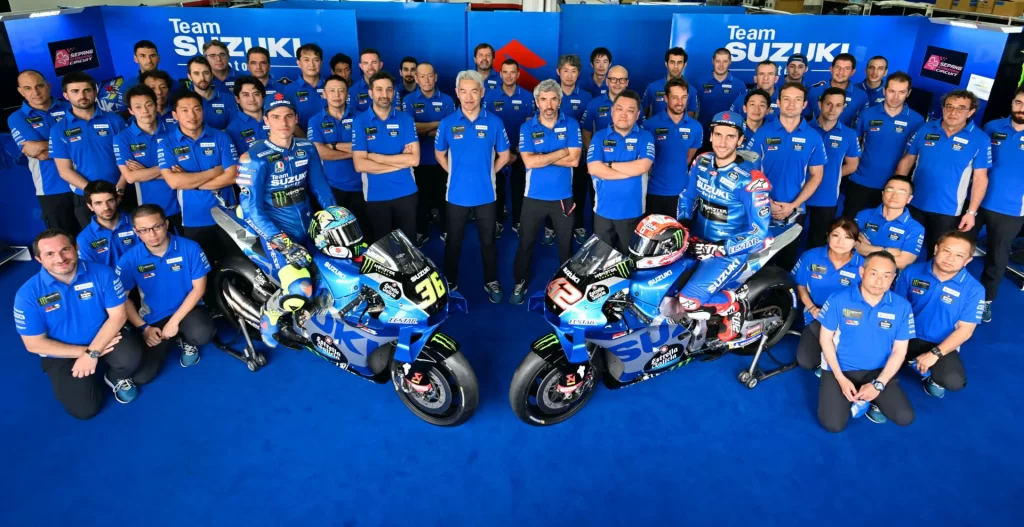 Looking back on it now, there were a couple of crumbs but it still remains a total shock. Davide Brivio left them to join Alpine in F1. Livio Suppo was rumored to have come back to mitigate costs, even if it was seen as a heavyweight hiring to bring Suzuki back after a rough 2021. They scaled back on bike development as others moved the needle. They were last to get a holeshot device for instance. But never this, and so sudden as well. 
It became the story of their entire season. What was the point of it all when it was all going to end in November anyway? I salute each and every member of that team for continuing to keep going when everything must have felt so futile. The tributes that poured in this past weekend for their staff were a sign that they were universally loved amongst the paddock. And that says a lot in a cutthroat, competitive sport.
Looking back by their standards, this season was rough. 6th in the teams, and 5th as a manufacturer due to not having the safety net of a satellite team to back up their results. Four times neither bike saw the chequered flag. Joan Mir in particular had a dreadful time of it. Overriding his Suzuki led to multiple crashes, and he just didn't show the upside his teammate did when everything was running reasonably smoothly. A fractured ankle off a hellacious high side in Austria put him on the shelf for four races. And just when he came back, so did a horrible case of compartment syndrome (Arm Pump) that hurt him on the flyaways down the stretch. From a World Championship to 15th in the sport in the space of two years is brutal. Good news, you're now Marc Marquez's teammate. Good luck.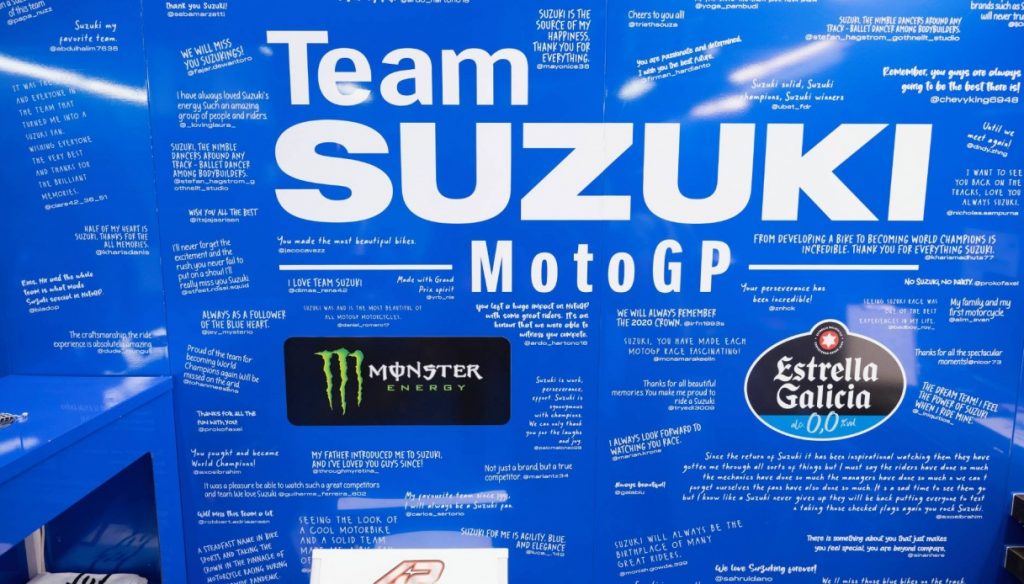 If there's one truly shining positive here, it's that the old Alex Rins might just be back. Two convincing wins in the final three to send his team home at least a little happy, and a final "Fuck you" to his Japanese bosses as to what they're walking away from. Rins has had a tough few seasons after banging on the door during his earlier years in blue, but seventh overall in a team that had one foot out of the door is admirable. As said earlier, there's a serious case that Rins should have gotten the factory Honda seat and not the LCR.
Suzuki has come a long way back from that smoking, spluttering mess of a GSX-RR when Randy de Puniet first brought them back as a wildcard. Getting off concessions. Multiple race winners. A rider's title. By developing a bike you could make an argument was as good as anything in the sport. And doing that in half a decade is an incredible testament to the hard-working men and women in that team. Suzuki will be sorely missed. The biggest representatives of the sport developing its greatest competitive era. I hope Mir's title-winning GSX-RR is put in a museum and that everyone there can land on their feet elsewhere.
KTM – Are They Good Now?
KTM is a very, very strange animal. If you purely based your opinion on press cuttings and dialogue on the Internet, you'd think this was a dreadful team in the middle of another rebuild.
I'm genuinely going to shock some people with this next sentence. Did you know the factory team was SECOND in the Teams Championship? A distant second, but still. That was a thing.
They stole 2nd off of Aprilia in the final race after KTM's 2nd and 5th got them 31 points to the Italian's goose egg. A lot of that has to go to their riders. Brad Binder is a truly exceptional racer. It was another season where his consistency and lack of errors in a season defined by just that, made him come through.
Only had one DNF in Portimao, and only three races all season where he was outside the Top 10. Throw in three second-place finishes at the top and bottom of the year, as well as Japan, and you've got another damn good season in 6th, just like last year. Goes to show you his form was no fluke.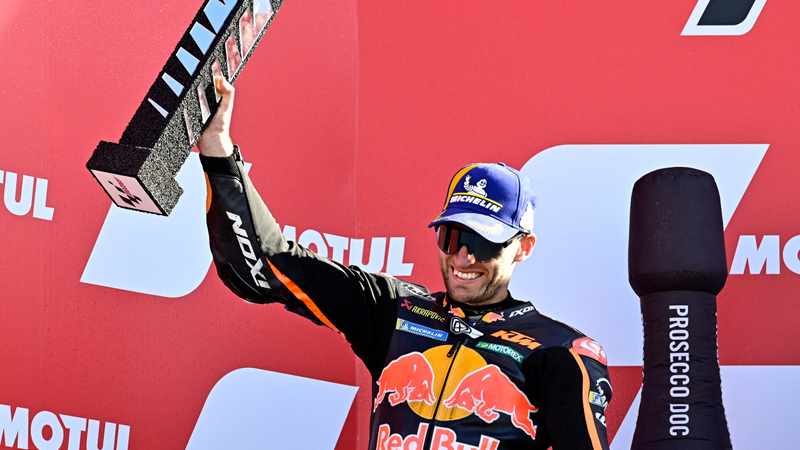 It's no coincidence people are asking to see Binder on a genuinely good bike. Because KTM is still erratic in terms of setup and just not as consistent as it should be circuit to circuit. If their setup is on point, they can challenge for wins. On a bad day, they can drift to the bottom end of the points. But I'm not going to lie, it was fun seeing Binder come back through the field late on and taking advantage of those who had overcooked their tires.
I'm in the camp that's hyping Binder up. He's a Top 5 rider in the World for me and I'm not sure KTM has the minerals to get him there weekly. They did well to tie the man down on a three-year contract.
Miguel Oliviera is another curious case. He improved and cracked the Top 10 this season and has a new unofficial mantle – MotoGP's new Rainmeister. Two wins on the year and both in the terribly wet conditions of Indonesia and Thailand. He's still a little rough and the results may be a little low compared to his teammate he was 39 points behind. But most of his can see enough of his potential to know that there's a fine rider here waiting to be unlocked.
You've also got to bear in mind that Miggy was doing all of this while distracted with contract negotiations that got rather ugly. It's impossible to ignore that the management of KTM's riders was their "main character energy" for 2022. Miggy was essentially offered to be demoted to Tech3. He said no. He was then negotiating with Gresini before rumors dropped there was a conflict of interest regarding sponsors. KTM changed their minds and offered him… an improved demotion to Tech3 again because they had already snagged Jack Miller from Ducati, so he pissed off and joined RNF Aprilia instead. Got all that? Good, there's a test at the end.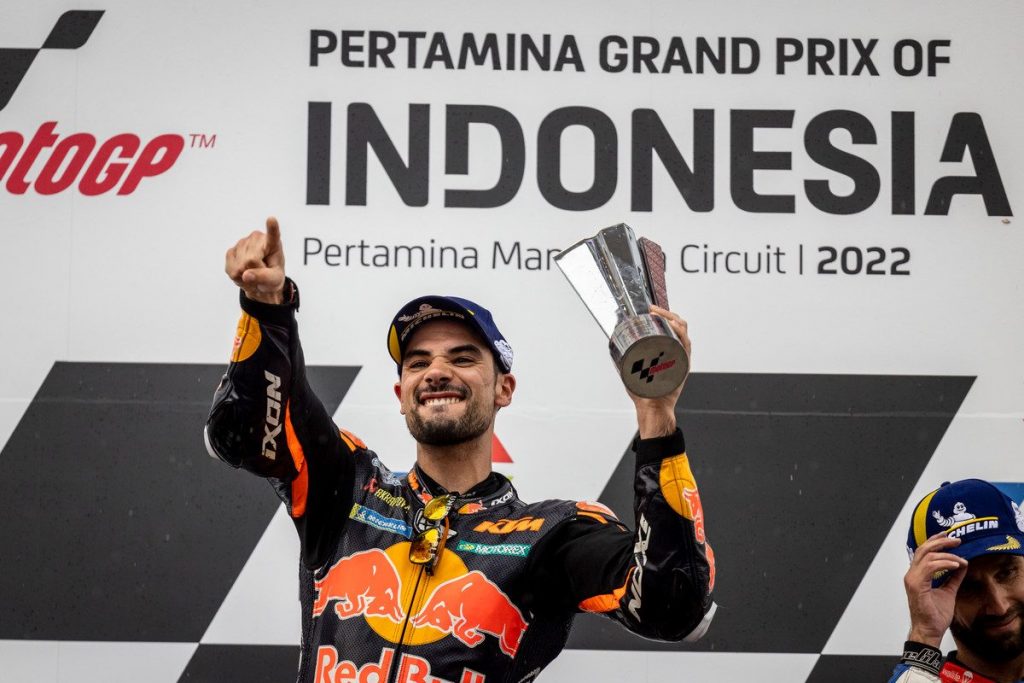 As I'll mention in Part 2 in more detail, Aprilia has got genuine backing from another party in the paddock to extend to 4 bikes. If the Valencia test was any (speculative) indicator, it's still a very user-friendly bike and Miggy's adapted quickly. If that holds up, he could be one to watch in 2023.
That KTM mismanagement extended to the Tech3 team. It probably says as much about KTM they had the 2nd best team on the grid, but also the worst team on the grid. There was a lot of excitement regarding Tech3 given they promoted the greatest Moto2 team we've ever seen with Remy Gardner and Raul Fernandez. 13 wins between them and the team's title wrapped up in September. But it was an unmitigated disaster for the rookies who spent most of their time battling with RNF Yamaha for the wooden spoon honors.
There were a LOT of rumours that from the start, Raul Fernandez didn't want to be there. There was no real concrete evidence to suggest that besides his long-shot accusation that his Moto2 team favoured Remy over him. Once that was squashed, he was as professional as anyone, at least on screen and with the press. In any case, I think a fresh start will be very useful for Raul, who was fast as all hell in Moto2 and I'm not sure an erratic KTM is a good fit for a rookie. RNF Aprilia and a score to settle in 2023. Could be potent.
And if you thought Raul Fernandez's departure was brutal, Remy Gardner's was even worse. Cut on the basis of "unprofessionalism", which is team PR talk for "Being critical of the bike". Which… well, when you're bottom of the standings and you had one Top 10 for the season, it's hard to sugarcoat that. I've never heard a bad word said about Remy Gardner in the paddock at all. Ever. His Dad didn't help matters by bashing the team on social media. All it really did was try to prove that the accusation from KTM may have been right. But rookies normally have to be dreadful to be forced out of the door after just one season. So for KTM to boot two of their greatest prospects is startling.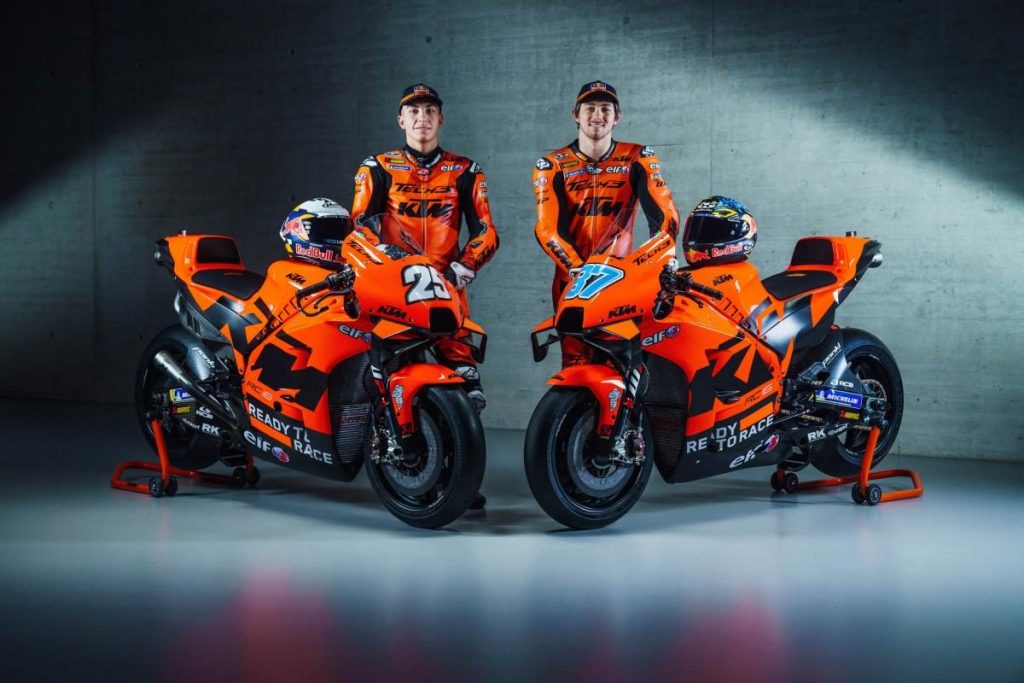 They've opened the safe vault again for Jack Miller and Pol Espargaro in the factory and newly rebranded Gasgas brand (One for the millennials). They're solid riders and they make sense for their roles. Jack Miller is probably never going to win a World Title. But he is now good enough for that upper-midfielder role and can get on the podium with a good day and challenge for wins. Finishing in the Top 5 of the Championship for the 2nd straight year is very good. And alongside Binder, he doesn't have to be *the* guy either. I like it.
Pol Espargaro had previously done good work with KTM in the past for bringing them up the order with his riding style. He was the first indicator of what KTM could do in the right hands. And the Gasgas side of the garage could do with some veteran experience. He's a known quantity. But is that enough?
Was that worth purging a good chunk of your future for? Raul Fernandez was a REALLY talented prospect, who broke rookie records for the Moto2 level. When you're taking Marc Marquez's records away, you have talent. I get it, they still have the golden goose in Pedro Acosta back there. And yes, he might be an even brighter prospect, but even ignoring the summer break broken leg he suffered, Acosta wasn't what Raul Fernandez was last year. 
Maybe Year 2 will be the year Acosta unlocks his full potential, but as said after Valencia, Moto2 is a hornet's nest. Alonso Lopez, Ai Ogura, and Aron Canet should easily contend. There are a bunch of potential wildcards too in Izan Guevara moving up, Tony Arbolino, Sam Lowes, and maybe even Jake Dixon and Celestino Vietti (Who's way better than his collapse). Tying down Acosta for three years seems like he'll be in the top flight eventually, but this is a serious amount of pressure to put on someone going into their Age 18 season.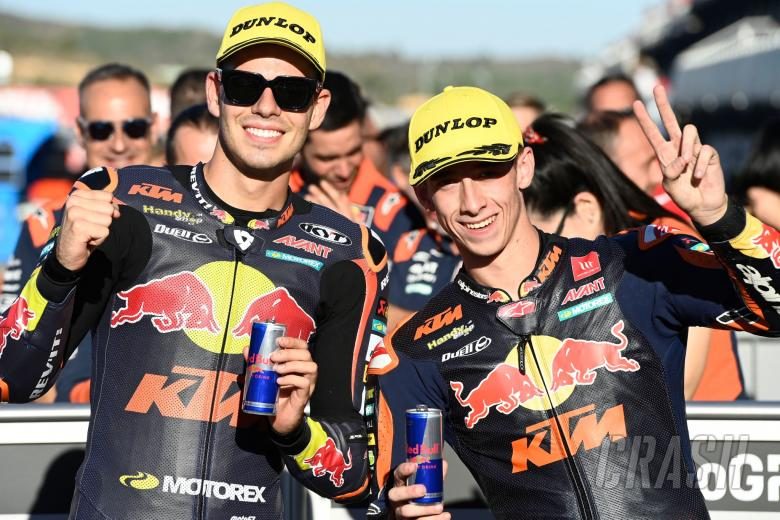 And then there's Moto2 Champion Augusto Fernandez. And he already looks like roadkill. Of the four riders in KTM's ranks, he's the odd one out by miles. I'm delighted he finally realised his full potential in Moto2, but we all know Acosta's around the corner, and he could easily be the third "one and done" rider KTM will have in two years if PA51 is too good to resist promoting. He feels like a stopgap and that's probably unfair, but that can be the cruel, unforgiving nature of racing.
KTM clearly isn't bad. They seem to be as good as their riders are. But I feel like they need more from their bike. They're completely re-doing their aero package for 2023, so maybe that'll be what gets them over the top. But this is a team that I don't think I can fully trust yet.
See you in Part 2 for Aprilia and Yamaha. Yes, more chaos will ensue.