"The Decider. Kind of."
And so it all came down to a heavily promoted finale, even though we all knew that it was going to take "puncher's chance" level miracles for Fabio Quartararo to actually have a shot of defending his title. Well, you know what they say, God loves a trier.
Welcome to Valencia and the 20th and final round of the MotoGP season where we got to say one last romantic goodbye to the boys in blue, Fabio Quartararo threw the house at the win but failed, Pecco Bagnaia looked alarmingly timid and we talk about everything in-between as we tie up some of the loose ends of 2022. 
Going For The F***ing Victory
If there was one obvious thing to spot this weekend, it was the different approaches to it. Fabio Quartararo made it absolutely clear, he was going for it. He rode like a man possessed all weekend. In Qualifying you could see his front end constantly bouncing, he was on the limit of what his Yamaha M1 could do. I went into it thinking he NEEDED to be on the front row to have any sort of chance. 4th was the best he could manage with Jorge Martin scoring his 3rd pole in a row and 5th on the season, matching Pecco for much of the year. 
And man did Fabio try. We saw him dueling with Bagnaia on the racetrack after an unideal start, and he was block-passing as aggressively as you legally can. He knew the early laps would be critical to get a foothold in challenging for the win. And it just didn't work for him because, by the time he was clear and chasing the leaders, he was already 2 seconds behind. Fabio was speculated to have the best race pace in the field in practice And while that might have been true, it wasn't by enough to make up the ground and challenge the front runners… not that we saw any of them because the Dorna TV director insisted we were never more than 15 seconds from a Francesco Bagnaia shot.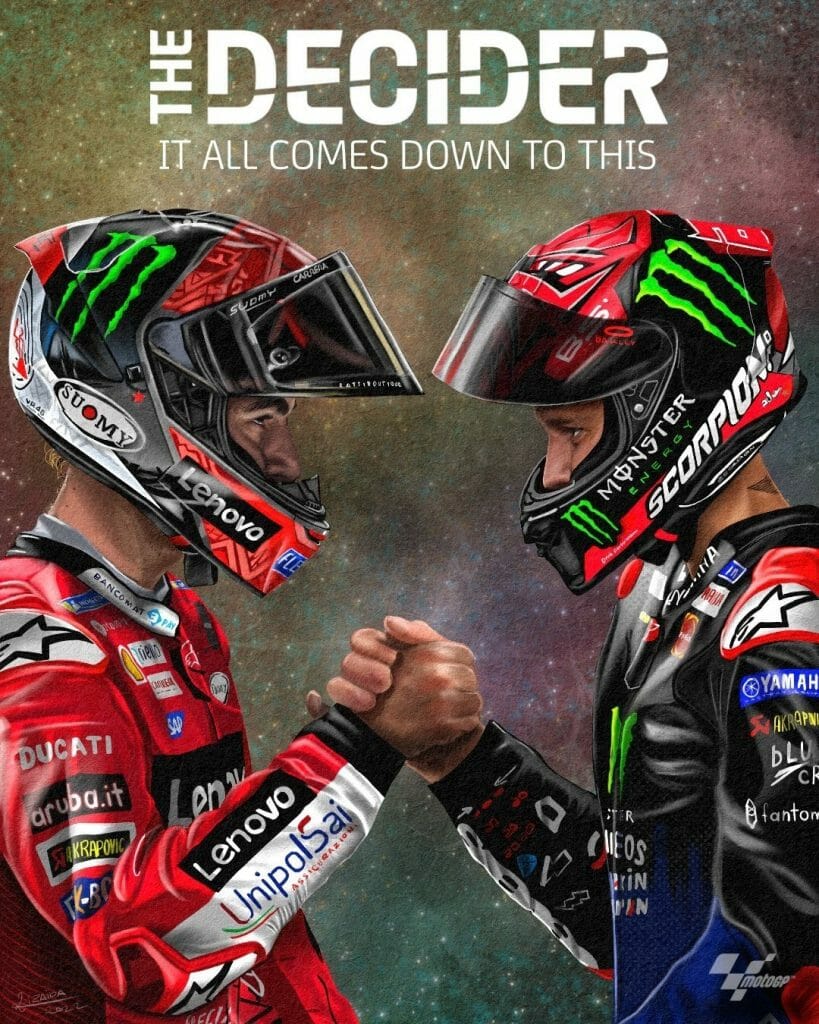 It was a very different weekend for Pecco this time around. Remember, this is a man who's won seven races this year. Nope, Pecco was reading from his book: "How to win a World Championship as conservatively as possible", authored by Danny Kent. He too struggled with the front end of the bike all weekend, made a mistake on his final qualifying lap and had to start 8th, damaged his bike's aero in pack-related contact, and sank through the end to eventually finish 9th. The man looked like a small gust of wind could screw his rhythm up. But he got that bad boy over the line to become:
Italy's first MotoGP Champion since Valentino Rossi in 2009, and the first premier class Champion to come from the academy. Ducati's first rider's World Champion since Casey Stoner in 2007, and the first Italian to win ON an Italian bike since the great Giacomo Agostini in 1972. Truly the #PerfectComb1nation.
And hey, under the radar, Alex Rins win in Suzuki's final MotoGP race in one he led pretty much from lights to flag after a superb start. I'll go into a bit more detail on Suzuki in our post-season content. But I'm genuinely delighted one of the most well-liked teams in the paddock got to leave the sport on such a high. It's rare that not a bad word is said about them in a close-knit paddock and it's such a crying shame that Suzuki reminded us at the end of the season just how good they can still be. Going to miss the team. I hope the bosses back in Japan stew over what they're leaving behind.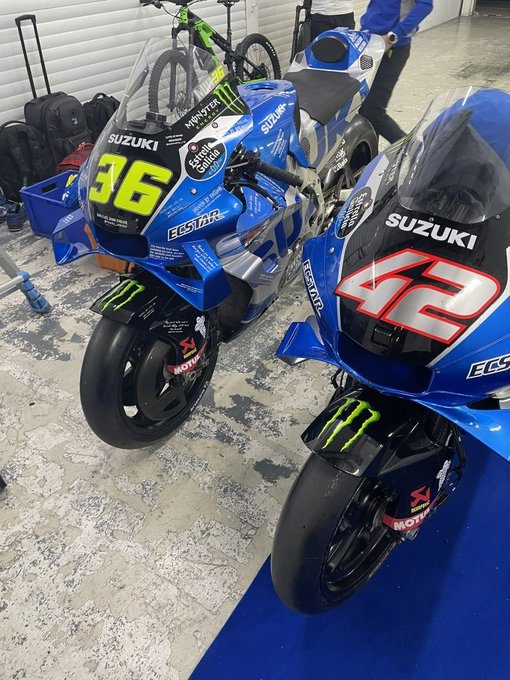 The Lightning Round
Augusto Fernandez held his nerve, it's as simple as that. Ai Ogura crashing twice in the final two rounds was absolutely criminal riding. Those two second places he was running in would have comfortably won him the title. He turned down a MotoGP ride for 2023, and now he's going into a Hornet's Nest next year.
Pedro Acosta you'd feel will be a threat after cruising to victory. Aron Canet should contend. If SpeedUp can consistently produce with their chassis, Alonso Lopez should be up there. There could be wildcards such as the promoted Izan Guevara, Sergio Garcia, and heck maybe even Jake Dixon, who did string some good scores to close out the year. I don't think all those folks I mentioned will contend, but the potential for it is strong. Ogura vs Acosta should be the key matchup. For the former's sake, I hope it isn't any more complicated than that.
PS: Augusto Fernandez's title hashtag of #FastAF – Genius. The gold leathers? Fantastic. The rabbits… nightmare fuel.
How refreshing that we got a Moto3 race that wasn't a pack race. Great late-game fight 1-on-1 between Champion Izan Guevara and Deniz Oncu. Oncu hanging it around the outside at Turn 8 was wonderful and Guevara waited for Oncu to over-defend the final corner thinking the divebomb was coming, only to roll past him on the run to the line. Wonderful racing and we need more of that in the class as opposed to 20 bike pack mayhem every week.
I've not been drinking John McPhee's BT Sports hype juice, but even I think it's ridiculous that Moto3 still has an age limit. If someone's 29 and they're prepared to pay their way or can make a crust in the class, then I say let them. The youngsters will still get the big gigs in the end anyway. 
Note: A long-form piece on the full 2022 season is coming soon, but a sincere thank you to everyone who's been reading MotoGP's Dre Reviews this year. It's not been a classic season by any means, but you all have made it fun. Thank you. <3 x