If you ever wanted a brilliant visual metaphor for the current state of IndyCar, the last 20 laps of the Laguna Seca race were almost too good to be true.
The state of play in case you didn't watch: Colton Herta has led almost every lap of the race and has breathing room over the man in 2nd, Alex Palou. More on them in a minute. Former F1 veteran Romain Grosjean has just left the pits and re-entered in 7th place, on a brand new set of alternate tyres (IndyCar's equivalent to F1's softs). He's carving through the field at a rate of two seconds a lap. He goes around the outside of Pato O'Ward at Turn 3, one of the passes of the year. With 10 to go, he's just become favourite for the win.
What stops him from a real chance at it? Colliding at the top of the corkscrew with Jimmie Johnson. Yes, that Jimmie Johnson. In a move Grosjean had been making all day long. Including twice on Scott Dixon, the 6x Series Champion and that final boss from that video game you hated as a child.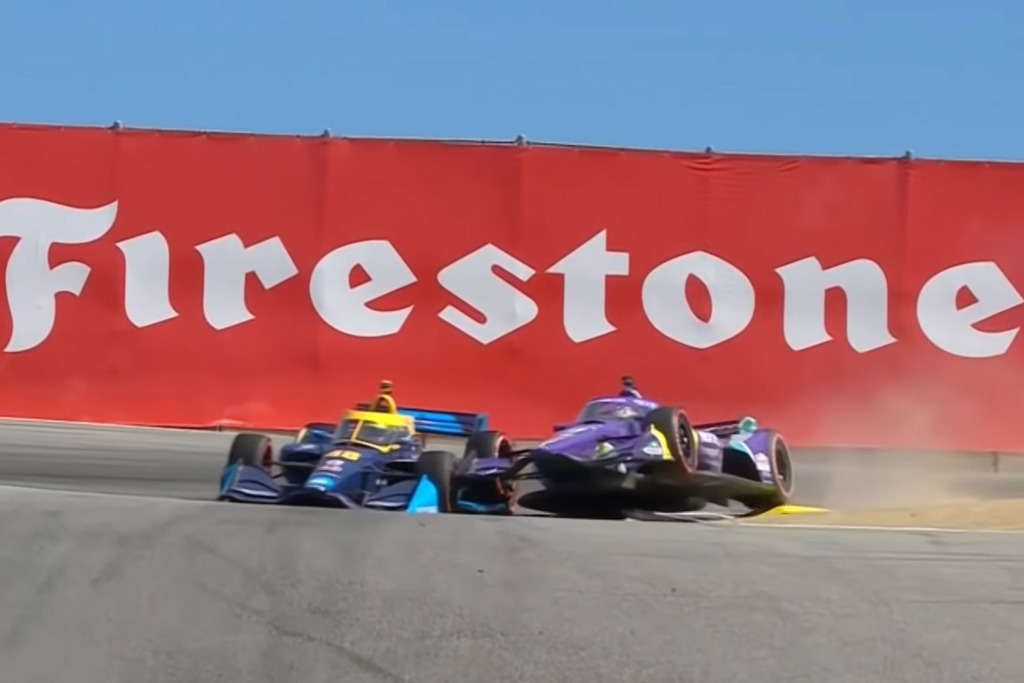 Grosjean had to settle for 3rd, but it almost didn't matter. It was the cherry on top for a season where even without him racing at the ovals (Besides Gateway), he still has an outside chance of beating Scott McLaughlin for Rookie of the Year honors. From 13th on the grid as well. And beyond that, his popularity has only grown further. Grosjean trended on UK Twitter, in a race that was on a £30 per month premium channel. He had a baseball-esque curtain call return to the podium because the fans were cheering his name after the race. F1's loss has absolutely become IndyCar's gain, and it's another huge W for a series that will always have one truly great strength and weakness:
The simple fact that it isn't Formula 1.
Look, you'll never be able to convince everyone that IndyCar isn't a downgrade, especially here in Europe. F1 gets 50x the coverage, makes a bucket load more money as a global sport, whereas IndyCar is a niche within a niche. Especially now F1 is actually starting to make some gains in the US via Drive to Survive, the Sprint Qualifying format changes and more effort being made to bridge the gap overseas with a 2nd US race incoming. But without question, IndyCar is taking advantage of F1's other shortcomings to make its own series standout too.
Look at that story of the race again. Colton Herta is everything IndyCar's ever wanted. A Gen Z, 2nd generation, charismatic rock star of a homegrown talent who's been exceptional from Day 1. He's picked up the mantle for Andretti Autosport, a team almost definitely in a difficult transition.
Alexander Rossi, another F1 import with incredible highs and lows, has juggled awful luck and occasional overzealous race craft for the last three years. Marco Andretti's no longer full-time and was never the driver and surname carrier we wanted him to be. Ryan Hunter-Reay's now 40 and has been in a slow decline for a while. And James Hinchcliffe has one foot in the broadcast booth going forward.
Colton Herta has become that team's leader in just three full seasons, toy Infinity Gauntlet and all. He owns the dining table discourse after already surpassing his dad Bryan's win total. And he's still only 21 years old. I hope the series finally realises what they have and promotes him to the moon. I still feel they missed the boat with Josef Newgarden's rise to the top, they have another chance to do so here.
2nd on the day was Alex Palou. A man who didn't get to IndyCar via conventional methods. Alex was going nowhere as a teenager in GP3 on the European junior ladder, so he went to Japan to cut his teeth in Super GT's GT300 class, and then Super Formula. He was able to cut a sponsorship deal to come to IndyCar just last year under Dale Coyne Racing. He was a pretty damn good rookie, only finishing behind Rinus Veekay for ROTY, another exceptional young talent in his own right who's since gone on to win himself.
A year on, he's now got one hand and four fingers on the Astor Cup. Alex Palou has been a revelation. Maybe the greatest single-season improvement I've ever seen in my brief time watching the series. He took the first win at Barber back in April and has led the Championship most of the way since with remarkable consistency, great speed, and clutch performances under pressure. He only missed out on the Indy 500 due to an incredible drive by Helio Castroneves, who you could make a case for as the greatest driver in that race's history.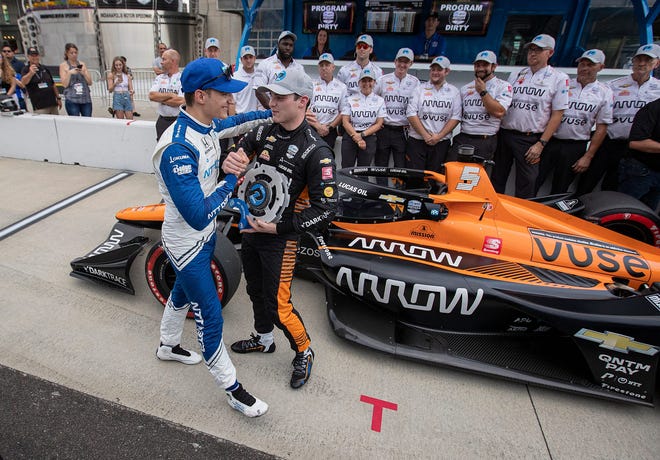 Every time Palou's been under pressure this season, from new threats and old (Herta, Pato O'Ward, also remarkable in his own right, as well as Dixon and Newgarden), he's found a big result to take back control. A Top 10 will virtually seal the title at Long Beach this weekend and it'll be a glowing endorsement for him. For Chip Ganassi, who's finally finding his man for the #10 post-Kanaan and Dario. And a glowing endorsement for Japan and global Motorsport, walking proof that Europe isn't the only way.
I wrote about this last year, that with big name F1 factories hoarding talent, a sport that's spoilt for choice with younger drivers spearheading the new generation and rising costs pricing others out year-on-year, it's wonderful to see that others can get their flowers while taking the road less travelled. 1st and 2nd in this year's championship; Alex Palou and Pato O'Ward are walking, shining examples of that, and long may it continue as the sport's own youth movement develops.
And then there's Romain Grosjean again. A career that was looked at rather cynically, based on tired old 2012 memes. Then Bahrain happened. It gave us as an audience a newfound empathy for the French-Swiss part-time chef who embraced his near-death experience like the Phoenix he now calls himself. Given how fast sports can move, 9 career podiums across a 10-year career doesn't sound like much. But it's way above average for an F1 career.
And when he spent the latter of that time trying to prop-up a rapidly fading Haas outfit, it was easy to turn our noses up at he and Kevin Magnussen's abilities. The often cruel nature of a developmental-based sport that's almost completely dictated by car performance. It's exactly why I scoffed at the rumours of Colton Herta going to F1 in April. You don't want that as bad as you think. I know we're all desperate for another US superstar in F1, but limping to 13th place finishes while we wait for the next F2 super-prospect to emerge to replace him sounds miserable.
IndyCar is mostly-spec. A far more level playing field. It puts more of the onus back on the driver. And that's where Romain has been able to make the difference for a smaller team like Dale, the same team that got Alex Palou his start 18 months ago. Three podium finishes, including a brilliant 2nd at Indianapolis' Road Course where the photo of his burnt hand gripping a trophy again went viral.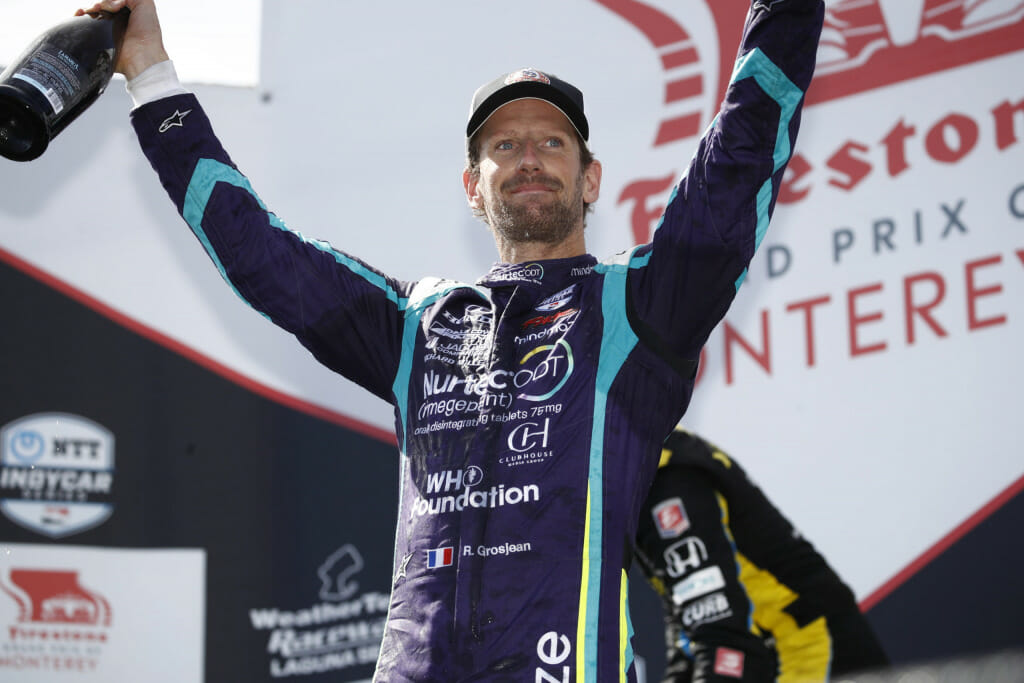 When Alex Rossi first hit F1, he openly talked about it being a stepping stone to get back. Not Romain. He's taken it seriously, unlike others in the series with the same path. Humility. Respect. Commitment. Moved the whole family over. Will do the ovals next year, probably as an Andretti driver in a now top team. He's the F1 guy who's embraced IndyCar, and IndyCar has embraced him back, and it's been awesome to witness.
And heck, there's even a couple of cool extra side-stories here. Yes, Romain was a bit clumsy in how he handled his comeback on Sunday. But it was great to see Jimmie Johnson be competitive after a year of struggles. Yes, the 46-year old, 7x NASCAR Sprint Cup Champion who's taken on IndyCar as well as IMSA, as new challenges. And yes, he's been bad for the majority of the time. And the marketing behind him hasn't helped the narrative of what people think he should be doing here.
But I think we've all underestimated just how difficult this series can be. Jimmie and Romain's struggles at times, if anything, are confirmation that this series can be hard as hell, not just an inferior F1. 17th might sound lame for Jimmie, but it was his best result of the season and seeing him make passes for position, including a belter on James Hinchcliffe at the corkscrew was great.
And I'd be unfair not to mention the other excellent rookie in the class, Scott McLaughlin, the New Zealand phenom from Australia's Supercars series. Another entirely different challenge embraced (Seriously his tweets on discovering America have been lovely), with some superb early results. 2nd at a slippery Texas, and 4th at Gateway, super-challenging ovals, often ignored by Europeans, dispatched with confidence and relative ease. Penske doesn't hire rookies unless he thinks they could be truly great. And while Scott's had rookie gripes like anyone should expect, he's had a very solid rookie year and I'm eager to see how he develops.
The fact that we have a 20's Aussie Supercars legend, a 30's F1 veteran, and a 40's NASCAR legend is brilliant. It's the US Sports all-star game of Motorsport and something we just don't see very often these days with ironclad contracts and big insurance premiums.
The final 20 laps of Laguna Seca wasn't just a dramatic ending to a race that was better than it had any right being. It was a microcosm of everything I love about the series. I look forward to their races more than F1 these days and objectively, we're in the middle of one of F1's all-time great seasons at the moment. IndyCar is great because it isn't F1. I don't want to see talent poached for the big European machine. I want to see it shine on their turf, on their terms. It's just way more fun to me. And I think more and more people are realising that. It's our differences that ultimately make us who we are. Let's embrace that too.