It's funny. As humans, I think normally we like seeing nice round numbers, it makes things a little easier to comprehend. And yet, Lewis Hamilton won his 100th Grand Prix this past weekend and I don't think it's truly sunk in what a ridiculous achievement that is.
If Lewis Hamilton was his own constructor, he'd be the fifth greatest in the history of the sport on win count alone. He's only 14 behind Williams, who's raced in three times more GP's with twice as many cars. He's won 79 out of the 120 that Mercedes, third on the all-time wins list, have achieved. It's nearly 10% of all the races in what we now call F1. It's eight more than Ayrton Senna and Alain Prost, put together.
If he keeps this pace, he'll have averaged nearly 7 wins a season. Seven wins in a season wins you almost every championship you can think of. THEN DO THAT OVER FIFTEEN YEARS. These numbers are outrageous. They're otherworldly. I thought Schumacher's 91 was unbreakable, but to see someone in the modern era put together this kind of resume is utterly incredible. It demands respect. We're witnessing the twilight of probably the greatest driver we've ever seen.
The Championship dogfight has been a welcome distraction as Max Verstappen continues to take Lewis to the absolute limit of his powers and beyond. It's amazing that a man with 100 career wins has only won two of the last eleven. But when you step back and see how Lewis got to this point; with a Hall of Fame career already achieved with McLaren in his twenties… to this? Insane. Unfathomable. No-one has ever been able to extract more from a racing car in this era, and probably any era. And I'm not sure we'll ever see that again. And it's going to take all that brilliance to take the one major counting record left. You know the one.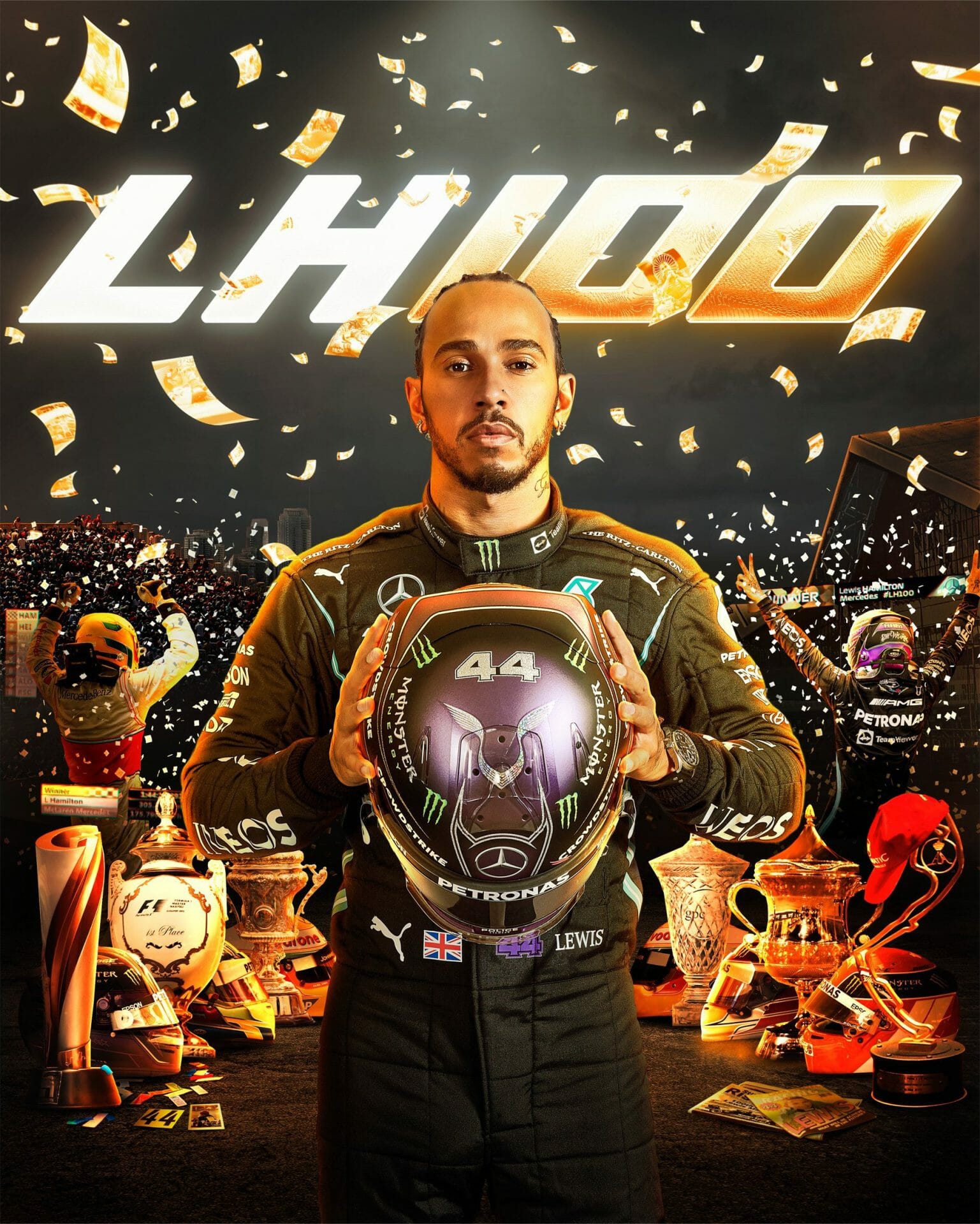 We all saw a reminder of his brilliance by him and his team combining to make a critical call to beat an unusual threat… well, sort of. Lando Norris challenging for wins will NOT be a surprise in the near future. This was without question, his greatest weekend of what's already been a contender for Driver of the Year. A clutch lap under changing conditions to take his first pole position when it seemed George Russell had baited the field into slicks too soon. And then an excellently managed race to take advantage of Hamilton being stuck in traffic and then holding the latter off until the rain came down.
And you know what's funny? It's so, SO easy to play strategist after the fact. We all tried to in real time, but it's those split second windows that can make or break you. It was like West Ham bringing Mark Noble off the bench against Manchester United just to take a penalty, knowing he hasn't missed in 5 years. You look like a genius if it lands, and an idiot if you don't, with virtually no margin for error, no quarter of forgiveness if you lose that coin flip. And that's what took away a win that Lando was so close to grabbing.
I don't care what you tell me, I can't blame him for it. With a couple of seconds separating Norris and Hamilton, both wanted to stay out with 5 laps to go, to beat the other on track. They both ignored their first calls to box for Intermediate tyres. They wanted to settle this on track, on their terms. Were McLaren too assertive in their calls to Lando? Maybe. Can you blame Lando for trying to make the "hero" call so close to the end, especially when he's being told the rain would get no heavier? The humanity in me can't get there. I literally saw just two months ago in MotoGP, Brad Binder make the "hero" call, without team radio, staying out, and winning. The circumstances weren't exactly the same, but it's walking proof that we don't really know "shit" in these moments.
I've said many times, we're more emotionally connected to these drivers than ever before. As much as it's the cold, sometimes hard to dissect that engineering and development that truly makes the sport what it is, they'll always be that disconnect between the guys on the wall (with the weather report), and the fleshy bit behind the wheel giving everything they can for the ultimate prize… win #1. Or 100 in either case.
McLaren and Lando got this one wrong. But don't forget they got so much right to even be in that position to begin with. And I'm glad Lewis was one of the first to recognise that afterwards, their chat to the world's press with duelling microphones encouraging, understanding and humbling to a young man who will absolutely be back in the future. A calm and classy meeting of the minds, after a brilliant finish that was anything but. It was awesome, and I look forward to seeing it again.
After the most dramatic of finishes in Sochi, a debrief between @LewisHamilton and @LandoNorris 💬#RussianGP #F1 pic.twitter.com/c2SnM3M8zc

— Formula 1 (@F1) September 26, 2021
On the other end of the title rivalry, the rain might actually have been counterproductive to an extent. Max Verstappen, on the back of an engine penalty, was set to only finish 7th from the back after an engine penalty. But with the rain pouring down and erratic decisions made up and down the field, Verstappen drove brilliantly to take 2nd and only lose 7 points to Hamilton's win. If Max, and/or Red Bull go onto glory in December, it'll be days like that one that will be remembered. It also spared some more Mercedes blushes by bringing Valtteri Bottas up to 5th, via another power unit change. If their logic was to use him to block Max Verstappen, then it was an utterly bizarre move that was punished early on.
Again, blushes were spared, but after Toto's promises to cut down on their "clumsy weekends", this seems like another one Mercedes got away with. And I'm not sure how many times they can keep doing that with both titles still in the balance. But hey, I guess that's another example of Hamilton's brilliance – Being able to force the issue.
The Lightning Round
Sergio Perez, you're going to have to step this one up. For all the shit we give Valtteri Bottas for not being Finnish Lewis, being -31 behind him just isn't going to fly for a team that has a genuine chance of the big one. If Red Bull fail to win the constructor's title, it won't be the Dutchman in the #33 held responsible. A part of me still thinks Daniel Ricciardo walking away from them in 2018 has hurt them more than they've ever realised…
I feel bad for Carlos Sainz. He seems like THE forgotten man in this Championship. Look at the other guys around him at the table. Norris, Gasly, DOTY candidates. Alonso, as good as he's ever been in an Alpine at 40. Ricciardo and Ocon, surprise winners. Vettel, a couple of big podiums combined with his almost universal likeability. Carlos' arguable best weekend in F1 got crickets in response. For a guy whom a lot of people deemed to be a placeholder for Mick Schumacher, to be ahead of Charles Leclerc in the Championship is some real good shit. Way to take your chances, Carlos.
Can someone have a word with Lance Stroll? Three weekends in a row the dude seems determined to be a nuisance with his own teammate. I'm not biased, honest.
Fernando Alonso's Turn 2 cut on the opening lap. Beautiful, delicious shithousery. There is no counter for "old man game".
Kimi Raikkonen missed two races with COVID, came back, stuck a terrible Alfa Romeo 9th and next to no-one cared. Doesn't get more Kimi than that.
Credit to Alex Jacques for pointing this out, but amazing how three of the worst tracks on the calendar (Paul Ricard, Catalunya and Sochi), have produced three of the best races of the year. Two excellent tactical battles, and a rain-drenched classic. If you needed any more proof that we're in the middle of an all-time great season, I can't help you.