"This is the self preservation society…"
An old, but new McLaren.
November 25th, 2012. Brazilian Grand Prix. The last time McLaren won a race, and a strange time for the Woking factory team. An incredibly fast, but unreliable car. An unhappy medium, a car good enough to win, but not good enough to challenge for the title. Lewis Hamilton on the way out, Ron Dennis missed. No-one could predict the changes that lay ahead. A horrible end to the V8 saga, the return and retirement of iconic boss Ron Dennis, a disastrous Honda partnership and years without even a glimpse of their most recent success.
Nearly 3,300 days later, it was actually refreshing to see McLaren back in the winners circle? A one-two no less. And it was earned on merit and brilliantly done. Daniel Ricciardo made two excellent starts, took advantage of the mistakes of the three big hitters in front of him, and wasn't passed on Saturday or Sunday. It'd be easy to write this off as a flukeish win given it's a two-team championship, but no-one had an answer for McLaren's pull. The closest we got was Lewis Hamilton taking the better part of half the race to get past Lando Norris. Seeing the works team out-drag the factory through curva-grande was shocking.
But when the you-know-what incident happened, McLaren never looked back. And that just about sums them up now. This is such a different team. One that had the reputation in the past of the ruthless, mean, corporate and stuff team in black and silver. Back when Lewis was stuck with number one haircuts and manufactured interviews. This is a new McLaren. We've evolved into colour. Fun, exciting, two of the sport's most likeable drivers of this and the previous generations. They've attacked social media hard. Lando has been a game changer for younger fans. Daniel Ricciardo is genuinely one of the sport's most charismatic drivers ever. Zak Brown really doesn't take himself too seriously. He skied a goddamn shoey on the podium. Andreas Seidl is clearly one of the best principals in the game. If anyone's poised to break back into the elite, it's McLaren. But a different McLaren, and a massive new set of fans behind them. It's been great to witness, and I hope it continues.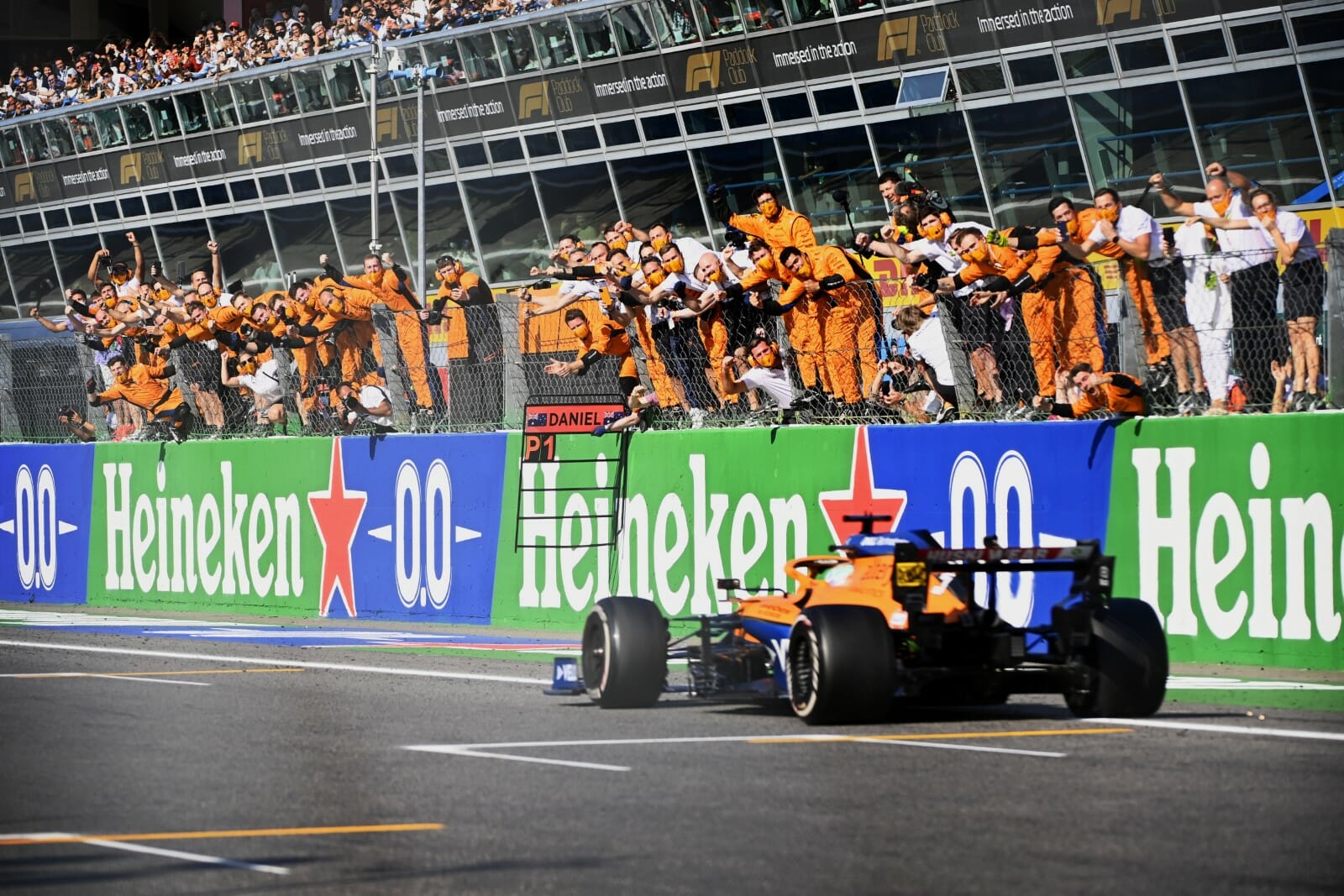 "Lewis started it, Max finished it."
Credit to my co-host Cam for the quote. But we all know why you're really here. You want to talk about that collision. So let's talk about it. First of all, it's a blow that both teams screwed up pitstops to even put their respective star drivers in this position. Max Verstappen looked unlikely to overcut Ricciardo as is, then lost 10 seconds to a human error. Lewis Hamilton had finally passed Norris, only to come out behind him again after a 4 second stop.
I stand by the Substack in what I said. Both men knew the stakes. They both knew what they were doing. Hamilton has flirted with that over-aggressive line in the past. He's always flirted with the notion of owning the entire road. He's pinched Alex Albon twice. Nico Rosberg got the old heave-ho before. The Infamous Pastor Maldonado Valencia 2012 barge was virtually identical going into the 2nd half of the chicane. Hamilton immediately tried to pinch Max on entry, and then thought he claimed the whole chicane, despite Max having three quarters of the car alongside. Sadly, the outcome was also similar. The notion that some portray Hamilton as this naive and totally innocent driver on track is somewhat overrated. (No, Hamilton fans on Twitter, this doesn't mean he's dirty either. Christian Horner, looking at you.)
And that's what made this clash so polarising. What we've brushed under the rug with Lewis as he's become the sports greatest driver and beyond, we've championed from the start with Max Verstappen. I've said from the very start of his career, the reason former drivers, now pundits, swooned about him from as early as his 17-year-old rookie season wasn't just because he was fast as hell. It was because he was old-school. He'd take chances other guys just wouldn't take. He had a ruthless, 90's-esque level of aggression and unwillingness to compromise in a sport that many had claimed had gotten a bit "soft" with track limits, collision penalties and notions that stewards were out here doing too much.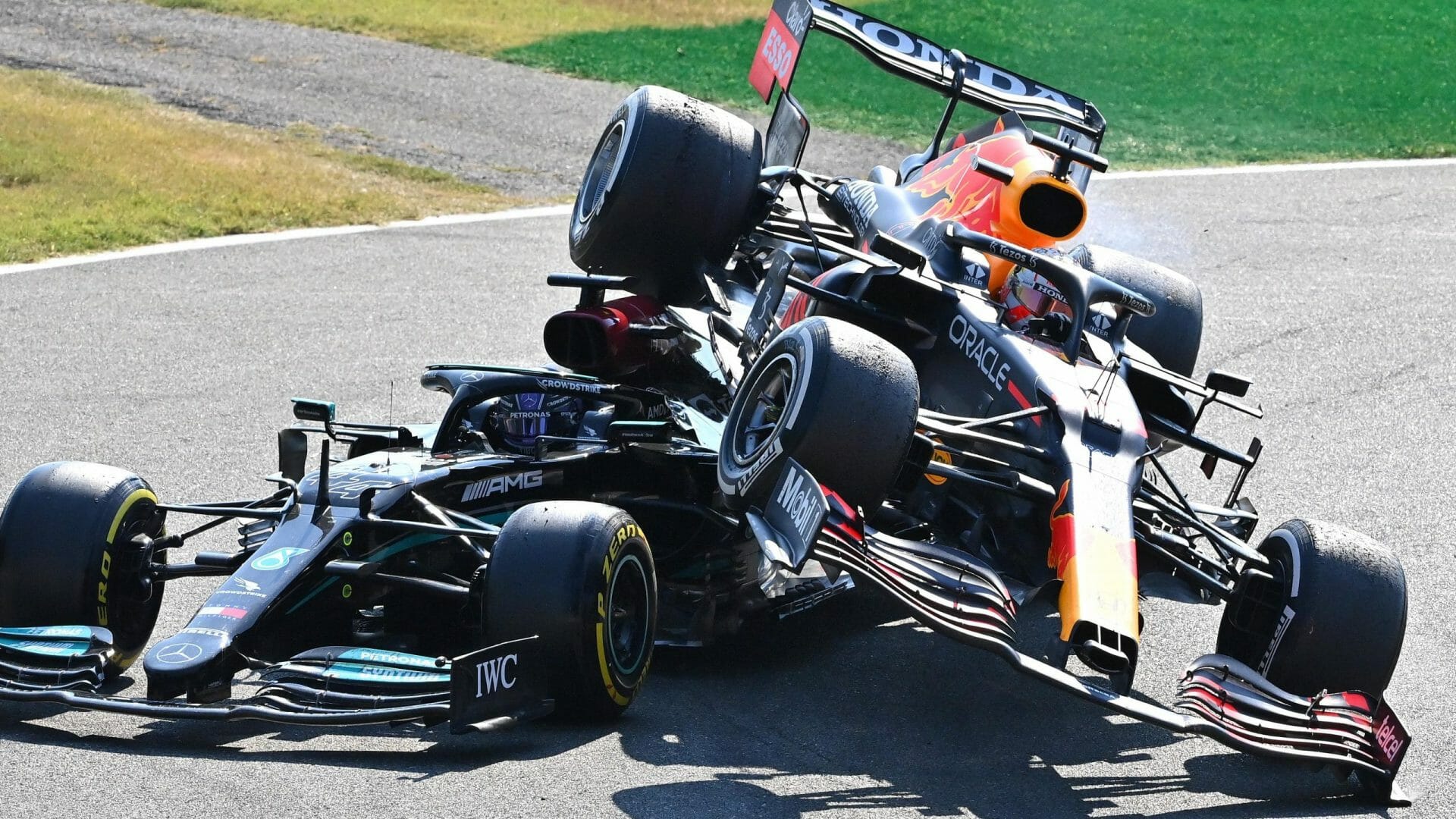 Living and dying by the sword has made Verstappen the driver he is today. It sometimes cost him dearly, like when he tangled up with Ocon for no good reason at Brazil, or when he spun Sebastian Vettel out in China. Or even at this very track when he squeezed Bottas into contact.  But it also gave him control in races as recently as this season, with Imola and Catalunya being 50/50's he came out the better for by refusing to yield. But now, with Max in a true title fight for the first time in his career, we will have that same mentality questioned. To which I say.. This is who Max is. This is what Max has always been. I suspect given Monza was the 133rd start of his career, it's probably who he'll always be. This isn't the Prost/Senna that so many want to be, the visual metaphor for their golden age of F1 in the Early 90's. These are two Sennas. Two Schumachers. Two sides of the same coin. Far more similar than we give them credit for when the visor goes down. 
This clash at the chicane was the walking definition of a racing incident. Hamilton believed he had the right to the corner. Can't blame him for that, I think Max's odds of a clean pass were low. Verstappen disagreed, and I can't blame him given he's forced Lewis to back out a handful of times already this season. If it's worked for you all these years, why stop? The real culprit in this was the unnecessary kerbing that turned Verstappen's car airborne, and led to a nasty wreck where Hamilton got a hit from Max's tyre over the top of the Halo. Thankfully, the only real damage was pride, but I hope the FIA doesn't become complacent on this Halo and looks to find a next evolution that can mitigate that risk. A 1 in 100,000 chance is still exactly that. A chance.
The three place grid penalty for Max, I find strange. I've written many a piece before mentioning the inconsistency of stewarding in a constantly changing sport and political landscape where teams want less until it's their man who's the victim. I'd say nothing important ever gets decided on a 52/48 swing, but I'd be lying. But the punishment as far as I was concerned, was already served. Both men missed massive opportunities to deal a big blow in their title campaigns. Mercedes in particular, given the car advantage they had for the weekend. Feeling like we have to blame someone is just… not it for me. But this incident ran deeper, and exposed all the ugly in this title fight again.
A different kind of point-scoring
We saw the sports fans show their whole ass after Silverstone. It was always going to be ugly. Hamilton accidentally put Verstappen in the wall, and to the eyes of the Max-hive, retribution wasn't given because Hamilton hit just the right circumstances to win anyway. A marginal clash between two very different fan bases with bad blood already in the air was only going to add kerosene to that fire, and it showed. 
This was a very different kind of point-scoring, the kind Jeremy Kyle harnessed via manipulation when he took advantage of vulnerable people on ITV. Anything to claim moral superiority in a clash where everyone deep down knew this was much closer to a coin-flip. 
Coming after Max Verstappen's character for not checking on Lewis Hamilton's health. But he did, while Lewis was still trying to reverse out of a gravel trap as he walked past. Petty, and a decent human gesture being weaponized into an expectation is ugly. Two weeks ago, we saw Sebastian Vettel stop his car during a red flag at a horribly wet Spa to check if Lando Norris was okay. If he had just driven on, would you be critical of him on Twitter? You probably wouldn't even bat an eye. At Imola, George Russell literally slapped Valtteri Bottas on the head after their horrible crash. I don't think it was a sign of endearment, but I also don't remember a firestorm over it. Nope, we saw the pictures of the tyre hitting Lewis and I think a chunk of fans used Verstappen's completely normal exit as an outlet for their frustration.
I saw it when people went viral for bashing Alan van der Merwe and the medical team because Lewis wasn't immediately checked… despite him being largely fine, and there being no obvious sign with sensors, or radio messages to suggest it. We don't know more about the situation watching a world feed broadcast than they do and it's a dangerous game to think that we do. And to come after Alan, a man so many hailed a hero for the way he and the medical team handled the Romain Grosjean incident less than a year ago suggests our collective memories are very short indeed.
Even if the response from the parties directly involved afterwards were pretty tame and mostly neutral, there were still shots fired. Toto Wolff described the clash as a "tactical foul" akin to soccer, where you take a yellow card to stop a breakaway on the opponent's goal. That implies intent. That implies a deliberate act. It's a similar logic to Christian Horner, a man now affectionately referred to as "Karen" in many social media circles, who was absolutely raked over the coals for similar accusations after Silverstone when he called Lewis "dirty".
It's tit for tat, and as I've said after Silverstone, team bosses are politicians. Even when they claim neutrality, they're really not. I know anything associated with Lewis Hamilton is never going to lose a popularity contest on here, and understandably so, he's an awesome human being. But the way we talk about the sport right now is inherently unfair, and both sides of the line need to pick their battles and fight less. The two main drivers have largely been civil and respectful of each other (Or at least pretended to be), and there's no reason why we can't do the same here. It's Hamilton/Vettel all over again, and that rivalry actually HAD a deliberate crash in it.
I mean, when Jennie Gow is getting it in the neck for an objectively positive tweet for simply mentioning Sebastian Vettel's activism alongside Lewis' at the Met Gala, we're all clutching at straws. Like we're on two sides of a battlefield, both pointing guns at the other. All because we want our favourite to win a war that doesn't actually exist. 
Accusing one party or the other of attempted murder off the back of two arguable racing incidents is absolutely insane, a dangerous and foolish rhetoric, and should be treated as such.
The Sprint Qualifying Problem
Guess the honeymoon period on that format change didn't last long did it? We saw this format debut at Silverstone and both "Sprints" were pretty similar, and yet… this was the one where we all had enough. Which is understandable, this was drab.
I've said this before, but weekend format changes were inevitable. No big name factory wants to change the cars to balance the books. Why would you if you were a Toto? Or a Christian? So what can you change to enhance the "show"? The format. And the early proof of the pudding is in the eating. In the US, moving Qualifying to Friday led to a 300% increase in viewership compared to Zandvoort's FP2 in a similar time slot and the ratings held over the weekend. Say what you will about the format, but it's here to stay. If you're the FOM, three days of meaningful action will always be better than two. Everyone makes more TV money, promoters sell more weekend tickets because there's more of a reason to roll up on Friday, etc.
But as said at the top, it's not particularly entertaining. Not in these cars anyway. While we all cling onto the hope that the 2022 cars will improve things, if the cars still have significant performance differences, we're still going to essentially have the first quarter of a now 405km GP with a 24-hour competition red flag on Saturday afternoon. Dancing around the actual *product* doesn't solve anything.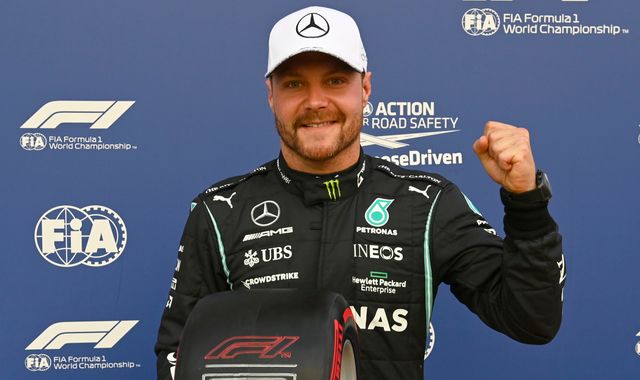 But I think we can do better. Here's my idea for a better Sprint Weekend format, leave your own suggestions in the comments down below.
Friday Morning – 2 hour Practise Session. It's the only practise of the weekend and you go to Parc Ferme conditions immediately afterwards. FP2 under Parc Ferme rules on a Saturday morning is nearly completely redundant. 
Friday Evening – Qualifying, but it sets the grid for SUNDAY'S race as usual. The Sprint Race is now standalone. I like the fact it's late afternoon, which gives the Europeans a chance to come home from work on a week day. 
Now, we reverse a random number of grid spots from Friday's Qualifying, and that sets the grid for the Sprint Race on Saturday afternoon. The British Touring Car Championship did this a few years back and liked the idea. I say random rather than a set number like the junior ladder because it encourages full participation in Q3. If you knew that only say, 10 guys were getting flipped, not running guarantees you a front row. So set the range between say… 7 and 12. One random weekend, Nicolas Latifi might just end up on the Sprint Race poll as a famous name pulls a number out of a hat live on TV. And we're gonna bump the points up to what the junior series has now, 15 for a win, points down to 8th, and hey, a bonus point for fastest lap, because why not?
Obviously, the schedules can mould the juniors around that as the skeleton, and there's some optimism here as F1 is genuinely considering making the Sprint "standalone" in 2022. But for me, it boils down to this – If you're going to have a sprint race, you need to do something more aggressive and radical than just having a free tyre choice and running a 1/3rd distance mini-version of what's coming on Sunday. And no, it's not going away anytime soon.
The Lightning Round
This was THE most Valtteri Bottas round of all-time. No real pressure on him anymore with his Alfa Romeo move all but confirmed. Lewis Hamilton was objectively below par by his standards. So Bottas stepped it up and was the best driver in the field this weekend. And where did he end up? His usual 3rd because Mercedes chose Monza to have a 4th power-unit change. A questionable choice given their advantage on the field. Is there anything MORE Bottas than that? Answers on a postcard please.
Brutal momentum killer for AlphaTauri with both cars barely starting the race, let alone finishing. First time all-season neither of their cars scored. They're in a real dogfight with Alpine for that elusive 5th place, and it's becoming more of an elephant in the room that they need more from Yuki Tsunoda. It's pretty clear we gave him far too much hype going in, but 18 points after 14 rounds just isn't a great haul. George Russell, for perspective, has 15.
This was a 5/10 race, with a 10/10 result due to freak incidents. Honestly, for Monza, that's above par. We'll take it. See you in Sochi.