For those who don't know me all that well, I'm a sports addict. There's not an awful not I flat out refuse to watch. One of the earliest sports I remember outside of Formula 1, was Athletics. I sat in a caravan in Great Yarmouth watching the great Maurice Greene break the World Record running 100 metres in 9.79 seconds.
So, this year's World Championships in London for me was like Christmas come early. There's been a heap of stories to come out the Olympic Stadium this year, from all the shock winners, to the IAAF's bizarre shenanigans with Isaac Makwala, to a slow track of all things, but for me, the biggest observations have been the fans treatment of dopers, and its struggle in how to market itself as the end of an era dawns.
We've been spoilt in recent times. Usain Bolt had a nine-year reign of dominance, unlike anything we'd ever seen in sprinting, carrying the sport with previously unseen levels of showmanship and charisma. Oh, and mind blowing times. It helps. Mo Farah's last six years of him being practically unbeaten in long distance have seen him adopted into an easy to root for, adopted British superstar. Both are about to compete in their final race, and it leaves behind a questionable plane of existence for the sport going forward.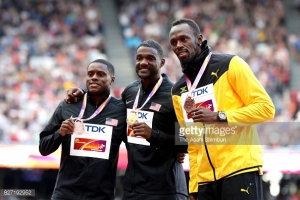 It's kinda crazy that the support of Bolt, actually made me feel bad for new World 100m Champion Justin Gatlin, a twice convicted drug cheat. On the face of it, it's an easy narrative, as Michael Johnson pointed out on the BBC. Boo the cheater. We Brits taking the matter of doping more seriously than anyone. But if you read between the lines, it's a lot more complicated than that. Gatlin's first offence as a junior was a pill he had been taking his whole life for ADD. And many folks are super confident that lifetime bans from the start would solve the problem? It's the lack of common sense that makes me uncomfortable.
When Gatlin emerged as the biggest threat to Usain Bolt going into the 2015 Championships, we turned him into the poster boy for doping and everything negative we associate with Athletics. Which was weird, and not consistent, because the booing wasn't a factor in London in 2012 during the Olympics when Gatlin ran 9.79 en route to a bronze medal.
But because his presence was forcing prominent media figures like the BBC and Lord Sebastian Coe to ask difficult questions about what a potential title win would look like for the sport, we scapegoated him. Despite top athletes like Yohan Blake, Shelly-Ann Fraser Pryce, and later on, Nesta Carter, Tyson Gay and Asafa Powell all failing tests themselves, and letting them waltz back in under no such criticism.
It saddened me that people like Steve Cram were trying to revise history on commentary calls that were Pro-Bolt (And inherently, anti-Gatlin), in the past, as a battle being hailed as "good vs evil". Also, the BBC replaying montages of Bolt's previous accolades not helping. Michael Johnson had receipts, brah. One of the biggest media companies in the world was trying to dig themselves out of a hole they created when Gatlin finally did get his revenge two years on? Yeah… wasn't having that. At all.
BUT, does it remind you of anything? Because for me, it's pretty much the exact same attitude that Sky has had towards Formula 1 in recent years.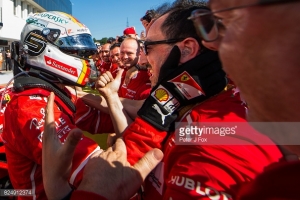 I've spoken about this before in previous races, but Sky's magnum opus has been highlighting everything between Lewis Hamilton and Sebastian Vettel, to the point where it becomes (to the eyes of many), a hindrance on their product. We all know about the barge in Baku, and the subsequent milking of a fake handshake in Austria, but it reared its ugly head again in Hungary, where Lewis Hamilton was seemingly criticised… for not breaking a team order and putting a team first?! Wait, what? Yeah, weird to say the least given we've buried drivers like Sebastian Vettel in the past for doing the complete opposite too. Sense, this makes it.
Y'know what saddens me as an F1 fan? You'd think a Hamilton/Vettel title fight could sell itself. But as a fellow media guy (Not really, but still), it annoys me that we're so insecure about F1's spot as a sport and its distinct lack of marketability to a casual audience we have to spin anything and everything into in an angle for a hard sell when all it would take would be this:
"It's two of the best drivers in F1 history, Ferrari's back, Mercs finally won't have everything go their way for the first time in four years, and you haven't got Nico Rosberg was a whipping boy anymore, go watch!" – It rolls right off the tongue sure, but I think you get the point.
I think the BBC have been guilty of the same problem with over-egging the pudding with Usain Bolt's final 100m getting 6 different montages before his eventual fall from grace as he finished 3rd. Trust me when I say, the BBC was at least partly responsible for the sombre mood in the stadium with their massive build up.
Full disclosure. I am Jamaican. I think Usain Bolt is one of the most important athletes of my generation, and even I got sick of it towards the 9:50 pm Saturday finale.
It also leaves track and field in the difficult position of what next. As mentioned earlier, Bolt and Farah are the two juggernauts. They're gone this weekend. Who's the next man up?
I think the goalposts have moved. I think the competition was athletics biggest seller, but I fear that with Bolt's near-decade long tenure at the top, I think we've moved towards big name stars getting the butts in the seats, and I'm not sure that's sustainable. Michael Johnson said it himself this morning, that maybe the star power should be the subplot to the contests themselves, which has had shock upsets and great races across the board, like both 200m races coming down to 3-5 athletes battling right to the line.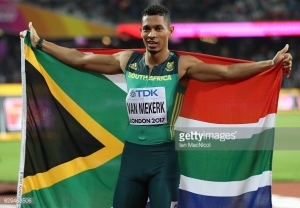 Another example? Wayde Van Niekerk is a freak. He's the only man ever to be Sub-10 seconds for 100, A 19.7 level 200 runner, and he was the breakout star of Rio's Olympics last year for his 43.03 World Record in the 400m. He's just turned 25. But I'm not sure he has that "it" factor that Farah and Bolt have had. Which is crazy given just how good he is.
Formula 1 I think is going to have this same problem soon. Lewis Hamilton is 32 in January and probably in the twilight of his career given his other aspirations and enhanced social status. Given Sky's lowest common denominator is the home fans, I don't think Jolyon Palmer's going to cut the mustard. Given McLaren's tendency to win now, Lando Norris, while brilliant, still could be 2+ years away. So who's the next star?
Daniel Ricciardo is brilliant, an engaging, charismatic, extremely likeable guy. But he needs to start winning more than the occasional race to really enhance his profile on a mainstream level. Max Verstappen is an amazing talent, but his immaturity and sometimes rash mistakes like in Hungary could make fans turn on him. Sebastian Vettel shuns the limelight. You get the gist, there's question marks for a lot of folks in there, and I fear it could be like Athletics between 2003-2008 where we had a bunch of 100m winners we didn't really care about. Sorry, Asafa Powell.
I love trying to make F1, a complex sport, more accessible to general sports fans given it's so secular by its own audience. This year's World Championships in Athletics opened my eyes to both sports being in parallel, and both having similar problems of not knowing who's going to write the sports cheques in the years to come, and how we handle some of the stars and pitfalls we've made for ourselves in covering it.
As a fan both, I hope both can find themselves soon before we have to sit down and experience yet more grim hot-takes. When Justin Gatlin's getting booed like he's punched one of the Queen's corgi's, or Lewis Hamilton being criticised for NOT being an arse, I have to wonder how we got to this point.