I'm gonna level with you here dear reader, I'm not any more keen on writing this than you are reading it, but this has been grating on me since MotoGP's Austrian Grand Prix last weekend and I really wanted to lay my thoughts out on the table here, because to be honest, I was infuriated.
Austria was a bittersweet weekend. We had an amazing set of races in MotoGP. Dovi versus Marquez will go down as an all-time great dice, we actually had a multi-layered, dramatic Moto2 race, and Moto3 was… well, Moto3. But there was always the threat of rain the entire weekend, and it made me very nervous, due to the face that Free Practise on the Friday was heavily rain-affected, and many fans, me included, saw that the Red Bull Ring is just inherently dangerous.
This is often a problem with circuits that host bike and car racing. In the context of F1, what Austria has is fine. In biking terms… no. The walls are very close in two of the three [fusion_tooltip title="Where the riders are entering at 190mph." class="" id="" placement="top" trigger="hover"]major braking zones[/fusion_tooltip], and there's no gravel on said zones, which means that the riders in question haven't got anything to slow them down as they head for the air fence. Last time we saw those similar environmental scenarios… we lost Luis Salom.
To make matters worse, when it rains in Austria, there's a lack of draining, and the undulation of the circuit means water drains back onto the track. Turn 1 was a glorified skid-pan during the wet practise sessions, and it showed with nearly a dozen riders having accidents there across the classes. To quote MotoMatters David Emmett: "Barely acceptable in the dry, totally unsafe in the wet."
But don't take my word for it, here's some quotes from the riders themselves:
"This is the most dangerous track of all the season. All the braking areas are very close to the wall." – Danilo Petrucci
"Problem is the two really long straights, and they're snaking. That makes it really dangerous. If something happens it is dangerous." – Jonas Folger
"We arrive at more than 300 km/h on the brakes, so if we lock the front, the bike will go completely to the barrier. I don't care about the bike, but we will also arrive at the barrier. And as we saw with the Salom crash, when the bike hit the barrier and comes back is when the bike killed him." – Aleix Espargaro
"Imagine what will happen if it rains: a rider who crashes will not slow down, just the opposite." – Casey Stoner
The first three guys mentioned? All had one thing in common – They would have refused to race if it was declared wet. Now, of course, they'll be that group of fans who says bike riders should race regardless of condition. I'm not in that camp. These riders aren't paid to risk their lives indirectly for our entertainment. The buck should stop with them as to whether they feel like it's safe to race. It's sad that that's often might with a level of entitlement from race fans.
It saddens me that Josh Brookes, the 2015 British Superbike Champion, had to take it one step further by tweeting Aleix Espargaro a dress emoji and implying he was a girl for not racing:
"Don't want to ride? Stand aside and let those who would sacrifice anything to be there have a go."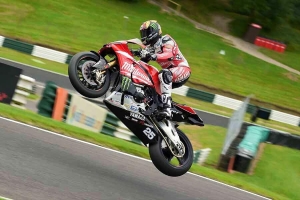 Now, I could use this post as a means to bash Brookes into oblivion. I'm not. I don't care if Aleix is a more prolific rider in GP than Brookes' career has had over the years. It's not about that. It's not even the fact that Brookes has ridden the Isle of Man TT as a stick to beat him with. Both opinions count. But I found Brookes tact to be disappointing for a range of reasons.
You shouldn't be implying someone is a woman for not being "brave" to take what Aleix considered an unacceptable amount of risk. Especially when there is inspiring young women that GP has had in recent times like Ana Carrasco and Maria Herrera. Not necessary and antiquated, and if anything arrogant. I don't like it when bike riding, or Motorsport in general comes to, for lack of a better term, dick-measuring contests. You're both riding 200mph motorcycles with 250 horsepower, and nearly [fusion_tooltip title="For context, that's about three Bugatti Veyron's. " class="" id="" placement="top" trigger="hover"]1,500bhp per ton[/fusion_tooltip]. You're splitting hairs at anything more than that.
The timing saddened me as well. British Superbikes was still mourning the tragic loss of Mark Fincham just six days prior to this in their Superstock 1000 class. Was this really the time to be having questionable conversations about rider safety? Especially when the BSB season itself has been littered with injuries where Shakey, Haslam, Iddon, Irwin and now Luke Mossey have all missed significant time on the shelf? Awkward.
For me, the bottom line is this… Motorcycle racing doesn't have the luxury to be dismissive of safety concerns. They just don't. Especially when dealing with Aleix, and while he was harsh and lairy in his response to Brookes, this is a man who had to bury one of his best friends last year in a similar scenario. Salom's passing was MotoGP's fourth since the turn of the century. Can you blame him for being so charged up at something that means so much to him?
Being a road racer, or getting ready to have an airborne bike at Cadwell Park this weekend doesn't make you any more or less qualified to talk about this, and that's why I found Brookes provocation to be so disappointing. He used something very serious for a bike weekend, and essentially used it as a chance to promote himself because he'd have done it if Aleix hadn't.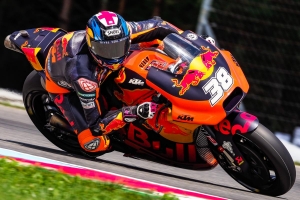 In a perfect world, I'd like to think riders would be looking out for each other out there, but when you throw competition into the mix, you're gonna split people. We saw it last year with Catalunya, where Bradley Smith flew the flag for the safety commission while the factory Yamaha's got mad when the circuit got changed… until Rossi won and all was forgotten. All of a sudden, safety meetings got a lot more popular… but like fidget spinners and Beyblades, the trend got old very quickly, to the point where minutes aren't even taken at these meetings now.
I get it. Getting 23 people to agree on ANYTHING is going to be difficult, let alone safety meetings where it's hard to take the business hat off and put the humanity one on when you got sponsors to appease and prizes to be one. But it's becoming more and more evident that the senior riders have to keep making noise. They're the show. The breadwinners. A union perhaps? Something to show some solidarity, or weekends like this, and arguments from those on the outside looking in, are going to keep happening.
And I know that's going to be hard. This is the Red Bull Ring. Red Bull fund an incredibly large amount of the field, via Repsol Honda, rider sponsorships like Folger's in the past, KTM as a factory at their home race, and of course, the Rookies Cup. That's a juggernaut, and I don't think Austria will be going away for sometime, given the money and the ties involved. But as said in the last paragraph, if progress needs to be made, it's gonna come from Rossi, Lorenzo, Marquez, Pedrosa, Vinales, and more.
This was a beautiful, yet ugly weekend for bike racing. I hope we can all take something away on both sides of the coin, and also remember that these gladiators on motorcycles owe us nothing, and that the sport is stronger in numbers, rather than arguing dress sizes.