"First up, an apology for the lack of written content up on here in recent times. Been focused on other areas like video making and of course, getting back on the Podcast after a month out via bookie juggling. I promise I'll try to make up for it down the road – Dre"
So, Sepang. After the drama of Singapore a fortnight ago, this had turned into a borderline must-win round for Ferrari to keep their slim chances of both titles alive… so of course, both cars suffer serious failures, Vettel in Qualifying, and Raikkonen in the race from the front row. Ferrari is the Atlanta Falcons of Formula 1. Why root for them when you just wait for them not to show up?! So, here are some more thoughts on Sepang: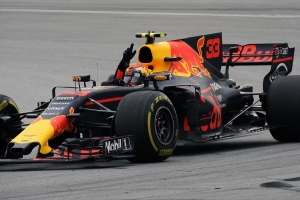 Verstappen finally gets his due
A magnificent drive from Max "The Bandit" Verstappen, easily his best in F1 to date. Pounced on Lewis Hamilton early and never really looked back. Dominant from start to finish. I know Red Bull looked strong all weekend on long runs, but at no point did I think Max won by the best part of double-digit seconds.
And for Max, a just reward for a season of real frustration. The story of Red Bull in 2017? Verstappen suffers the lion's share of bad luck, while Daniel Ricciardo has feasted on the mistakes of the other five elite cars around him, including eight podiums and a race win in Baku when the dam of "Super weird F1 stuff" burst open. Max has been on Daniel's level all year long but hasn't had the results to show for it, and it makes his season essentially a write-off. But by any measure, a nice way to break into your 20's. God, I was still opening boxes at a shitty Matalan when I was 20, way to make us all look so friggin' stupid Max.
Hamilton masks a questionable Mercedes
Oh, how the mood has changed in the Mercs camp. Two weeks ago, Lewis won a GP he really had no right to win and landed a sucker punch to the title race. This week, despite the 2nd, did anyone really think they were going to get molly-whopped like that?
Look, Lewis Hamilton is so good he can make a bad Mercs still look pretty solid, but if you want evidence that the air of invincibility of this car is fading, look at Valtteri Bottas the last month. Val finished 34 seconds behind his teammate this morning, and 56 off the win. And at a time when he's probably needed most to fend off the threat of Vettel. It's a blessing he's still such a strong defensive driver because his pace has evaporated.
Val started the year and got to the Summer break in a great position but he's beginning to look exposed as Lewis Hamilton turns up the wick. I mentioned on Twitter that Mercs HAVE to consider team orders and going all-in on Lewis soon because Val could accidentally take points off the table down the clutch. The Constructors is more or less safe. It's time to hammer this shit home.
Oh, and NOTHING says "Vote of No Confidence" like the 1-year rolling extensions like what Kimi Raikkonen and Mark Webber have had in the past. It's an easy leverage play in-case something better rolls along. Like a young Dutchman or something. Val's a superb accidental #2 but he is NOT the title threat so many want him to be.
…So, do we still wanna talk shit about Nico Rosberg?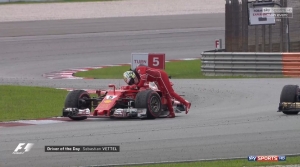 Sebastian Vettel, Comeback Kid
When Seb hangs it up, I really hope the focus ISN'T just on his Red Bull title spree, because he's justifying his greatness every time the chips are down in that Ferrari. To start from the back and finish 4th, 37 seconds off the win, was an incredibly impressive performance, and he's making a knack of these great comeback drives. They're the days you show your bottle as a potential champ, far more than the easy ones.
Could have easily been a podium too if it wasn't for the great wall of Bottas on the soft tyre, and running out of tyre life just as Daniel Ricciardo start making sixteen weaves down the front straight. By any measure, a stonking drive, and to only lose six points to Lewis Hamilton given the circumstances was about as good a damage limitation job as he could have hoped for.
But Seb, please cut out the silly stuff, you had no reason to pass Lance Stroll after the race and get your car mangled! A 5-place grid penalty at Japan could be suicidal for the Championship. With 34 points to find, we're getting dangerously close here to "Out of your hands" territory and I'm not one of those crazy optimists who shout "But Lewis could get a DNF!" like that's so common in this era. Seb probably needs to run the table from here, Aaron Rodgers style, but Mercs still having the best car over a lap doesn't fill me with hope. Blergh.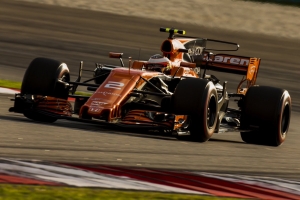 Other Stuff:
Stoffel Vandoorne is coming good at just the right time. Back-to-back 7th places are a well-deserved haul for the patient Belgian. The fact he was running as high as 5th on a track he's never raced at before, when Fernando got a new chassis upgrade, says a lot about his already proven quality. Kinda crazy he's now ahead of Nando on points. Last time a teammate had that luxury was almost 10 years ago, with some guy called Lewis. Wonder what happened to him?
Kevin Magnussen needs to chill. Seriously, as much as we've all made him a sympathetic figure after his rough early career treatment, he defends like a cat on a hot tin roof, then blames everyone else when he runs a dude off the road. Fernando Alonso was this week's victim, and I'm glad he called Kevin out over the radio by saying: "Hulkenberg was right" because he was. But hey, we in F1 love a good meme, so "Suck my balls, honey" became a thing, and shitty driving standards were sacrificed to the racing Gods. Seriously K-Mag cut that shit out, you're better than that. You too Felipe, I saw what you did to Esteban Ocon out there.
Pierre Gasly is in F1, six races earlier than anticipated, and good for him, he's been deserving since that great GP2 title win last year. A shame it's meant benching Danill Kyvat again because making him a scapegoat for your ruthless, counter-productive academy was shitty enough the first time! But don't worry, he'll be back next year after Carlos is loaned out because Red Bull blew their load too early. Yay! Seriously though, good start from Gasly. Finishing your first race is always encouraged, and wasn't afraid of getting racy with folks like Grosjean and the Renaults in the midfield. Damn shame his teammate had another reliability gremlin while running in 7th. Like, are we SURE the 2018 move is an upgrade for Carlos here?! Because that wasn't a reassuring set of performances either.
Dear Williams, Felipe Massa is bang average, but he's better than anything you've potentially got as other options. Don't overthink this and re-sign him already. Not his fault you took all that alcohol money and didn't think of a Plan B.
And as we know, it looks like this is the final F1 race in Malaysia after 19 years. Sincerely, it's been a great track that might have produced more modern classics than any other since the turn of the decade. Think about it:
2001 – Sudden downpour, Ferrari comeback from the midfield
2003 – Raikkonen's first win, Alonso takes youngest ever podium finish
2009 – MONSOON!
2012 – The Rise of Sergio Perez
2013 – "Multi 21, Seb"
2015 – Vettel's first Ferrari win and the false hope heard around the world
2016 – Rosberg's title saving comeback, Hamilton wears tinfoil hat as engine blows
These are just the ones I can remember off the top of my head. This track has spoilt us with changeable conditions, unpredictable races, and great moments for the last two decades, and not many tracks can claim that one. I think we're gonna miss this one when it's gone, a lot more than you think. So cheers Malaysia, it's been fun. Hope you come back soon.