2017 has been a pretty vocal year in World Superbikes, despite given the circumstances, a year of dominance.
Now, before I really get into the meat and potatoes of the matter at hand, I think it's only fair to dedicate a part of this piece to the monster that is Jonathan Rea, who made history a fortnight ago as the first man to ever win three consecutive titles. He's utterly ridiculous.
He's won 14 of 24 this season. He has a 143 point lead at the time of writing. 21 out of 24 races he's finished 1st or 2nd. The two DNF's? Both freak accidents. He's now 2nd all-time for wins with 52. Just seven shy of the great Foggy. And in the three years since joining Kawasaki, he's only finished off the podium SEVEN TIMES. At the rate he's going, and with no interest in being a MotoGP midfielder, or Kawasaki returning, he will probably go down as the greatest Superbike rider ever by the time it's all said and done.
On and off the track, he's been a huge asset to Kawasaki as a factory rider. He's in their stateside commercials to sell their bikes, and they've now won four out of the last five Manufacturers Championships too, alongside Tom Sykes. He's the one keeping the series on the map.
…But all that's about to come into question, as this past week, Dorna laid out plans to further try to make the series more competitive. We already had the Reverse Grid Rules we talked about from earlier in the year, and now, they plan to introduce rev limits, concessions to give more resources to the privateer teams, and the suspension and engine parts of the bike having price caps.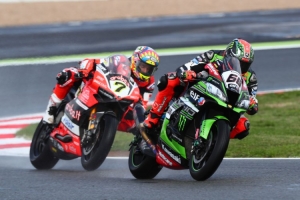 As mentioned in the last piece I did on Worlds, the Reverse Grids… haven't really worked. If anything, they've made Jonathan Rea and Chaz Davies shine even brighter as their riding styles are more aggressive than Melandri and Sykes, being able to push through the slower bikes earlier to get to the front, and the results of Race 2's being largely similar to Race 1's. Obviously, a part of that is the simple fact that Kawasaki and Ducati are still the undisputed Top 2 manufacturers in the sport, and despite gains made from Honda, and Yamaha given their alliance with Crescent, the gap at the front is still largely significant. This past season, Yamaha still lost out on top spot by nearly a 2:1 rate.
So, the million dollar question here is… should they try and bring the field closer together like this? Ethically, is it right to bring Kawasaki down to bring other teams into play? Does it harm your sporting integrity? A short answer from me? I don't know, but Worlds has too far gone to turn back now.
See, if you're introducing a reverse grid rule in an attempt to get the smaller teams up the front… you're already basically admitting you have a competition problem. Once you've opened Pandora's Box, you can't really close it back up again. This is clearly the next step, and I get it. Worlds have the luxury of seven different manufacturers, but only two have a realistic shot at winning on any given weekend. Well, besides Michael Van Der Mark at Assen, but I digress.
Do you really want to alienate the backbones of your series if you're openly trying to compromise their chances of winning? In a series that already somewhat lacks star power compared to the MotoGP juggernaut, you have a legitimate star in Jonathan Rea… who you're gonna try and stop from winning? Are we sure that's a good idea?
I suspect it's easy to see why Dorna are taking such measures given the bright spot of MotoGP's recent adjustments. I mean, look at this "Class of 2011″ video. Just 17 guys full-time, and only three men winning multiple races. You know the story, the CRT rules came in, increased participation, Dorna helped subsidise the independent teams, and now we're getting the best season the sport has ever had, with guys at the front challenging for wins in bikes that aren't painted red, orange and blue. Clearly, they feel they can duplicate some of that in Worlds, especially when it comes to experimentation, given it's not Dorna's first port of call.
But if you're making that much of a financial investment in World Superbikes in the first place, especially given the mentality of "What wins on Sunday, sells on Monday.", you can make a fair case that the participants definitely owe it to themselves to try their best, given the advertising platform, no? I don't think Honda is going to sell any more new Fireblades when a potential customer finds out that Stefan Bradl only won because Kawasaki was ordered to run 1,500 less RPM on their engines. Not a good look. And the riders know it too. When Alex Lowes is tweeting "Glass Half Full", when he's the rider most likely to directly benefit, stay woke.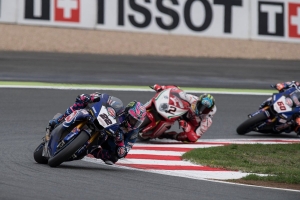 None of this really matters if you ask me, as long as your sport is entertaining. As much as I get people wanting as pure a competition as possible, it means little if people aren't watching. Whether we like it or not, "sport" and "entertainment" are joined at the hip. And as much as it's easy to take Rea and Kawasaki's dominance at face value, sometimes, the journey is just as important as the destination. I think 2017 has had some tremendous racing in it, even if the eventual winner has been pretty predictable.
Rea and Davies' dogfight in Aragon, Jordi Torres running with the big boys in Misano. Phillip Island being… Phillip Island. Assen likewise. Even Donington Race 2 was a great example of there being a thrill in the chase as Sykes not being able to get through the pack as quickly, gave him just a little too much to do. Having people tune-in for Laguna Seca, one of the rounds that have NEVER been friendly for overtaking, then dumping on the series for being boring, was a little unfair in my opinion, as much as said "entertainment" is a subjective thing.
And that I feel is my biggest problem. I've been a full-time viewer of World Superbikes since 2015, and I've never sat back and said: "Hey, this series needs a hot poker up the arse." And how can you conclusively say a series isn't entertaining enough? Ticket sales? TV Ratings? Fan tweets? And can competition be enough to bring people back, especially when Worlds itself is competing with a sister product that is stealing the attention of many, in what's considered a "golden" era?
It's going to be tougher than ever going forward for World Superbikes to stand out, with bike racing in as bright a place as it has ever been. I've not even mentioned a British Superbikes field that can give the World level a serious run for its money, with young stars like Luke Mossey, Jake Dixon, Tom Booth-Amos and Bradley Ray coming through at a rate of knots.
So in the landscape of bike racing, Worlds needs to find its footing. Maybe a zany, balance of performance orientated field could be the answer. But with such a disjointed field, a lot of mouths to feed, and a lot of competition around, the people in charge at Dorna need to be careful. There's no guarantee lightning will strike twice.