"Antagonist, noun: A person who actively opposes or is hostile to someone or something; an adversary…"
2017 on both two wheels and four, has told a lot of stories that will go down in the history books. Lewis Hamilton cementing his status as an all-time great, MotoGP's newfound ultra-competitiveness, the rise of KTM, and new stars like Johann Zarco, Danilo Petrucci and Alex Rins. Jonathan Rea and Joan Mir completely destroying their respective classes. But for me, in both Formula 1 and MotoGP, this has been the year where the foundations were set in the surprise – the antagonist who shattered the status quo and made things interesting.
I don't care how biased this might make me look, but I'm going to say it anyway – In Formula 1 this season, Sebastian Vettel has been the catalyst that's made the latest chapter in Hamilton vs Vettel interesting. It's easy to forget now it's all been wrapped up, but Seb led 13 rounds of this year's championship.
For the first time since the hybrid era began, Mercedes had a legitimate threat, not just a flash in the pan whenever the Silver Arrows shit the bed. The first half of the season did tell a semi-familiar story of Ferrari missing out on key opportunities – The two Bottas wins, the unlucky Safety Car in China, and just not quite having the legs in Spain, but before the break, I genuinely think Vettel had driven as well as he's ever had in his career. This coming from a man who once won nine consecutive races.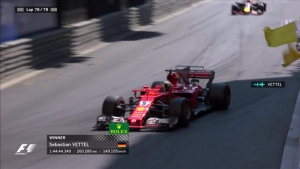 I know I'm a numbers guy, but he passed the eye test too. That outside pass on Daniel Ricciardo in China. Those two ridiculous qualifying laps at Monaco to snag the win from under Kimi's nose. Passing the two Force India's late on in Canada, being maybe 1 lap shy of a podium finish? Spectacular.
Of course, a lot of people will look to Baku as the defining moment of Seb's season. He does have problems keeping his temper at bay. It cost him an easy win and a dozen or so points, but this was not the season wrecker many will label it as. And hell, you're lying to yourself if you don't admit, it made you care a little bit more, adding a bit more spice to a title fight between two guys who while they respect each other, aren't afraid to throw shots.
Singapore was the golden carrot, the race that Ferrari was always circling on the calendar for the win, and a racing incident was probably the death sentence. Mexico probably summed up Seb's season more than I ever could. An unfortunate accident just when things were getting interesting, and a spirited recovery to something pretty good, just not quite good enough.
Sebastian went down swinging this year, no doubt. For me, I feel like this season had to be nothing less than perfect for him to actually pull off the nearly unthinkable. Listen, you don't need me to tell you this, but Lewis Hamilton is a monster. One of, if not, [fusion_tooltip title="(A underrated part of his game in today's era of dirty air out-the-arse)" class="" id="" placement="top" trigger="hover"]greatest qualifier ever[/fusion_tooltip], and on track, he's a robot. He doesn't make mistakes. Combine that with near-flawless reliability and when you can win 10 times in a relatively "down year", you're going to be near-invincible. It wasn't to be. As a Seb fan, that stings a tad, but knowing he had such an important role in a pretty captivating season, the first time Mercs had to genuinely sweat a bit… that means something. I think it'll give the fans some optimism going in 2018. The hope that maybe, just maybe, the field's a little closer next year.
---
On two wheels, it's a different story with Andrea Dovizioso. One of the last riders still standing from the mid-2000's. A grinder, a consummate professional. Great results and production with a range of bikes. Year 11 in MotoGP, Year 5 with Ducati. But if you predicted that Dovi would have had the season he's had back in March, please send me your lottery numbers, because you're probably reading this from a boat in Antigua.
Dovi had just two MotoGP top-flight wins to his name before this season started. This season, he's had six. And it would have been easy to think he could have rolled over with them opening the wallets for Jorge Lorenzo, but he's spearheaded the team and inspired them from being the fourth best team, scrapping with Suzuki last year, to maybe being the best all-around package in MotoGP this year.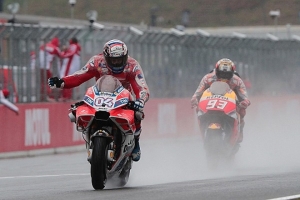 Look at it like this, besides his disastrous 2015 season… Dovi's been the biggest threat Marquez has had since entering the top flight. That's a scary thought. And he's answered the call of every major question asked of him as he's stepped up from journeyman to bonafide "alien".
Could he take Ducati to places where they weren't competitive before? Yes. Dominant, controlled, assured wins in Catalunya, Mugello, and Sepang. Winning in dry and wet conditions, the previous Ducati speciality. Could he win a frantic, pack heavy race? Yes, winning Silverstone by a hairsbreadth. He took on Marc Marquez in two dogfights and won both times. Arguably, the greatest Marquez we've seen to date, a more measured MM93… and he's been the only man to keep up. It's been those two who have won every single race since Valentino Rossi's victory in Assen.
As Colin Edwards said during Valencia's qualifying coverage this afternoon, you'd be asked how much you've had to drink if you thought Dovi could win six races this season. And every time he's been doubted, he's delivered.
He goes into the final round 21 points behind, and as I write this on Saturday night, he too will probably too fall on his sword to the pound-for-pound king of his sport. But Dovi has been phenomenal all season long, has blown away anyone's expectations, and for me, has been the cherry on top of what I feel has been an all-time great season for entertainment in MotoGP.
2017… the year of the antagonist. It'll be easy to remember who won but spare a thought for those who made it interesting. You might just end up enjoying it more than you did before.