It's my favourite time of year again people! Season Review time! The 2017 F1 season, I suspect will go down as the year of "What could have been", but there's always more stories to tell up and down the paddock, and here is when me, your friendly neighbourhood Dre, goes up and down the grid and scores everyone's seasons. From Sauber to Mercedes, from Ericsson to Hamilton, no stone goes left unturned here! This'll be a 3 part series, and we'll be going in reverse Championship order, so Sauber, McLaren, Haas and Toro Rosso are up first, Renault, Williams and Force India in Part 2, then the big three and some extras in the final segment.
Right, without further ado, let's light this candle… Oh great, its Sauber up first. *grumble*
---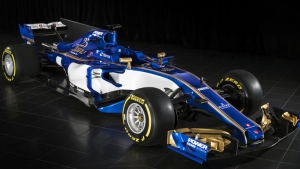 Sauber F1 Team
Constructors Position – 10th (5 points)
Highest Finish: 8th (Pascal Wehrlein, Spain)
Biggest Weakness: The not-so-helpful hand at Ferrari
Biggest Strength: The future, more helpful hand at Ferrari
A year to forget for the boys in 25th-anniversary blue. If one thing often spells doom for teams in this era, it's been shackled with an engine from the previous year that they can't upgrade. Pascal said it all in Abu Dhabi when Kevin Magnussen, in a car higher up the Ferrari food chain, was able to blow past him with ease.
But by any measure, a disastrous year. One driver pulls a donut for the season with zero points scored, the face of your franchise in Monisha Kaltenborn was pushed out the door because she tried to be impartial (An impossible situation with Marcus' main sponsor being a partial owner of the team), and by all accounts, the loss of Pascal Wehrlein, who was a beacon of hope for the team, and has made his name in F1 by pulling up crappy machinery, who came across as alienated due to the Swedish juggernaut across the garage, who just isn't as good.
The Alfa Romeo sponsorship deal for 2018 is a welcome sign of relief, and with Charles LeClerc seemingly on the way in, the future DOES look brighter for the Swiss outfit, but sacrificing Pascal and another year down the bottom seems painful. Sauber being competitive makes Formula 1 WAY more fun, so please Ferrari, hook a brother up… it's kinda in your best interests now. 3/10
Marcus Ericsson (20th Overall, 0 points): It's hard not to be cynical about Marcus and his status in F1 because if he was a foodstuff, he'd be celery. Nondescript and with zero calories. 4-7 record against his teammate in races they both finished, and the only full-timer in the field who failed to score, a couple of 11th places in Catalunya and Baku the best results. I wish he would give me something to get behind him with, but he's just sort of… there. Maybe Alfa Romeo and Charles LeClerc is the shot in the arm he needs as he enters Year 5 of his career. 4/10
Pascal Wehrlein (18th Overall, 5 points): On the other end of the table, Pascal is walking proof that F1 is no meritocracy. After being slammed by some of the snooty F1 media for breaking his neck at the Race of Champions, and had much pressure from the "hot-hand" in Antonio Giovinazzi filling in, Pascal bounced back with professionalism and class as he led the team to 100% of its points tally for the season, an impressive 8th place finish at Catalunya, and being the spark that kept the team relatively interesting in 2017. So of course, he's about to lose his seat and probably be out of F1 next year, even Toto Wolff seemingly giving up on him. Pascal's done nothing but good in some awful cars, and I hope someone gives him a chance, because he deserves better. Fuck the sham-itocracy. 8/10
---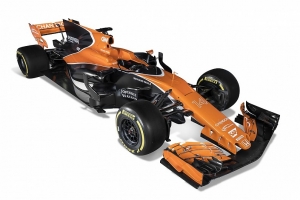 McLaren-Honda
Constructors Position – 9th (30 points)
Highest Finish – 6th (Fernando Alonso, Hungary)
Biggest Weakness: *MISSING – 50 Horsepower
Biggest Strength: Fernando Alonso likes pain
I want McLaren's PR department. If I did, I could probably have had a better attempt at coming back to YouTube than Adam Blampied did.
The McLaren-Honda second marriage is over, and Uncle Zak is hopping into bed with the sexy French woman from down the road. And rightly so, this was a step backwards and a dumpster fire season from the half-papaya Woking crew. I know a lot of people want to get their capes out for this team, but may I remind you Fernando Alonso scored 54 points and was a Top 10 runner in the Championship last year. He had nearly twice of McLaren's 2017 haul ON HIS OWN. McLaren were solid midfielders and 6th overall in 2016. They're now 9th and were WAY off their American cousins.
You don't get that impression though outside of Honda engine jokes on Twitter because Zak has half of the mainstream media wrapped around his little finger, and he did cool things like taking Fernando for the best month-long holiday in Indiana. He's shrewd.
2018 is when I suspect that bubble will burst. All the deflection here has been the Honda power unit. They're getting Renault power next year, and I know every McHonda fan on earth was telling me how great their chassis is. So, with Red Bull running their units, anything less than Top 5's is going to be a crippling disappointment. Good luck, fellas, the grass isn't always greener elsewhere. 2/10
Fernando Alonso (15th Overall, 17 Points): Another solid "Imagine how good it would be if I had any political nouse" year for Ol' Nando. Took up the helm as the undisputed team leader and did what he had to do. That 6th place + fastest lap performance at Hungary was exceptional, and we all know he's great at making those sort of scenes as F1's new People's Champ. That FP1 fastest time at Silverstone said it all. But he wasn't as dominant over Stoffel as I thought he would, only scoring points at the final three rounds put him over the top. I openly admit F1 is a better sport when Fernando is up at the thick end of things… I just hope one day, he realises that too. 8/10
Stoffel Vandoorne (16th Overall, 13 Points): An excellent rookie effort from Stoffel all around. Never finished lower than 14th, and had a pair of excellent 7th places back-to-back at Singapore and Malaysia. And it's easy to forget, no-one in F1 had more grid penalties than him last year – 218!!! The thing with Stoffel was, there were weekends where he was legitimately as fast, if not a little bit faster than Fernando, one of the greatest of this era, who got early upgrades first. Kid's the real deal and one to watch for 2018. 8/10 (Dre's Rookie of the Year)
---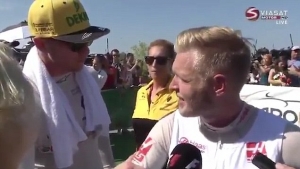 Haas F1 Team
Constructors Position – 8th (47 Points)
Highest Finish – 6th (Romain Grosjean, Austria)
Biggest Weakness: Inconsistent Leadership, Ferrari's wavering eyes
Biggest Strength: Above average drivers, budget
Not the sophomore effort Haas would have wanted I reckon. More points scored, but not enough regression from Toro Rosso to finish any higher than last year, seemingly running out of puff towards the end of 2017 – Just one car in the points in the final four races.
It's not a good sign when team boss Gene is already talking about potential exit plans if they don't get better in 5 years, and it's hard to see where they do, with more factory teams on the rise. McLaren probably will be better next year… then what? Praying that Honda screws up Toro Rosso? Gene has the budget and two solid drivers, but he appears to still be half a step behind where they should be, a natural teething problem with any new team.
8th is hardly a disaster, and they're only going to get better in time… the problem is, I'm not sure how much time they have left. Grosjean's family is getting bigger and is on the not-so-bright side of 30, and there were opportunities to snag Ferrari's academy for next year, which were missed as Haas were the first to confirm their 2018 line-up. I'm not sure that was the right move. And with Ferrari sharing one of his biggest brand names with Sauber, I suspect Haas may be in some trouble. 5.5/10
Romain Grosjean (13th Overall, 29 Points): I've got a new nickname for RoGro. It's "baseline". When the car is perfect, he's excellent and will probably get you points. If not, we're all gonna know about it given he's the biggest radio moaner in the field, and he struggles a bit. I think his window for top teams has sailed him by, but he's still a good team leader. Just needs more from Gene I reckon… only three times in the points in the last ten races isn't great. 7/10
Kevin Magnussen (14th Overall, 19 Points): He's still good for the highlight reels, and telling Nico Hulkenberg where to place his mouth. I actually think at his best, his upside is a little better than Romain, and he was robbed of solid points in Austria where his teammate took all the credit, but his reputation of becoming maybe the dirtiest driver currently in F1 isn't helping. Still, was stronger than Romain in the second half of the season, and definitely deserves to still be here. If he puts it all together, I think he could still be great. 7/10
---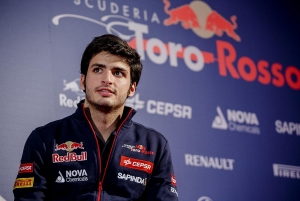 Scuderia Toro Rosso
Constructors Position – 7th (53 Points)
Highest Finish – 4th (Carlos Sainz, Singapore)
Biggest Weakness: …losing Carlos Sainz
Biggest Strength: …maybe Honda isn't so bad now?
Good lord, what a mess this team was. Four different drivers in a single year, Carlos Sainz with the biggest carry job in the field, and a team who were 2nd in the league in grid penalties behind McLaren. Yikes.
I'll get to Carlos in a minute, but man did he paper over a lot of the cracks here. Kyvat probably shouldn't have started at all this year, as harsh as that sounds, and of course, when you've got two rookies coming in towards the end of the year, you're gonna have teething problems. Also, STR was probably the biggest victims of Renault's reliability, given points are harder to come by at the back, than at the front, like what the senior team has had. Oh, and losing Carlos for the last four rounds REALLY didn't help.
What's kinda amazing here though… is that Honda doesn't look quite so bad now. Certainly more reliable than Renault towards the end of last year. Is this a dummy run for Red Bull going Honda power? That'll be interesting. A lot of question marks with this team going forward, but how much can you really rate a team that had essentially got carried? Especially when their boss was aiming for Top 5 overall? A season of lost potential for the best looking car in the field. 4.5/10
Carlos Sainz Jr (9th Overall, 54 Points): Probably, my Driver of 2017. No-one did more, with less than him. I seriously think he could have given the Force India's the run for their money with better reliability. The 4th in Singapore was a worthy reward for his grind and joining Renault on debut and THAT pass on Sergio Perez was insane. He's World Champion level calibre and I hope Renault gives him the tools to make a play for it. Put an entire team on his back (The biggest ratio of points scored outside of Sauber), and you couldn't ask for more. [fusion_tooltip title="It would have been 9.5 if it wasn't for his silliness in Bahrain." class="" id="" placement="top" trigger="hover"]9/10*[/fusion_tooltip]
Danill Kyvat (19th Overall, 5 Points): It's not a good sign when you're behind a Sauber in the Championship. As said above, he probably shouldn't have raced at all this year, and given Gasly the seat for the whole season to further his development. The fact he was kerb-stomped by the Americas kinda said it all. I don't want to be too harsh because we all know it's obvious his confidence was shattered by Red Bull mismanagement 18 months ago, but I think he's better off being in a class, and a team that actually gives a shit about him, rather than being collateral damage for a Dutch prodigy. Good luck, kid. 3/10
Note: I'm not going to score Gasly and Hartley as they were part-timers and the team was basically on fire (And not in the metaphorical sense), in the final quarter of the season. I will say they both have potential and am looking forward to what they can do with a full season under their belts.
---
So that'll do it for Part 1, check back for Part 2 where I talk about the seasons of Renault (And arguably THE best and worst seasons of 2017), Williams, and Force India. Thanks for reading!