Alfa Romeo's title sponsorship of Sauber F1 Team is something that the team have been beckoning for nearly five years: A visible title sponsor to invest in the team, to not only bring them out of the basement of the Formula 1 World Constructors' Championship, but keep them there for the long term in what is an ultra-competitive midfield. That new investment meant that a change was coming in their driver lineup. There is change, in one half of the garage, when Formula 2 champion Charles Leclerc will join fifth-year veteran Marcus Ericsson at Alfa Romeo Sauber F1 Team, or "Saufa Bermeo" for short. (Nobody will call them that, of course, because "Saufa Bermeo" just sounds ridiculous.)
For the novice or casual F1 observer, it can be hard to try and quantify and analyse driver transactions in a matter that's easy to understand. If we compare it to another sport, like baseball, or something with more reach – maybe that could put things into better perspective.
We start now, with a visual representation of Alfa Romeo signing Charles Leclerc.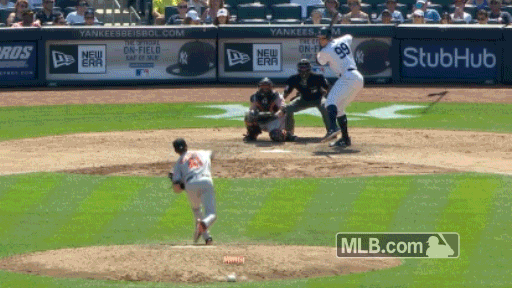 That's a 500 foot home run to the deepest part of Yankee Stadium hit by Aaron Judge, the closest thing that Major League Baseball has to a 7 foot tall create-a-player with maximum hitting attributes taking the field for real. It's one of a rookie record 52 home runs that the New York Yankees' outfielder hit in the regular season, turning him from a marginal prospect to an instantaneous superstar in the course of one season.
And that's exactly what Alfa Romeo Sauber are getting out of Leclerc.
Leclerc and Max Verstappen were karting rivals when they were 15 years old, and in 2014, they both began their single-seater careers. Verstappen, of course, had the warp drive rocket strapped to his back, reaching F1 after just 45 automobile races in a single year. But Leclerc took a more traditional career path: He was the top rookie in Formula Renault 2.0 (2014), and in European Formula 3 (2015), where he briefly led the championship before eventually being usurped by Felix Rosenqvist and Antonio Giovinazzi, who were in their fourth and third seasons in the category respectively, driving for the unstoppable Prema Powerteam juggernaut.
Then Leclerc signed with the Ferrari Driver Academy for 2016, stepped up to the GP3 Series with ART Grand Prix, and won the championship in his first attempt. That earned a step up to the Formula 2 Championship in 2017, now with Prema Racing. He clinched the championship with one round in hand. He tied Stoffel Vandoorne's record of seven wins in a season. He broke a record with eight feature race pole positions in a season, including six in a row to start the season. This made Leclerc the first rookie champion of Formula 1's top feeder series since Nico Hulkenberg in 2009, putting him in a fraternity that also includes the combined 5 F1 World Championships and 85 Grand Prix victories of fellow rookie champions Nico Rosberg (2005) and Lewis Hamilton (2006). And he did this in an era where, not too long ago, GP2 Series championships seemed to be won by a combination of experience on the temperamental Pirelli tyres and hanging on for up to four or five seasons before landing a top-flight drive, instead of raw talent and speed alone.
He's actually becoming more dominant in junior formula racing as he gets into faster cars, which is the inverse of what usually happens.
There is the romantic aspect to his successes, the idea that a driver born and raised in Monaco can win the fabled Grand Prix around the principality for the first time since Louis Chiron in 1931. There's the sentimental aspect to his success, as the karting protegé and pupil of the late Jules Bianchi – symbolized in his choice of number 16, one away from Bianchi's now-retired 17. He's the proverbial "Prost" to Verstappen's "Senna" in the way that they race, and that's a high compliment to both young men. And he represents the future of Scuderia Ferrari, with Kimi Raikkonen in his last years, and even Sebastian Vettel starting the back half of his incredible career.
Sauber needed the best available prospect to rebuild their team around, and they got it. In Charles Leclerc, they hit a colossal home run that brought the proverbial crowd to their feet.
So what of Marcus Ericsson? Well, let's fast forward to the final three innings of the game. Sauber are down by a few runs, but they have a chance to get back in the game on their next at-bat. The crowd really wants to see another home run. The relief pitcher on the other team throws 100 miles per hour, but the control is a bit iffy today. At the end of a tough at-bat, there's a full count, and on the next pitch…the hitter looks at a pitch just off the corner and draws a walk.
A walk is as good as a base hit in most cases, but it's no guarantee that Sauber will score any runs out of it. That's the analogy for retaining Marcus Ericsson.
Next year will be Ericsson's fourth year at Sauber alone. He's outlasted Felipe Nasr, he's now outlasted Pascal Wehrlein, and he's done this all while being scoreless since the 2015 Italian Grand Prix. Most of this is down to Financial Considerations™ of course – his main backers at Longbow Finance also happen to own a significant share of the team.
Ericsson, I'm sure, is a perfectly fine human being. As a Formula One driver, he is the definition of "replacement level". It's a little bit deceiving though: In 2016, Ericsson outqualified Nasr 12-7, and outraced him 9-4. Against Wehrlein in 2017, it dipped a bit, as Wehrlein outqualified the Swede 11-7 and outraced him 7-4. That's not terrible, especially against the caliber of drivers that both Nasr and Wehrlein represent. But in both seasons, there is a common thread: Ericsson scored 100% fewer points than either of his teammates, and in both seasons, Ericsson is the one who stays on for the following season. When the car isn't good enough to score points, Ericsson can be the better of his much more vaunted teammates. When it is, he seems to disappear a bit, especially on Sunday, the only day that F1 pays any points.
Taking a walk and putting a runner on base is fine, but the way they were swinging the bat, Sauber could have hit another home run. That other home run is represented by Antonio Giovinazzi, the second-in-line Ferrari Driver Academy prospect, 2016 GP2 Series runner-up, and Ferrari third driver. Also, a deputy driver for the injured Wehrlein in the first two races of 2016. In his pinch-hitting roles, Giovinazzi hit at least a double in his Australian Grand Prix debut. In the next race in China, Giovinazzi did the equivalent of striking out on three curveballs in the dirt (Aaron Judge also tended to do that a lot in his rookie year, sorry King), crashing in both qualifying and the race on consecutive days at the same final corner of the track.
The argument can be made that that awful Chinese GP weekend, followed by rather anonymous subsequent first practices at Haas later in the year, soured people on Giovinazzi. That would be a mistake – he represents an uptick in pace from Ericsson, and it's usually much easier to get a fast driver to refine their craft and drive within themselves than it is to suddenly turn a slower driver into a faster one. This is especially key in a landscape where, even with the new title sponsor, a massive recruiting drive for engineering help, and a new team principal in Frederic Vasseur, Sauber kind of need all the points they can get to avoid finishing 10th in the WCC again and losing out on the prize funds that come with the higher places.
Or, to frame it as Meek Mill once did: "Scared money don't make money." Also, if the team wanted to double down even further on youth, Peter Allen of Formula Scout argues that another Eriksson – in this case, BMW-backed Formula 3 title contender Joel Eriksson, would be a better fit for the investors.
To go back to the baseball analogy, a walk in re-signing Ericsson could be the start of a huge rally in the bottom of the ninth that gives the team a dramatic win to send the home crowd into a frenzy. Or, it could set up a weak, game-ending double play to drop a game they could have won.
Alfa Romeo Sauber F1 Team are positioned exponentially better for success now than they have at any time in the four previous seasons. The big question by the end of 2018 may be whether or not they could have had more.