CONTENT WARNING: Racism is discussed in this piece. Look after yourselves.
Everything about the 2021 British Grand Prix was ugly. It tried a new format that if anything, was STILL playing it too safe. The Sprint essentially gave away the running order in a new, 2-day, 405km Grand Prix that was determined to name itself anything but. It was a terribly boring race itself, Pirelli going the complete opposite way. Silverstone, normally a tyre killer, had become the most boring and straight-forward 1-stopper of the season. Some key flashpoints like Charles Leclerc's Drive of the Season candidate, and Daniel Ricciardo's best drive since joining McLaren were largely ignored.
And of course, the Hamilton vs Verstappen clash that became the biggest Championship flashpoint since Sebastian Vettel parked it at Hockenheim three years ago. It ultimately led to a boring race because the only man we knew was faster than Hamilton's seemingly rampant comeback, had been put into a wall at 50 times the Earth's gravity.
And I've hardly even touched the toxicity off the track from nearly all parties involved. The discourse around this incident has been ugly, over-the-top, and of course, racist. Seeing in the background and trying to apply some nuance has been like headbutting a screwdriver. So I felt compelled to write this piece trying to break down some of the silly arguments I've heard over the last few days.
So, that overtake?
Everyone and their mother has broken this down and given their perspective, so I'll keep this one relatively brief. In my opinion, this was a desperation heave from Lewis Hamilton that he got away with about three times over. Max's defence was about as good as you can get in the lead-up. Hamilton chose the wrong side of the track to attack going into Copps. The narrower, dirtier line.
Verstappen gave Hamilton more than enough room, and if anything, he tried to slow down when he saw Hamilton had missed the apex and gone in too hot. Hamilton was absolutely to blame, heck, I learnt from King that in the FIA Sporting Code, it's on the overtaking car to avoid a collision. At the time, I said Ham should have gotten a drive-through, similar to the clumsy spin-out that Kimi hit Vettel with in Austria. If I had to guess, the mitigation over Max's aggressive defence was enough to knock it down to 10 seconds. And no, thankfully the stewards don't retrospectively punish based on the outcome. It's not their fault that the only cars left who could win were painted black.
Think about the way this season's played out. Hamilton's come off the worst in previous clashes this season, like in Imola, and in Catalunya. In both those races, Hamilton had the pace to counter-attack. Silverstone's sprint race showed that this time, he didn't have that luxury. In it, Max was ahead on Lap 1, and took off into the distance without a fight.
Mercs don't lose five in a row by coincidence. Red Bull has overtaken them as the #1 team in the sport. Going into that corner, Lewis was 33 points back, and he had to have known that his best chance of winning was right in front of him. He loses this one, there's a real chance he goes into the break two races behind. So he swung. And missed. It's not the first time he's over-exerted himself; now he doesn't have the luxury of a W-Mercs that gave him a slightly bigger margin for error.
Verstappen has no doubt been the stronger driver this season, and if I were him, I'd forget about this and keep it moving. Even if you lost 25 points this time, you forced another error out of Hamilton that 99 times out of 100, you'd have broken even on. Mercs themselves even admitted that without the red flag, Hamilton would have been out of the race as well. Verstappen's got every tool to get over the title hump this season. I just hope for his sake, he realises that.
Red Bull aren't the enemies you want them to be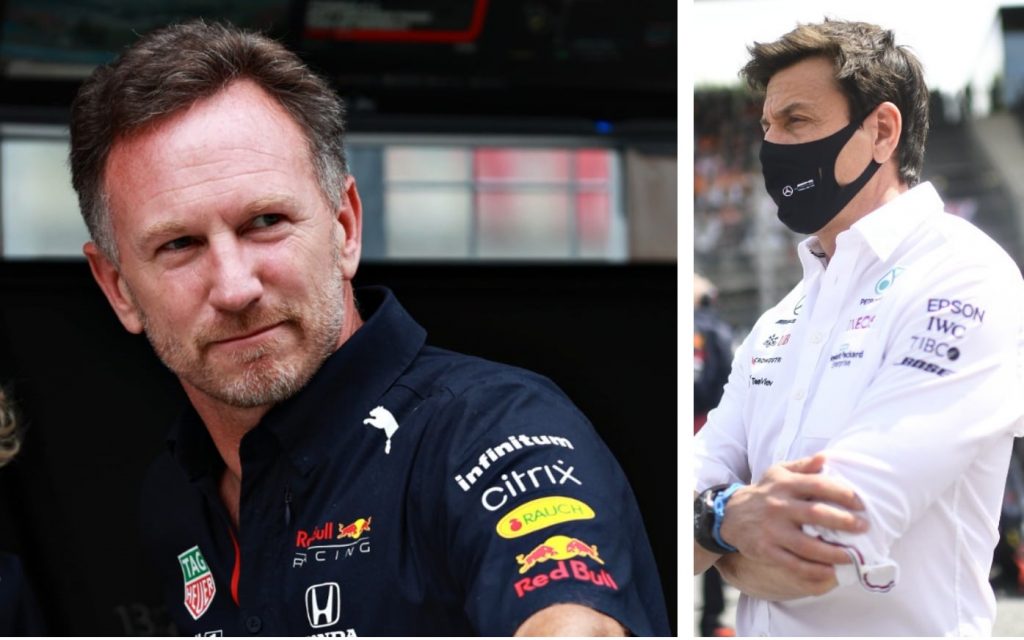 A lot of folks really, REALLY wanted to make Red Bull the outlet for their frustrations over the Sunday. It's no surprise, these are the two biggest outspoken fanbases in F1. Hamilton has an aura of near social invincibility, given the benefit of the doubt in almost every debate due to his activism, and era of dominance. In some quarters, anything less than a glowing endorsement will lead to you getting the temporary pile-on treatment on Twitter.
Compare that to Verstappen, an ambassador for the old school. The next generation of sporting brilliance. A throwback to the ruthless aggression era of the 80's and 90's, a man with no empathy on or off the track, and backed to be the "Hamilton stopper" so many neutral fans will want. It was an irreversible force meeting an immovable object and this was inevitable.
Given their verbal complaints, it'd be easy to pin this on Red Bull. That really isn't the case. Bear with me here before you light your pitchforks.
Dr Helmut Marko is a now infamous acid tongue merchant and undisputed king of "just saying shit" that upsets fans on social media. Suggesting otherwise is a fruitless endeavour to me because he's been doing this since 2010 when Webber and Vettel clashed at Turkey. Of course he's going to call for Hamilton to be suspended, his star driver just got yeeted off the track in an unfair manner. We probably shouldn't give him the energy, but we do because it makes us feel better about the fact we disagree with him.
And that's what we conveniently like to ignore about Team Principals. We want them to be these charming and rational leaders, but for all intents and purposes – They're politicians. Treat them as such. Just like the current UK government, they can lie through their teeth, be over-the-top and try to play the game with next to no repercussions. It's literally Christian Horner's job to push for as big a punishment as possible, Hamilton right now is the only thing stopping them from running away with both titles. 95% of the people reading this post would do exactly the same thing in his shoes if you were the victim of an incident that was deemed to be not your man's fault, and ruined your last two months of progress.
And for all the talk about lawyers… Yeah, no. Every team has a legal department, and again, Horner literally wouldn't be doing his job properly if he didn't at least ask the question as to what he could/couldn't do to increase his chances of winning. Our opinion on that is irrelevant, even if it makes them seem like whiny bitches. As much as it's fun to make them the panto villains, it's easy to forget that they're human, and they had every right to be angry in the exact same way that Lewis had every right to celebrate his win, even if it was undeserved on paper.
Heck, we're only a year removed from dunking on Mattia Binotto week on week. Lost in the shuffle of the weekend let's not forget that Toto Wolff literally e-mailed race director Michael Masi IN THE MIDDLE OF A RACE to try and plead his innocence before marching directly to the stewards office. If there's one thing I've learned from the new FIA Team Radio deployment, it's that every team boss is essentially Randall from the Kids TV show Recess. Big ol' snitches. And I thought that was funny as hell, but of course, the discourse took the fun out of that and ruined it for everyone.
Which leads me to…
This Sport is Not Prepared to Handle Racism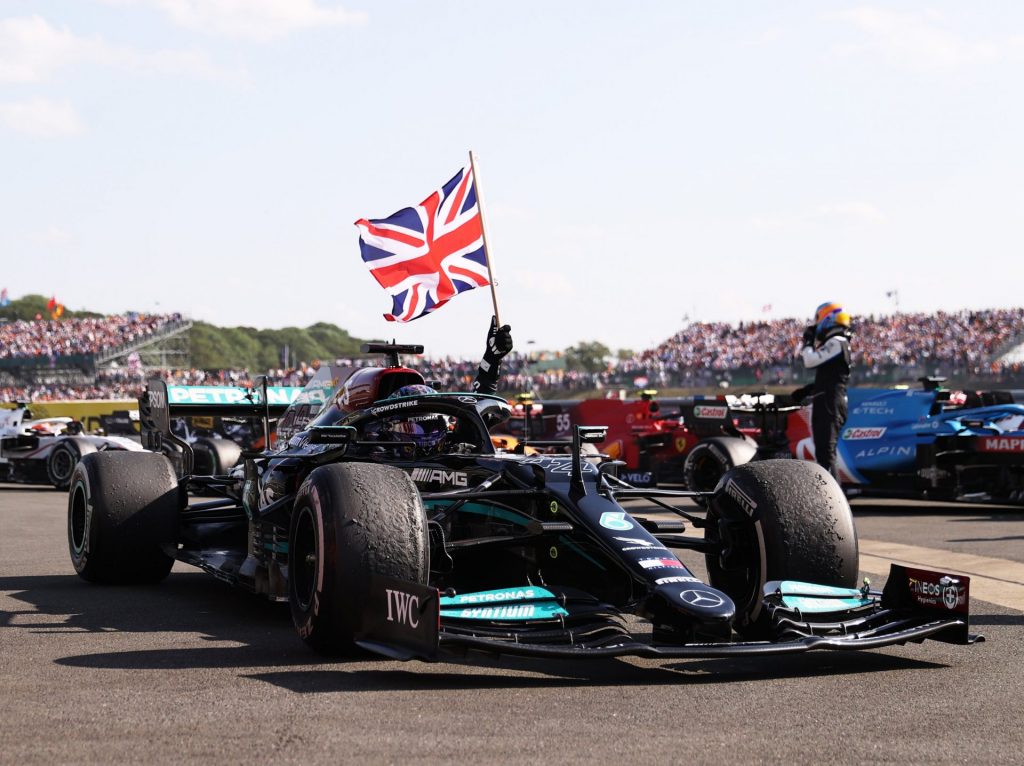 No, Red Bull didn't send for the mob to drop monkey emojis on Hamilton's instagram. People saying they did are looking for an excuse to pin some accountability on them and I don't think that's fair. We've just collectively moved the goalposts because the victim is the biggest name in the sport.
I literally got abused on my Instagram this week for… *checks notes*… saying that I didn't believe that Red Bull would actually take the sport to court. Somehow, I don't think you could accuse me of "fanning the flames" to try and add reasoning to someone going out of their way to be an asshole. Which is why I think it's nonsense to use that same logic to drag Red Bull for comments that wouldn't look out of place anytime a team boss is on the wrong end of a bad call.
Racists aren't sheep. They're not going: "Well, Max called Hamilton unsporting, I'm going to call him the n-word on Facebook now." As a guy who's been on the other side of that fence, trust me, racists don't need extra motivation to go out of their way to abuse you. They've already got the motivation – They know you're black and they want to hurt you. It's not because Christian Horner has a burner account on 8Chan or because Red Bull's German admin was not on their personal account instead. Unprofessional? Sure. Antagonising racism? Bit of a reach.
It doesn't make what Hamilton went through any less horrific or justified. But what shocked me, was how the teams all just came out with the most generic of "Racism is Bad" statements while some were still flouting the now triple distilled "We Race As One" message. It's like people were surprised this happened, or that we thought that F1 was somehow above it. Which let me tell you, it most certainly isn't.
If you're black, remember Catalunya 2008 or read the back of a newspaper in the last year, you should have seen this one coming a mile away. Even before the sickening outcome of Marcus Rashford, Bukayo Saka and Jadon Sancho's missed penalties at the Euro 2020 Final, the trend of black footballers getting racially abused on social media was not a new trend. It had been going on for over a year due to people knowing that posting monkey and banana emoji was deemed NOT to be breaking Instagram's shambolic terms of service.
From Raheem Sterling, to Jude Bellingham, Wilfried Zaha, David McGoldrick and many more, there was a new story every week. Tyrone Mings led a temporary walk off during an England game against Bulgaria. English football had a 3-day boycott of social media, in which F1's drivers bandwagoned for easy "good guy" points when they normally barely post during a weekend anyway. One of them was Carlos Sainz for crying out loud.
And none of them addressed WHY such a boycott had started to begin with. The sport itself acknowledged it but kept it moving while other sports leagues like English Cricket, Rugby and Professional Darts joined in. It was messy, and ignorant to the larger issues at hand. The team statements are almost shrug worthy in that it just states the obvious and not much else.
If you're expecting the drivers, these newly appointed cults of personality we love so much to be allies, prepare to be disappointed. Of the 19 that have social media, only three directly addressed the racist abuse that Hamilton suffered. Lando, Daniel, and Mick. I've said before that Max Verstappen is a powerful influencer back home in the Netherlands and could easily do so much more, but he just… doesn't. That's just who he is, and I doubt that will change.
We spent more time debating whether said abuse had actually happened, or digging up old YouTube influencers tweets when we could have spent that energy putting more pressure on these social media sites to change their policies, or invest more money and resources into actually removing this shit off their platforms. It's going to be down to us, because that boycott took millions of pounds of revenue off these sites in unbought ad space, and it didn't do a damn thing.
Overall, this was an incredibly frustrating weekend for many micro and macro reasons. A lot of this will blow off by the time these cars race again in Hungary. But it's frustrating when your favourite sport and the discussions around it can be so goddamn ugly. We're better than this. At least… I like to think we are anyway.