It's fitting that the Hungarian Grand Prix happened on August 1st, 2021. You'd be forgiven for thinking the very calendar itself was trying to give us a clean start.
July was, objectively, a horrible month for Motorsport. On two wheels, Hugo Millán succumbed to injuries suffered in the Spanish CEV ladder. He was just 14 years old. Heartbreaking discourse and debate over whether we should let literal children race on 140mph motorcycles. The biking media frustrated that it's always a death that leads to mainstream media giving a shit about the series they dedicate their lives to.
The final day of the month, we lost a Marshal, Cllr. Robert Foote at Brands Hatch. In a sport we all love, we don't race without them, so it's doubly heartbreaking that someone paid the ultimate price indirectly for our entertainment when they've already sacrificed one of the most precious things in life as it is… their time.
And then there was the British Grand Prix. Silverstone was one of the ugliest reactions to a Grand Prix I can remember in the 10 years of me being a content creator on Social Media. Anger steaming out of every corner. From furious debates over the clash, to death threats and racist abuse.
Pushed by a team in purple that was determined to double down on a PR war it had already won. You'd never have guessed Red Bull were the victims here, making baseless accusations on Lewis Hamilton's driving standards, made Alex Albon replicate the man's lines on a filming day and used presentations to appeal what was already a pretty fair penalty to begin with. Red Bull gambled their already flimsy public perception on a longshot and it backfired. They showed their whole ass to an audience already accusing Horner and Marko of anything from being sore losers to full-on inciting racial hatred. You know how hard you have to work to come off the villains in an incident where YOU lost out? 
It continued as Hungary's weekend dragged on. Horner gave us the old "whataboutery" on Hamilton's racist abuse, another smack in the face to many a black person watching, while of course, a member of his team's own staff was sacked for racist texts. They finally seemed to get the message on qualifying day, batting down suggestions that Hamilton "gamesman-shipped" Perez out of a final Quali run, but by that point, the goodwill for anything glucose based out of Austria had run out. Even more so after Hamilton got booed for his 101st pole position, a cold throwback to Sebastian Vettel's 2013 treatment. It was misplaced and shitty then, and it was misplaced and shitty now.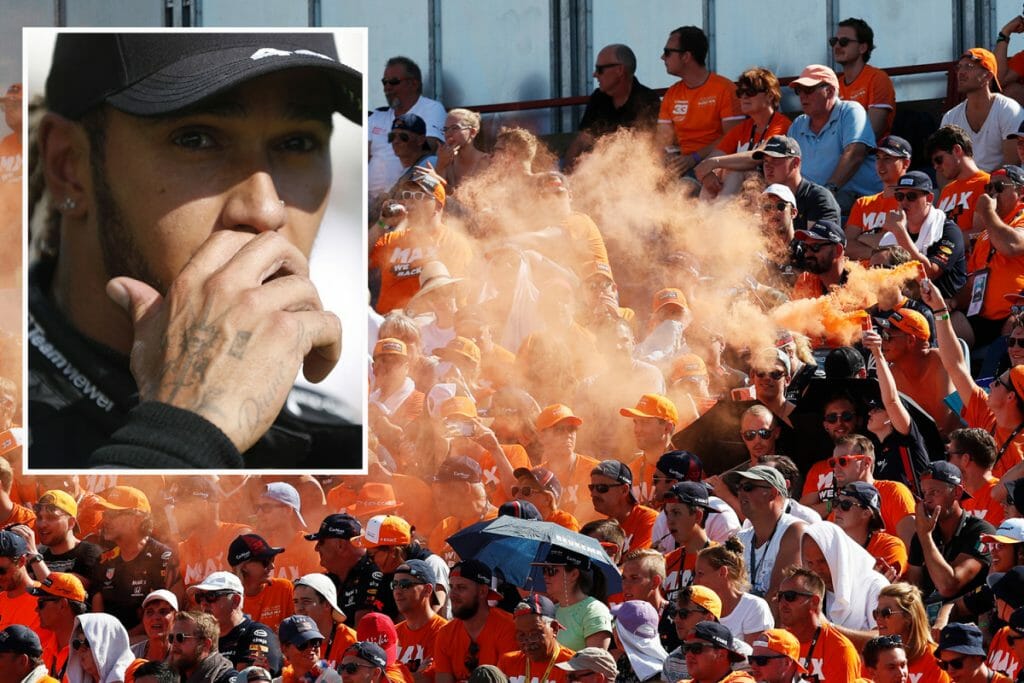 But then on August 1st… At least briefly, none of that seemed to matter. We got the race of the year, and a race so ridiculous in nature, I think it reminded us all of why we do this.
Esteban Ocon was 250/1 to win when he sat on the grid at 2:01pm. By 4:10, he'd led 95% of a race where his only direct competition for the win came from Sebastian Vettel in an Aston Martin. I had to re-read that sentence to make sure I wasn't on LSD for a minute.
For all those people who were pushing for a reverse grid race, this might be the sort of exhibition you were hoping for. Of course, it helps when there's a catalyst at the front that changes the game for the big boys. This time, it was Valtteri Bottas taking away the last bit of goodwill many people had left for him to keep his job, by harpooning Lando Norris into Turn 1. You know it's bad when Lucas Di Grassi mentioned he missed his braking point, he's a man who'd know. The ensuing mayhem severely damaged Verstappen, and took Perez and Norris with him. Lance Stroll spared a similar roasting for collecting Charles Leclerc.
And just like that, Hamilton was the only man in the Top 6 of the Championship left unscatched. And due to his team having their weather radars turned off, he essentially had to complete an Aarava "Last to First challenge" to save his weekend. And then probably ended up two laps short of actually pulling it off. Even ignoring his brilliant comeback for just a moment, the odds of all of …*gestures wildly*… THIS happening, were astronomically low. And it made for the most wonderful of races. Hungary on paper blows so hot and cold with his presence on the calendar, and on paper, it should never be this good, and yet again, it delivered in the most unfathomable way.
The Top 4 over the line all had remarkable performances and a story to tell. Esteban was the star Mercedes junior prospect so many turned on after his clash with Verstappen at Interlagos. Shackled by a factory too good to gamble on him, and not savvy enough to find him a seat. There was still a fair case to make for "car rust" as he battled tough opponents in Ricciardo and Alonso on his return. But he now has some stability in blue, and is driving at his very best again. He survived nearly 70 laps of constant pressure from a four-time World Champion never more than 2.5 seconds behind him. If there was ever any proof that Esteban Ocon can belong at the highest level, this was the one.
His teammate was also a major contribution towards the win, and Enstone's first in eight years of difficult times. Fernando Alonso had his doubters on the way back after years of Triple Crown chasing. And on the weekend he celebrated his 40th birthday, he reminded us all that he is a truly special driver. In the latter stages, Hamilton's Mercedes was going 3.7 seconds a lap faster on fresh mediums, and yet Fernando made his Alpine as wide as he could and didn't give the reigning Champ any quarter. It's a fight we should have had 14 years ago at this very track and it was a joy to watch.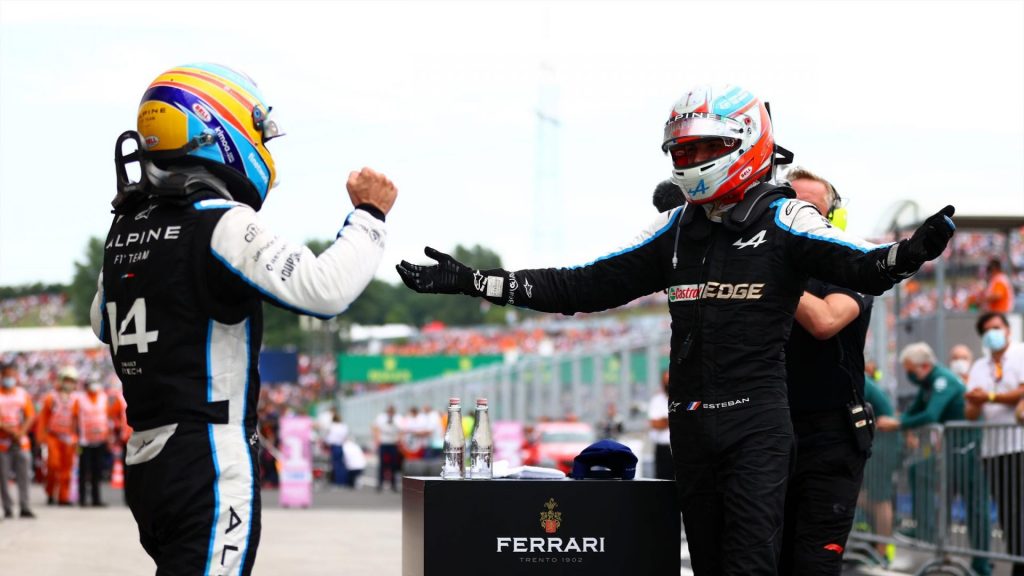 It was shades of Imola 2005, when Michael Schumacher was desperate to bring some joy to a crippled Ferrari on home soil. Hamilton tried Turn 1, the outside of 2 and even an audacious lunge at the outside of 4 like he did to Yuki Tsunoda. But everytime he tried, Alonso would place his car in just the right spot. Tip-toe-ing the line of legality, but never quite crossing it. It was everything we wanted this era of racing to be when Bahrain 2014 went down, and a tease of what could be to come.
Yes, he made a lock-up to finally open the door for Lewis to come through, but he bought his partner just enough time to seal the deal on a miracle win. And Alonso was one of the first to congratulate him, lifting him into the air. He's not always had the most glowing reputation in the paddock, but it's hard to deny that this partnership is working, and working well.
Lewis Hamilton could barely stand by the time he was on the podium, exhausted after pushing to the limit to cover for a team that let him down on strategy again. There's bound to be some frustration for what could have been an easy 9th Hungarian win, and the 100th of his glistening career. But as I've said many a time before, you win your titles on your bad days, not your good ones, and 17 points gained on Max won't go amiss. And either way, Valtteri Bottas is probably getting a Christmas hamper.
And Sebastian Vettel had quickly become the feel good story of the weekend. He had gone out of his way to make a stand against Hungary's new abhorrent homophobic and transphobic Anti-LGBT+ laws. A rainbow coloured helmet, Rainbow converse shoes, a shirt with "Same Love" on it that he wore during the national anthem and a vow he'd do it again, even at the risk of disqualification. Sadly, he may have been more right than he realised as Otmar furiously waves a giant syringe at his fuel tank.
But second on the road will feel like a win on all counts for a team still trying to find its footing in a difficult midfield. But also, it'll signify an ally going above and beyond his means and sharing his platform in a fight that's even more important than the Alpine who beat him on the day.
You've read over 1,400 of my words so far and this race was so ridiculous I've barely got room to mention Max Verstappen finishing 9th with a floor held by duct tape and half a sidepod missing. Williams getting TEN WHOLE POINTS on the weekend in stunning fashion, with George Russell breaking into tears from shock. Or Daniel Ricciardo beating his head against the Halo after another frustrating weekend he could do little about, a victim of Stroll's error. But that's why I loved this race so much, up and down the field, there were little stories to be told. The best races always do, and the way it all tied together left a lot of people buzzing. Unless you're Christian Horner, who's going to need more than that little box on the insurance form. Oh, and maybe some sensitivity training too.
I still maintain the Summer Break couldn't come at a better time. We're still going to be at loggerheads, the reality TV era of F1 watching. We're going to over-analyse, not read any headline properly, and fight over the most trivial of bullshit while we wait for Spa in a month's time.
But, it's hard to ignore a special one. I was inbetween shifts in two different bookies, watching the race on my iPhone. The chequered flag came while I was sat outside a Lidl, welling up over seeing my favourite driver come home in a remarkable 2nd… Or the fact my Five Guys had gotten cold, not quite sure which. But for a little while, I was reminded of the magic of this sport when everything comes together. So thanks Hungary, I won't forget that one for a good while.