Enough drama to make up a full season of Drive to Survive… And we're technically not even halfway through 2021's proposed 23-round calendar. Multiple classic races already, some shock results, some stories that transcended F1 itself, and a lot of narratives to bust. And so with that in mind, here's 10 miscellaneous thoughts from me as to what I've made of F1's 2021 season so far:
This is probably the best title fight since… 2016? Maybe 2012?
I mean, ultimately, this boils down to what captivates you as a fan, but when I look back through the seasons we've had in the hybrid-era and even beyond, this feels different. Lewis Hamilton vs Vettel felt a little too-one sided in Hamilton's favour. I'm the biggest Seb fan you'll meet but I always felt like he was punching up a bit too much. And to be honest, the best sports feuds are the ones built on hate, not respect.
That's probably why Nico Rosberg vs Lewis Hamilton will age better and better over time. The story wrote itself. Hamilton already had a Hall of Fame level career before even joining Mercedes, and when the V6 era started, his greatest friend became the only man who really stood in his way of becoming the modern day goat-emoji. A friendship of 20 years fell apart in front of our very eyes… And it's a shame it took Nico's early retirement and the subsequent seasons since then for us to truly realise what a damn good driver Nico Rosberg actually was.
2021 feels on that sort of level alongside maybe 2012, where the season started really unpredictable, Alonso's monster lead evaporating as Vettel got stronger as the year went on, with Hamilton and Raikkonen also protagonists. This season already had punch followed by counterpunch, and it's been fascinating week to week. Mercs looked vulnerable after testing but won 3 of the first 4. Spain looked like a decisive blow, then Hamilton literally fumbled Baku and then Red Bull won 5 on the bounce. After Austria, it looked like Red Bull had a match point.
Then Silverstone happened. After back-to-back incidents of Mercedes drivers accidentally but very accurately taking their rivals out of the equation, Mercs look back in front with one of their stronger races with Spa next week. I genuinely don't know which way this title fight is turning. And that's great. Long may it continue.
…And it will only get more toxic
And you know what's funny. Like the aforementioned Hamilton vs Vettel feud, everyone else seems to be doing the beefing whereas the two main protagonists are probably the most measured of everyone involved. The last two GP's before the break were some of the nastiest I've ever had to see in the 10 years I've been a content creator. Title-altering flashpoints tend to do that. But this was on another level to the previous feuds mentioned above. Racist abuse, death threats, trivial arguments blown way out of proportion, people looking for someone or something to blame. Let me warn you in advance… It will only get worse.
There's more people on social media than ever before. There's a lot more new people active than ever before. We're more territorial about the people we support and the factions we stick with, than ever before. There absolutely will be another Red Bull vs Mercedes flashpoint on and/or off the track between now and Christmas. Brace yourself, I've always said we're one step behind football Twitter, and this season could be our World Cup Final. In more ways than one.
The most important people IN said title fight, might be the reserves
As I've said many a time on this platform, Valtteri Bottas will never be the title protagonist so many want him to be. At this point, he's not even good enough to really challenge Verstappen and Hamilton at all anymore. Combine that with George Russell banging on the door for his seat, it sucks to be Val right now. But what's funny about all this is, is that he's still 4 points up on Sergio Perez in a arguably worse car. It's never going to be a fair fight. Perez is more popular, Bottas is in his 5th season at Mercedes, and his bad days have been far more criticised than Perez's. (Imola being a case in point).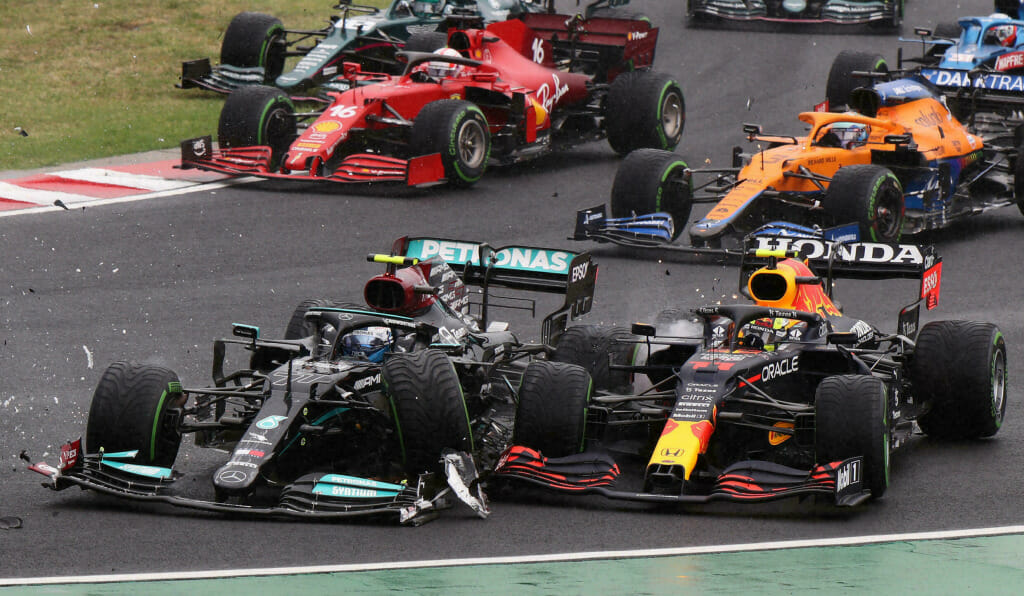 Perez will get the benefit of the doubt because it's a new team (See McLaren, more later), but both of the big two teams are going to go all out for both titles and remember… only one of them wins you money. If Bottas holds up his end of the deal (Which right now, he kind of is), it puts more pressure on Verstappen to beat Hamilton. And Red Bull sure as hell didn't hire Perez to basically get them back to the worst of the Ricciardo era. For Checo, beating Bottas should be the minimum expectation. But then again, both look inadequate compared to…
Lando Norris is the CLEAR Driver of the Year so far
This was supposed to be when things get tricky. Every great musician will tell you that the third album is always the toughest. Year 1, he was chucked in at the deep end but showed promise. In Year 2, he was trading punches with Carlos Sainz, one of the best midfielders in the sport. Year 3, Daniel Ricciardo came to town, a genuine Top 5 level driver. And he's been smoked.
There's definitely an element of that being Ricciardo's struggles to adapt to a new McLaren (He's not the only one who's struggled at times here), but Norris has taken his game up to the next level, being a consistently brilliant Top 5 scorer (9 out of 11 times this season), with three of those as podiums. He's clearly getting the most of the Papaya week in, week out and the fact he's ahead of both secondary title protagonists is a clear indication of his class.
Lando always had to play second fiddle to Leclerc and Verstappen in the explosion of younger talent in F1 coming through, but now he's starting to stand up on his own merit, and long may it continue.
Do you REALLY want George Russell in that Mercedes next year?
I'm not stupid. Toto Wolff's going to delay this announcement as long as he can because demoralising a key player in his title fight probably isn't the best idea if he really is going to take a punt on George Russell. And I picked my words carefully, because this is a punt.
I get the reasoning. As said, this is Year 5 for Val, and his role is as important as it's ever been with Mercedes now just seal-clubbing the field like it's done in years past. There was already talk to move him on 2 years ago, let alone now with Sergio Perez showing more upside across the garage.
The problem I have with this is, Mercedes have backed themselves into a corner with its academy again, and now the alternative is a driver who's extremely talented, but we really have no idea how he'll get on over a season. Bahrain was just enough of a tease for people to truly believe he's the guy. The rest of his career in F1 to date is extremely hard to evaluate.
And the window for him being a success in black is very small. He has to be clearly better than Sergio Perez in a Red Bull. That's the benchmark. And that's a high mark. And I fear if he gets beaten by Hamilton on a similar level to what we're seeing with Bottas now, we're going to dunk on that man real quick. But Mercs have to promote him next year, or risk losing him altogether like they did with Esteban Ocon and Pascal Wehrlein. So I have to ask… do you really want Russell in that Mercs? Because there's not a lot of ways for this to work out.
This will be the toughest half-season to cover in F1 history
I don't envy anyone else directly involved here. There's still 12 races to go if Stefano Domenicalli's adamant goal of a 23 race calendar is the target. There's a good chance of more replacements after Japan, given Turkey is on the UK's red-list for travel, and Austin is really struggling with COVID-19 (As of yesterday, they only have 5 ICU beds available, and MotoGP is definitely heading there first), so I don't know where people got the idea it might suddenly be a double-header. It's looking likely that Losail International Circuit (MotoGP's season opener) will host a GP of Qatar in Australia's old November slot, and it still wouldn't surprise me if Bahrain's alternate layout makes another appearance. That gets us back to 23.
Spa is the first weekend of a triple-header, and we're set for three of those in the course of this second half if replacements are found. This is going to be brutal for crews, journalists, and everyone else involved. As I've said before, the sport was always going to go this way, Liberty Media wanted the NASCAR model of more races, wanting "25 Super Bowls", and I still think that's the endgame, where we get F1 on a level similar to when the UFC wanted fight cards every other week. But it's rough.
And I'm not going to scream for races to be cancelled. Look, if I had it my way, I wouldn't be pushing for more than 18 recognisable rounds that people will be excited for, with some tracks on a rotation system, but cancelling rounds take a LOT of money out of a lot of people's pockets (The freelancers especially), and people have to eat. So there's no catch-all solution here. Look after yourselves, y'all. 
Sprint Qualifying is Fine. But it doesn't solve anything.
This was borrowed from my Substack page after Silverstone (Dre On Sports):
More meaningful action over 3 days isn't a bad thing. It was a fine 17 laps with slightly more aggressive driving and a few cars punching above their weight due to tyre selection and Sergio Perez spinning into a hedge.
Do I think it's worth keeping? Nah. The weekend format was never the problem here. We know that the real test of the current product is what the 2022 car will do in terms of downforce and dirty air management. In the meantime, one of the few things you can try to tweak to organise some more "show" is changing the weekend itself.
Taking a practise session away, I'm all for. If you're going to change the format, go to 2 days and maybe one 2-hour practise early Saturday morning. Takes over three weeks of workload off the calendar for the teams, and more concentrated action.
The issues I have with the new format is that FP2 is now even more useless due to Parc Ferme conditions. At least with the regular format, you get a far better idea of where the field is at. (And I'm clutching at straws here I admit, because I don't know why people go out of their way to watch ANY practise.)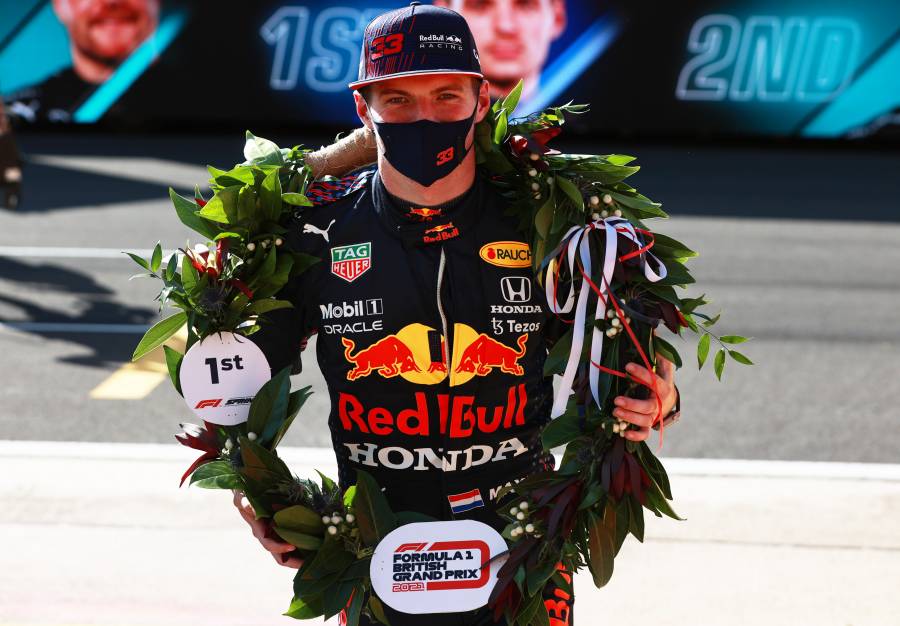 The other problem is, you've killed the overnight intrigue. If Friday Qualifying was on Saturday, we'd be sitting here going: "Hmm, only 0.07 between HAM and VER, it's close, wonder how tomorrow goes." Now, we've seen 100km out of a 2-day 405km GP and we know that Max seems to have the upper hand in race trim. You've shown your hand.
If we had a decent track product, you wouldn't need to change a well-liked format we've become accustomed to. And the bosses know that, it's why they've gone down this road. It's why they tried super-elimination qualifying a few years ago, because they've all been at loggerheads over the cars, and the fact no good team wants to risk their slice of the pie. And they'll probably keep this format now, because a lukewarm, highly engaged discussion is going to be seen as a win. Only a carpet-bombing on Social Media would give Brawn doubt.
So yeah, do I think it's outright bad? No, not really. And the sport should be encouraged to experiment more. If anything, they didn't go far enough with this format. But it creates more issues than it solves for me, and not the problem that FOM really wants to solve. And that's frustrating.
I feel bad for Yuki Tsunoda…
It's our own fault. We probably gassed Yuki Tsunoda up a bit too much. Ross Brawn sure as hell didn't help when he called him "the best rookie in years" after 1 race. Max Verstappen wasn't hyped that hard.
It's difficult not to get excited when F1's in a massive youth movement upswing; and F2 had five or six really exciting prospects last year that I wouldn't have scoffed at if they ended up in F1. (Illot, Schwartzman, Lundgaard, Tsunoda, Schumacher, etc.) We saw some of the weaknesses in Gasly's young career and thought maybe the really exciting Japanese prospect who flew up the classes might have a say.
He hasn't. We got more validation that Pierre Gasly is still really really good at race car activities, and Yuki… has had a few crashes. Combine that with thought #1, and you realise we evaluate youth talent on an even harsher scale than we did before because Verstappen, Norris, Leclerc, Gasly and Russell have all had elite level opportunities, or in Russell's case, at least flirted with the possibility all by the end of their second seasons.
10 years ago, Tsunoda's career to date would just be written off as teething problems. Now, we expect him to be on Gasly's level, who himself pales in comparison to the other Big 4 of hyped talent. It's harder than ever to be great in F1. Heck, maybe that's what we've always wanted. Hashtag The Pinnacle.
...And Mick Schumacher
…Who is probably rookie of the year by default for keeping it *relatively* clean alongside the natural empathy of driving a Haas. Mick is… almost impossible to benchmark given Mazepin started horrifically in F1, and he's in the clear worst car in the field, with Alfa Romeo clearly faster and Williams' miracle Hungary weekend putting them well clear of the bottom of the pack.
There's some cynical fans out there that think he's getting an extra break because of his surname when I think it's the opposite and he's expected to be this worldbreaker because of his heritage, and as mentioned earlier, the higher than ever standards of rookies in general. If I'm Ferrari, he's a slowburner talent who you keep while Carlos Sainz is still doing good work in the 2nd factory car. I'd say push for the Alfa Romeo, but Ferrari no longer have a say on that one. Whoops.
There might not even be a F2 graduate next year
Around this sort of time we get a decent idea of who's moving up and… yeah, this year might be a struggle. Guanyu Zhou and Oscar Piastri are the clear favourites, but Zhou being in his 3rd year is going to go against him. Piastri is clearly talented, but there's a lack of opportunities in the sport waiting for him. Alpine made it quite clear that their driver lineup isn't changing anytime soon with Ocon and Alonso tied down until at least 2023. I don't think Chirstian Lundgaard taking part in IndyCar at Indianapolis a fortnight ago was just a coincidence.
And Williams are adamant they can pick the best driver available after publicly saying they don't need pay-driver funding anymore, with a handful of solid, reliable drivers just outside F1 like Nico Hulkenberg, Danill Kyvat or Alex Albon. Maybe even Valtteri Bottas if Mercs decide to roll the dice. Alfa Romeo apparently has full control over both seats for the first time and could be making a change, but Callum Illot you'd think would be front of the queue if funding isn't a factor, given he's their test driver. Is Theo Pourchaire, Sauber's star prospect ready at just 18?
Outside of that, I struggle to see anyone else or any other F1 team making room. And this is with nearly half the grid hitting free agency this season. A wild paradox.