Look, I get it. In the heat of the moment, in the eye of the literal shitstorm, when we don't get what we want, we like to find someone to blame. For most of us, it's the easiest way of dealing with our problems. And you know it's gonna be a rough one when our own race director is trending on Twitter. Why? Because he's going to bear the brunt of it when we the fans on our keyboards and phones think we know better. It's a loveless, thankless task, but here we are.
Even more so when you consider that we as an audience are more divided than ever before. Half of us think that we should race no matter what the conditions are because we did 50 years ago. Or that if you're one of the faces of the biggest car show ever, you get insecure at these cowardly drivers with their massive cheques and that we should find the people who want to drive instead. Like our own selfish insecurity and need for entertainment comes before everything else. Yes Mr Harris, we saw your deleted tweet.
There's a good amount of us audience who are newer, younger, and care more about driver safety than ever before. We got through the Halo appearance bashing. We grieved together when we lost Jules, Anthoine, Justin and others. Dispelling the older takes and maybe, saving some of us all from the gladiator wankery that made this sport what it was, but not what its become. Give me the person who cares too much over the person who doesn't care enough, every day of the week.
And I think we're seeing some of that has rubbed off on the drivers too. Many of those in those Safety Car formation laps called the conditions undriveable. We saw the other side of the coin with the privileged Verstappen at the front of the queue wanting to race. He has a title fight to think about and an advantage he wants to cash in after two races of unfortunate victimhood. I get it, and that's fine. But overall, I think the attitudes within the sport is changing. And that's good.
As Sebastian Vettel said after Saturday, it's very easy to play Captain Hindsight. It's even easier to say now; that this race was doomed from the start. With that rainfall, the wind, the fog, and the fact we drive 1,000 horsepower cars with spray limiting the drivers to maybe 15 feet of visibility, we weren't ever going to race. And I think deep down, we all knew that. But you've got to try, and that's when the problems started.
Generally, you're probably going to fall into one of two camps. Either that the sport made a genuinely honest attempt of trying to get a race in. Or the latter, who believed that the eventual outcome, a 2-lap Safety Car procession to award half points, was done purely to get an "official" race in so we don't have to give out refunds.
The short answer… is probably the latter. Never take the multi-billion pound corporation at face value. But either way, it was a fucking mess.
This weekend was already tense with the weather reports, and it only got worse. Michael Masi declared Spa "safe" after the 24 hour race there had an incident that put Jack Aitken in the hospital. Then the W-Series in Qualifying had a scary 6-car pile-up at Eau Rouge that ended with Beitske Visser's car upside down, and pushed back on the racing line, the nature of that barrier at the left of the crest. Again, she and Sarah Moore were in a hospital for the afternoon. Then Lando Norris, favourite for pole position wrecks in Q3 mere seconds after Sebastian Vettel's call for a Red Flag due to the heavier rainfall. A debatably unnecessary crash that derailed his entire weekend.
Then Sergio Perez aquaplanes into Les Combes' inside wall at less than the Motorway speed limit on the sighting lap. His punishment being a pitlane restart and a rinsing from an alternative media commentator. I can't remember the vibes being SO off for a GP in the 10 years I've been covering them on social media.
And then as the cars were parked in the garage, we had no idea what was really going on. Even in this highly information central age. I saw no less than all of this debated on social media over the course of the afternoon: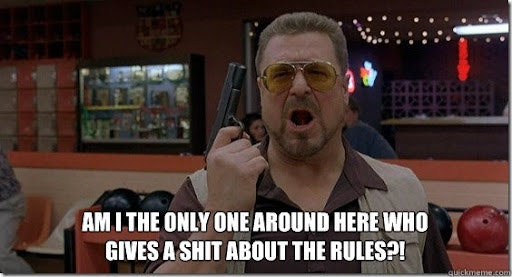 Do we lose laps for a delayed start?
EVERYTHING regarding Sergio Perez and whether he could restart after such a massive amount of delays, they actually fixed the suspension he broke in the sighting lap, and then how many laps he'd lose.
Has the race officially started? And if so, do we go from the 2pm start or the 2:25 delayed one?
The fuck is a "Force Majoor?"
Can we race tomorrow instead? (No, we really should be paying the goddamn Marshals in 2021, but here we are.)
All of that flying around. And expecting Michael Masi to immediately recall everything from the sporting regulations like he's the "Rain Man" (ironically), while catering to the Team Bosses on Radio. Which for what its worth, came off sounding like 10 versions of Randall Weems from Recess. And then those radio messages are published for us to lap up. And there were already people calling for Masi's head LONG before this weekend.
The current FIA Sporting Regulations are 91 pages of A4 long, and 99% of the audience don't give a monkeys about them. This is one of the few times I've got some empathy towards Michael, because the regs are long, they're vague, they will never cover every possible scenario and this weather was as near as to an Act of God that I've seen in the 20 years I've watched race cars. Not to mention, the rulebook isn't designed to counter the bloodthirsty nature of the bosses and dodging the consequences of what could happen if this race didn't run. This, in the same week the sport had to cut down the massively ambitious schedule down to a mere 22 races.
I don't envy Spa's track promoters either. Track promoters were already struggling to make ends meet. Then the pandemic arrived. Then the central European floods damaged the track a couple of months back. They've got seventy million pounds of bills due to revamp the track because they want bikes at Spa too. (And this was planned before most of the Eau Rouge complaints). Their CEO died under the most horrific circumstances. And now, the biggest event of their calendar year is a 2 lap washout and fans understandably want a refund for 4 hours of rain sitting for a 3 minute, 27 second GP, the longest and shortest race in F1 history. Hope the sport does the right thing and at least figure out a refund plan that doesn't put the track up for sale.
And should we even be giving out even half points for a race that only had position changes based on penalties? Max Verstappen got 12.5 points for essentially a pole position. I don't know, but maybe we should sit round a table and ponder whether 2 laps should constitute a race. My gut tells me it shouldn't. But good for George Russell, as if he didn't need any more of an advert for the Mercedes seat.
I'm not sure if there's any lessons to really take away from this mess. The rulebook probably needs another look. Maybe the Drivers deserve a little bit (but not too much) more say on whether we go racing. We probably shouldn't pin all of our frustrations on the Race Director when he was trying necromancy to save a dead race. And if you need your car fixed in about 17 seconds, hire a Red Bull mechanic.
I don't think I'll ever be comfortable calling this a race. But in any case, it'll certainly live long in the memory.