In sports, timing in everything. From that sound off the bat when Jonny Bairstow cracks another six over Virat Kohli's head, to Beth Mead connecting with a beautiful cross from Georgia Stanway. This wholeheartedly applies to Formula 1 on and off the track too. A missed apex might cost you a tenth of a second in what's already a game of inches. It might also dramatically alter your career trajectory with one bad call or badly timed decision. And for Daniel Ricciardo, his timing couldn't have been better, or worse, depending on how you look at it.
Daniel Ricciardo got his foot in the door at Red Bull just when they needed a soft reboot. Mark Webber had just retired, and his outright pace at Toro Rosso against another highly touted talent in Jean-Eric Vergne got him the nod as Webber's next in line. When you're out qualifying a guy 30-7 in two seasons, you're going to leap off the page.
And of course, he got to Red Bull just as Sebastian Vettel's death grip on the sport came crashing to a halt, as everyone got shell shocked by the new terror in silver known as Mercedes. Combine that with Vettel having a down year on luck, and Ricciardo getting some big headline moments over the season, and a star was born. He was always there to pounce when Mercs had a rare bad day in a dominant reign we got used to very quickly.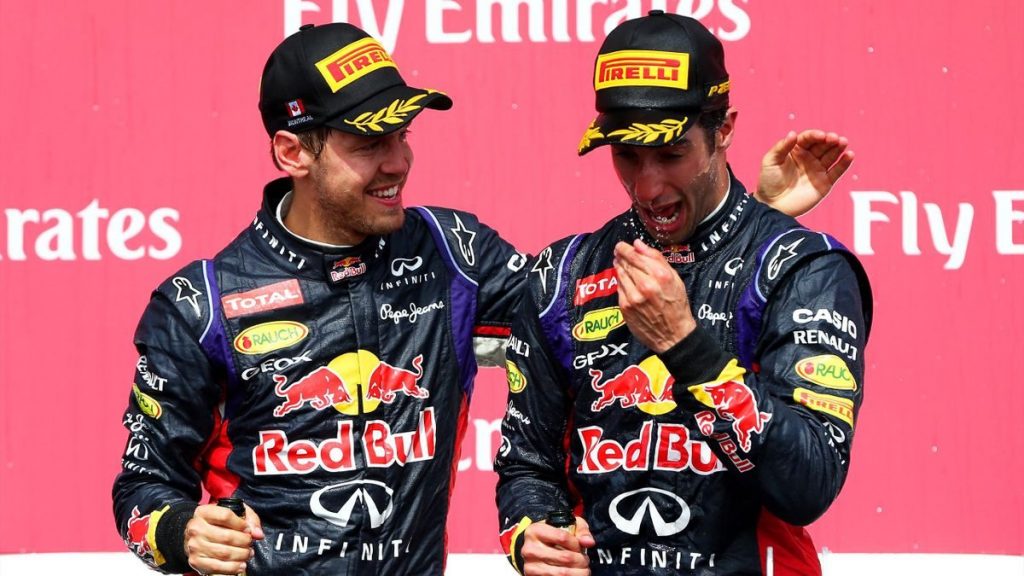 He got his debut win in Canada when both Mercs had mechanical trouble. Then went back-to-back in Hungary and Belgium when the rain did a number on Hamilton and then he and Rosberg clashed at Spa. That Monza overtake on Sebastian Vettel. All landmark moments from a man who Eddie Jordan at the time described as "Someone I'd build a team around if I was starting again today."
He had another elite season in 2016 when he was the most prominent thorn in the side of Mercedes as they would go on to have arguably their greatest F1 season. One of the most heated title fights of recent times and they still won 19 out of 21 that year. But Daniel Ricciardo was there in 3rd, the clear best of the rest, including another opportunistic win in Malaysia when Hamilton's power unit died.
Daniel Ricciardo already had a body of work that screamed "Future World Champion", one where we argued the best for him because we all knew to that point that there was only one car that could truly challenge for the title. But there was also a threat from within lurking around the corner, and that was Max Verstappen.
In a brief and admittedly flimsy defence of Red Bull's philosophy, you can't deny they've given their younger drivers chances to succeed. But they've also been relentless in demanding the very best of who comes up through the pipeline, consequences be damned. Because if you can produce a Ricciardo, a Vettel, or a Verstappen every 5 years, it's hard not to call your academy a success. And Max already had Red Bull bend over backwards to accommodate him.
Did it work? Sure. But it absolutely butchered their infrastructure for years. Danill Kyvat was never the same after his home crash was the perfect alibi for his demotion. Carlos Sainz Jr left for what's now their main title rival. Vergne's career was a dead end after Ricciardo's promotion but at least became a success in Formula E years later. And Daniel Ricciardo eventually left because it was becoming clear it was Max's team despite Ricciardo trading shots pound-for-pound with the Flying Dutchman.
Well, that and the fact that Renault's factory team was prepared to make him their highest paid employee to be the face of the banana skin era. I can think of 20 million reasons a year you might want to cut bait, even if you know deep down, there's a good chance the wins (Of which he had 7 by now) would dry up.
And they did. Putting faith in Renault is like thinking you're winning the jackpot off one of those scratch cards you get in the corner shop. It was evident pretty quickly that Daniel wasn't going to be there long term. By the end of Season 1 he was getting very cosy with McLaren's Zak Brown. And his move to the papaya being one of the first in 2020 to be announced was hardly a surprise. Poor Cyril Abiteboul had to plod around on Netflix's Drive to Survive looking like a man whose new partner only saw you as a sidepiece rather than a keeper. Trust me Cyril, I know that feeling.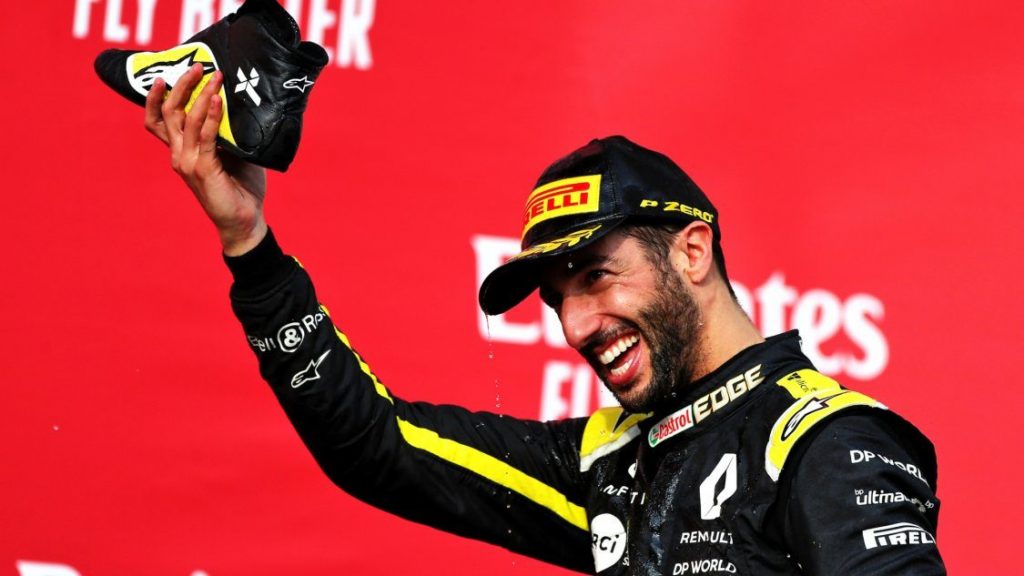 And as much as Ricciardo's time in yellow wasn't ideal, he did put together a 3rd ridiculously good season to remind us all of his class. 2020, the COVID season, he scored two podiums, finished in the Top 5 seven times, and was 5th in the Championship, smoking Esteban Ocon so badly there were question marks about his future in the sport.
Fast forward to now and it's safe to say that the McLaren move hasn't worked out. The timing was off and probably for more than one reason that isn't necessarily Daniel's fault. First of all, McLaren has metaphorically spun its wheels since moving on from Honda power. For all the hype, the fancy videos and surge in popularity, they've had one win in their new era since 2012 and not finished higher than 3rd in the Constructors since. They're good, but they're nowhere near the Red Bull that Daniel had left nearly half a decade ago.
And the second part of that is that we've all probably underestimated the rise of Lando Norris a tad. He's only been in F1 for three years and change and has already made rapid improvements year on year. He was comprehensively better than Ricciardo last season, and was in the ball park of established great drivers like Sergio Perez, Charles Leclerc, Valtteri Bottas and Carlos Sainz. When Lewis Hamilton inevitably retires, I don't think you have a better candidate for his replacement.
But that has had an absolutely damning effect on Daniel's stock. Nothing hit harder than Monaco last year when Lando got on the podium while lapping his teammate in the process. And this was in a season where Daniel won McLaren's first race in nearly a decade. Since joining McLaren in 2021 until Silverstone this year, Daniel Ricciardo is 9-22 against Lando in qualifying and 10-21 in races against him. Just a couple of months ago, before Pierre Gasly was effectively frozen out at Red Bull's umbrella, there was talk McLaren could cut Ricciardo a year early from under his three year contract.
Now as much as I think rumours of Ricciardo's demise are somewhat exaggerated, I can see how you might go all the way in terms of replacing him. Even more so when there doesn't seem to be an obvious reason as to why he's struggled so bad. There's murmurs his driving style just doesn't fit, twinned with the fact that for Lando, McLaren is all he's ever known within the sport. Or that Daniel's "confidence is shot" because we all secretly think we're body language experts. We don't really know that, we just say these things because it puts a neat and convenient little bow as to how we evaluate drivers. Often, a much more difficult job than we give credit for in a deeply mechanical sport.
He's just not been good enough. It's always harder to justify the unexplainable. Especially in a fan base that will always see the moving of drivers as more exciting and lean into it. Even more so given 2023 on paper looks like it'll be a largely unchanged grid. And with Pierre Gasly's future confirmed for the second time in June, the reality seems to be that there isn't a bonafide replacement for Daniel available quickly without drawbacks.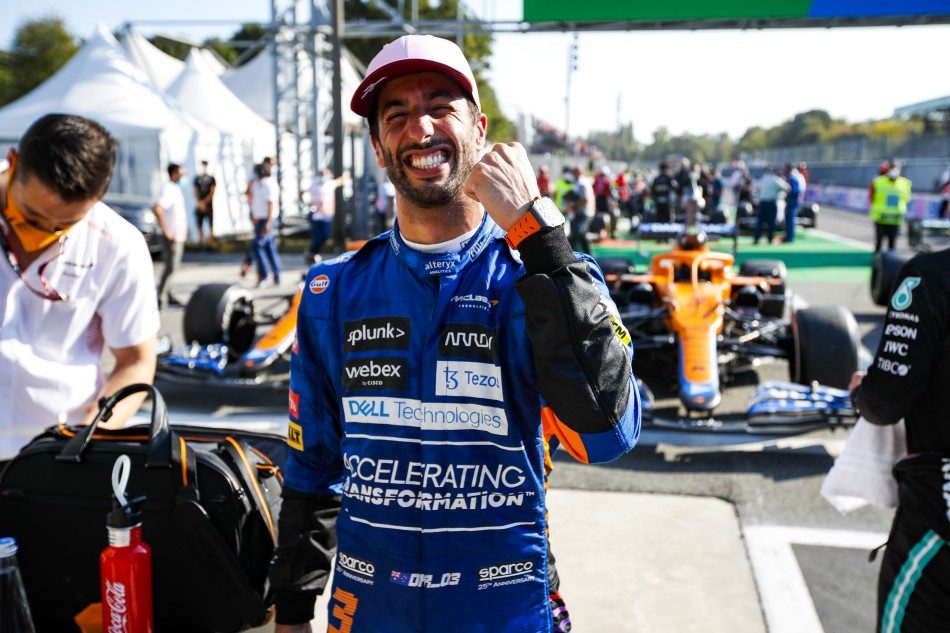 Oscar Piastri is the third wheel in yet another overstuffed Alpine setup where their driver line-up looks pretty set. Not to mention, walking into an upper-midfield team as a rookie against Lando Norris is about as tough a challenge as it gets in F1. If Daniel's struggled with it, how are some folks so sure Oscar will find it such a cake walk? We could be having very similar conversations about him in two years time and we're back where we started again.
Sebastian Vettel might be a possibility if Aston Martin can't convince him to stay beyond the end of the season, but that feels like another stopgap for all parties. Aston Martin still need more time to see if their heavy investments in poaching rivals staff and a new factory actually reaps rewards in the medium term. Vettel's been very good for Aston this season considering COVID-19 derailed his early season, but is slightly raising your "floor" as a driver worth all that much?
There's been talk over the IndyCar drivers in the McLaren umbrella, but Pato O'Ward has blatantly been cockteased by Zak Brown for an F1 seat that's looking more and more likely that it's never going to materialise. Even more so now he's been tied down for another three years to be the face of McLaren's American expansion.
Colton Herta is probably waiting for his Andretti employers to see if they can find a way onto the grid despite F1 gaslighting them, and he himself still lacks a super license without a Top 5 Championship finish. A spot that Herta is currently 44 points outside of in IndyCar, nearly an entire weekend's worth (Ironically, held by Pato at the moment). Even then, are we sure someone can handle the IndyCar/F1 jump? It's a gamble that I'm confident McLaren just doesn't need to take.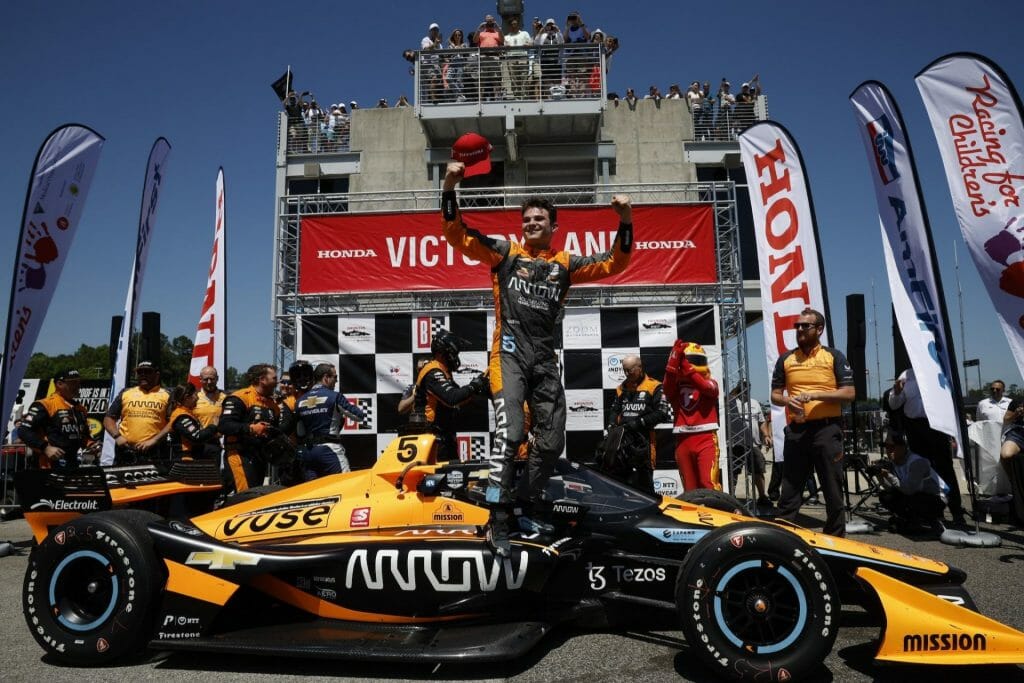 So Daniel will probably spend the twilight of his career winding down a disappointing stint at McLaren until the end of next season. And it'll be a sad end to a great time in the sport if it that was to be his final chance. Eight wins and three genuinely outstanding seasons is nothing to scoff at, and he's brought a lot to the table in terms of entertainment and charisma, on and off the track. He's funny, he doesn't take himself too seriously, and when his car was on song, he should rub shoulders with anyone. You could easily stuff a Tiktok with all his best passes too. He's a LOT of things that the sport has only just learned to embrace in terms of racing personalities and I think for many, he's an easy guy to root for.
But that's Daniel's career for you, where his timing made him who he was and what he is now. He had a mountain to climb to stand out in the sport's most dominant era, and yet he still found a way. That timing was what made him shine brightest when the very best of the best failed. But such is the way with F1, sometimes you can swing and miss, and it can all come tumbling down.