I have a confession to make readers. I have a new and very troubling addiction. It's a narcotic, and it's deeply linked to drinking Snapple and trying to see Ferrari win.
Those who know me well, know that I grew up a huge Michael Schumacher fan. So much so, it shut off that part of my brain that says: "Why the bloody hell are you so into this, you do realise he's making the sport boring as all hell, right?". Yet, there I was always wearing my Ferrari cap in High School and talking about MSC every moment I could get. 2004 was basically what happened if Christmas lasted eight months a year.
As Michael "retired", I was in limbo for a little while until Sebastian Vettel really stood out to me in 2008. We all know the story of his rise to fame, but twinned with that was the affinity for Ferrari going away. I was never particularly invested in Felipe Massa, Kimi Raikkonen and especially not Fernando Alonso.
Obviously, that all changed in 2015, when Sebastian Vettel got to follow his lifelong dream by heading to the Scuderia, and yeah… I was trying to keep it down that first season, but that affinity for the scarlet red came back in a big way.
That 2015 season gave us hope. 2014 saw the rise of Daniel Ricciardo sure, but it's obvious the majority of fans just aren't as emotionally attached to Red Bull as a brand compared to Ferrari. Not to mention, anyone a tad more critical will point out that all three of Daniel's wins from that season came as a direct result of Mercedes shenanigans. From broken MGU-K's to Safety Cars and that crash at Spa.
Ferrari in 2015. That gave a lot of fans, hope. I'll never forget that Malaysia 2015 win. Mercs were rattled. Rosberg was saying "game on" for the title. And despite Mercs winning the next 7 races on the spin, the three wins Vettel gave the prancing horse were pretty much all on merit.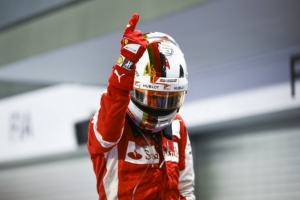 Remember the Ferrari hype going into 2016? I was guilty of the same thing. I was sitting back thinking: "If we can turn 3 wins into 6 or 7, then who knows!" Then as we saw, Ferrari missed several opportunities to win races. Australia and the Red Flag. Vettel's blown engine in Bahrain as a DNS. Austria's tyre popping. Canada and the bad call to pit under a Safety Car. And by the second half of the season, Red Bull had overtaken them and won with a 1-2 at Malaysia, capitalising on another Mercs mistake. Consider the hype train well and truly derailed.
Sebastian Vettel was 16/1 with to win the 2017 Championship. After the testing hype, he came all the way down to 12/5. No-one is more invested in F1 than Ferrari fans, especially when their wallets are involved. And annoyingly, so far… The hype has been justified.
Let's weigh this up so far. Through four rounds of this season, Sebastian Vettel has won two rounds, the Ferrari is MUCH closer to Mercedes to the point where they can pounce, Seb has a pole position, and has legitimate chances to win in the two races he didn't win, even being able to crack the dreaded dirty air bubble in the closing stages at Sochi last week. He's been spectacular this season, and now, for the first time in nearly 4 years, Seb is the bookies favourite to win the Drivers Championship. It's an exciting time to be a Ferrari fan, and for the first time since maybe 2008, they have a legitimate chance at BOTH major titles.
Is the hype real? I think it could be. Spain being the hotbed for testing will give us a really good sign. If Ferrari can keep giving Mercedes a bloody nose, we could be in for a season-long dogfight, even if Kimi Raikkonen is letting the side down a touch. Me? I'm just trying not to get to wrapped up in the buzz, because from my experience, Ferrari is like dating a bad girlfriend. It starts out amazing at first, then you move in, the opening fire dies out and next thing you know, you're on couch longing for those better times again.
Please Ferrari, for the good of the sport, keep this shit going. Now if you'll excuse me, I'm off to resist the urge to drink another Snapple, because rehab from the Ferrari Narcotic isn't fun.