It's been an eye-opening 2017 in MotoGP so far. The overarching theme of "throwing the form guide out of the window" certainly hasn't gone unnoticed. From Johann Zarco nearly winning his first race, to Jorge Lorenzo's teething problems at Ducati, to the rise of Maverick Vinales's early dominance. But there's one little thing we may have overlooked in all of this…
…Valentino Rossi's leading the Championship. Again.
2015 Rossi may very well be back. It's easy to forget that not so long ago, he was the guy Jorge Lorenzo could not catch until the final round of the championship. Rossi led it through 16 of 18 rounds. He only won four races, compared to his teammate Lorenzo's seven. And yet, despite that ultimate upside Jorge has possessed through the years, Rossi was almost always in control.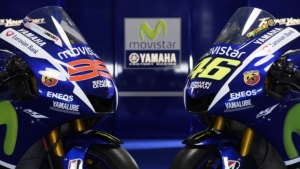 Reading between the lines on that season, sure Rossi only had four wins, but he also finished on the podium for the opening 12 races, only finishing off it three times, and finishing every single racing lap of the season. And let's not forget, one of those races were Valencia, where he had to start from the back of the grid after… well, you know.
Rossi not making mistakes is probably the strongest weapon he has left in his arsenal. He's always been a model of consistency, especially on Sunday's. We saw what happened when Rossi wasn't so strong in that department last year – A fall at COTA, another at Assen in a race he was set to win, and some questionable lack of faith in the team that loves him in Germany made Rossi's hopes of title #10 near disappear by the summer break.
I think in 2016, for the first time, Rossi was trying too hard, when he's never been the "Ride the bike at 100% guy", like a Marc Marquez or Andrea Iannone. This is a guy who's openly admitted that the only time he's ever gone all-out from the opening lap, was in Phillip Island in 2003 when he had to recover a 10 second time penalty.
Looking at Rossi now, it's clear not much has changed. He's always come through on the Sunday. He's only had six since the start of the decade, and that's no real surprise given the sport has seen the likes of Casey Stoner, Jorge Lorenzo and Marc Marquez since – Three of the fastest raw talents the sport has ever seen. Marc alone has had 65 in that time-span in all classes, and 39 in the top class.
Even when he's complained about the quality of the bike (This season being no exception), he's always found a way to make it work… Finishing on the podium in all three rounds despite never showing optimal ultimate speed kinda says it all. As said, he's a Sunday man. As Keith Huewen will remind you every time he has Rossi in his eyesight while watching on BT Sport.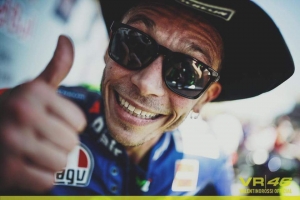 What's been fun to watch this season though, has been the near paradoxical nature of Valentino's perceived "role" in this recent times. Let me explain. It wasn't that long ago we looked at Rossi as the sympathetic legend trying to keep up with the new breed. Assen I remember fondly. Brother Ryan bawling his eyes out as he crossed the line. It features heavily in "Hitting The Apex" how his home village went ballistic. We were just happy when Vale did anything of note, like the occasion win, or a shock pole position, like the one in Valencia a couple of years back.
But then when Rossi ditched his crew chief and became a true title threat again, I don't feel like he got the same level of critical judgement that others got when he did slip up. We've pointed out massive holes in the games of Marquez and Lorenzo the last three years. Marquez's over-aggressive nature and tendencies to crash in order to find the limit. Lorenzo's ability being almost entirely dictated on confidence and his wet weather struggles. Not so much on Rossi's inconsistencies, which if anything, his blushes were spared because Lorenzo had an even worse time in his final season at Yamaha.
With Valentino being the godly figure in MotoGP, he has the best of both worlds. Being as beloved a figure as he is in a sport he helped get to this point has made him the supported veteran that everyone wants to see go on one last run, while also dodging the overarching critical nature of nitpicking a top-tier riders game whenever they slip-up, like others have in the past. It's an amazingly fortunate situation to be in, the true "best of both worlds" situation.
I'd be lying to you if I wasn't a rather cynical fan when it comes to Vale. I've often labelled his complaints as mind games, another thing he's been guilty of in the past. But I have to admire the uniqueness of the situation and just how fundamentally a part of MotoGP he still is. This is a 38 year old, 20 year MotoGP veteran who's managed to seize the early initiative of a title race over a teammate that looks alarmingly like the one he's just replaced, and the best rider of the last decade. And he looked finished three years ago.
The world of Valentino never fails to be entertaining. And even if this isn't the final chapter, The Doctor's latest check-up is bound to make things interesting.