I can't lie to you guys, Australia was understandably exciting for me. A Sebastian Vettel vs Lewis Hamilton match-up is the one major title feud we've not really gotten in F1 so far, and by every account, it seems Ferrari genuinely has a great car this year. The annoying thing is, China didn't really prove anything to us that we didn't already know because at least in my eyes the race was decided after the first seven laps or so.
Lewis Hamilton loves China. One of his strongest circuits. Pole position on six occasions. As soon as the Safety Car came out for Antonio Giovinazzi's second crash of the weekend (Welcome to F1, kid), the race was effectively done. Vettel was within 18 seconds of Lewis after stopping for slicks, the Safety Car effectively gifted Lewis a free stop, and we're done here. Even more so given Red Bull played their cards right, Verstappen is a demon in the wet, and their cars are notoriously difficult to overtake in the dry, despite their lack of power.
I'm kind of in two minds with how this race played out. I vehemently disagree with everyone who said the element of DRS in this race was bad. If anything, I'd argue it was perfect. We didn't get many actual passes in said zones, but I think they set up moves later in the lap. How many passes did we get into Turn 4 instead? Many of them, spectacular, including Sebastian Vettel's outrageous outside pass on Daniel Ricciardo, an early candidate for the pass of the year. That was all a result of said DRS allowing Seb to run close enough to try something different, impossible given the amount of dirty air these new cars produce. Just a shame that Kimi Raikkonen was in the way for the middle portion of the race. Seb's pace in clear air was also pretty eye-opening, but by then, it was sadly too late as Lewis had the race won.
For me, China will be known as the "race that could have been". The dampness at the start didn't actually play into the result much outside of Verstappen's early comeback, and the tyre strategy could have brought Bottas and Raikkonen into play at the end of the race was a couple of laps longer. Tis a shame, but this was still a decent time.
And no, I'm not talking about Hamilton vs Vettel anymore. Talk to me at Monaco. I know we all badly want this, but I refuse to disappoint myself. My narcotic doesn't cloud common sense. THAT much.
Some other observations!
Just how amazing is Carlos Sainz? His new position of 7th in the Championship, the best out outside the big three teams, says it all. He took an almighty gamble to start the race on Super Soft tyres, and despite suffering from the lack of grip at the start, he was at one point, the fastest man on track and in the range of the Big 6, which was rather amazing to see. He'd go on to finish 7th in another stunning drive. In a world where Max Verstappen stole a lot of his hype on the way in, I'm glad Carlos gets these opportunities to shine too because he quickly is becoming for me, the top contender for a big team move.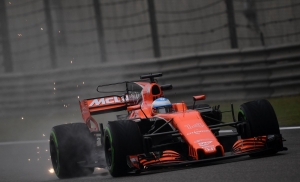 Okay, I have to admit, I was in the camp that MAYBE McLaren wasn't all that bad after Nando very nearly dragged that sucker to points in Australia. It happened again this round when he was running well into the points. But it kind of said it all when it came to how easily Val Bottas passed him on the back straight. McLaren, I don't think are all that bad in the corners, or Fernando Alonso is doing an INCREDIBLE job trying to mask their problems. But none of that matters if the car is 0-4 for race finishes. It boggles my mind that McHonda, who seemingly made real progress last season, have fallen far, FAR by the wayside. More on that soon, I have a Fernando Alonso column in the works.
Sad to see Antonio Giovinazzi come crashing down to earth after a brilliant first weekend in Oz. Crashes in Qualifying then the race in nearly identical fashion coming out of the final corner. Luckily, no injuries, or else Tatiana Calderon would have been on speed dial for Bahrain! But as said in Australia, I hope this isn't the end for Gio, we in general as fans do need to remember this is just his 2nd ever race weekend, and the first experience of wet weather running.
Also, the FIA seems to be dodgy as hell with this weekend. Romain Grosjean got 5 places for seemingly ignoring double waved yellows for Gio's, despite Grosjean sharing his telemetry proving he DID, in fact, slow down. What makes this crazier, that the FIA introduced a new rule that this sort of incident would result in a red flag. Bizarre stuff.
Drivers getting reprimanded for missing the National Anthem ceremony though? Esteban Ocon was the latest victim, having got caught out by an interview by Canal+ while still on the grid. Sergio Perez and Daniel Ricciardo have had reprimands for this too. Now, contrary to what Twitter was saying, no he can't be taking grid penalties directly for it. To get a 10 place drop for three reprimands requires two of the three to be "driving-related", but for that to be a contributing factor at all seems dumb to me. Hit them in the wallet instead, I really don't think a driver's job on track should be compromised by errors in protocol.
Dre's Race Rating – 6.5/10 (Decent): This race was actually pretty darn solid. It died down in the middle stages, but it started and finish well, and that always goes over a little better. The unpredictability of Verstappen at the start was great and the strategies coming together at the end was nice, and the sprinkling of great passes from Vettel and Grosjean certainly helped. China's not as bad as you think, trust me. Check back soon for IndyCar and MotoGP talk!