I know what you're thinking, and you're right – I did make a slight miscalculation. Idiot heated Dre was too busy insulting the hairline of a popular YouTuber (MY BAD), and I forgot to get around to writing about MotoGP's opening round in Qatar. In that time, this past weekend, we also had the third round of the World Superbike Championship in Aragon, and the British Superbike series kicked off their 2017 season at Donington Park. So, I thought, sod it, why not combine all three into one bumper post, and catch-up. It's basically a biking version of a Netflix binge-watch, only without the "chill".
Normal service will be resumed next week with a MotoGP Review in Argentina, and what I will most likely do is combine Worlds and British Superbikes into one post on semi-frequent occasions, given their disjointed calendars. Stay tuned for that. Right, on with the binge-writing.
---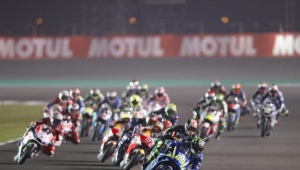 Kinda crazy how close we got to us not even having a season opener. Qatar has always been a weird race on the MotoGP calendar. It essentially has a microclimate with it being a desert. It wreaked havoc in testing with the amount of dew on track late at night causing slower lap times. And on very rare occasions, it can rain. A lot.
In this years case, thunderstorms. So much so, Saturday was completely rained off and the grid was decided by free practise times, with Maverick Vinales' ridiculous early pace getting him his first MotoGP pole position, ahead of Andrea "RKO Outta Nowhere" Iannone, and Marc Marquez 3rd, with Johann Zarco 4th, Vale 10th, and Lorenzo 12th. Hell, we had two delayed starts because the final three corners were still considered too wet minutes before the launch.
I know many asked me and others in the press why Qatar couldn't handle drying the track? Simple reason… It's just not worth it. Qatar is in a desert. Installing drainage on a track where it rains maybe 10 days a year isn't cost effective. Even more so when in the dry, the high winds in said desert will blow sand and dirt into said drainage, which someone else then has to clean. Yeah… not worth it. For what it's worth, I'm in total agreement with Motomatters David Emmett; that Qatar would be much better off as a day race in late February, for convenience reasons, and to stretch a brutal calendar out a bit more. More on that in HIS latest post here.
Anywho, onto the race itself, and the first few laps were the Johann Zarco show. I know he was probably the least intriguing rookie going in after spending 5 years in Moto2, but his early dominance made an instant impact, pulling out a two-second lead in the damp conditions, before tragically falling in the early stages. What's funny is betting wise, Zarco got slashed from 500/1 to 40/1 for the Championship, even with the fact he scored no points. As said though, an amazing early impact, Tech3 looked really fast all weekend, and it seems the 2016 Yamaha M1 was a superb bike to let two rookies adapt to the class so quickly.
Another shame Andrea Iannone fell how he did, clipping the back tire of Marc Marquez in a fight for the lead. As Keith "Will drop pants for Vale" Huewen often says, the rear tire always wins that fight. Suzuki was seemingly nowhere until that late Friday FP3 lap, so a stunning effort for Iannone all things considered. Rookie Alex Rins in 9th, also a great result.
Also, someone pour one out for Andrea Dovizioso in 2nd. The workhorse has finished there three years in a row, losing out to a Yamaha each time, and to three different riders! (Vinales, Lorenzo, Rossi). Still, hell of an effort, especially given his teammate was way down the order. Vale's miserable testing yet still producing a third place finish is as "Vale" as it gets.
Have to also mention the brilliance of Aleix Espargaro producing Aprilia's best MotoGP finish this century by coming home in 6th place. Seems when any team is build around him, he produces results, and being able to fight the factory Honda's out of the box is a stunning result. Scott Redding in 7th was great too. If early signs are anything to go by, the entire state of the field is open season, and with two "Marquez" rounds coming up, we may not know the full extent of where the field is in terms of performance until Jerez. Now I can see why David Emmett calls it "the real season opener".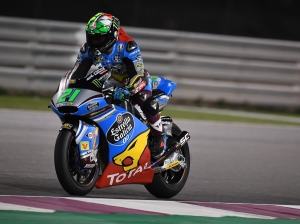 As for Moto2, A long overdue first win at last for Franco Morbidelli, and he did it in dominant style, leading pretty much from lights to flag, no-one had an answer for pace. I actually felt a little bit bad for Thomas Luthi. The perennial nearly man must have finally thought: "Okay, Rabat, Kallio, Lowes, Zarco and Vinales' are gone, surely THIS will be my year?"…and it looks like he could be in another dead end season because Morbidelli crushed the field.
Was also really nice to see Taka Nakagami up there again, I really hope he's finally put it all together and he brings some expertise to that 2013 pace he showed. Alex Marquez is a total crapshoot at this point, but shoutout to Miguel Oliveira in 4th in KTM's first ever Moto2 race. If that was indicative of anything, he will be one to watch, the aspiring dentist is one of the smartest riders in the field.
Moto3 is still Moto3, I know, shocking. Just your average 13-bike scrap for the win. You can debate Jorge Martin's inherited pole, sure, but he was excellent in the race too, constantly in the fight for the win. But it was the 2016 Rookie of the Year, Joan Mir who delivered the goods. I mentioned him a minute ago, but it was very reminiscent of Miguel Oliviera and Jack Miller before him when they were on KTM's. Sure, it seemed chaotic, but he was never out of the lead for long, always was in the right place at the right time. In a race of chaos, Joan Mir and British Talent Cup star John McPhee always looked the most comfortable (Even with Huewen's idiotic cheerleading), and they were rewarded with a 1-2 finish.
I mentioned on BikeLive that this would be a make or break year for McPhee, given he's the backbone of the BTC, and I didn't even realised that he's now the most experienced man in the field. He's 23 in July. Terrifying. Also what surprised me was that Enea Bastianini and pre-season favourite Nicolo Bulega were running in the 2nd group, a dozen seconds off the pace of the Top 10 or so. Shocking. Still, it's a Moto3 race. They were going 5-wide on the home stretch. You know it's well worth watching.
Dre's Race Ratings: MotoGP – 8/10, Moto2 – 5/10, Moto3 – 9/10
---
World Superbikes hit Aragon this past weekend, and to be honest, I wasn't looking forward to this much going in. Chaz Davies has won there five times, including taking a dominant double last year. So it was a nice surprise to see that both races this weekend, were barnstormers!
The vast majority of Race 1 was exactly what were waiting to see, a proper dogfight between Jonathan Rea and Chaz Davies. They were the two fastest men in the field by a considerable margin, and they went back and forth all race long, neither man being able to break the other. Chaz had two extra bike lengths on the penultimate lap, before going full "Danny Kent" and dropping it on the final corner right at the death, gifting Jonny his 5th consecutive win, and… at least in this reader's eyes, ended the title race before its even really began.
It was pretty much a stereotypical Chaz Davies crash at this point. The pressure was on, but he was on his own, an awful unforced error. To be fair, he was lucky he didn't break a leg given the bike fell on top of it.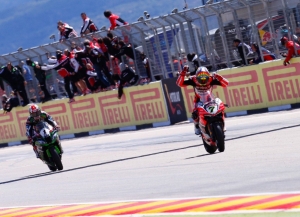 I'm glad Chaz came back hard in Race 2 and took a narrow win over Jonny, finally ending his streak. Believe me when I tell you the Championship needed it. I have to applaud Jonny though, if I had a 47 point Championship lead, I probably wouldn't have tried the penultimate corner block pass into the chicane. Ballsy, and the actions of a "proper" racer. Good to see. Real shame Marco Melandri again just didn't have the legs to stay with them, but it was almost synonymous with Worlds at this point. Chaz Davies and Jonathan Rea are in a league of their own, and Jonny might be one above that.
Rea now has a 50 point lead in the Championship through six races, and he's held onto smaller leads in the last three years. Put this into context. Rea left Aragon with 45 points. Davies with 25. Melandri and Sykes are quickly becoming non-factors. This was THE Chaz Davies circuit of the last two years, and Rea went +20 on his biggest title rival. What does that say for the rest of the season if the combo of Rea and Kawasaki are so good, they can challenge and win, ANYWHERE on the calendar? That wasn't a thing in 2016. It's exactly why I think the fat lady should be warming up the vocal chords.
World Supersport is still the world leader in biking "batshit crazy", and Aragon was no exception. A jumbled grid that included top contender Jules Cluzel unable to make Q2, PJ Jacobsen going up and down like a yoyo, Kyle Smith departing via the scenic route, and Thailand hero Federico Caricasulo, high-siding the returning champion Kenan Sofuoglu into oblivion. And we even had another great finale as Lucas Mahias finally got a W after beating Sheridan Morias over the line by just 14 thousandths of a second, with Jacobsen just a tenth behind in third.
The Kenan homecoming's gonna have to wait a little bit here. Even more so now the one man we may have all overlooked in Mahias, is 45 points ahead of him. Imagine if his engine hadn't died in Thailand, it may have been title over already! The homecoming tour just got a lot more interesting.
Also, making its debut this weekend was the brand new Supersport 300 cup, essentially World Superbikes answer to Moto3, and I thought for a first showing, it wasn't half bad.
Okay, any new series is going to have teething problems and there was a few here. First of all, you're going to have big gaps in the field, because not all talent adapts evenly. Sure, the Top 4 were fantastic and only a tenth covered them over the line, but you also had 11 seconds to the 2nd pack. Also, Aragon was probably not the best opening exhibition for the series, given the enormous track made the bikes look a little on the slow side.
However, the lead battle was great, highly touted Scott DeRoue leading the way, and I think in time, the field will get closer together as they all adapt and get used to these new bikes, and some of the smaller circuits like Donington or Jerez, will make a better show of what SSP300 is.
Dre's Race Ratings: WSBK Race 1 – 8.5/10, Race 2 – 9/10, SSP – 9/10, SSP300 – 7/10
---
As for British Superbikes, the biggest story of the weekend took place on Sunday Morning, as Shakey Byrne was removed from the weekend's races after suffering a concussion in warm-ups, via a nasty crash at the Cramer Curves.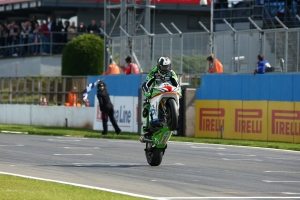 It kinda made the weekend a bit more subdued because, for as much as Leon Haslam dominated both races, I couldn't help and sit back and wonder where Shakey would have fit into it all. And with the Showdown format rewarding top results over consistency, it's really only a +10 for Haslam over Shakey instead of a +50, if you catch my drift. Still, if Glenn Irwin in Race 2 was any indication, his podium finish in Race 2 tells me Shakey will be Shakey and just win a lot. As usual.
There were some other observations I picked up on though. First of all, the Yamaha R1 is still ludicrously quick. James Ellison taking the early initiative in Race 1 and Josh Brookes in Race 2, showed this bike definitely has something. That something may have an unfortunate caveat in terms of tire life, because Ellison clearly shredded his in Race 1, and all the Yamaha's faded in Race 2, although not quite to the same level.
Luke Mossey will almost certainly make the showdown to me. He seems very comfortable on that Kawasaki, he's got a great yardstick in Haslam, and he seems to be getting better by the weekend if he can keep that consistency going. A shame he doesn't have Haslam's ultimate pace, but if he can win those 3-8 level scraps, he'll make the Showdown no problem.
Honda's woes seemingly continue. As much as we gave them shit for running a decade old Fireblade, it WAS still effective in being regular podium threats. Jason O'Halloran's pair of 10th places are obviously a step back. I wonder if the factory team is dealing with the same issues that the Worlds team and TenKate are, struggling for time to adapt to all the homologations that make the bike "competitive".
And while the Ginters hype train got a little derailed with Suzuki not being as hard a hitter out of the box as I thought, I must admit, it was pretty cool in Race 2 to see five different manufacturers in the Top 8. Now if only BMW actually gave a shit, we could see even more competition.
Overall though, an intriguing opening round, that left a lot on the table due to Shakey's absence. And with Brands Hatch Indy next, a James Ellison favourite, we may need a couple more rounds before we see how the field… shakes out. (God I've said that too much lately.)
And of course, Rest In Power to Mick Whalley.