That was a pretty intriguing weekend of MotoGP racing in Jerez. Mostly because while two of the three races were kinda meh… they did throw up a lot of scenarios I didn't expect.
I was pretty despondent going into this one given I lean more towards Honda. This has been a Yamaha track and a Jorge Lorenzo signature circuit for many years past. But weirdly, both Yamaha's struggled all weekend long, especially Maverick, sliding everywhere, the Factory M1 surprisingly lacking in grip and cornering speed, it's specialty.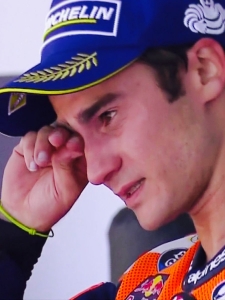 Oh yeah, and Dani Pedrosa dominated the weekend. Grand Slam too. When was the last time THAT happened? Without a doubt, the best he's looked on a bike (to me), since Motegi in 2015 where he destroyed everyone in the rain. It's the craziest part of Pedrosa's game, the fact that he doesn't have the upside of Marquez (And never really has), but he still produces a handful of weekends a year where he reminds us all just how great he is.
That was his 30th MotoGP class victory. Not bad for a 5'2", 7 stone man who turned 31 this past September. He's still one of only about three men left in the field who can win on any given day (Jury's still out on Maverick). And seeing his emotions on the podium were beautiful. I think it's actually impossible to dislike Dani, not a bad bone in his body. To think, this was his first home win in nearly four years. Kinda crazy.
Still, shoutout to Marc Marquez. This was set to be one of his weaker rounds but I reckon he'd take the 20 points if he was offered them on Thursday. Never really had an answer for Pedrosa, and that was okay. He's already canceled out the Qatar fall in just three rounds. Stage 1 complete. The next step is to not make any major mistakes until at least Catalunya, a now stronger round on paper due to the F1 layout. He and Maverick rode smart rides and maximized what they could get. Title mode. Not a bad way of thinking.
On the other hand, how fun was it seeing Johann Zarco getting properly stuck in? Started in 6th, and passed three riders in a lap. Three of the greatest ever. He even punched Marquez in the nose early on. Sadly, I suspect he butchered his tyres by running so hard early on, but he did stay with Lorenzo, and a career high finish of 4th was a deserved reward. I was unsure as to how good Zarco would be coming of Moto2 and how long it took for him to adapt here, but this is the most impressive rookie entering MotoGP since MM93 did. Even Maverick really took a season to get there. Zarco's a Top 6 rider in the class in four races. Insane. Just wait till he actually learns how to ride the bike. o_O
Jorge Lorenzo's back. Gonna be real here, I think we all underestimated the enormity of the task Jorge was getting himself into here. When you've been riding M1's since your 21st birthday, and you just turned 30 and handling something totally different for the first time in a decade, it's never going to be easy. But Jorge crushed it. Looked like the Jorge of old. He's getting better and more confident round by round, and I openly admit, I may have been too quick to call this season a write-off for him. I mean if Ducati can go from two wins last season to going nuts over a third place, maybe we shouldn't have the same expectations. Or Ducati's got very short memories. Or both.
Strange to see Valentino Rossi so far down the order in 10th… And no-one really dared criticism him for one of his weakest dry performances in years. Now, I've always been skeptical of Rossi's comments to the press given his tendency of "mind games", but he seemed he may have been right regarding his struggles with the 2017 bike, with complaints of chatter, poor tyre management and a lack of confidence. It annoyed me to see the BT crew immediately get the capes out for him as per usual… guys, he was passed by an Aprilia… bruh. This isn't a hill worth dying on. Vale isn't above criticism, especially if he's the title contender so want to paste him as.
But that's also the beauty of this season. Jerez proved it's a total crapshoot week to week and the form books we had for seasons past got thrown out of the window. Honda dominated. Ducati was reasonably competitive. Yamaha struggled, especially the new ones. Jack Miller actually went back to being a dick. MotoGP is awesome. Really, really, awesome.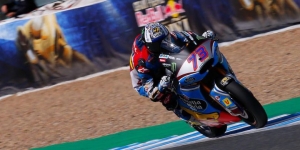 Moto2 was rather on the dull side, which still continues to blow my mind given how's it formed as a league. Marc VDS are SO FAR ahead of the rest of the field right now it isn't a contest. Every race has had them up the front, in front of everybody else. Kinda nuts. Only this time, it was Alex Marquez's turn to climb the mountain.
I feel bad for Alex at times. When your brother is the hottest shit this side of the toilet, it's hard to carve out your own name. I know good friends who nickname him "Ralf" for this very reason. Sadly, his inconsistency since that Moto3 title in 2014 doesn't help. The talent's always been there, but mistakes have held him back. Heck, he even ran wide in the early stages and let Morbidelli through to lead.
But this time, Marquez reversed Franky – He pushed him so hard, he cracked and dropped the bike. And it was a truly deserved win for Alex, given he had been fastest in every single session that weekend. Hopefully, that'll be the first of much more. Let's be real here, there's a lot of people in MotoGP banking that he gets to the top at some point. Easy to forget, he's still only turned 21 a fortnight ago. Shoutouts as well to Pecco Bagnaia for a tremendous 2nd place in just his 4th ever Moto2 race, and Luca Marini cracking the Top 5 for the first time.
That's the thing with Moto2 though – They had Danny Kent in the house, who recently bolted from Kiefer after two races. The break-up got pretty ugly when Kiefer himself criticised Kent for a lack of professionalism and his refusal to race at COTA. Danny Kent – cleverly, decided to respond to said criticism by throwing the team under the bus. Professional indeed.
My take? Danny's starting to get a bad rep for being a bit of a primadonna. And if you have a reputation for being unprofessional, is criticising the team who let you go just a fortnight ago really going to solve that? Is it gonna make you look any better? His interview with Suzi Perry was half-baked and didn't make any sense. He said the team "made mistakes", but then didn't into detail as to what mistakes were actually made. He cried innocence when implying that they "made him look worse". See, in a glorified spec series like Moto2, that excuse isn't going to really wash, especially when he was on a Kalex last year, the dominant chassis supplier in the field since 2014.
He was outpointed by a TRUE rookie in Miguel Oliveira, and the race he quit the team in, Dominique Aegerter finished in 5th place. I'm not saying Kiefer are the most amazing outfit out there, but given you're in a class where you need a lot more than raw talent to succeed, it seemed the only mistake Kiefer ever made, was hiring Danny in the first place. Now I'm not saying Kiefer is an amazing team by any stretch, but still.
An open and honest Danny Kent hits back at Kiefer Racing and has his say on his decision to quit the #Moto2 team. pic.twitter.com/oKfKmVjxGs

— BT Sport MotoGP (@btsportmotogp) May 7, 2017
Props to Suzi Perry though for not holding back – BT Sport has a bad reputation of cuddling the British in warm blankets and hot cocoa, and I'm glad she was actually more critical than usual. Also, if you haven't already, check out David Emmett's fantastic piece on Kent's fallout with Kiefer, it's superb journalism.
Moto3 was absolutely fantastic as well, which is no surprise as Jerez always promotes close racing, and this was no exception. And after the pain of falling at COTA, a race weekend he dominated but never won, I was really happy to see Aron Canet take the home W. It was a fantastic fight between him, Romano Fenati, championship leader Joan Mir and HOW IN THE FUCK WAS MARCOS GODDAMN RAMIREZ UP THERE?!
Seriously, I had never even seen his face before. He rides for Platinum Bay Real Estate, which I think is that shit team you pick when you start a Moto3 career on the video games. And despite that, he's pulled off the best KTM finish any rider has had this season in 4th. Outstanding, ballsy riding from yet another decent Spanish talent. I joke, but he's in the Championship Top 10 right now, which is kinda nuts. Maybe he's this season's DiGi?! Still, the final lap was insane, and if you haven't, go out of your way to see Aron Canet's final corner DOUBLE pass at the hairpin on Mir and Fenati. Exceptional stuff.
Given Aron Canet was the underlooked rookie of last season in a world where Joan Mir was the surprise package, this weekend was seemingly one of the riders triumphing through adversity. Canet in the shadows of Mir and Navarro, Marquez in the shadow of his brother, and Pedrosa… well, Pedrosa's entire friggin career at this point.
Right, time to close my Google Drive and catch some sleep. Going to somehow talk some Motorsport on a Podcast that covers… nothing that happened this weekend. Shit. Well, I always have liked a challenge…
Dre
PS: Damn you Frankie Morbidelli for ruining my acca!