Good news. 2nd eSports subject column in a row. Yeah, I'm not any happier about it than you are reader, but this is what happens when the sport itself has its second scandal in as many weeks. It doubles down on the ultimate point of the last piece I wrote. Welcome to Part 2 of working out that very blurry line between where the limits of virtual reality stop, and where the seriousness of heated competition and personal responsibility begins.
The final three laps of IndyCar's iRacing Challenge series finale yesterday at Indianapolis, in a vacuum, were insane. McLaren had a 1-2-3 with Lando Norris, Pato O'Ward and Oliver Askew leading the charge. In the leading group, Graham Rahal gets catapulted into the virtual sky via online lag. Simon Pagenaud, who was bumped into the wall earlier, deliberately conspired to slow Lando Norris up, blaming him for his earlier crash that took him out of leading contention.
Marcus Ericsson gets taken out on the final lap after he pulled a spectacular double overtake into Turn 3, only to be spun out by Pato O'Ward at the final corner. Then, with less than 500 feet to the flag, Santino Ferrucci gets a massive slipstream behind the leader, Askew. He intentionally turns into his car, taking them both into the catch fence. It leaves V8 Supercars invitee Scott McCoughlin to pick up the win, in the most dramatic Australian surprise win since Steven Bradbury stole that Speed Skating gold in 2002's Winter Olympics.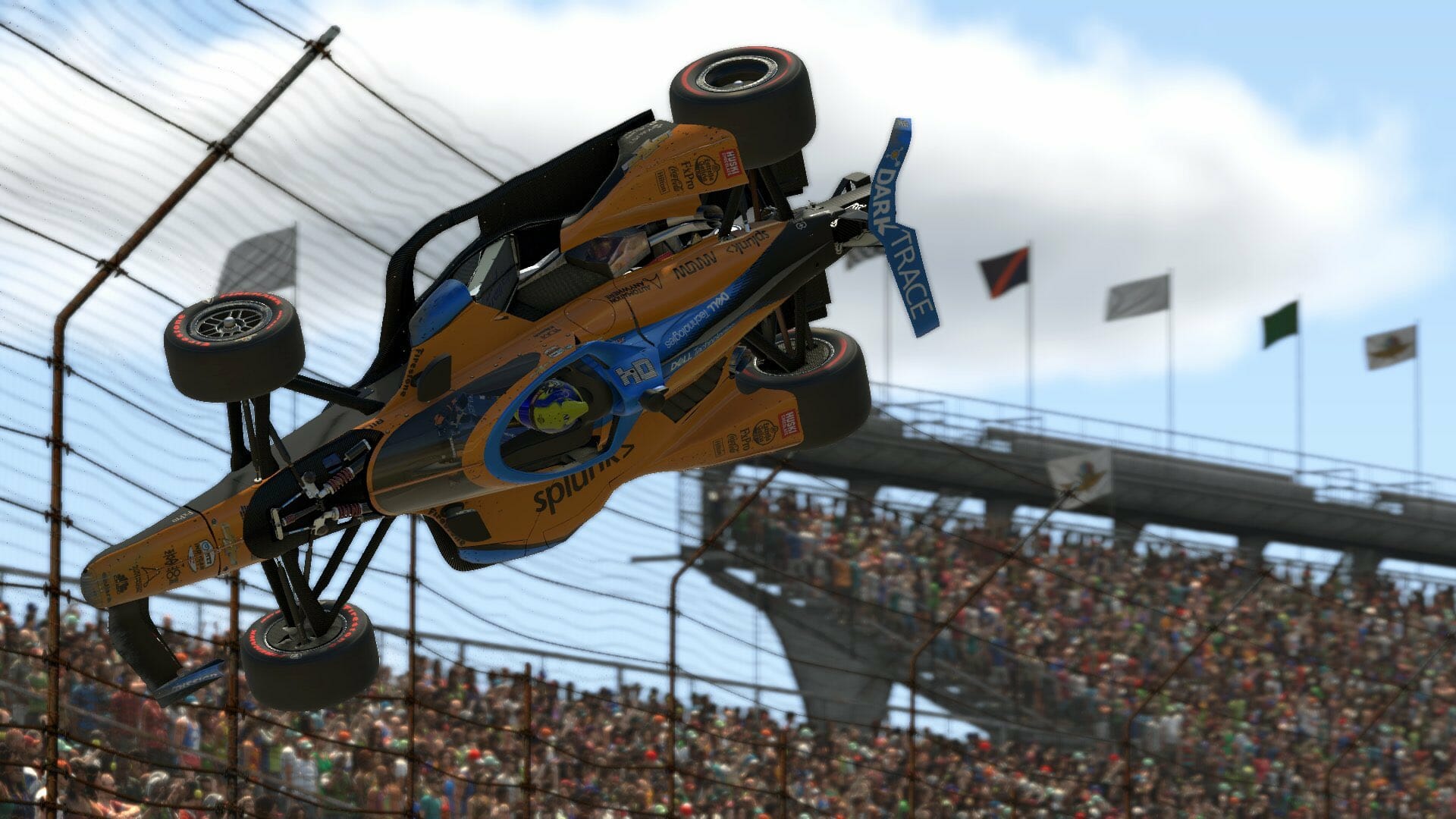 Pretty much all the main protagonists were streaming the race from their perspective. Simon is quoted as saying "We take Lando out, let's do it!". He apologised after the race to Lando, saying: "I just wanted to slow you up". Santino himself has deleted his stream of the event, but the replays are all over social media. It pretty clearly shows that Santino intentionally turned into Askew. He more or less admits as much on the official broadcast afterwards. He stated that because it's a video game, you can try to do something like that. I'll let you be the judge of that excuse.
Personally, I think it's bullshit. Because tonight was a stark reminder of one clear thing about video games and virtual races in this quarantined downtime… This is far more than just a game.
Just last week I wrote on this very site that out of all of the eSports broadcasts that have been put on in this opportunistic time, IndyCar's was by far the best. An incredibly slick production. A strong attendance from almost the entire roster. Good guest appearances like Dale Jr, Kyle Busch and Lando Norris. The series commentators were there and with a good variety of tracks, it produced good racing. It's a shame that the series finishes on a sour note because another strong race will now be more memorable for two objectively dick moves.
It doesn't help that the main antagonist here, was Santino Ferrucci. We all know of his toxic reputation in racing. A deliberate takeout in Formula Two. Frauding Trident then running back to the States with his tail between his legs. Attempted MAGA'ing of his race car. Alleged racism. Alledged buttering up to IndyCar's broadcasters at NBC. General unrepentant attitude to… all of the above. This was an essential doubling down of his on-track mentality. And it was ugly. We as an audience didn't need much of an invitation to dunk on him again. This was a red rag to a bull.
It's another blot on IndyCar's good name. A series that as a whole, deserves a whole lot better than "Santucci" being the flag bearer of its new wave of talented Americans when there's so many more that deserve the time and effort. He'll rightly be raked over the coals for this, but once IndyCar gets going in Texas in just over a month's time for real (At the time of writing at least), it'll be swept under the rug. That's the instant gratification we crave on social media. We move on very quickly.
Santino's actions were infuriating, but hardly surprising given his general entitled attitude to Motorsport as a whole. I'm extremely disappointed in Simon Pagenaud though. One of the series mascots, the reigning Indy 500 Champion and former series Champion. Making a mockery of Lando in a broadcast in front of thousands of people is embarrassing on any level.
Why is @simonpagenaud such a sour little spoilsport? #INDYCARChallenge
pic.twitter.com/sYMoDVWHZR

— Chris 🦁 (@_chrisEU) May 2, 2020
It's easy to be cynical at Lando when he made his guest appearance at COTA last week and won handily, despite spinning early on. Lando is an extremely adept and skilled iRacer of over 15 years, and he put a hell of a lot of time and effort working with McLaren and using their setups and resources to give himself the best possible shot. Our very own Ryan King was in a practise session with him mere days ago. This was far more than just a game.
And it was thrown away because Simon Pagenaud was salty and petty. IndyCar's always had a massive insecurity complex with its place in the Motorsport world, especially compared to F1 (See Lewis Hamilton and Fernando Alonso's presence within it in the last three years), and incidents like tonight only reinforce that terribly fragile conception. No-one comes out of this smelling of roses. The worst part is, Ferrucci's much more obvious transgression combined with his reputation has done a pretty solid job of taking the heat off Simon. He absolutely deserves to be criticised too.
Ultimately, the whole complexion of eSports can hinge on nights like tonight. I'm now a devout viewer of it on a large scale like I am with other sports, but I know the potential appeal. I was a young teenager when the Championship Gaming Series burst on the scene in the mid-2000s. and introduced me to Counter-Strike: Source, as well as amazing game players like "Daveyskills" and YouTube superstar "Swoozie" (A World Class level Dead or Alive player before making it as an animated storyteller), and the potential of what franchise gaming could be as a sport. 
It was the legitimacy and excitement that I'd always wanted to see in gaming. Much more than the half an hour review shows made on a budget of fifty quid like Gamezville on Sky. Or "When Games Attack" was on Bravo four times a day. The biggest hurdle that eSports has faced, and will probably always face, is legitimacy. Respect for being taken seriously. I look at the work some of my friends are doing at Veloce and think: "Shit, we've made it.". This when we know that Motorsport in the eSports landscape is hardly an EVO, or a DOTA, etc.
Nights like tonight set everybody back. Especially when it comes from some of the very best racing talents in the world today. They represent so much more than just stand-ins during the downtime.
It's easy to laugh this off because it means little in the grand scheme of sports (especially at the moment). But for series like IndyCar, unique opportunities to make new fans and tap into new audiences, especially via people like Lando Norris, don't come along very often. Fernando Alonso isn't going to appear at every 500. IndyCar as a series has always struggled to gain traction internationally. The iRacing series we've just had should be treated like the gold dust it is, especially when the wheels start turning for real in just five weeks time.
Why? Because it's far more than just a game. I hope we as an audience, don't lose sight of that.