Follow-ups are never easy. I wrote a pretty comprehensive piece on Lewis this time last year on World title #6. Called that one an exclamation point. I honestly don't know what to call #7, because this has been an unholy clobbering.
Turkey was the 10th win Lewis Hamilton has had in 2020. It's one more than Valtteri Bottas has had in his entire career at Mercedes. I mentioned last year this was in spite of him losing some of his qualifying speed. He only had five last year. He's had 9 in 14 this time around and reclaimed the Pole Trophy. He's had 80 points finishes in the last 81 GP's. When you have half of Formula's 1 social media fandom pine for the return of Nico Rosberg, a man we didn't appreciate enough until his shock retirement, you know you've made statements.
He was clumsy at Austria at the opening round when he collided with Alex Albon. Besides that, virtually unstoppable. Every time someone else might have gained a foothold, Lewis was there. Every time he's been beaten this year, he's won the race afterwards. The last four races he's won on the spin are an embodiment of that class.
At the Nurburgring, Valtteri Bottas was as bullish as he'd been all season. But Hamilton made a great pass when Bottas made a mistake at Turn 1. He didn't look back and won comfortably. At Portimao, we were shocked as the new surface and a hint of rain caused early havoc as Carlos Sainz led some laps. Hamilton came back, swept through and won by 25 seconds. At Imola, he ran some hard laps in the middle phase as Bottas and Verstappen diced, and won when the pitstops shook out, he won, virtual safety car be damned.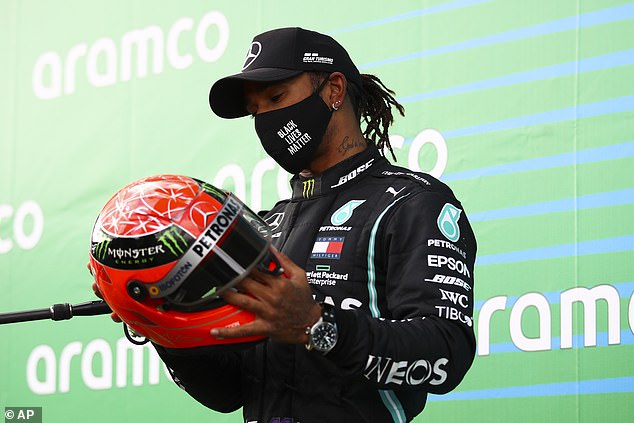 And then Turkey today, with the most treacherous conditions seen this season; a newly-resurfaced track with massive standing water, he had a flawless drive and nursed 48-lap old Intermediate tyres to another 25-second win. All comers, all conditions, all states of play. 
And in the middle of that run, he took the one record I thought would never be taken in Formula 1 – Michael Schumacher's 91 wins. He already has daylight between them. He'll be deep in three digits by the time its all said and done, with 2021 already looking a formality with so little changing in-between. There's no limit to what this man can do within the confines of this sport.
…But you already know all of this. I've just made look fancy. The biggest achievements Lewis will make in 2020 and beyond, will be his contributions off the track, just as much as it was on.
It's an incredibly different world in 2020, compared to when you might have read my words a year ago. Racing in the middle of a global pandemic that put so much of the world on pause. We saw the true vulgarity of racism in the form of the murder of George Floyd and the countless acts of police brutality subsequently. We saw the largest movements, protests and campaigns against racism and discrimination since the '60s and maybe even greater. And while we saw maybe the greatest visual representation of sports and politics come together – Something so many swear has to be kept apart, Lewis Hamilton shined brightest when F1 couldn't find the "on" button on its torch.
He went beyond the T-Shirts the sport provided. Or the token video played with next to no impact. Gestures that played second fiddle as the NHS took centre stage at Silverstone. Beyond the conflicting nature of his peers who made excuses to get out of the universal act of kneeling due to "politics". He was the biggest driving force to even see some flashes of change in a sport that whether it refuses to believe it or not, is one of the world's richest, whitest and privileged.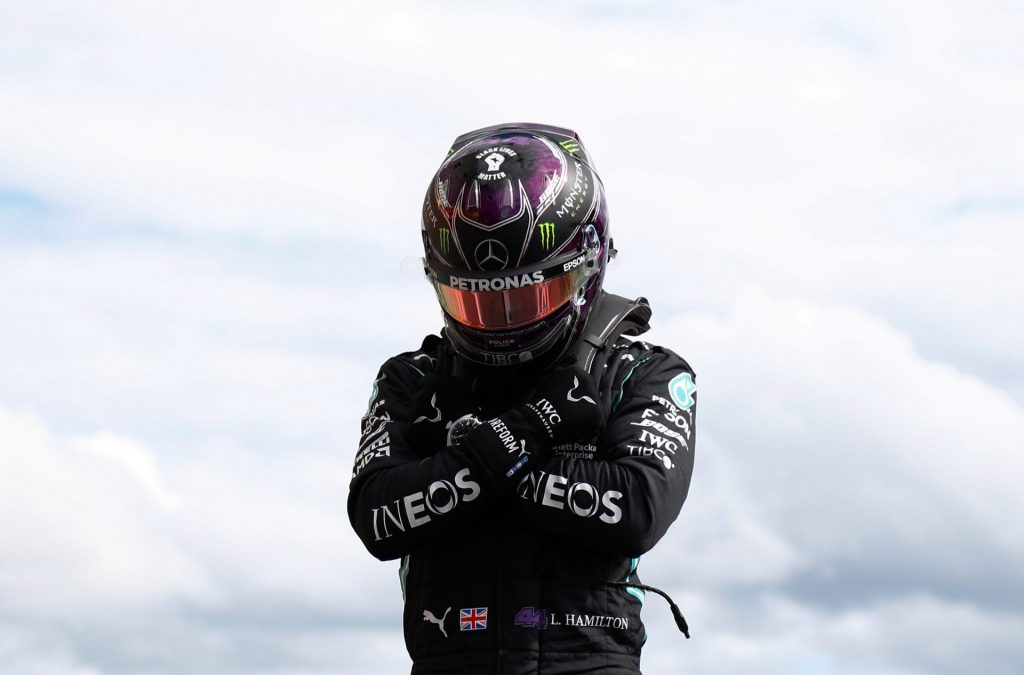 His Mercedes team openly admitted their own backyard was 97% white. 88% male. And when he won in Styria a week after the season began, he shared his win with Zimbabwe's Stephanie Travers. She was Mercedes' fluid engineer and the first time a black woman had ever collected the Constructor's trophy. Mercedes painted their entire car black for the season. It wasn't just a gesture we'd be quick to label as "virtue signalling" on Twitter. It came with a pledge and commitment to increasing the team's diversity in the future.
Mercedes are still, on November 15th, the only team to make such a commitment, to talk in such detail in how they can do better. Just last week, we saw them form a new partnership and academy with the Mulberry family of schools specialising in STEM subjects, attempting to produce more people from ethnic backgrounds to chase careers within science, technology, engineering and maths, maybe one day, paving the way for the next generation. It goes hand in hand with the Hamilton commission investigating just why many STEM careers end up going more in the favour of white people instead of other people of colour.
He's one of the countries biggest taxpayers. He sold his private jet in the name of doing more to help the environment. He's put his money where his mouth is. Like people who've nitpicked Marcus Rashford's campaign for food poverty, he's ticked every major box that so many entitled people demand of our sporting stars. And yes, without doubt, Lewis' knighthood is long overdue.
I have no doubt in my mind that the use of Hamilton's platform was what encouraged F1's #WeRaceAsOne campaign. Unfortunately, since then, that hashtag has lost its meaning. Whether it be copied by teams to sell merchandise and blur lines between racism and COVID-19, the sport itself taking merchandise sales but not knowing where its funds are going, or by the sport itself bringing it into disrepute, whether it be by their choices in future races, or by the conflict between themselves and the FIA.
This compounded by their president Jean Todt's misguided comments and "All Lives Matter" deflecting. The action to censor Lewis wearing a T-Shirt on Mugello's podium paying tribute to the murder of Breonna Taylor and the ongoing fight for justice in her name. Like most sports, it just doesn't want to make a sub-section of white fans uncomfortable. But they all have one thing in common. Lewis led the way and was unafraid of using his platform, time and money, in the inevitable backlash that would come, to make a statement.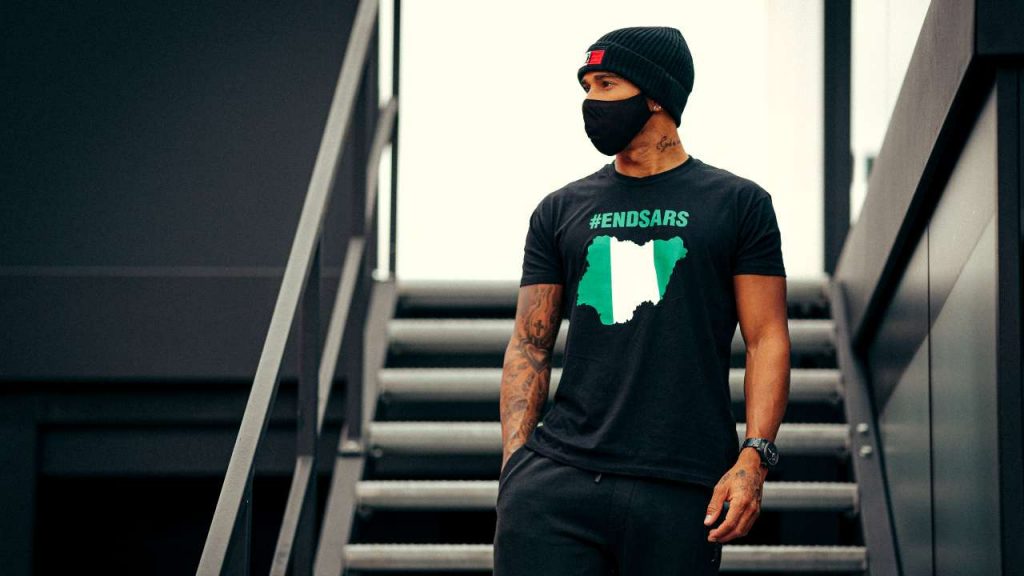 Not that the man can't make his own bread or have other side projects. But none of the music, Tommy Hilfiger jackets or POLICE sunglasses can touch the impact he's making. It's unfair that he has to shoulder that burden in a sport so niche and sometimes problematic compared to the rest of the world. But he's found a way to do it. This shouldn't be understated in a world where so many in the black community are still hurting.
Sebastian Vettel, his friend and maybe greatest rival, has taken visual gestures himself based on his inspiration. Like his incredible helmet design using Amelia Earhart's "Together As One", and is the only other man to feature the literal quote "BlackLivesMatter" back in Austria. This is the bulk of the difference we've seen on TV since the season began. It just shows how much more still has to be done.
Lewis said it himself – He's only just getting started. Last year, I said he was a transcendent star, a name beyond the confines of his sport. This year, he proved it. He's become the sport's greatest modern moral compass at a time when it needed one more than ever. The fact he's probably the greatest racing drivers the world's ever seen may end up just being a chapter in his overall legacy. He's truly cemented not only that but become one of our sport's greatest ambassadors. And as Seb said himself, he's making history, and we're very lucky to witness it first hand.
We're lucky to have Lewis Hamilton. Because now I'm more sure than ever, we're not getting another one of him.