"Keeping Up With the Zarco's."
It's been an interesting couple of years in MotoGP's lower classes, with a lot to be admired. I've always argued that Marc Marquez has been the spearhead for a new era of exciting young talent, his rise to superstardom quickly followed by the likes of his brother Alex, Jack Miller, Alex Rins, Pol Espargaro, Scott Redding, Danny Kent and Maverick Vinales. The sport is clearly moving in a new direction.
Just a few short years ago, we were in a situation where riders would take their time to move through the 125cc and then 250cc classes. Max Biaggi won 4 consecutive 250 titles. Dani Pedrosa doubled up on 250 titles, as did Jorge Lorenzo. But in more recent times, we've seen younger riders shoot up the classes quickly when the talent has justified it.
[fusion_builder_container hundred_percent="yes" overflow="visible"][fusion_builder_row][fusion_builder_column type="1_1″ background_position="left top" background_color="" border_size="" border_color="" border_style="solid" spacing="yes" background_image="" background_repeat="no-repeat" padding="" margin_top="0px" margin_bottom="0px" class="" id="" animation_type="" animation_speed="0.3″ animation_direction="left" hide_on_mobile="no" center_content="no" min_height="none"][fusion_imageframe lightbox="no" style="bottomshadow" bordercolor="" bordersize="0px" stylecolor="
" align="left" animation_type="fade" animation_direction="right" animation_speed="1″][/fusion_imageframe]Maverick Vinales did just the one season, breaking Marquez's rookie Moto2 scoring record before taking a Factory ride with Suzuki. Marc Marquez had the rules bent in his favour, the freakish level of talent he had.
Stefan Bradl went straight to LCR after winning said title in 2011. Alex Rins probably already is MotoGP ready. Heck, even Sam Lowes is probably getting a seat after just 2 seasons in Moto2, and neither of them have been particularly outstanding.
It's gotten to a point now, where many were surprised when Rabat stayed in the class for 2015, despite becoming Champion. I've seen many people have a similar reaction with Johann Zarco, who's heavily rumoured to stay in the class through 2016, despite currently dominating Moto2 this season like no-one's ever seen before. I suspect that's down to KTM's imminent factory debut, but he's already had MotoGP offers, so people are still somewhat surprised.
And of course, we've seen the next evolution of this in the last 12 months in MotoGP, with Jack Miller, for the first time ever, was offered to skip Moto2 altogether and take a 3-year Factory contract with Honda. And it's something we could see again, with Moto3 Championship leader, Danny Kent, being offered the Pramac Ducati seat that Yonny Hernandez will most likely be vacating.
So, with the standard of moving through the classes being constantly in limbo, I was asked on last Friday's #BikeLive, has Moto2 started to outlive its usefulness? Has the class got a problem when it comes to its talent, and has it become counter-productive. And for me, it's definitely something worth looking at.
[fusion_imageframe lightbox="no" style="bottomshadow" bordercolor="" bordersize="0px" stylecolor="
" align="left" animation_type="fade" animation_direction="right" animation_speed="1″]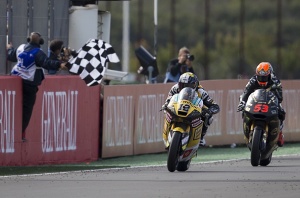 [/fusion_imageframe]I think the reason why people have started asking questions is some of the stagnant Top 10 in the class. Thomas Luthi and Simone Corsi both are now in the 200 race club, the former being a former 125cc Champion no less, and while Luthi now has double digit career wins, but given he's 29 next month, the odds of a MotoGP team ever hiring him is now next to nothing. And this is a Top 5 rider in the class we're talking about.
There's other riders in there like Mika Kallio, who's top class run never really worked out, and despite a breakthrough 2014 with Marc VDS, his window's closed. Dominique Aegerter turned down a MotoGP seat to try and win the title, despite getting his first breakthrough win last year in Germany. It's hard to see him ever making it now given his struggles this year on the go-to Kalex chassis. Some guys just haven't kicked on from Moto3 success, like Sandro Cortese and Luis Salom. Remember when Taka Nakagami looked like a top-tier player in the class? Stories like these are a dime a dozen.
I know many have drawn a comparison to GP2 in the F1 ladder, and drivers like Sergio Canamasas and Johnny Cecotto Jr, who have done 4, 5 years in the class, and still haven't had any major success, but yet are still in the class because of their marketing money, when we all know they'll never be in F1.
I get why many have this "What's the point" feeling about Intermediate classes and often, some feeder series drivers they feel have outstayed their welcome, but the reality of the situation is, it's really out of our hands.
Dorna DOES have an age limit in Moto2. It's 50. As much as I know someone is pouring one out for Jeremy McWilliams right now, it's a redundant limit. But what about a season limit? I've heard this suggestion thrown around as well, forcing them out of the class after a certain period of time. And I don't believe that's a viable solution either.
[fusion_imageframe lightbox="no" style="bottomshadow" bordercolor="" bordersize="0px" stylecolor="
" align="left" animation_type="fade" animation_direction="right" animation_speed="1″]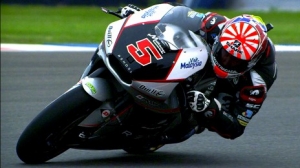 [/fusion_imageframe]If anything, the last two seasons of Moto2 have shown why that can't work. Johann Zarco is about to be Moto2 Champion in his 4th season in the class. Rabat won the title last year, and he was in his 4th season then too. And where else are you going to get a yardstick from to see just how good these more exciting younger talents are? And if you're the Interwitten team for instance, why you ever move on from Thomas Luthi, who's won you 5 races? Those kind of riders are hard to come by.
As I've said, guys like Thomas Luthi and Simone Corsi are probably never going to be in MotoGP, but we all know that on their day, they can challenge, and even win, and those are the kind of riders the Rins, Marquez's of the world etc, have to beat.
And let's not forget, Moto2 really is the ultimate test, given that it's a glorified spec series. 80% of the field are on the exact same 600cc Honda, supported by Kalex's incredibly strong chassis. On one hand, it's sad that the original point of Moto2 has slowly vanished, but, you now get a true sense of judgement when it comes to the riders we watched.
If you're disillusioned with Moto2 in recent times, I don't blame you. The class has changed so much from the times where Toni Elias smashed the field. But Moto2 is quickly becoming the proving ground for the really special talents, and we should embrace it for the intermediate class that it is. Sure, it's not going to be filled with Marc Marquez's every year, but that's just the point, it only makes the great ones coming through the classes, that much more special.[/fusion_builder_column][/fusion_builder_row][/fusion_builder_container]