In Part 2 of my Top 10 Drivers of the season list, a Mclaren, the Mercedes and a Partridge in a pear tree. If you missed Part 1 of my list, the link to read it is here, as it saves you spoilers by scrolling down to the bottom. You're welcome!
#5 – Lando Norris
Key stats: 7th Overall (122 Points), 17 points finishes, 1 podium (3rd in Imola)
Let me get this out of the way now. There absolutely is British Bias, and I'm completely okay with it. It's the nature of the sport. It has some of the most concentrated, long-standing fanbases, the sports transcendent star is a Brit, the sport is produced by a British company, most of the pundits are and the world feed is produced with that in mind. And given some of the other lists I've seen, I fear that this may be a surprise to some that I've only got Norris at 5. I'll explain why a little later.
But yes, the positives. Lando Norris's 2022 has now cemented him as the gold (or Papaya) standard midfielder in Formula 1. He is now the gatekeeper into the sport's true elite. And the only reason we're not having deeper conversations about him being in that elite tier is the lack of top-flight opportunities, and if anything, he's probably too loyal to Mclaren at this point. Remember, he still has another two years left on his current deal and half of the Top 6 spots are tied down for a similar time, if not longer.
He was the only man outside of what I glowingly nickname the "Big Dick 6" to score a podium finish this season. 17 out of 22 times this season he finished in the points. And if you look closely, 13 of those times he finished 7th or better, either the best of the non-well-endowed half dozen or better. That's extracting the best out of your machinery week in and week out. It's no wonder he was the best outside of the Top 6 by 30 points. Not to mention, McLaren was DREADFUL for a good first quarter of the season. Braking issues, massive amounts of drag and lack of testing time. Norris still delivered.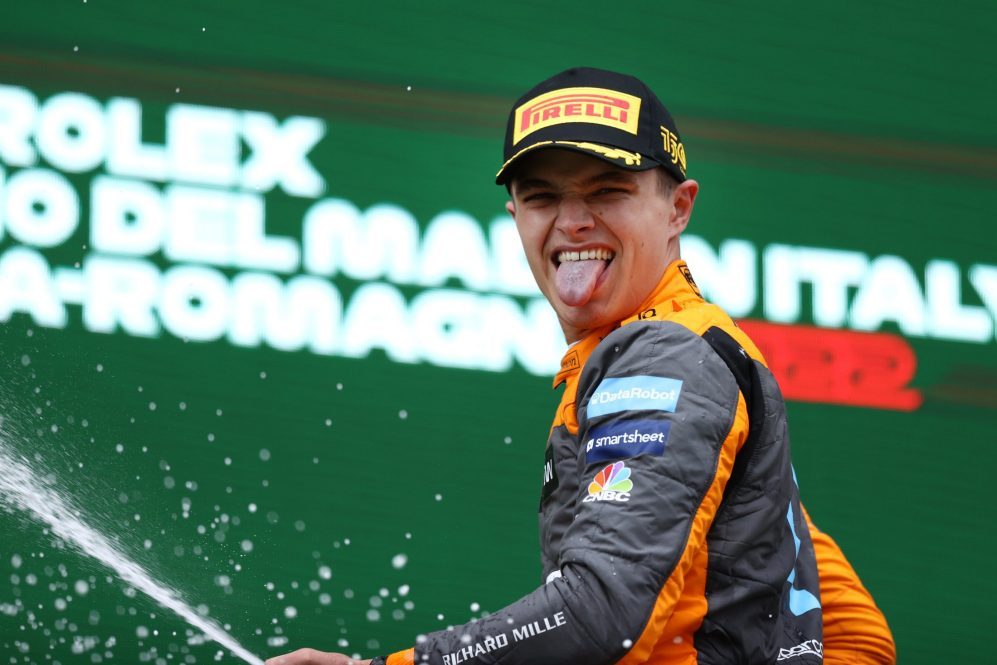 The difficult thing with Lando now is, his teammate relationship has become a blessing and a curse. On the one hand, he smoked Daniel Ricciardo over two years, who was going into McLaren with his stock sky-high after a 2020 Driver of the Year candidacy. But he's smoked him so comprehensively that it makes me wonder if the baseline performance of the car is as bad as some suggest.
Norris beat Ricciardo 16-5 in races this season (Brazil was a double DNF), and 20-2 in Qualifying with the 2nd biggest median differential in the field. And of course, 122-37 on points. That is a #BEATEMDOWN for the ages. It's such a beating that it makes you long for those sorts of fantasy matchups because you want to see Norris challenged again. Oscar Piastri is unlikely to be that person. What I wouldn't give for a Carlos Sainz rematch. Or Max Verstappen at Red Bull.
It's now genuinely harder for Norris to impress at this level and he's driven himself into a cul-de-sac career-wise. That's a good and a bad thing all at the same time. But that's why I found it uncomfortable putting him any higher than here. Like I said with Pierre Gasly last year, if you're the sort of person who generally leans towards midfielders getting Pound-For-Pound glory, then I totally get The Race and others putting Norris as high as 2nd. For me, he didn't leap off the page enough for me to rank him any higher. Let's get into the four reasons why.
#4 – George Russell
Key Stats: 4th Overall (275 Points), 19 Top 5 finishes, 1 Pole Position, 1 Sprint Win, 1 Win
A behind-the-scenes moment here: I had a genuinely really hard time deciding between George and Lewis for 3 and 4 on this list. I think there was a genuine argument you could make for both here. So here's the case for George Russell.
First and foremost, let's state the obvious. He beat Lewis Hamilton. Straight up. By 35 points. Hamilton's not lost a teammate fight on points alone like that in 11 years. It's only the third time he's EVER been beaten over a season. And Russell got there via remarkable consistency.
That's not a typo in the key stats sheet, he only finished out of the Top 5 three times all season. Silverstone where he was caught in a freak accident off the start line; being put on the wrong strategy in Singapore when the track wasn't dry enough, and in Japan where despite even finishing 8th, he was passing people unlike anyone else in the "S Curves".
And then, of course, Brazil. A funky weekend because of Friday Qualifying, but once he hit the front in the Sprint, he was untouchable for the rest of the weekend. Brazil was a well-earned reward for an impressive year and GR63 deserved his moment in the sun.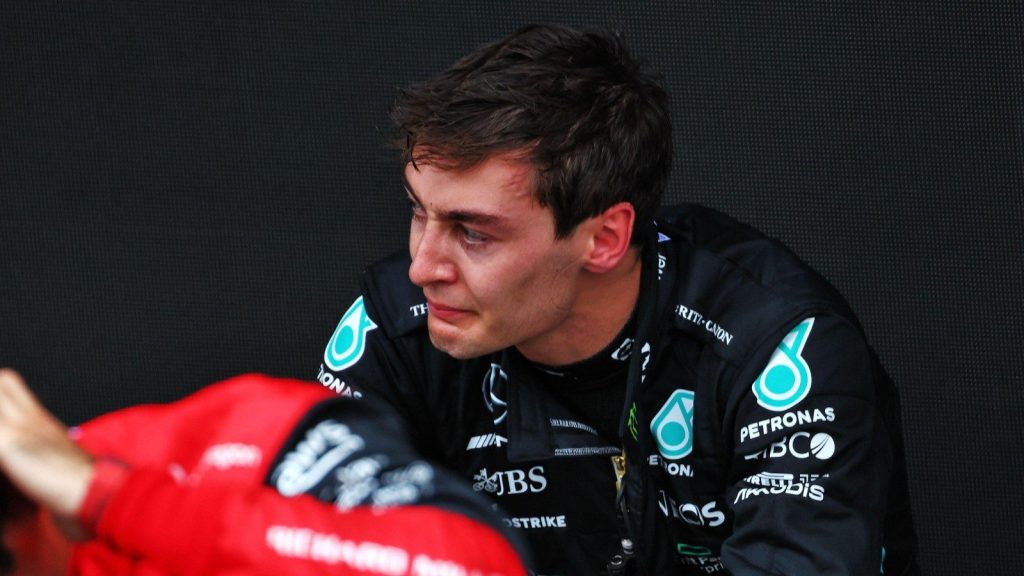 He lost the Qualifying head-to-head 13-9. However, it was the closest median differential of any teammate fight, just 0.037 seconds on average between them. Against the greatest qualifier, the sport has ever seen. He won the race head-to-head 12-10, but there are mitigating circumstances that go against him which I'll get into more in Hamilton's section.
And there's one other thing you can't measure that goes against George Russell here for me. I don't like Russell's racecraft at this level. There was a handful of times where he went over the feasible limit of what I'd call "fair driving". Catalunya I had an issue with how much he was turning in the braking zone to defend his position from Max Verstappen's damaged DRS wing. He took out Carlos Sainz at the opening corner at Austin.
He crunched into Sergio Perez in France and then claimed he was entitled to room when he just wasn't. No penalty. He drove into the side of Mick Schumacher in Singapore for no good reason. No penalty. Russell is another driver in that Verstappen-Esque mould of being unafraid of using his car as a battering ram on occasion and it will backfire on him more if he keeps this up. Remember how I said there's a British bias in this sport? If George Russell's helmet had a tiger on it and his branding was orange, we'd be condemning some of his behaviour a lot more frequently. I fear there's an element of a double standard here.
But on the other side of the coin, I also have to take into account reputation. I said during my Brazil Dre Reviews, that I was wrong about George Russell. I thought going all the way up from a Williams to a title-contending seat against Lewis Hamilton was a crazy gamble. I said that Sakhir 2020 was too small a sample size as to what he could do at the highest level. I was wrong. George Russell is the real deal and he very nearly ended up as high as 2nd on this list. There's every chance that George spearheads this team very soon. And I think Mercs will be in safe hands when that time comes.
Third – Lewis Hamilton
Key Stats: 6th Overall (240 Points), 9 Podiums, Five-second place finishes (France, Hungary, Japan, Austin, Brazil)
What a time to be alive. We're in Year 16 of Lewis Hamilton's incredible career. And this was his worst season for counting stats… ever. He's never finished 6th in the Championship before. And he's never had a season without a pole position or a win, and here we are. 3rd on the list. Lewis Hamilton, even at his lowest, finds a way to still stand out.
There's a big, big reason why Lewis Hamilton ended up 3rd over George Russell here. Simply put, he had to take the long road to get where he did. It's the holistic approach to his season that just made me give him the three spot.
Let's not forget, Mercedes fundamentally lost its crown the moment the W13 rolled off the production line. They took a moon shot on the 2022 regulations and got it wrong. And when they found out they did, Lewis Hamilton essentially sacrificed the first half of his season to try and give Mercedes something in terms of performance because they were the worst car in the field when it came to dealing with the "porpoising" issue that came with the 2022 car changes. Remember when that was a problem?!
There were dark times in that Mercedes camp. The 10th in Saudi Arabia after failing to get out of Q1 via extreme car setups. 13th in Imola after being Stuck in a DRS train that couldn't get him past Pierre Gasly's AlphaTauri. 8th in Monaco stuck behind Fernando. 4th in Baku but in so much back pain getting out of the car the entirety of F1 Twitter thought they had become chiropractors overnight. The entire sport was at loggerheads over it, and it had mostly stemmed from Mercedes' struggles and the sport ignoring the concerns of the FIA until it literally started hurting their drivers.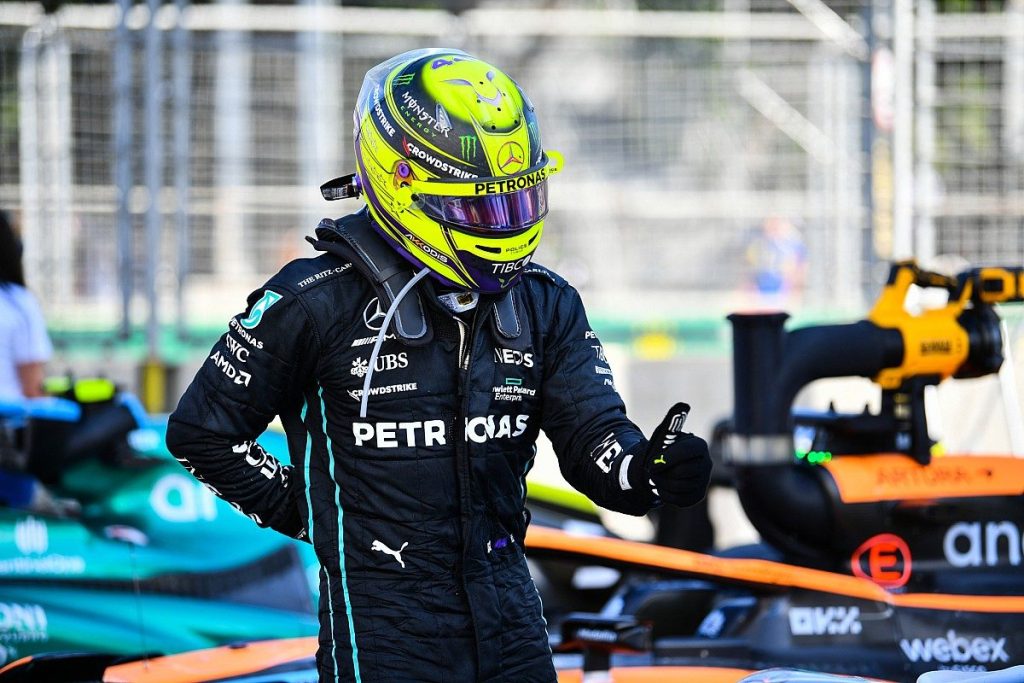 But when Hamilton was fully at grips with the W13, he was that guy again. Five straight podiums in the middle of the season from Canada through Hungary. Three-second places in a row to close out the year in the Americas. At one point, he was the person that was most frequently challenging Verstappen, even when we all know the W13 just wasn't on the level of the RB18. It never truly felt like George Russell was due to win a race until he did in Brazil. That was probably where Hamilton was in the hearts and minds of many. Going back a little further, Silverstone was a genuine "dare to dream" moment.
And none of this is a diss on George. In a vacuum, his season was fantastic. Mercs for the first time since 2016 has two genuine heavy hitters. I can't speak for Toto, but if I had to guess he'd take some solace out of his disaster of a season in that he's finally got the balanced team he's always wanted, but without the nastiness that plagued Hamilton/Rosberg in the early days of the hybrid era. (For now… if Mercs are contenders next year, I don't expect it to last). But to some degree, I think Hamilton becoming Mercedes's "guinea pig" helped them in the long run. And for that reason, I gave Lewis the three spot.
Runner-Up – Charles Leclerc
Key Stats: Championship Runner-Up (308 Points), 9 Pole Positions, 3 Wins in Bahrain, Australia and Austria
April 10th, 2022. Charles Leclerc wins the Australian Grand Prix with a Grand Slam (Pole, Win, Fastest Lap, leading every lap) after Max Verstappen had a fuel leak. At that point, Leclerc had a 34-point lead in the standings and was 46 points ahead of Verstappen, the bookies' favourite. We were already talking about the Championship being over before it had even started, with 19 races left.
Charles Leclerc finished 146 points behind Max Verstappen at the end of the season. As a constructor, Ferrari was 205 points behind, when they were 49 in front of Red Bull after Australia. I can't ever remember such a volatile in-season swing, and it sums up Ferrari's season and how Charles Leclerc got to this point.
Like Fernando Alonso and Sebastian Vettel before him, Charles Leclerc was not the problem at Ferrari. But he had his best season in F1 to date and finally got the flowers he's deserved in the sport to date IN SPITE of Ferrari, not because of it. In the first half of the season when Ferrari had a claim for the sport's best car, he was immense. Six poles in the first eight races, and some supreme race craft on display in Bahrain when he was beating Max before the fuel leak, and in Saudi Arabia, even if he came out on the losing side of it.
Yeah, there were a couple of unforced errors. France is the big one, and a couple of minor ones like the spin in Imola, Japan and Silverstone. But that same Silverstone race he still probably should have won given Ferrari insisted it should favour the slower car. Heck, he even had the pass of the season when he went around the outside of Lewis Hamilton at Copse, on hard tyres compared to Lewis' softs, and with a damaged front wing. It's the greatest pass that will end up forgotten due to the "Through Goes Hamilton!!" commentary line that happened a couple of minutes earlier.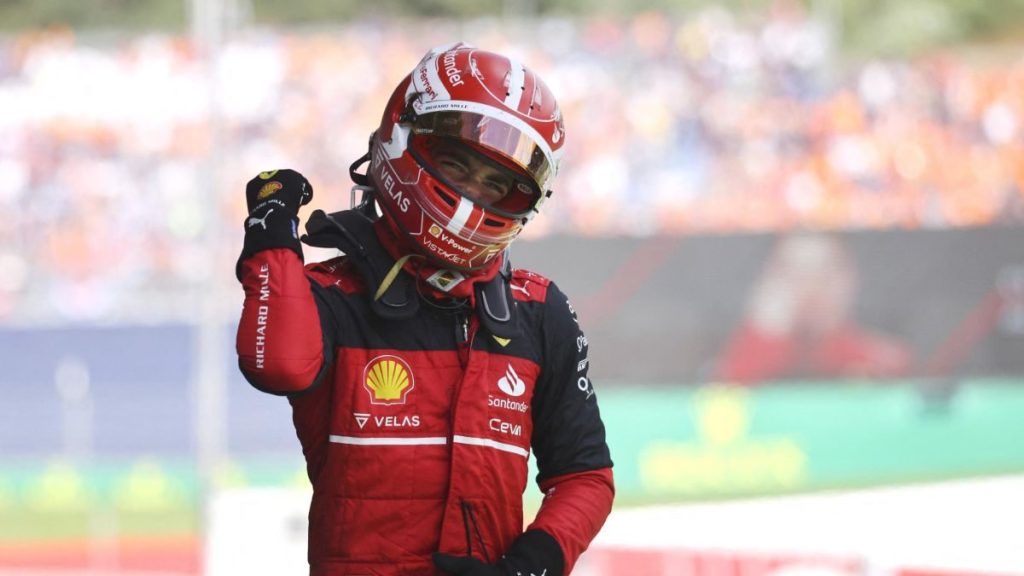 Ferrari had a fundamentally flawed car as the season went on. Red Bull kept getting lighter as they upgraded in the first half of the season. It won a lot of those narrow duels when Ferrari was at their best (Saudi Arabia, Miami, Monaco, Canada); and when Red Bull's final update at Belgium landed post-porpoising update, Ferrari got crushed. The prancing horse sacrificed any tyre wear it had as it desperately tried to keep up. Remember, by Japan, Max Verstappen won a 40-minute wet race by 27 seconds. They had the car to beat Checo in Singapore, but Leclerc destroyed his tyres so badly that Perez's 5-second time penalty didn't even matter.
And then there's the mismanagement. Ferrari was unable to develop the car by mid-season due to hitting the cost cap. Team ordering Carlos Sainz into winning at Silverstone and favouring him down the stretch when you've gone out of your way to cater towards the man you gave a 5-year deal towards, the biggest in factory history. The strategic fuck-ups in places like Monaco turned a potential 1-2 into a 2-4. The Belgium fastest lap fiasco. Engine penalties as far back as Canada due to multiple blow-ups from race-leading positions in Spain and Azerbaijan. It's a goddamn miracle Charles Leclerc even won three times, and in one of them he nearly coughed up because his throttle got stuck!
…So yeah, that's why I have Charles Leclerc 2nd, and it's probably why their team boss is out of a job. May Binotto's woes be many, and his days, few.
PS: Seriously, how are people defending him after his sacking? Man inherited the 2nd best team in the sport in 2019, had them sink to be genuine midfielders after an illegal engine cover-up and is now getting defended for bringing them back to where they should have been three years ago? There are some pundits in this sport that are mad unserious.
Dre's 2022 Driver of the Year – Max Verstappen
Key Stats: Champion (454 Points, all-time single-season record), 7 Pole Positions, 2 Sprint Wins, 15 Wins (All-time single-season record)
Fun Fact: Max Verstappen's win count this season alone; would put him 19th on the all-time wins list. As many as Jenson Button's entire career.
No bullshit, no jokes. Let's keep this simple. This was one of the greatest single-season performances in F1 history. Up there with Hamilton's 2020, Vettel's 2011 or 2013, Michael's 2002 or 2004, it goes on and on. A 15-win season out of 22 rounds is ridiculous.
Yeah, he was absolutely handed some gifts due to other teams' errors like the aforementioned Baku and Catalunya. But there were intense dogfight wins like in Canada, Saudi Arabia and Miami. There were wins from way back on the grid. He became the first driver in F1 history to win back-to-back races from 10th or lower on the grid in Hungary and Spa.
The days when Max got to stretch his legs were ridiculous. Belgium was from 14th and he won by 18 seconds over his own teammate. Japan was silly. Mexico was one of the most metronomic final stints I've ever seen, where every lap was in the 1:23's bar the two under VSC. Jorge Lorenzo would have wept at his consistency.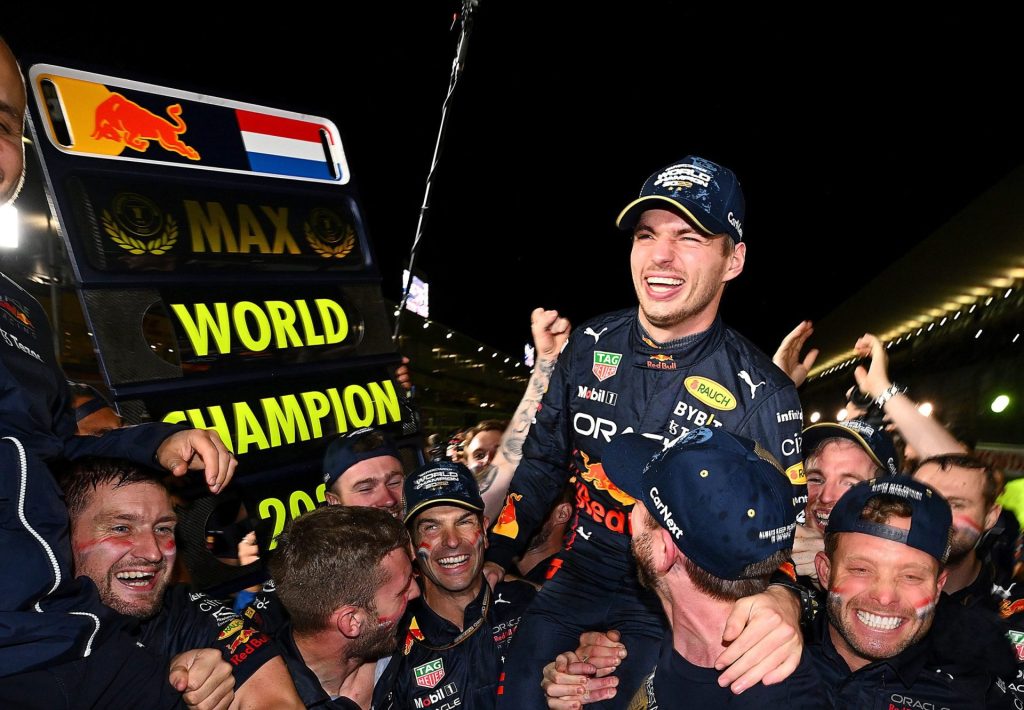 As said in part one, 18-4 in Quali against Perez (With that .4 of a second average difference I mentioned in Part 1), and 17-5 in races. Perez wasn't dreadful by any means but in Max's hands, the RB18 was as close to unstoppable in race trim as I've seen in modern F1.
We are witnessing Verstappen's ascension from a rough diamond to one of the greatest F1 drivers of all time. He retires tomorrow, he's probably just outside the Top 10. This sport now runs through him, as much as many of us hate to admit it.
Welcome to the Max Verstappen era. For the second year in a row, he's my Driver of the Year.