Hey folks, Dre here, and it's been awhile since I've had a couple of stories juicy enough to really talk about in detail, hence the lack of "Newswipe" editorials in recent weeks, so sorry about that, blame the mainstream media! 😉 But anyway, there was something that dropped earlier that was pretty interesting.
Sky Sports reported this morning that Mercedes could change their driver line-up if their tensions escalate any further. Sure, and I'm marrying Jennifer Lawrence next week.
What never ceases to amaze me, is just how naive Mercedes are as a team, now they're so far out in front. Toto Wolff claimed that if results are affected, they could drop a driver. Now, for all the media-enhanced tension that Hamilton vs Rosberg has brought to the table – The worst of it has been a cap battle and Hamilton being a bit salty after a race. Like, that's it.
[fusion_builder_container hundred_percent="yes" overflow="visible"][fusion_builder_row][fusion_builder_column type="1_1″ background_position="left top" background_color="" border_size="" border_color="" border_style="solid" spacing="yes" background_image="" background_repeat="no-repeat" padding="" margin_top="0px" margin_bottom="0px" class="" id="" animation_type="" animation_speed="0.3″ animation_direction="left" hide_on_mobile="no" center_content="no" min_height="none"][fusion_imageframe lightbox="no" style="bottomshadow" bordercolor="" bordersize="0px" stylecolor="
" align="left" animation_type="fade" animation_direction="right" animation_speed="1″]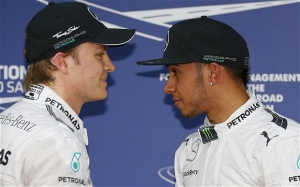 [/fusion_imageframe]
And has it affected results? Hell no. Very quietly, Mercedes scored 703 points this season, better than the 701 they scored in 2014, and Nico Rosberg, despite the drama, had his best season ever in F1, six wins, another seven second places, and 322 points scored, better than the 317 he scored last year, when Mercs were more unreliable.
Then Toto claims behind the scenes that the team is stronger than ever, but the driver's emotions is a serious weakness. Um… No. No-one looks at Mercs and says: "Let's wind-up Mercs drivers, it may force them to make a mistake!", except for maybe Sebastian Vettel, and that shit didn't really work.
I don't think Toto Wolff understands this at all. The Mercs drivers are the only two that have been title contenders for the last two seasons now, of course they're not going to get along, because they're both so desperate to win, and they've both had moments of immaturity in defeat, Lewis in particular. If Toto doesn't realize that, does he have even the first clue of how F1 works? One of the biggest chapters in F1 history is: "When Alain and Ayrton had a bitch fit because McLaren thought making Prost follow team orders was a good idea!"
[fusion_imageframe lightbox="no" style="bottomshadow" bordercolor="" bordersize="0px" stylecolor="
" align="left" animation_type="fade" animation_direction="right" animation_speed="1″]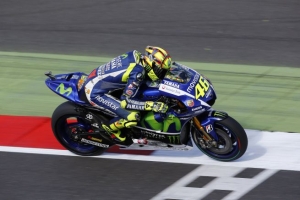 [/fusion_imageframe]Heck, it could be more cynical than that. Friend of the site Zara Daniela made a very good point – "Or is it just Bernie persuading Toto that a little Marquez/Rossi media drama isn't all that bad for sales/viewers?", and it's true. The title battle in MotoGP this season wasn't about on-track stuff as much as it was about the politics of Valentino, and Jorge Lorenzo trying to upset each other's apple carts in the last 3 rounds. Very easy to forget how Lorenzo tried to throw Rossi under the bus after Sepang. But in any case, it gave us the biggest MotoGP season finale of all-time.
Y'know what I think Mercedes biggest weakness is – The bubble their team principal and team itself resides in. Because I swear, if there's just a small amount of pressure from Ferrari next season, this team could pop very quickly, the downside of their luxury since the hybrids began. We've seen them crack strategically before, and it seems that Toto just doesn't get how to handle his egotistical drivers. Either that, or he's been blind-sided by Bernie McMoneybags.
Bonus Note: Can we please stop penciling in Max Verstappen for every top-tier seat on earth right now? People are that sure that Red Bull are gonna let go of the "once-in-a-generation" talent that people think he is? Nah, man. Red Bull will eventually bounce back, and when they do, they'll move Ricciardo on for him so they can keep moving the conveyor belt of talent. Easy to forget, Danill Kyvat out-scored Daniel Ricciardo this year.
---
[fusion_imageframe lightbox="no" style="bottomshadow" bordercolor="" bordersize="0px" stylecolor="
" align="right" animation_type="fade" animation_direction="right" animation_speed="1″]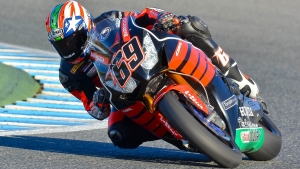 [/fusion_imageframe]Moving on to Superbikes, and man, it has been an interesting time over there, seeing the British and World grids for 2016 take shape. I already spoke about Yamaha in Worlds with a very strong team of Sylvain Guintoli and Alex Lowes, and we're seeing more of the grid fill out.
We already knew about Nicky Hayden joining the Honda team alongside highly-touted Michael van der Mark, and the latest team confirmed is that Milwaukee are moving up from the British Championship to the Worlds, with a team of Josh Brookes, the reigning British Champion, and MotoGP leaver Karel Abraham to form the Milwaukee BMW team.
It's a great team. A shame Brookes couldn't get a Yamaha up there given how brilliant he was in the British Championship this past season, but he's still a great rider with nothing more to prove in that class. And honestly, Karel Abraham gets so much unnecessary hate, I really want him to smash this opportunity, because I really don't think he's anywhere near as bad as people think he is.
Karel gets a lot of stick, because he basically got funded by his rich father, who owns the Brno circuit in his native Czech Republic. And I think that's nonsense. Until he won his 2014 Moto2 title, y'know who was also a "pay rider" that people love to talk smack about given the stereotype? Esteve "Tito" Rabat. Now, don't get me wrong, Rabat's upside I know is much greater, but my point is is that we condemn people for the most stupid of reasons – You need sponsorship money at a high level to compete in Motorsport, period. It's as simple as that, it's one of the most expensive forms of sport out there, for good reason. GOD FORBID a Dad wants to help his son achieve his dream. And Karel IS a Moto2 race winner, who never had decent equipment in MotoGP, so I hope he gets the chance to succeed in the Worlds.
Also, very glad that Jordi Torres is sticking around for another season, albeit with the weaker Althea BMW team. Given how World Superbikes often gets promoted so bloody poorly due to being owned by Dorna, and nothing can take away the gloss from MotoGP, Jordi "The Spanish Elvis" Torres is a brilliant character and the sport is crying out for a guy with his level of entertainment. Love that bastard.
[fusion_imageframe lightbox="no" style="bottomshadow" bordercolor="" bordersize="0px" stylecolor="
" align="left" animation_type="fade" animation_direction="right" animation_speed="1″]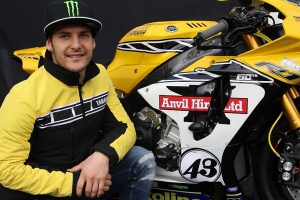 [/fusion_imageframe]Over on the domestic side of things, so many changes! First of all – LOVE that fact that James Rispoli is moving up to the full Championship after a solid season in Supersport, and with the Yamaha package too, given how strong they clearly were last season. Another guy that blatantly gets how marketing works and he should be a great addition to the class. #Crumbs
Peter Hickman going to Kawasaki's factory JG Speedfit team with James Ellison is a scary, scary combo. We all know Ellison is an elite rider in the class, and Hickman rode the wheels off that customer BMW package on many occasions last year. I'm very much looking forward to seeing what Tommy Hill's new factory Yamaha team will perform like, with John Hopkins and Stuart Easton, Hopkins being a top-tier runner often plagued with reliability issues with Ducati last season, and Easton, who gave Shakey a good run for his money on many occasions last season. Oooo, and Christian Iddon at Tyco BMW should be nice too, given how he got better and better on the Suzuki package in the Showdown rounds.
So yeah, there's a lot of reason to get excited in the world of Superbikes, some really great talent is getting the bump up, and especially in BSB, with four factory teams competing against each other at the very top, I can't wait to start watching in 2016, which is just about 100 days away now.
Stick around here soon, I got F1 Team Reviews and my MotoGP Season Review coming up in the near future, as well as an end of year Ask Dre and the return of Motorsport 101 too! So until then, thanks for reading![/fusion_builder_column][/fusion_builder_row][/fusion_builder_container]