*walks up to podium in white Pimp Suit*
Good evening one and all, and welcome to the Dre Awards for 2015! Could all guests please refrain from throwing their caps at the riff-raff at the back, and someone also tell Max Verstappen he's up way past his bedtime.
Here, we're honoring the best and the worst of the 2015 F1 Season, one that may not have been a classic, but one where we should just sit down and say: "Fuck it, we've been spoilt the last decade for title battles, might as well embrace this one."
So without further ado, let's crack on with the awards!
---
The "Insomniacs Unite" award for Worst Race of the Year:
Runner-up: China – Where the incompetence of the Chinese stewards was the biggest highlight, and we all couldn't wait to bury Nico Rosberg for actually making some valid points.
Winner: Monaco – It's been riding the coattails of nostalgia for far too long as it is, and Monaco was a snoozefest until Max Verstappen took one too many chances, then got a pat on the back for it. *Lewis Hamilton kicks the table out of petulence*
The "It'll probably go to Max Verstappen award" for Best Overtake:
Runner-up: Max Verstappen on Felipe Nasr in Spa – Okay, this kid really doesn't know fear, going round the outside of Blanchemain at 200mph is pretty gnarly in anyone's book.
Winner: Felipe Massa on Marcus Ericcson in Canada – The forgotten pass of the year candidate that even the BBC dropped the ball on. A stunning attacking and defensive display from both drivers, with Massa narrowly coming through despite Marcus being on the better rubber. *Massa runs on stage, giddy with excitement before running back to his seat, out of sheer excitement for actually winning something*
The "Bound to Make a Sky Sports F1 5 Points" Award for Breakout Star of the Year:
Runner-up: Max Verstappen – It's easy to be cynical over him, but he really is the real deal, and despite the risk the media runs of running him into the ground, he was one of the few drivers so often willing to push the envelope. As much as it grinds my gears to say, we need shit like that.
Winner: Sergio Perez – I can deny him no longer. The 2nd half of the season was the Sergio Perez I'd been wanting to see for 4 years. I honestly felt like his job was at risk after being so handily beaten by Hulkenberg last season, but Perez picked his opportunities and drove very well when it counted, being the 5th best scorer after the break, a stunning achievement and long may it continue. *loud applause from the Internet in the cheap seats for their underrated Checo finally getting some love*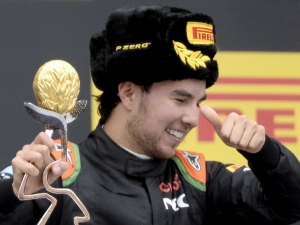 The "Murray Walker wouldn't stand for this award" for Frustrating Commentary:
Runner-up: Ben Edwards – The guy who somehow always finds a way to mangle his commentary, and who then has the audacity to correct David Coulthard whenever he makes a mistake.
Winner: David Croft – For continuing to push the Hamilton agenda, while almost being babied at times by Martin Brundle's wiser head. Seriously, how does anyone listen to Sky F1 with actual volume coming out of their TV sets? *Crofty was unavailable to collect his award, as he's busy voicing the commercial for Mario Kart 17*
The "Raikkonen Likes Vodka" award for Oversaturated Joke:
Runners-Up: Pastor Maldonado – It's okay people, we know he stinks. You don't need to remind us for the sake of getting some Twitter likes.
Carmen Jorda – Do you think the world feed director likes her or something?
Winner: McLaren-Honda – Look, Honda came back too early, I think that's more than obvious to say. In hindsight, why were we surprised that they stunk so bad when they're three years behind Mercedes development, the gold standard of the sport? So here, Honda, have this award, and best of luck trying to improve. *Ron Dennis collects the award, and talks for 13 hours while trying to play bingo with his dictionary.*
The "Inevitable Canada 2011 Comparison" Award for Race of the Year:
Runner-up: COTA – A race that very nearly didn't happen, but it turned out to be a magical affair that crowned one of the sport's greatest in a race that told a wonderful story.
Winner: Hungary – A race the sport so desperately needed after it's most tragic news in a quarter of a century. Take care up there Jules, we miss ya.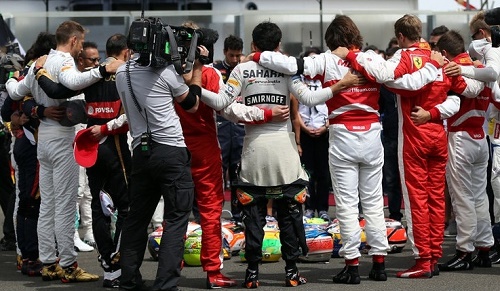 The "Let's talk about the young replacement" award for Biggest Disappointment:
Runner-Up: Kimi Raikkonen – It's only the runner-up spot for Kimi, because you could argue he was even worse last year. I know the status-quo is fan-fiction 101, but you've got to start wondering if the IceMan has anything left.
Winner: Nico Hulkenberg – It's just not going to happen is it? After 3 years of being rather brilliant, the one year he got some true credit for an slightly overrated Le Mans win (Nick Tandy was the real star), he got out-classed by Sergio Perez. Sky F1 said his career was "treading water". I'm starting to think they may be right. *Nico refuses to collect his award, he sits on his seat being the big spoon to his Le Mans winners trophy*
The "We miss you Jake Humphrey" award for Best Individual Broadcaster:
Runner-up: Anthony Davidson – The gem in an otherwise, questionable line-up at Sky. Doesn't quite follow the kool-aid drinking 44 love-fest a lot of the time, insightful, knowledgeable and witty, and who never grates on you while watching.
Winner: David Coulthard – The last bastion of the 2009 Dream Team. David is awesome. He's charming, funny, insightful still, and one of the few people on TV or off that whenever he talks, I'll listen. Even if his skinny jeans collection is woeful.
The "I haven't got a witty joke here" award for Drive of the Season:
Runner-up: Sebastian Vettel, USA – From 14th on the grid, Seb's dry pace was outstanding in the middle portion, and if the 2nd Safety Car had never happened, it could have been a race won.
Winner: Romain Grosjean at Belgium – Given Lotus' difficult circumstances, and rather disappointing car for 2015, that was a sensational drive from the plucky Frenchman, maximising the circumstances of a war of attrition.
The "We miss you BBC 2009" award for Best Overall Broadcaster:
Winners: BBC – Don't get me wrong, they ain't perfect, but what I love about the BBC more than Sky, is their ability to make you care. The human element of the sport is something they capture so well, the passion from Eddie Jordan is a real plus, their team is extremely likeable with guys like James Allen, Allan McNish and Jennie Gow, and on the whole, I'd take them over Sky every time. Which is why the BBC might well drop it. Fantastic. *Eddie Jordan receives the award, then makes up an outlandish rumour about the trophy to boost the ratings*
"But what about Sky?" – They get the Golden Raspberry for being absolute stinkers. Cringe-worthy commentary, U-turning from the moon on Sebastian Vettel when it turns out a 4-time World Champion is still really good, burying Nico Rosberg at every given opportunity, and for pushing their Lewis Hamilton agenda at every given opportunity. I can't tolerate their nonsense with actual sound.
The "Oh crap, some actual character!" Award for Funniest Moment:
Runner Up: Sebastian Vettel's press conferences – When we so often got bored of Mercedes PR machine in F1, it was Vettel that brought the banter to what would otherwise, just be a boring run-of-the-mill "We think the car is good!" moment from Nico Rosberg. Bravo Seb. *ducks thrown tomato for those grid boy jokes*
Winner: #PlacesAlonsoWouldRatherBe – Give yourselves a pat on the back Twitter, you nailed it on that one. A rare moment where we came together in tremendous fashion to have a laugh WITH, and not AT McLaren's expense, as Button and Alonso embraced how difficult their season had become. Awesome.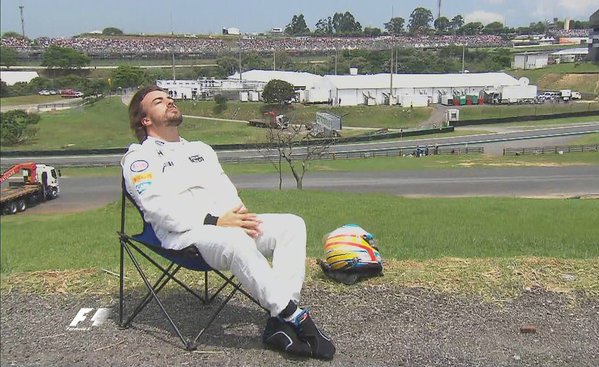 The "We love Social Media" award for Team of the Year:
Runners-up: Force India – Given all their struggles, from the late engine payments, to the the B-Spec car being delayed until Silverstone, they've been absolutely tremendous to finish in the Top 5, they can take tremendous pride in their adversity.
Winners: Mercedes – 703 points, a new F1 constructors record, and twelve 1-2 finishes, which had never been done before. Call them out for being boring, sure, but that's the fault of the rest of the field who don't have the means to challenge them. Mercedes have created another argument for the greatest F1 car of all-time, and 16 more wins under the belt is a testament of that.
The "Furious Internet Debate" award for Driver of the Year:
Runner-Up: Sebastian Vettel – He could have done no more in his first season in the Scarlet Red. Ferrari just aren't a viable threat to Mercedes right now, but he still won 3 times on merit, while finishing in the Top 5 on 17 out of the 19 races this season. A brilliant reminder of his class and that 2014, probably was just a bad season.
Winner: Lewis Hamilton – Cemented his legacy as one of F1's Greatest Drivers, with a double-digit winning season (The only driver ever to do this back-to-back), and laid to rest any doubt about Nico Rosberg after some legitimate questions were raised after 2014. Seriously though, this was so close, if anyone flipped them, I wouldn't complain. All I'm saying is, I'm grateful we didn't have to settle for the mud wrestling tie-breaker. *Lewis collects winner's trophy, takes selfies, calls it "extremely blessed" and goes home to dye his hair purple before partying into the night*
And there we have it, the best awards I can come up with for F1 this season. The Team Reviews return very soon! Until then, thanks for watching… Because seriously, who still gives a shit about awards ceremonies these days?!