"La Resistance."
So, onto Moto2. 2014 was the year of the Metronome as Esteve "Tito" Rabat, in his first season where he didn't pay for his seat, triumphed over Mika Kallio and rookie Maverick Vinales, in a season that looked intriguing early on, with Kallio putting on a much better effort than I think people anticipated, then Rabat decided to go full "Beat em' down!" once Brno came around, and never really looked back. 2015, was kind of the same, but it was a different force up the front, in Johann Zarco.
Now, I would go in-depth, round by round like I did with Moto3 last week, but let's be real here, there wasn't a massive amount to talk about in on-track action. I think only a single Moto2 race was scored by me higher than an 8/10 this season, which is a shame, as on paper, because you'd think that this was the class for the most potential for unpredictably, but some guy who can do backflips had other ideas. So instead, here's some of my biggest talking points from what was an interesting Moto2 2015 Season.
[fusion_builder_container hundred_percent="yes" overflow="visible"][fusion_builder_row][fusion_builder_column type="1_1″ background_position="left top" background_color="" border_size="" border_color="" border_style="solid" spacing="yes" background_image="" background_repeat="no-repeat" padding="" margin_top="0px" margin_bottom="0px" class="" id="" animation_type="" animation_speed="0.3″ animation_direction="left" hide_on_mobile="no" center_content="no" min_height="none"][fusion_imageframe lightbox="no" style="bottomshadow" bordercolor="" bordersize="0px" stylecolor="
" align="left" animation_type="fade" animation_direction="right" animation_speed="1″]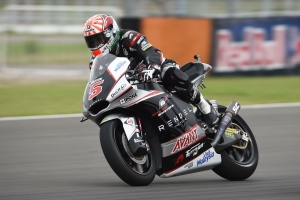 [/fusion_imageframe]Viva La France
This season belonged to one man, and one man only, and it was Johann Zarco. I gotta be honest with you readers, I never saw this one coming. I remember on my Downforce Radio show #BikeLive, I had Zarco down as a dark horse, but nothing more, unsure of how he'd convert himself from the flawed Caterham Suter package of 2014, to the Kalex in 2015, with the new Ajo Moto2 team. I was wrong. Badly. (Spoiler: This won't be the first time I mention this in this column)
Right from the start, Zarco was on it. It looked like he and Sam Lowes as the big hitters in the opening weekend at Qatar, but after Lowes dropped it early, Zarco looked set to win comfortably, until a Gearbox failure made him fall to 8th. He would then go on to finish on the podium in the next 12 races, taking big chunks of points out of everyone as rivals tripped up over each other.
Zarco's first Moto2 win, came in Argentina a couple of rounds later, in convincing fashion, and the backflip celebration was born, something he would do another 7 times enroute to the Intermediate classes' greatest ever individual season, scoring 352 points, beating Rabat's record of 346, with 8 wins, 14 podiums, and finishing every single round in the Top 8.
And what I loved most about Zarco, was that he tightened up the small holes in his game and his racecraft was superb. I remember Mugello, a race where Tito Rabat was leading clearly, but Zarco had managed his pace well and came back at him slowly, but left it too late. One race later at Catalunya, he paced himself well after an awful start, and took full advantage of Rins and Rabat making errors to win in superb style. That's what Zarco was all about, and it was the mid-season beating of Rabat heading into the break, that I think won him the title.
And like Rabat, it was Zarco's fourth year in the class, a win for experience over youth again, and like Rabat also, he's sticking around for 2016. And it's interesting how Zarco was often so quick to thank Ajo for giving him the support to maximise his potential. And if that's the case, who's gonna stop him next season? Where's Alex Rins going to get another 120 points from now he's found his "happy place"?
[fusion_imageframe lightbox="no" style="bottomshadow" bordercolor="" bordersize="0px" stylecolor="
" align="left" animation_type="fade" animation_direction="right" animation_speed="1″]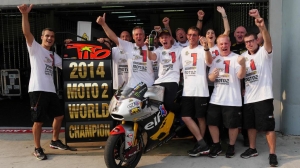 [/fusion_imageframe]The Curse of the #1 Plate
I told you people, this thing is cursed! It's hard not to feel bad for Rabat. Came in as the reigning Champion, but it's pretty clear that Marc VDS had struggled to get used to Kalex's 2015 chassis in the early going, and getting taken out by Simone Corsi at the opening round, kinda set the tone really.
Sure, he still won three rounds, and he was in the Top 5 on many occasions, but this was not the Rabat of old, it was a Rabat that looked more flappable, a bit more "human" to speak. And just when it looked like he was getting a foothold again, the Morbidelli accident in Germany happened and the Championship was pretty much over by the Summer Break, 65 points behind the dominant Zarco. Rabat was never going to replicate 2014.
It somehow got worse. Rabat then re-injured his shoulder in a crash caused by a mechanical problem, then had the awful broken arm he suffered in a training injury post-Aragon, which caused him to miss three further races. At least he got to end his Moto2 with a superb win at Valencia, a nice way to bow out from the class with a dominant Grand Slam Victory, Tito at his very best. Look forward to seeing what he can do with the Customer Honda in MotoGP next season.
[fusion_imageframe lightbox="no" style="bottomshadow" bordercolor="" bordersize="0px" stylecolor="
" align="left" animation_type="fade" animation_direction="right" animation_speed="1″]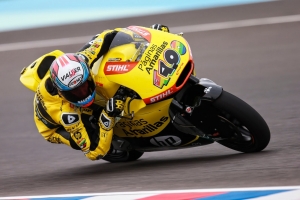 [/fusion_imageframe]Alex Rins, Maverick The Next Chapter
Sito Pons must have it so lucky, where he can just cycle out one superstar prospect for another. First Pol Espargaro, and Maverick Vinales, then Alex Rins. From the moment he got on that Yellow Pages Kalex, he just seemed to pick up right where Vinales left off, leading the Championship in the early going, and passing two guys at once in Qatar. My immediate thought was "Oh shit, Pons has pulled another blinder!"
It was a weird season, but Rins was able to go one better than Maverick did and actually finish as Championship runner-up as a rookie, matching Marc Marquez from 2011. He had some incredible highs, such as a dominant win at Phillip Island and that brilliant maiden class win at Indianapolis, a shrewd and clever win in a hotly fought race, a rarity in the class. But he also had some real bonehead moments, from growing pains with the divebomb move at Jerez, to unforced errors at Le Mans, to the sheer idiocy of the Misano debacle.
Alex Rins is immensely talented, and much will be made of the stuffing he gave to Moto3 Champion Alex Marquez over at Marc VDS, and if he irons out the small mental kinks in his game (I mean, he isn't even 20 yet), he'll be a force to be reckoned with. I suspect with the logjam of trying to get into MotoGP, I think Rins did the right thing to sit back for another year and see what opens up, another big season and he'll have every manufacturer rolling up for his signature.
[fusion_imageframe lightbox="no" style="bottomshadow" bordercolor="" bordersize="0px" stylecolor="
" align="left" animation_type="fade" animation_direction="right" animation_speed="1″]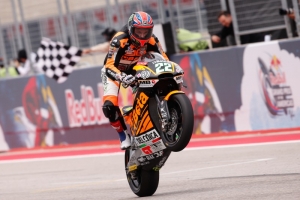 [/fusion_imageframe]The Curious Case of Sam Lowes
Another rider who had a bit of a breakout season was Sam Lowes, as it looks like his public bashing worked to a degree, with a much more competitive Speed Up package. But the inconsistencies still remained.
I know I've joked about Sam before on #BikeLive and on other outlets, but one thing I can't deny, the man has tremendous speed. Amongst the very best in the class. That first win seemed like a real step forward at COTA, and he looked like a legit contender in the early rounds, but as times went on, it seemed like Speed Up just didn't have the legs to compete with Kalex throughout the season.
As before, Sam had moments of brilliance, but at least his baseline was much higher than last season, and I can't lie, I'm excited to see what he can produce with Gresini Kalex, especially with him testing for Aprilia next season, the future certainly looks bright for #22. But can ya tell him to stop powersliding into every goddamn corner? It gives me a heart attack.
[fusion_imageframe lightbox="no" style="bottomshadow" bordercolor="" bordersize="0px" stylecolor="
" align="left" animation_type="fade" animation_direction="right" animation_speed="1″]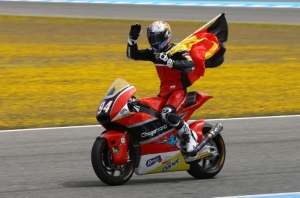 [/fusion_imageframe]Other Notes
Jonas Folger continues to frustrate me. The man is immensely talented, and on his day, super fast. He just doesn't have enough days. He has good fortune in Qatar, won brilliantly in Jerez, but was otherwise really inconsistent. Really hope he can put it altogether, because the potential is there too.
Xavier Simeon was another guy who was very unlucky, but who started out the season on FIRE. 2nd in Qatar, was knocked off at COTA and the crash at Argentina really hurt. Another guy with high upside, but even with his first Moto2 win at Germany, Gresini moved on for Lowes, a small shame, I mean, 7th overall isn't good enough now? Yikes.
I hope the end of season performances for Lorenzo Baldassari wasn't a fluke either – He was always way too big to be a prolific Moto3 rider, but given the status of Forward Racing and their well documented struggles, it genuinely made me delighted to see him finish the season super strong with the podium in Oz and two more Top 5's in Sepang and Valencia.
I'm very excited to see what Frankie Morbidelli does with Marc VDS in 2016 too – The young Italian seemed to really turn the corner with Italtrans, making a mockery of Mika Kallio before he departed, and getting on the podium in Indianapolis. A shame his season was curtailed due to injury, because I really think he was getting somewhere.
I wonder how bad Dominique Aegerter regrets not going to MotoGP when he had the chance this season. I'd argue he's been one of the biggest strugglers of the Kalex adaptation, where teammate Thomas Luthi continued to be his usual "gatekeeper" self. Mind you, he's also lucky to be alive after Aragon, so there's that.
*continues to pray for a Taka Nakagami resurgence*
Awards!
Race of the Year – Indianapolis: Okay, why are we leaving Indianapolis again? Any place that can produce a Moto2 classic deserves to stick around for a bit longer. A tremendous battle for the lead between Kallio, Lowes, Rabat, Zarco, Rins and Morbidelli, after Syahrin produced one of the starts of the year. One of the best races in any class that season. I know, I'm as shocked as you are reading this.
Breakout Star of the Year – Alex Rins: Easy pick this one really, wasn't it? Rins is World Class and probably already MotoGP ready. He was exceptional right out of the box in Moto2 and kicked on for a pair of wins and numerous podiums, despite some real questionable moments. Will probably be the biggest threat to Zarco next season.
Biggest Disappointment – Alex Marquez: One Moto3 promotee giveth, the other taketh away. Alex gave me hope with his pair of 4th's at Brno and Silverstone, but on the whole, a difficult first season from a guy who I thought was going to be a Top 3-5 level player in the class right away, given he was a bit bigger than Rins. Dominique Aegerter gets a pass because of that nasty injury, and I don't feel like handing out a trophy to Simone Corsi, as he's just a prat.
Lifetime Achievement Award – Tito Rabat: He's gotten better every year and leaves for MotoGP as one of the finest to ever take part in the class. Relentless, robotic consistency, one-lap speed, brilliant race craft, the full package. Well done Rabat, I can't think of a rider more ready for the top in a long, long time.
The "2016 will finally be my year?" Award – Thomas Luthi: For god's sake Tom, pull it altogether. I really like Thomas Luthi and I think he's an excellent all-rounder, but it frustrates me that's constantly 4th and 5th and just hasn't got "it" over a whole season, when he's as good as any on his day. No-one wants to be the Michael Bisping of Moto2.
Rider of the Year – Johann Zarco: No shit, sherlock. At least he has a life in the ballet if this bike riding thing doesn't work out.
Right then, the big one next time out… MotoGP. It's gonna be an interesting one. (Seriously, if you got to the end of this one, you're a Saint.)[/fusion_builder_column][/fusion_builder_row][/fusion_builder_container]