Okay, Part 2 of my mid-season report cards for the front half of the F1 field this time. And honestly, this has been where most of the fun has taken place in 2023 so far. There's been genuine uncertainty week-to-week as to who's leading that fight for the silver medal. But it's hard not to ignore the blue-coloured elephant in the room at the front of the field. But even they have drama of their own. Let's get into it.
If you missed Part 1 by the way, check it out here.
---
McLaren
Constructors' Standings: 5th (59 Points), Highest Finish: 2nd (Norris, Britain)
Head-to-Heads: 7-3 Norris in Qualifying, 9-1 Norris in Races
Dre's Vibes: "You can't fool me, I'm familiar with your game."
It's amazing how two races have completely changed the vibes in the McLaren camp. It's easy to forget this season started dreadfully for Woking. They admitted going in that their car was a donkey from the first aero runs. They could barely keep their brakes attached in testing, with Norris looking miserable on the sidelines. James Key didn't make it out of Saudi Arabia wearing papaya, leading to McLaren's third major technical reshuffle since Zak Brown took over in 2016. They were flirting with Red Bull over what could have been a fourth different power-unit supplier too.
It was looking like a season where McLaren could have potentially fallen into 6th place in the standings, continuing the slide from 2020. Then Austria happened.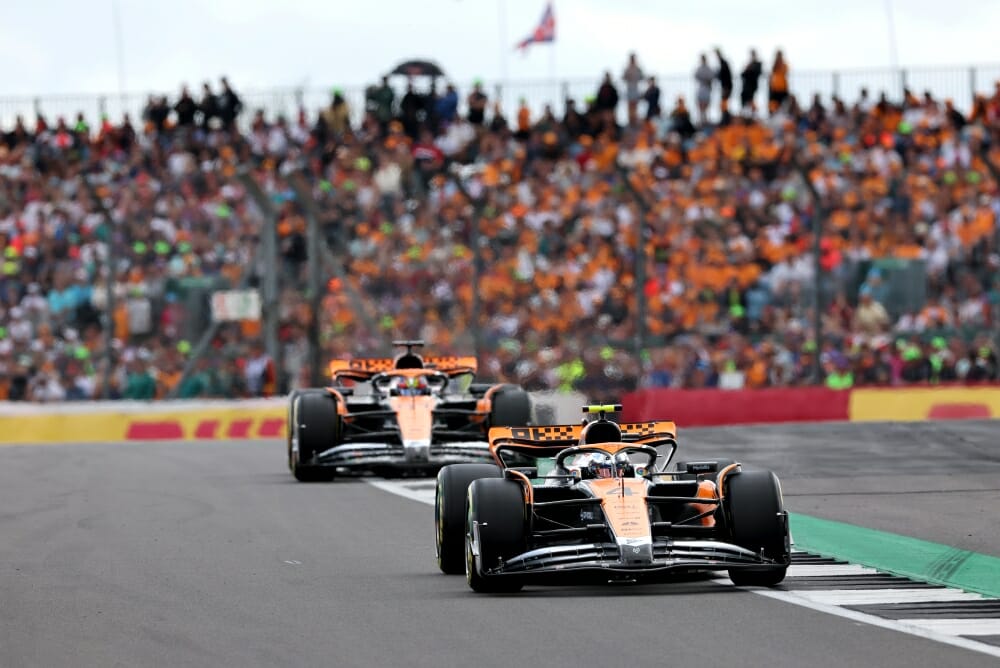 Lando Norris has always gone well in Austria so some of my optimism was cautious, but running 4th and beating Mercedes and Aston Martin on the day was eye-opening. And then Silverstone blew it all wide open with Norris giving Max Verstappen his best challenge since the season started, and Oscar Piastri following him home for 4th, and what should have been a podium before the Magnussen Safety Car.
It looks like their revamped aero package has done the trick. Hungary this weekend will be a genuine test for them given it's a totally different style of track for them, lower-speed, lots of medium speed corners and high tyre-degradation. But if this works, and Silverstone is anything like the new norm, they could make serious inroads towards Ferrari and the Top 4.
It's genuinely hard to give McLaren a good grade here because they've been middling-to-bad for most of the season, but this upgrade package could be a game-changer if they've played their cards right. Throw in David Sanchez returning from Ferrari and Red Bull's Rob Marshall for 2024 too. This will likely be the time that could see the most movement in the standings by the end of next year, because McLaren might be cooking. Grade: C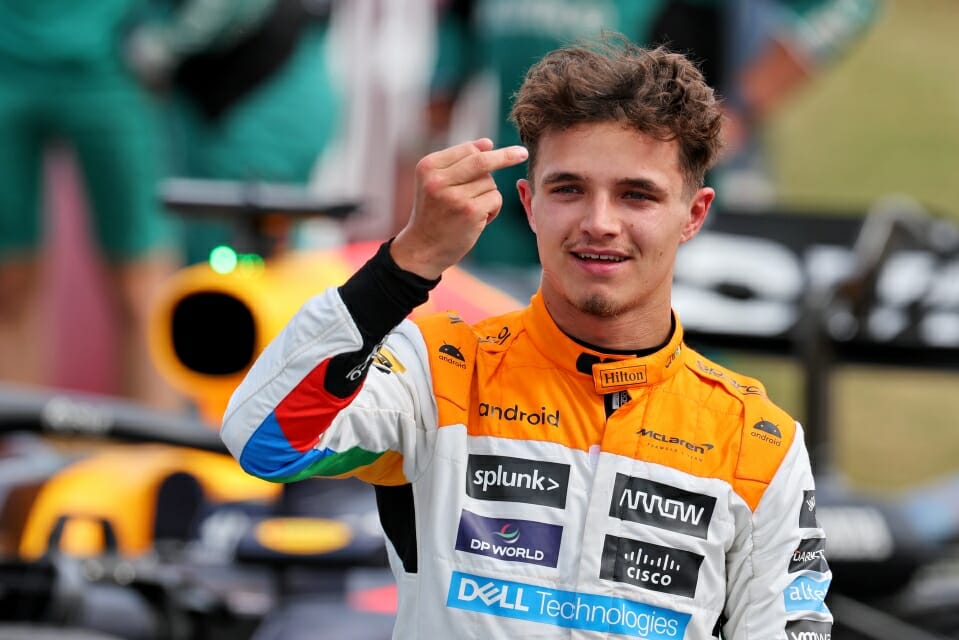 Lando Norris (9th in Standings, 42 Points, Best Finish: 3rd) – Pretty typical Lando Norris season, really. And I don't mean that in a bad way, I've just gotten used to the fact that overall, he's a quality driver who gets the maximum out of his equipment just about every weekend, and this has been no exception.
The only genuinely bad days he's had all year was Spain where he tapped Hamilton on the opening lap after a superb qualifying lap to put him 3rd and dropping out of the points in Canada for a silly unsportsmanlike call for backing the wagon up under a Safety Car. Besides that, as classy as ever. I've noticed comments from many within McLaren that he's taken more of a leadership role within the team and it's shown. He's still in the front of the queue if a really big deal makes a play. Grade: B+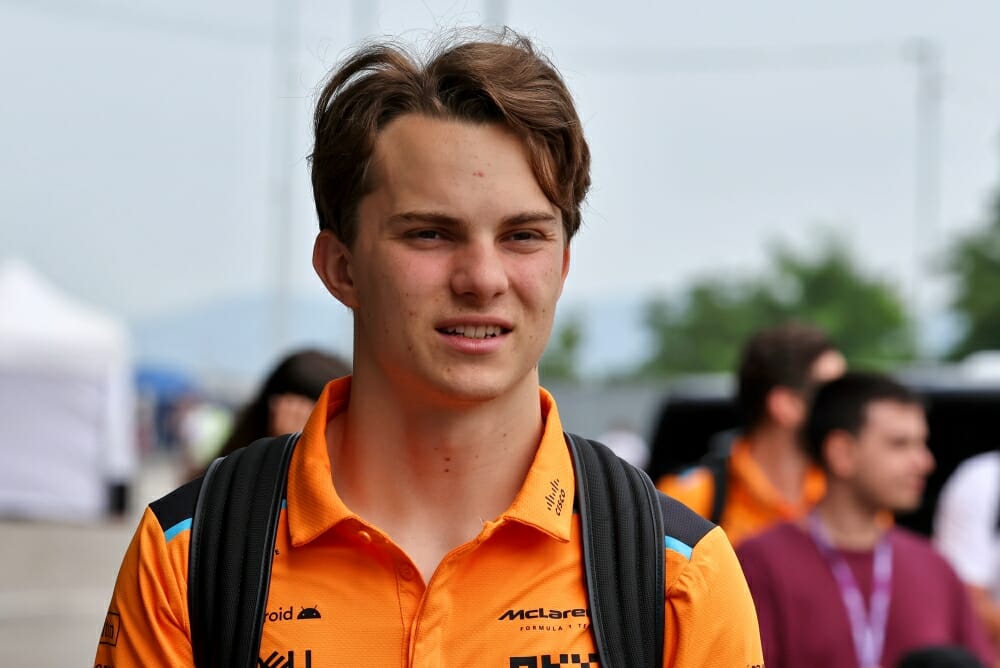 Oscar Piastri (11th in Standings, 17 Points, Best Finish: 4th) – There was some genuine pressure for Piastri coming into F1. He'd been on the bench at Alpine for a year, who had a better car waiting in the wings if he had just kept his mouth shut and didn't let Mark Webber cut a deal with the biggest manipulator of younger drivers in the sport today. Especially when he cut an eight-figure cheque to tell Daniel Ricciardo not to come to work anymore.
But Oscar's done exactly what he's needed to do so far this season. Walking into Lando Norris' house and a car that has a reputation for being difficult to drive was no easy task, but he's absolutely held up his end of the deal. Yes, the matchups don't look favourable, but an average start of 11.5 (Norris' is 9.2 and he's to me one of the best qualifiers in F1), and an average finish of 12.7 (Norris' is 11.1) is comparable and solid. And that's what McLaren needed, a solid 2nd driver who can keep up with Norris and Piastri's British GP was proof that he can do just that. If this continues, McLaren will be absolutely fine. Maybe now we'll see more of the real Oscar. Grade: B-
Ferrari
Constructors' Standings: 4th (157 Points), Highest Finish: 2nd (Leclerc, Austria)
Head-to-heads: 5-5 in Qualifying and Races
Dre's Vibes: "You're Ferrari. In whatever way you take that, you're probably right."
I don't envy Fred Vasseur. He's Ferrari's 5th team boss in the last decade, and he got a hell of a final parting gift from Mattia Binotto – a car that still has a plethora of problems that he's been struggling to figure out all season. Dealing with the previous regime has defined Vasseur's role since turning up. His car designer David Sanchez is on gardening leave for a McLaren return. Binotto's old sporting director Laurent Meikes is going to AlphaTauri, and the Italian press couldn't wait to get the knives out when a human error at the opening round at Bahrain would take a nailed-on podium for Charles Leclerc off the table and cost him both his electronic stores for the season. 
Then you've got their usual poor tyre management, a mix of oversteer and understeer issues, and a mass failure to understand why their car is acting how it does. It's never a good sign when early on in my time at WTF1, I had to write a short where Carlos Sainz' laid out the Ferrari's weaknesses like he was reading out a shopping list. Here's that script: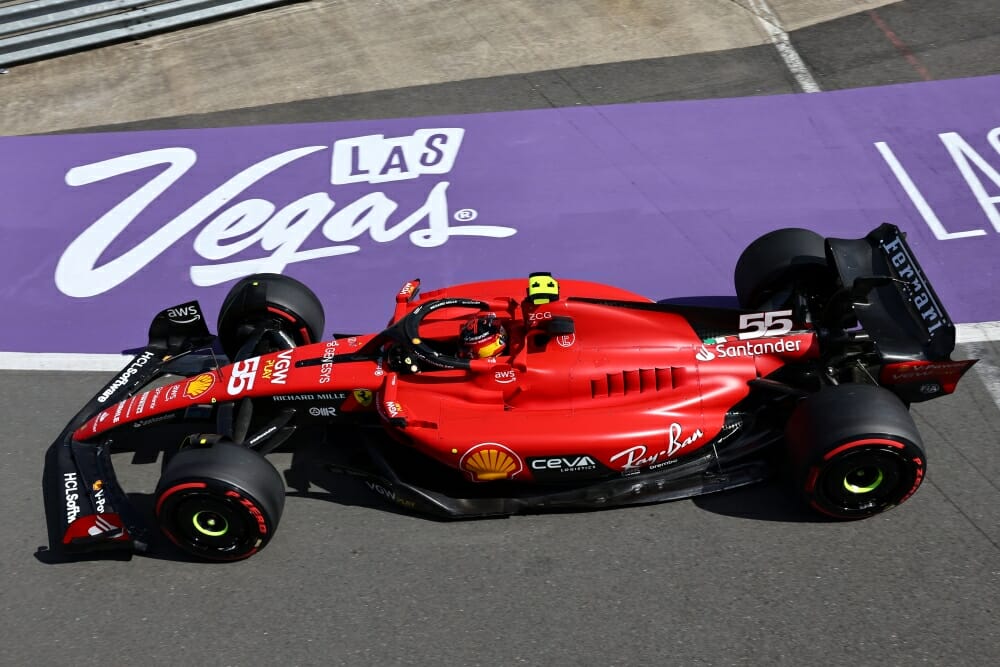 That's a MASSIVE gap for a team that was winning races this time last season. And when Sainz admits Ferrari's "capacity of development" with their car is smaller than that of Red Bull's RB19 and that their car is "superior everywhere": "in quali, in race, in straight line speed, in medium/low-speed corners, superior with tyre management, superior over the kerbs and bumps", it's the first clear admission that Ferrari's current concept could be in need of a major overhaul. – That was on April 1st.
They're not a million miles away from their rivals (Would you believe me if I said they're only 24 behind Aston Martin?), and they've had weekends like Baku and Austria where they've genuinely gone well, but then there are weekends like Silverstone where fundamentally not understanding the race situation and their car had them being attacked and passed by friggin' Williams. Ferrari has all the tools and resources to cook a genuinely excellent dish and we've seen them do so at times… but then they've added cream to their Carbonara. Grade: C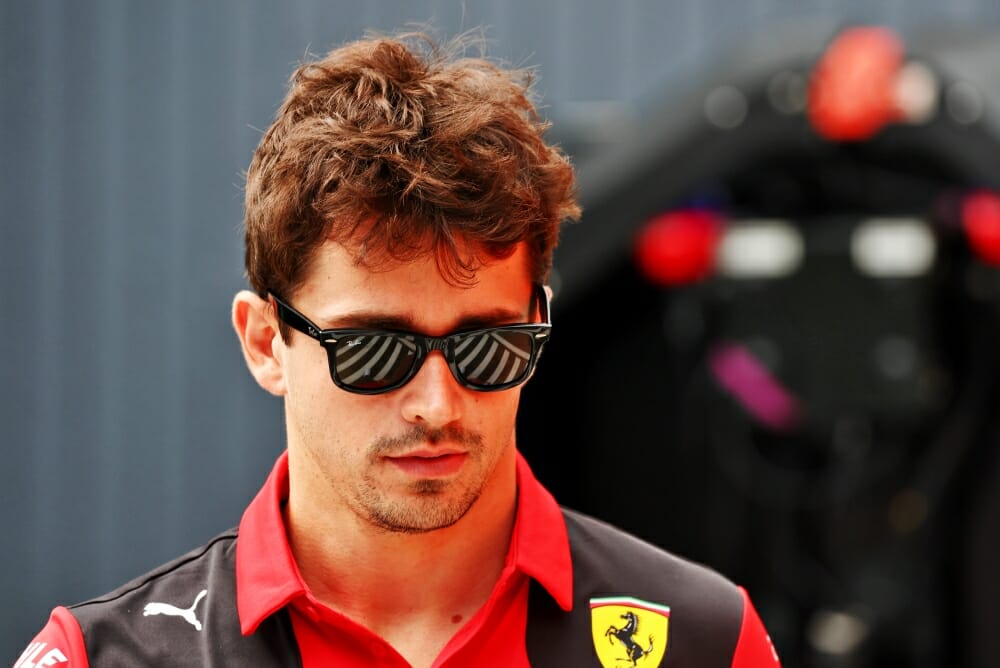 Charles Leclerc (7th in Standings, 74 Points, Best Finish – 2nd) – As mentioned earlier, Charles was on the backfoot from Day 1. That Bahrain weekend was so disastrous, he was taking a power-unit penalty in Round 2 in Saudi Arabia and likely will have more before the years out. He's still had moments where he's rough around the edges, like that Australia DNF and his entire Sprint Saturday in Austria but at his best, he is still the driving force in this team who can push Ferrari to its limit, something I just don't think Carlos Sainz can do. Grade: B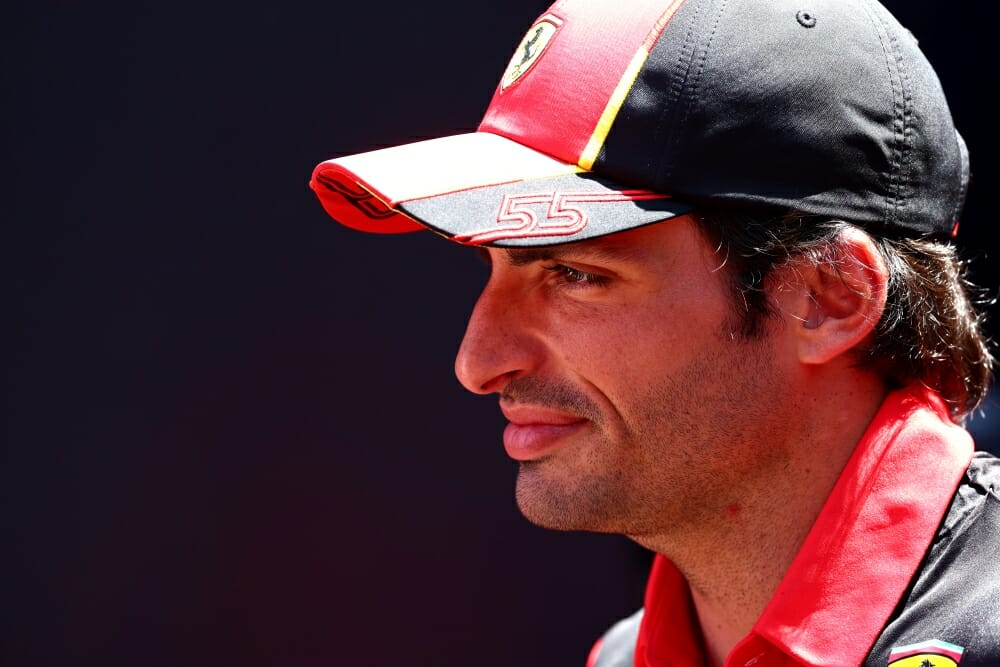 Carlos Sainz Jr (5th in Standings, 83 Points, Best Finish – 4th) – I'm not saying this to be mean, but seriously… Does it feel like Carlos Sainz is 5th in the Championship this season?
In theory, Sainz has had a great season. Finished in the points in every race barring the time penalty in Australia where he was unlucky via the race finishing under yellow and dropping him from 4th to 12th. 50% hit rate for Top 5 finishes, he's cut out most of the silly errors he made last season and is trading blows with Leclerc on the head-to-heads. I even looked at the more advanced numbers and he's SECOND in F1 on average starting spot (4.5?!)
This should be an easy A-Grade… but yet… it just doesn't strike me as Carlos driving particularly well. I think it's because sometimes at weekends like Baku, he gets blown out by Charles and you go: "What the fuck is that?", or Austria, where one of his stronger drivers was ruined by a ton of time penalties. Carlos has become your third favourite protagonist in your favourite anime. The Joey Wheeler. 
He's good, and he'll have his moments… but it ain't your show. You're not the reason the ship is sinking, but we all deep down know the other guy is the one that can be the difference maker. I need to see more of Carlos as a top guy, not the floor raiser. Am I made for thinking this?! Grade: B
Aston Martin
Constructors' Standings: 3rd (181 Points), Highest Finish: 2nd (Alonso x2)
Head-To-Head: Alonso 9-1 in Qualifying, 8-2 in Races
Dre's Vibes: "Holy shit."
The biggest winners of the 2023 season so far. Last season, Aston Martin had a dreadful start and recovered reasonably well to just lose out on 6th place in a tiebreaker with Alfa Romeo. But it was another difficult season for a team that had anticipated so much more after fresh investment and a cool brand on top.
This? This is bonkers. Dan Fallows, one of Adrian Newey's disciples at Red Bull, got ribbed by his old employers for bringing the family silver over to Silverstone, but it worked. Aston's gone from midfield gatekeepers to genuine challengers for second in the standings and directly in the line of fire of the biggest names in the business.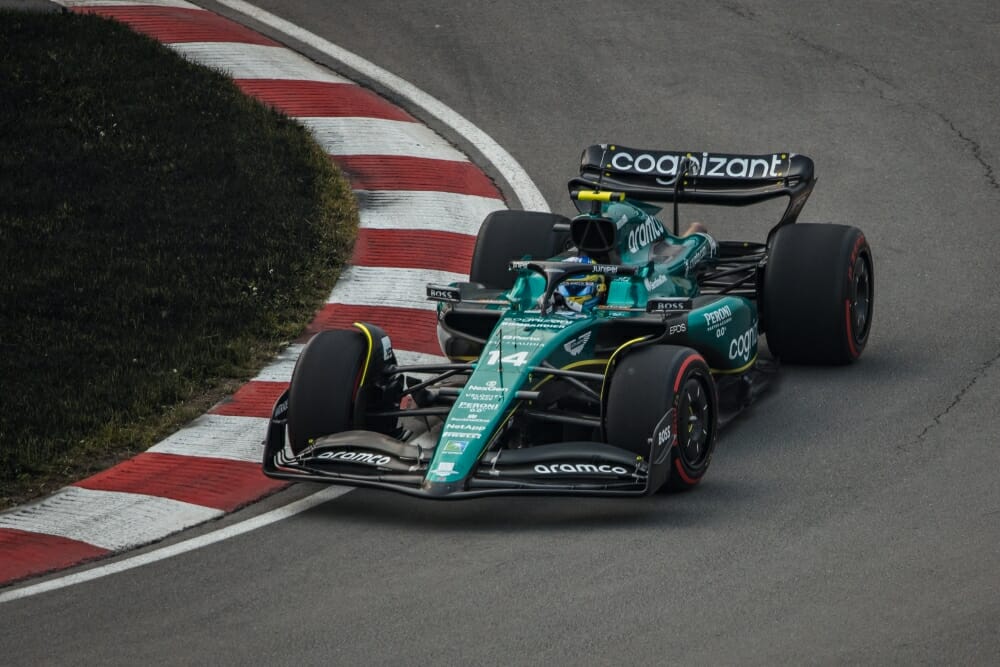 It's not been a perfect transition, and this is still a car with weaknesses. It's draggy and suffers on the high-speed circuits like Silverstone and Spain and there is an obvious, more glaring weakness that we'll get to, but if you'd offered them even fourth best in the current climate off the back of last season, they'd have bitten your arm off. And with Honda coming in 2026 and as it stands, their only customer, there's further potential for this team to stay in the elite ranks for the time being.
I do have concerns. The true test for Aston Martin might be losing anywhere from 15% to 25% of their wind tunnel time depending on where they finish this season. Can they keep up with the elite teams' resources over an extended period of time? Strategically, they coughed up a golden chance for And there's no getting around it, you're haemorrhaging points via your 2nd car. But if it wasn't for Red Bull, this would be the nailed-on team of the year. Grade: A-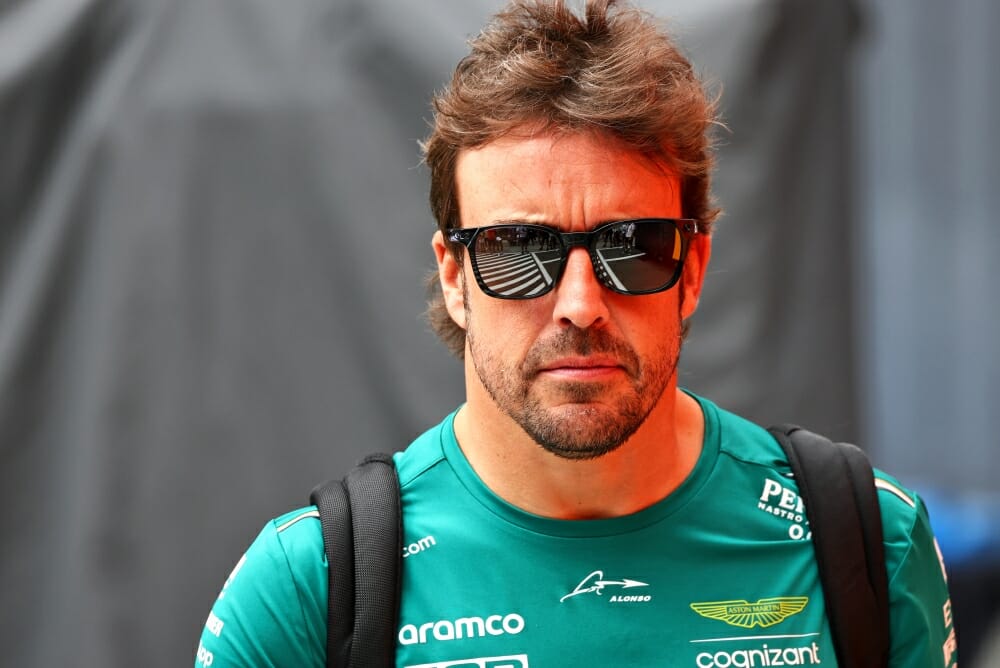 Fernando Alonso (3rd in Standings, 137 Points, Best Finish: 2nd x2) – Wow. Sometimes there is no substitute for "old man strength". And Fernando, a man who turns 42 next week and whose first win was 20 years ago this week, Fernando has driven as well as he ever has.
Given he's been anywhere from second to fourth best in terms of machinery, an average finish of 3.9 with six podiums is superb. That's virtually bulletproof and he's put genuine pressure on Sergio Perez in the second Red Bull for not giving the Mexican any freebies whatsoever.
He's ticked every box and met every possible expectation on the way, this man can still lead a time, into his early 40s and that might be every bit as impressive about Fernando as the world titles and races he's won. The tenacity is unlike anyone I've ever seen in F1. Again, if it wasn't for the man in blue, Driver of the Year so far, easy. Grade: A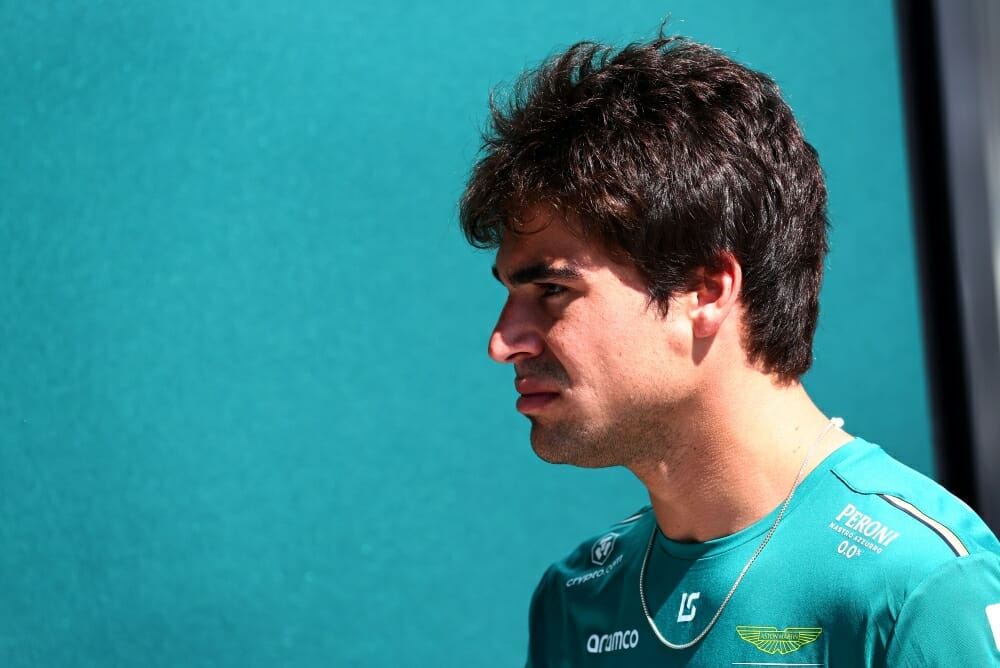 Lance Stroll (8th in Standings, 44 Points, Best Finish: 4th) – Jesus, Christ. I've tried with Lance. I honestly have. I've been in the minority thinking there might have been something there in his first year as an Aston Martin driver keeping Sebastian Vettel honest. He did well to come back from injury at the start of the season, but we can't possibly have excuses for this man anymore. 
This is Year 7 of Lance Stroll's career. He's had 135 starts. I'm not expecting him to match Fernando pound-for-pound, the former is one of the greatest of all time, but it's inexcusable to be 93 points back through 10 rounds. It leaves the team massively vulnerable to the more balanced lineups that Mercedes and Ferrari have. Alonso can finish 3rd all he likes, but if both Mercs are behind him, you're losing ground unless Lance is 6th, and he's only finished that high three times this year. 
It's doubly frustrating because, on occasion, he can match Alonso. He was better than the Spaniard on his home soil all weekend and beat him in the Austrian sprint, only to lose out in the race on the VSC ending while he was in the pits. His best would be more than enough for Aston Martin right now, but we just don't see it often enough. As a team, they can't be fully satisfied with this situation. Even more so with Honda coming in two and half years' time and they've said on the record that they want Japanese representation. The way their respective seasons have played out, I'd be tempted to see if Yuki Tsunoda was available, but we all know Lance is unmovable unless Lawrence sacrifices his son for the greater good, or the Aston Martin board REALLY kick up a stink.
Not sure there's been a more disappointing performer in F1 pound-for-pound this season between him, and the Mexican that's coming up later. Grade: C-
Mercedes
Constructors' Standings: 2nd (203 Points), Highest Finish: 2nd (Hamilton x2)
Head-to-heads: 5-5 in Qualifying, 7-3 Hamilton In Races
Dre's Vibes: "Welcome to the Nuclear clean-up effort."
Mercedes are the sort of student that turns in an exam, gets a B- on the paper and everyone's like: "Huh, you're meant to be the smart kid!"
This is hardly a bad team. Quite the opposite, I think they're the team best positioned to make a run at Red Bull again. And that makes evaluating them all the harsher because everything I've read and seen from this team strikes me as one who doesn't quite know how to get back to the top.
Hooking themselves to a hobby-shop-sized bottle of copium on their zero-sidepod concept and bringing that into the early portion of 2023 was a huge mistake given their Brazilian win was an outlier in an otherwise backend of 2022 bloodbath. And their form has been erratic ever since. At their best, they can comfortably end up best of the rest. And then on days like Austria, it feels like they can't understand their car, understeer like hell and end up in the midfield. I can't ever imagine Lewis Hamilton, arguably the greatest of all time, ending a day with 15 seconds' worth of track-limit time penalties. Remember, that was the same weekend Andrew Shovlin said they could be one upgrade away from challenging Red Bull.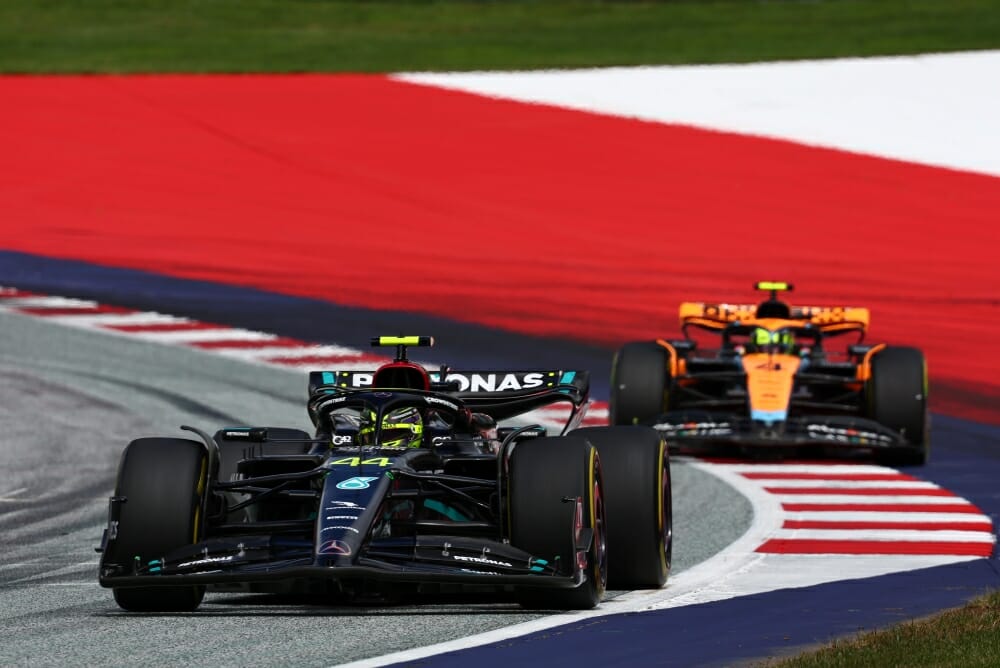 And just when you thought they might be cementing second place, McLaren, another one of their customer teams, straight up beats them at Silverstone. Mercedes' weaknesses aren't as glaring as their midfield competition, but when you've got the best driver lineup in F1, and the most resources to the point where you're committing another £70m into turning Brackley into a glorified business centre, a title challenge is the bare minimum we should be expecting here, not getting into tangles with your customer teams.
This is far from a disaster for Mercedes, but this still feels like a team where they look a little lost, a little confused, and are slightly underperforming in a midfield they should be exploiting from its competitiveness and leaving behind. When you've won eight constructors' titles and seven drivers' titles in the last decade, you deserve more questions to be asked about you than most. Cement second and go after the big boys. Grade: B-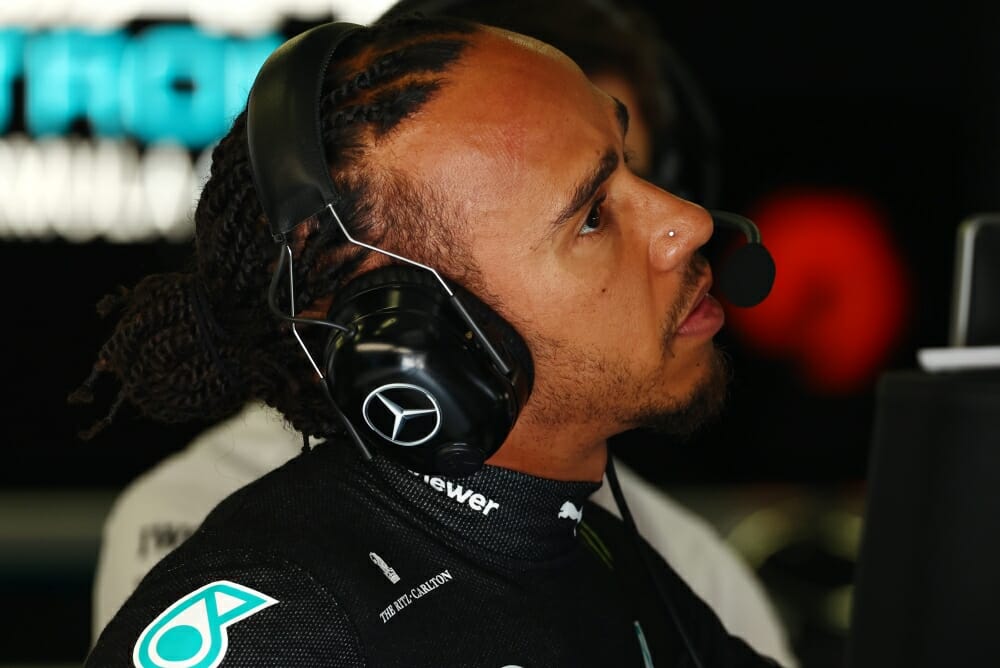 Lewis Hamilton (4th in Standings, 121 Points, Best Finish: 2nd x2) – Let me be clear before anyone on Twitter finds this – Hamilton's not the problem. Far from it, he's largely been excellent this year and I think every time the car's been on form, he's taken full advantage of it. He's barely put a foot wrong all season barring Austria and at worst, he's a couple of spots behind George Russell on the road, and George is definitely good enough to straight-up beat Lewis on a good day, we saw that in 2022. 
I think there are a couple of signs there's been a small amount of decline with Lewis. His qualifying pace isn't what it was a few years ago with George pretty much on his level at that front, and I think the very best of his race pace has been stifled by Mercedes not giving him a car he can push to its limit, but four podiums and not finishing a GP lower than 8th this season (Average finish is 3rd in the field at 4.4, pretty great), is still excellent work all-round from the seven-time Champion. I just get a feeling that Mercedes is burning away the last few years of his prime. Grade: A-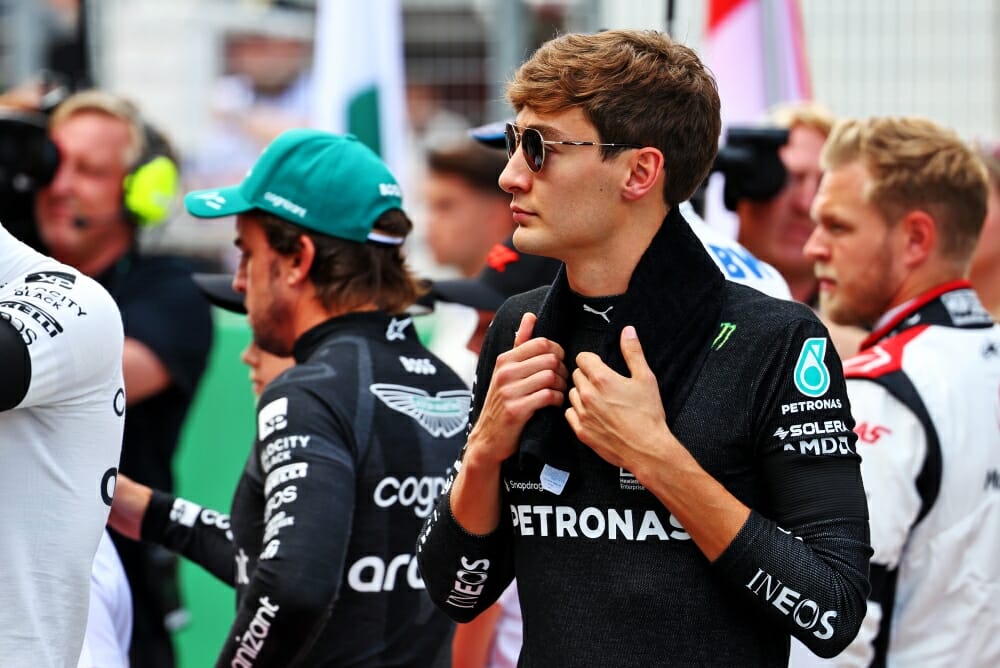 George Russell (6th in Standings, 82 Points, Best Finish: 3rd) – George Russell was a driver of the year contender in 2022 for at worst, keeping LH honest. I mentioned his 35-point triumph over Lewis last season was a little flattering. And I'll be balanced here when I say, I don't think he's been 40 points worse than Lewis this year either after he was screwed in Australia while leading, only for his power unit to fail. That swing was probably half the gap. But it has become noticeable that it's Russell's turn to suffer from Mercedes' erratic formbook.
Russell's been sloppy at times this season and had arguably his most difficult patch since joining the team. Got away with spearing Verstappen's sidepod in Baku. Blew a possible podium in Monaco and then rejoined in Perez's grill. Crashed off his own driving in Canada. Had his fair share of Q2 eliminations too. Russell was so good last year because he was bulletproof for consistency. That just hasn't been the case in 2023.
Again, this is hardly a disaster, and I have no doubt Russell will find some form again soon. But while last year was at best debatable, this year so far, Hamilton's had the measure of him. Grade: B
Red Bull
Constructors' Standings: 1st, Highest Finish: Win (ALL OF THEM)
Head-to-Head: Verstappen 8-2 in Quali and Races
Dre's Vibes: "Kneel before Zod."
There's not a lot for me to say that hasn't already been said. This is shaping up to be the most dominant season in F1 history. Red Bull has been about as operationally perfect as you can get.
They've developed one of the most incredible car and driver combos in sports history. Max Verstappen, on his own, would be leading the Constructors by 52 points. If they win in Hungary this weekend, it'll be the longest winning streak in F1 history with 12. No, going half a million over the cost cap isn't the reason why we're at this point. It's because they nailed the 2022 regulation set with Adrian Newey still being the best in the business, combined with being loyal (ish), to the power-unit supplier we all laughed at back in 2015. Combine that with a generational talent with a ruthless streak and I'm not sure where Red Bull will lose a race this year. Hungary might be the field's last shot on merit.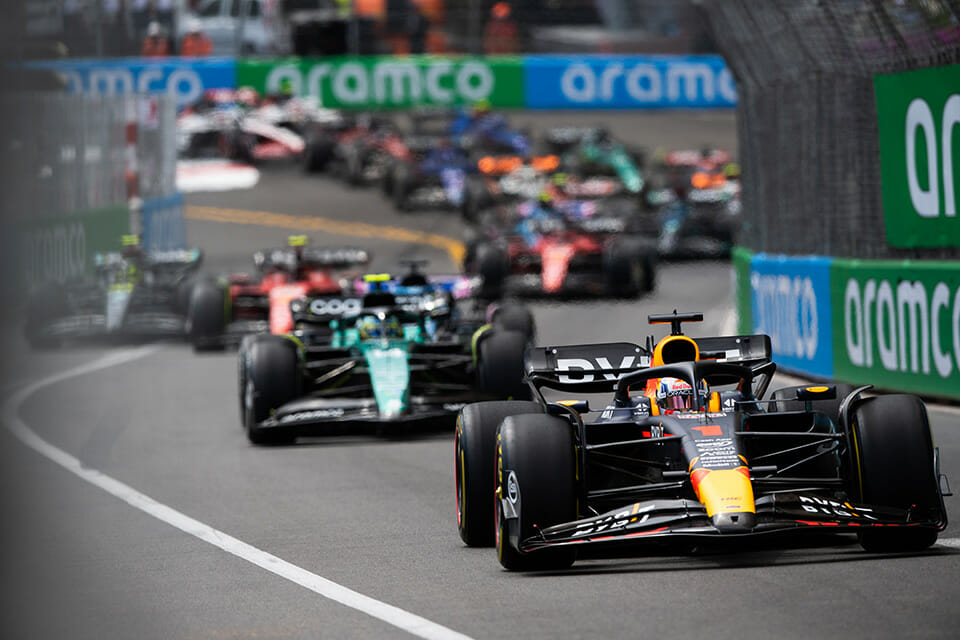 There is a weakness here. Their high-profile second driver position and catering to Max's extreme driving style is still leading to bigger than necessary discrepancies across their team, and Checo went from looking like a genuine contender to falling apart again. A more competitive field and this is a serious problem, similar to Aston Martin's, but they've been so good this year, they actually have the flexibility to experiment.
We could actually be witnessing perfection. Amazingly, Perez's struggles might be the reason why we don't. But who cares, this is a devastatingly brilliant team right now. Grade: A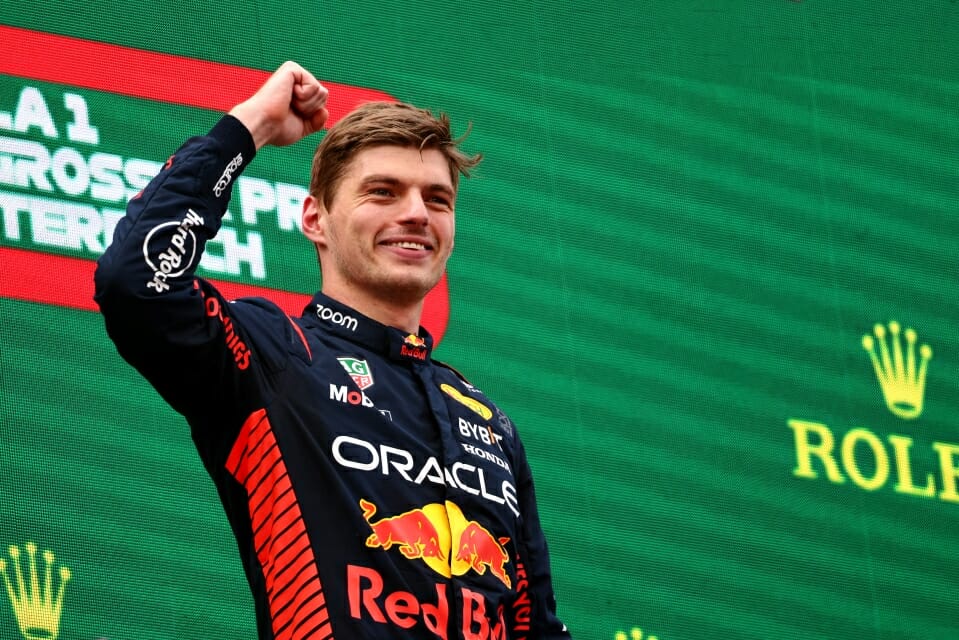 Max Verstappen (1st in Standings, 255 Points, Best Finish: Win x8) – Again, what more needs to be said? The man has won 23 out of the last 33 races. Is just the sixth man ever to win six on the bounce. He's not finished ANY race or Sprint lower than 3rd this season, and there's only one third place. This has been nothing short of terrifying, suffocating dominance. The only elements that have stopped a potentially perfect season were a driveshaft fault in Saudi Arabia qualifying, a strategic error in Baku that cost the team nothing, and a spear to the sidepod from George Russell in the Sprint that weekend. That's about it. We are likely witnessing the greatest single season of all time. Bear witness. Grade: A+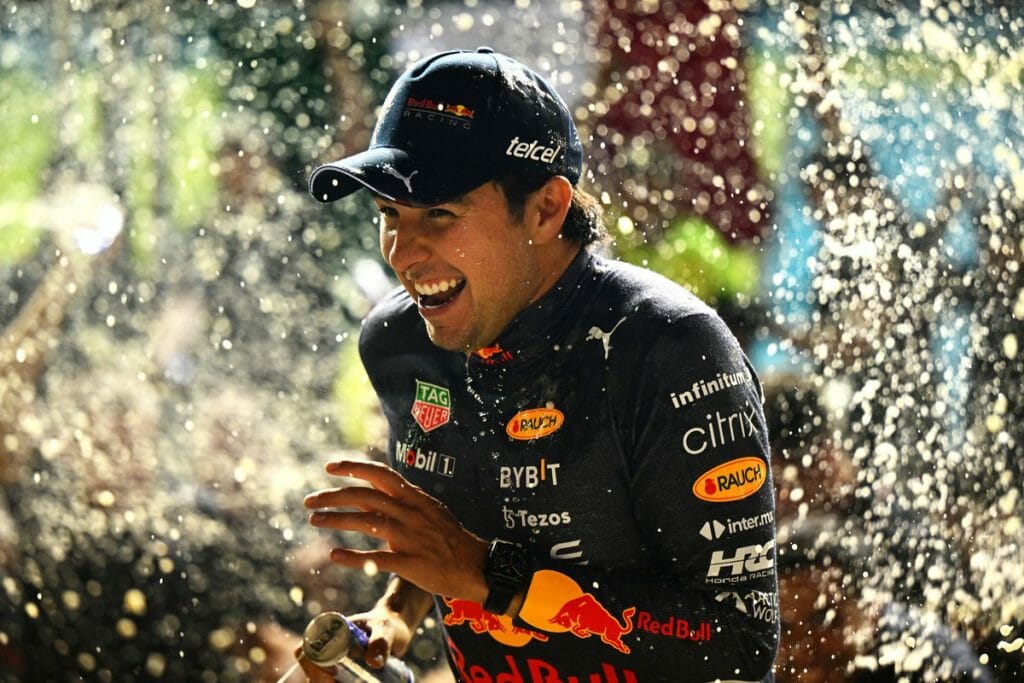 Sergio Perez (2nd in Standings, 156 Points, Best Finish: Win x2) – I've said it before, but that Baku weekend was a sliding doors moment. He was genuinely excellent that weekend. With it, he was only 6 points behind Verstappen in the Championship. Six races later, that gap is now 99. 
The problems have been obvious. His driving style doesn't suit the RB19 and the only places he can mitigate it are on street tracks. Perez for me is the ultimate "Goldilocks" driver. When everything is in his favour, he's genuinely quick and can follow Max home in 2nd or 3rd. Maybe even win on the odd occasion. But if you take him out of his comfort zone, he really struggles. If you've spotted a pattern in 2023, it's fucked up qualifying sessions, and Perez has been caught out in almost every single one of them. Think about it:
Monaco: This was clean, and he just binned it overdriving in Q1 and putting it in the wall AND revealed Red Bull's busted floor package to the world.
Spain: Partially rain-affected, couldn't get heat into the tyres, eliminated in Q2
Canada: Dry-Wet Session, Perez misses the window for slicks, eliminated in Q2
Austria: Okay, track limits fucked with just about everyone, but Perez getting three lap times chalked via them in Q2 was unacceptable
Britain: Rain-affected session, eliminated in Q1 with Alex Albon directly behind him going faster in a Williams.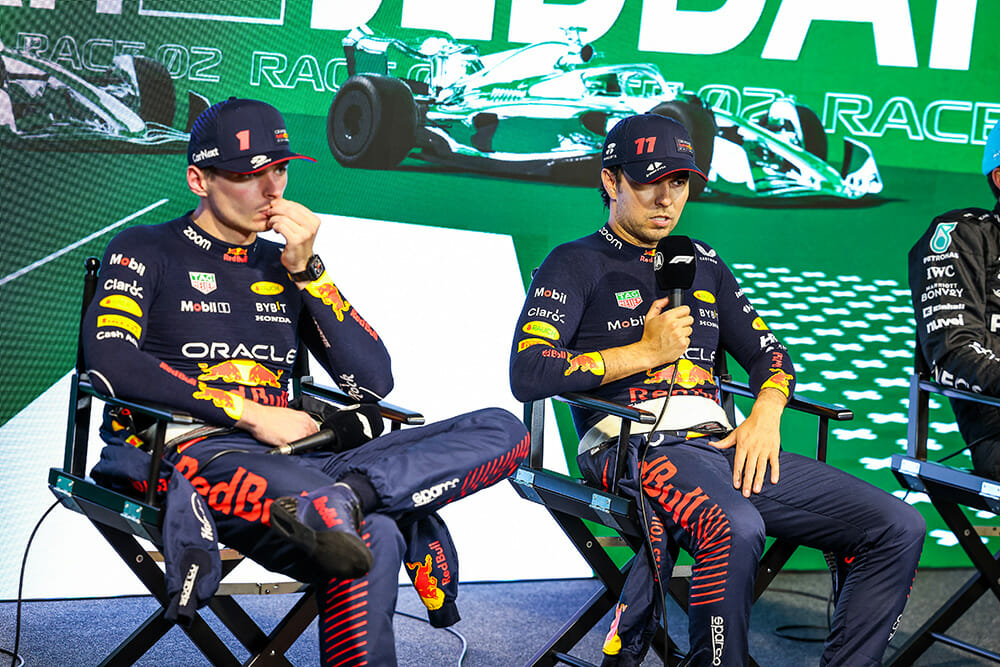 It's a bloodbath that shows a lack of adaptability. And even at his best, he cannot extract Max's performance from the car. When Verstappen had to come back from 9th in Miami, he won, comfortably, going faster than Checo on 20-lap older tyres in a tyre conservation race. Perez was beaten at his own game. In Saudi Arabia, Max effortlessly went from 15th to 2nd before half distance, and only really lost out due to ghosts in his driveshaft. Perez's average finish in those five weekends he's missed Q3, has been 7. Not dreadful, but when you've got one of the sports' greatest cars, you want more from that as an insurance policy.
This isn't a "Damage Critical" situation like he's playing Road Rage in Burnout, and I genuinely think a few easy podiums solves a lot of these problems, but he has to look over his shoulder because a motivated Daniel Ricciardo could be a career ender for Checo. He needs to silence the critics. And fast. Grade: C
And that'll do it for my F1 mid-season review. Hope you enjoyed the reading session, and I ask… Do you want one for IndyCar and MotoGP too? Get in touch. Until next time, thanks for reading and Sayonara!