"May the beatings continue until your decisiveness improves." – AEW's Samoa Joe
This was the weekend where the hope could easily have gotten you. Max Verstappen, for one day, for one lap, was human. He opened the door just enough for the sport's arguably greatest driver to steal a pole position off of him by… maybe an inch.
Lewis Hamilton, just for a moment, recaptured some energy in his season. He poked the bear. And then the bear ripped his arm off. Welcome to Red Bull making history and me doing a DRR on the Hungarian GP.
Maximum History
The mood on Saturday night was fun. Both Lewis' pole and Mercedes celebrations hit 150,000 likes on Twitter. Max Verstappen, the man who's only dropped 21 points all season, was genuinely beaten after he lost two tenths of a second in Sector 3, his sector, during his final run. Lewis Hamilton joked to the media after qualifying that they needed to check that Red Bull to see where that DRS advantage of theirs had gone.
Hamilton led this race for about 350 metres and never did again after a slow start that opened the door for Max and Oscar Piastri to pass him. You have to remember, Red Bull have admitted it themselves. Their car is not a qualifier. They said this back in the opening round in Bahrain. They sacrificed ultimate speed for race pace performance and this race was the ultimate example of that. Toto Wolff himself described the Hungarian GP as "Like a bunch of F2 cars racing an F1 car".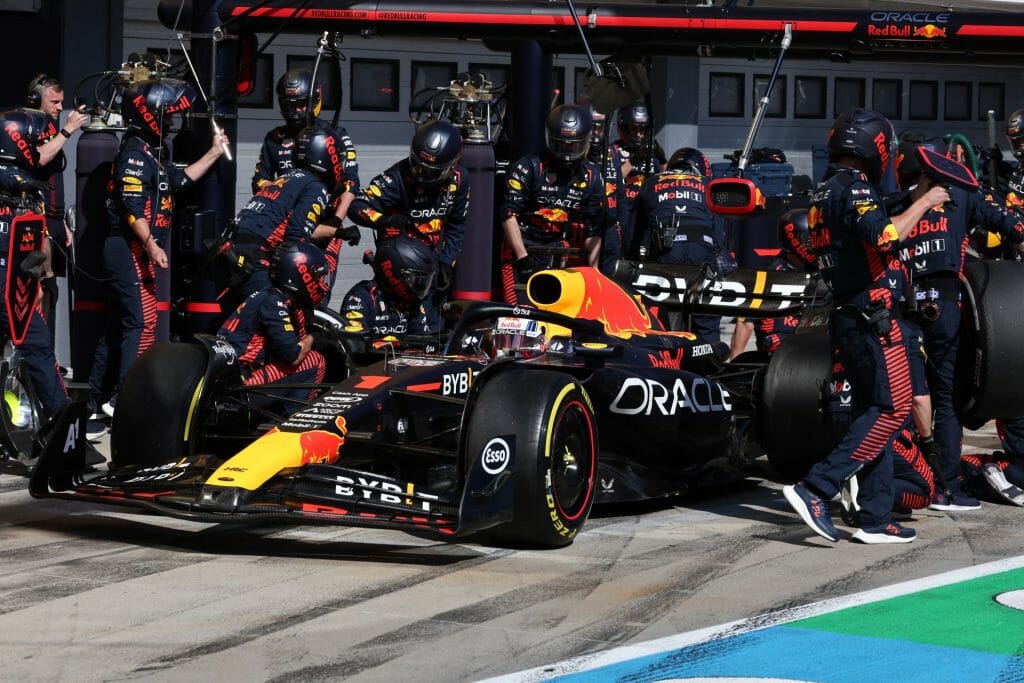 This was the biggest win Max Verstappen's had this season. A 33.7-second bludgeoning of the field as even the sport's newest hot property in McLaren post-upgrade could only stay with them for a handful of laps before their tyre wear had them losing bucketloads of time. It was another masterclass that led to Max becoming just the 5th man in history to win seven consecutive races, with Red Bull as a team winning its 12th straight, breaking the 35-year record set by the McLaren MP4/4, quite possibly the greatest F1 car ever made.
This was meant to be the weak round. They just demolished everyone in the field. Hell, even Sergio Perez had a good day to get back to 3rd. If the Safety Net returns for Red Bull, the perfect season is well and truly on. God help us all given friggin;' Belgium in next. You know, the race where Max passed the whole field by 1/3rd distance last time. Woo…
Maximum Honsing
I joked on Twitter that I might just write 1,000 words on Ferrari being shite to make up for the fact that nothing in single-seater Motorsport moved the needle this weekend, and I actually had multiple people challenge me to do so. While I think it's a bit self-indulgent of me to entertain THAT much of my time towards them… I'll try.
I'll start with a simple question – What about Ferrari, is good at the moment?
This weekend felt like an all-star game, a highlight montage of all the issues the factory has had in 2023 and to some degree, years past.
Carlos Sainz got knocked out in Q2 on the medium tyre. He started the race on the Soft for no good reason. Leclerc had a 9.4 second pitstop, and then the driver himself lost 6th place on the road to George Russell after speeding entering the pitlane. And he still beat Sainz on the road, who was trying to play strategist when Ferrari for once wanted to be proactive and swap their cars around!
Sainz admitted the Ferrari's had a constant inconsistency when it comes to performance on different compounds and was actually worse on the harder rubber compared to the Soft. No wonder George Russell had passed him at the end of the race before the straight was even over.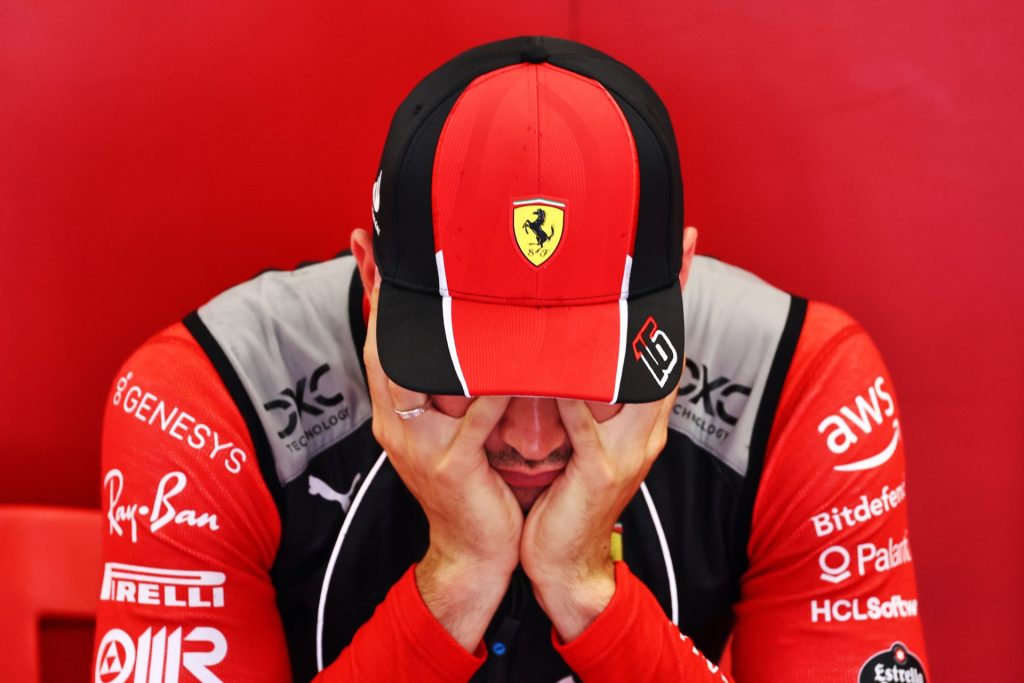 Charles Leclerc admitted he had no water bottle because his tube was too short and then admitted his radio doesn't fully work properly and hasn't done so for "three or four races". WHAT?!
They've now been leapfrogged in the power rankings by McLaren and both drivers admitted such when asked post-race. When I was watching this race in the M101 Discord, there were multiple people making the ballsy claim that McLaren might make up the 80-point deficit to Ferrari by season's end. The fact that was put on the table and it wasn't an outrageous statement to me, says it all. The Honse is in big trouble here.
Charles was the stronger Ferrari and he finished 37 seconds behind Lando Norris and 70 off of Max. What is this team and how do they end up so painfully mid?! I love Ferrari and it gives me a headache at how fundamentally bad this team is at the moment.
To borrow a line from the Belgium GP Review last year: "May your woes be many, and your days few", Scuderia.
Danica Patrick Vs The Kids
I re-watched the F1 Juniors broadcast that F1 and Sky put together after the race was over. It was genuinely excellent. Yes, the kids were marvellous. Poise, confidence, charisma, energy, good humour and they were given an incredible amount of access that they fully utilised. Seeing Zac talk glowingly about the "Hamilton Effect" and the difference he had made to other black families was genuinely inspiring. It reminded me of my own dreams to make an F1 broadcast one day and seeing that happen made my heart full. And I'm not just saying it because he's my WTF1 colleague but Harry Benjamin did an excellent job adding just a little extra professionalism when needed.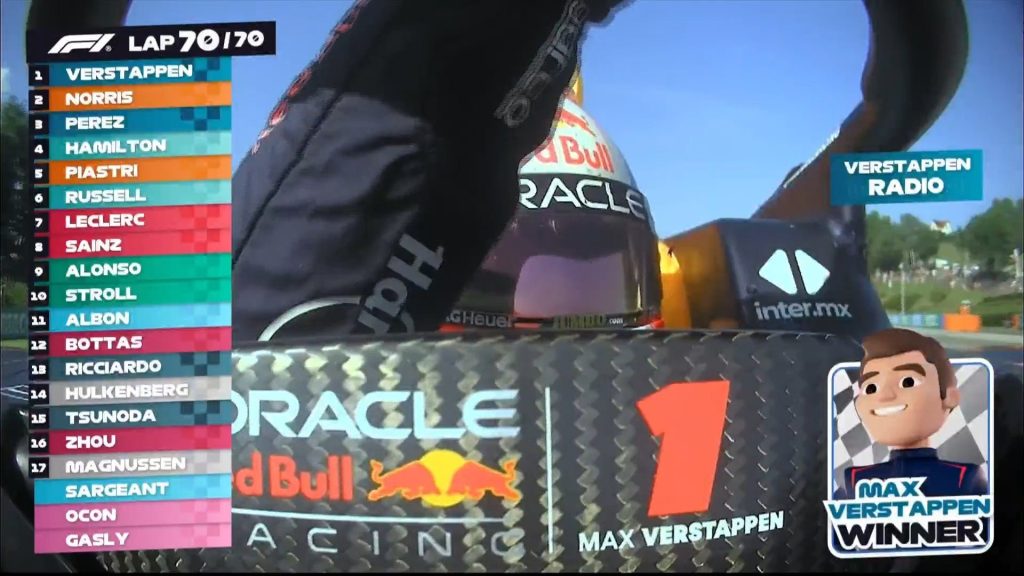 The cartoonish graphics were cute and charming, and the tone of the broadcast was a little toned down but that to me is a good thing. It's easy to forget while you read this specialist, still largely independent Motorsport blog that this is a complicated sport with a lot of nuances and a steep learning curve. And anything that can smooth that curve out for first-time viewers and those who need to make it a little easier to understand, is objectively a good thing, especially as an alternative to the main show, which was the entire point in the first place. 
This was *almost* a complete triumph. An accessible, diverse broadcast that can appeal to potentially all ages and families as a genuinely viable alternative to the norm. But sadly, I also have to talk about Danica Patrick.
Danica Patrick made some (at best) baffling comments during the broadcast that irked me and many Motorsport fans. Here it is in full:
As I've always said in my whole career, it takes 100 guys to come through to find a good one, and then it takes 100 girls. That takes a long time to find a good one, right? It's just, the odds are not in favor of there always being one or being many of them. And at the end of the day, I think that the nature of the sport is masculine. It's aggressive. You have to, you know, handle the car — not only just the car, because that's a skill, but the mindset that it takes to be really good is something that's not normal in a feminine mind, in a female mind. You have to be, like, for me, I know if somebody tries to bow up or make it difficult on me, I would go into like an aggressive kill mode, right? You just want to go after them, and that's just not a natural feminine thought. I say that because I've asked my friends about it, and they're like, "Yeah, that's not how I think."
Now, the first paragraph I have no problem with. It's true that you need equal access and opportunity to all gender identities to have any chance of bridging that gap in what is a heavily male-dominated sport. It's the word salad on mindsets that alarms me.
It alarms me because it's a deeply misogynistic statement. There is no evidence anywhere that you need to not have a "stereotypically female" mindset to get ahead in Motorsport. Saying you need to have an aggressive, "more male-oriented" mentality to get ahead in this sport is straight from the pages of Andrew Tate and the toxic masculinity he's used to champion his own brand in recent years that's spread all over social media. David Coulthard said something very similar in 2017 that "Women lacked the killer instinct to win" and I eye-rolled then too.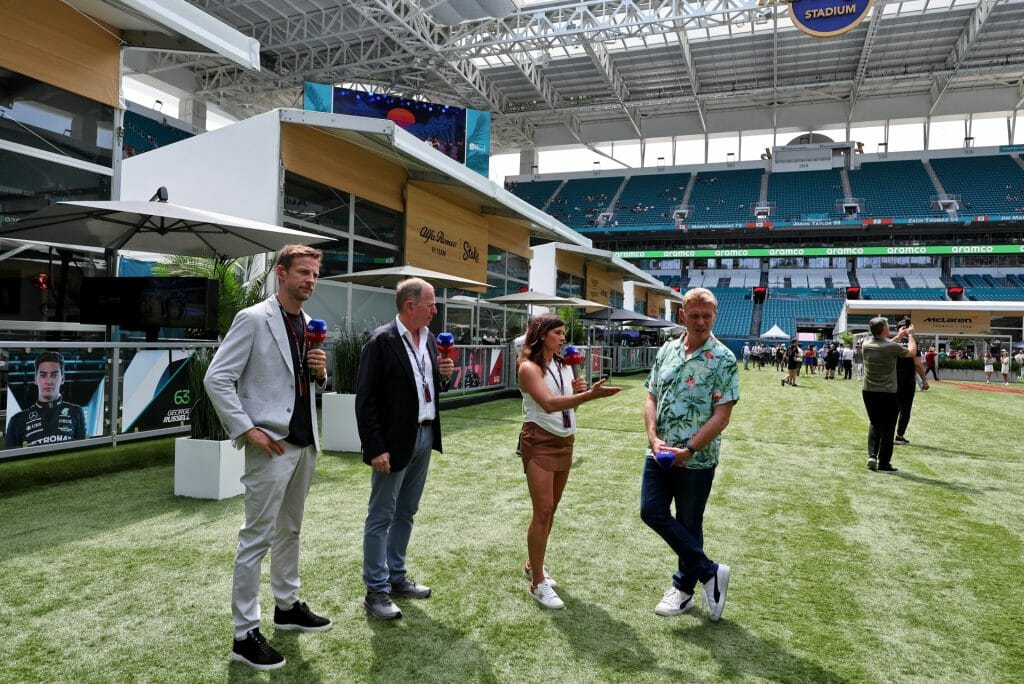 This would have been questionable enough on the main broadcast. But on the junior broadcast, more than ever, there are likely more young girls than ever watching along. And what does it say that a woman who won in IndyCar, one of the best single-seater series in the world, against a world-class field of men, is peddling the idea that you have to think like a man to win? Danica was absolutely a special talent, an outlier of the game to make it to the level she did, but essentially saying: "I'm not like most girls", doesn't help anyone here.
I said the exact same thing when Jamie Chadwick came out with her incredibly sketchy comments where she sided with Caitlyn Jenner on excluding trans athletes from sports last year, but Motorsport is one of the very, very few sports that can have everyone, in theory, can compete on the same level and at the same time. And I'm more than aware of my own privilege as a cis-gendered man saying this, but I'd like to think the few women who do have a genuine foothold in this sport should be doing all they can to encourage and pull other women up, rather than crush them with a metaphorical boot that just isn't true.
And sadly, it doesn't take very many clicks on Danica's social networks to figure out this is not the most dangerous theory she's been pedalling in recent years given her Podcast. That alone should make any network nervous to bring her on.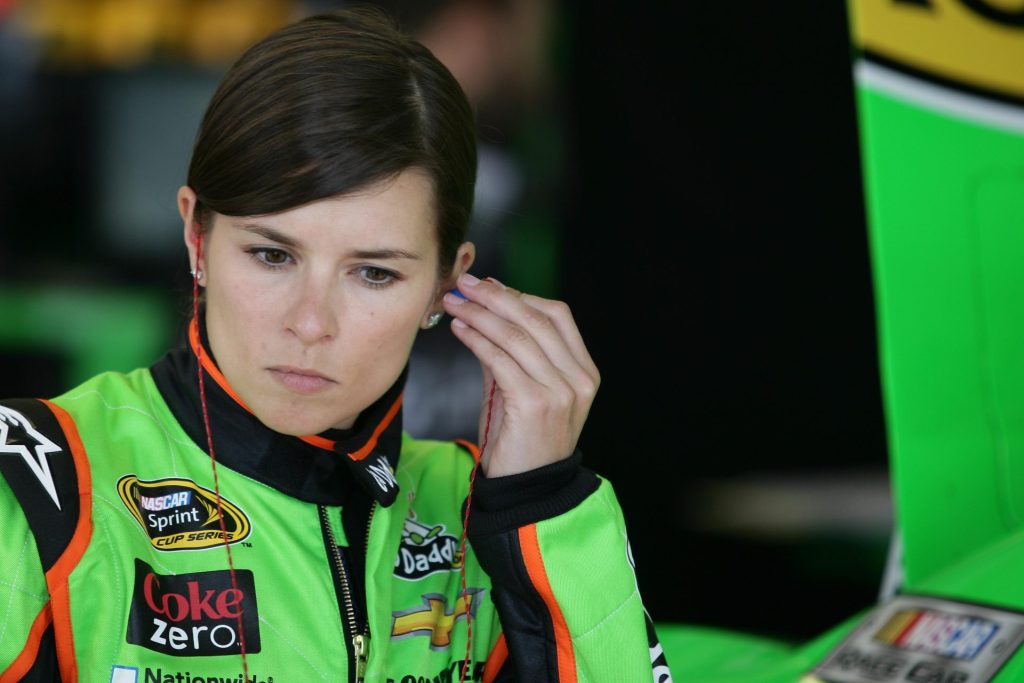 Sky has had no problem pushing many great causes to improve the diversity of F1. From championing Lewis Hamilton as the superstar he is and the Black Lives Matter movement beyond that to even the Force Indy project in IndyCar, which was surprising to me given it's by a mile their second most promoted series on the network. They picked up the W Series from Channel 4 and allegedly made plays to get the F1 Academy broadcast too, so they're more than willing to push in many important social matters that tie directly into Motorsport.
And to that, I say with all that in mind – Is Danica Patrick the person you want on your network, whose opinions directly conflict with that?
Sometimes, sadly, even people on the right side of history can still be shaped by the patriarchy their environment has bred. Women have never had a seat on the table to shape the world of Motorsport we have today. This will only do more damage to that push for change.
The Extended Lightning Round
Oscar Piastri can't buy a podium, which was a weird sentence to say up until about three weeks ago. Brilliant start, excellent pace, was crippled by damage to the car I suspect came from Sergio Perez running him off the road. Unlucky again, but this kid is the real deal. Just a shame he was somewhat sacrificed for McLaren to get behind Lando. And yes, Lando is him.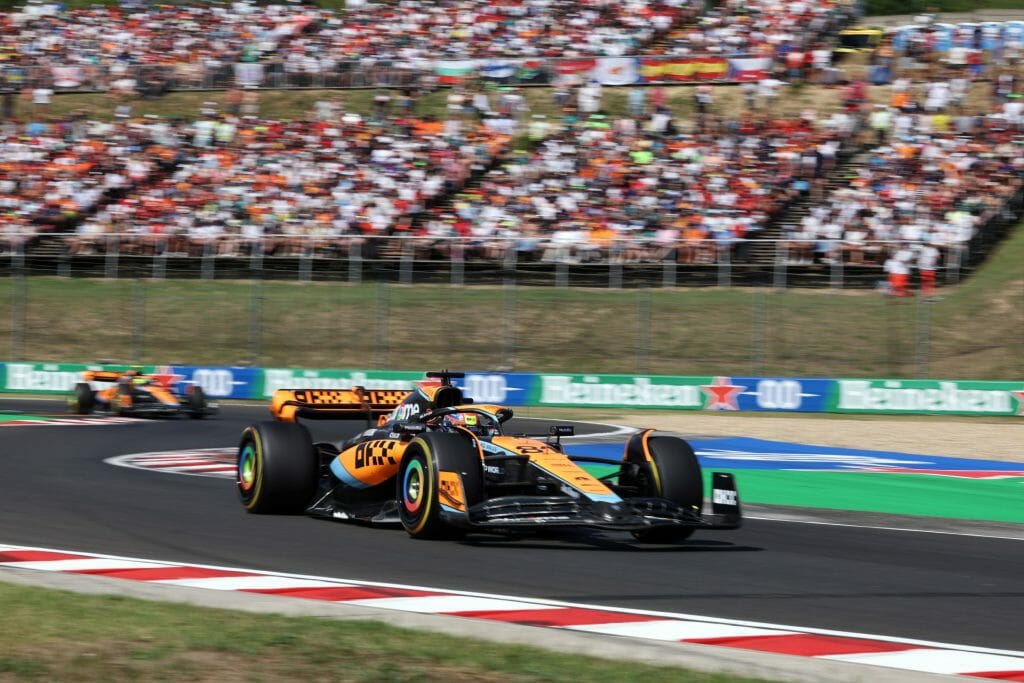 Gutted for Zhou Guanyu. Had a brilliant qualifying to put himself fifth, but a system failure on his car led to his severely hampered start and then panicked into nudging Daniel Ricciardo off the line, who then whacked both Alpines out of the race. Just a horribly unfortunate set of events. Doubly disappointing as I thought there was a genuine shot that Alfa Romeo could have gotten points but their race pace didn't match the practice numbers.
Fernando Alonso said after Spain this would be the last race he'd be off the podium. He also targeted Hungary as a potential win. 9th and almost lapped. Yikes. Maybe the Aston Martin honeymoon is over.
Didn't mind the new Hard/Medium/Soft Qualifying format tweak, but not sure it's the slam dunk success I saw many people claiming it was. Was it the format that caused the drama, or was it George Russell getting caught up in a classic "traffic on the out-lap" scenario? And how much of it was the buzz of just Hamilton being on pole in a completely unchanged Q3? Need to see more evidence on this one.
Did anyone mention Daniel Ricciardo raced this weekend? Feel it went under the radar.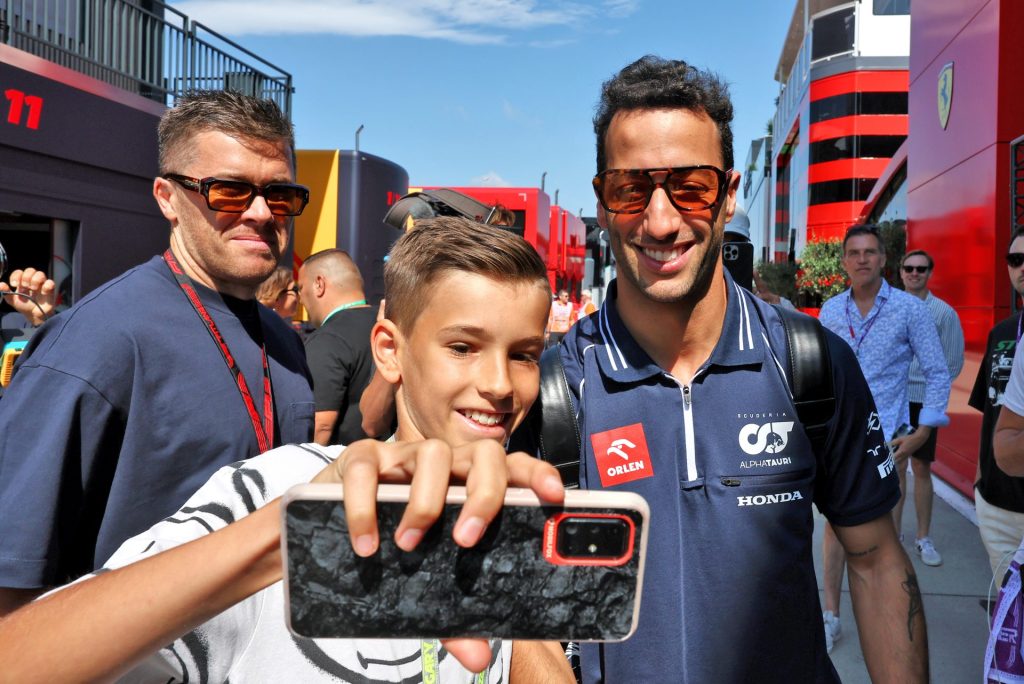 His comeback weekend went about as well as you could have asked. Beat Yuki Tsunoda in qualifying and the race and a P13 result for your first race back in six months is solid. But given the absolutely polarising perspectives on both Ricciardo's ability as a driver coming off a dreadful McLaren run in a "What have you done for me lately sport?", combined with Yuki Tsunoda having a genuinely good season but with a Nyck De Vries-sized asterisk attached to it, one round is far too small a sample size to make bold statements. And sadly for Yuki, those polarising opinions make it a big lose-lose sort of feeling for his status in F1 to me. I hope I'm wrong. 
Red Bull is operating on such a level, they even had a 1.9-second pitstop. Given the 2021 regulations added a built-in 0.35 delay to the pitstop as a whole, we probably just witnessed the pound-for-pound greatest stop ever. Wow.
Dre's Race Rating: 5/10 (Average) – Really wasn't much to this one. Most of the intrigue left the room the moment Lewis Hamilton dumped the clutch. Rumours of the field making gains on Red Bull were grossly overestimated. But hey, at least McLaren has validated they've jumped half the field via one upgrade package. What the hell was James Key cooking back there?! See you in Belgium. In July. Weird AF.