Part 1: https://www.motorsport101.com/dres-2018-f1-season-reviews-williams-toro-rosso-sauber/
Part 2: https://www.motorsport101.com/dres-2018-f1-season-reviews-force-india-mclaren-haas-renault/
Okay folks, this won't take a month this time, honest. Time for the Season Finale, as I round up my thoughts on Red Bull, Ferrari, Mercedes, and finally, the 2018 Season as a whole. Let's be honest, this is probably the segment you've been waiting for. So, let's breakdown F1's most over-hyped team, first. Red Bull Verstappen Racing…

Aston Martin Red Bull Racing

Constructor's Finish – 3rd (Again, 419 Points)
Best Finish – 1st (x4 – 2 each for Ricciardo and Verstappen)
Biggest Strength – Ridiculous driver talent, underrated race pace and late development
Biggest Weakness – RELIABILITY GODDAMNIT. Oh, and losing Daniel Ricciardo
Fun Facts: Career high numbers across the board for Verstappen (Wins, Points, Poles, Championship Position). Daniel Ricciardo had a grid low 13 finished races, he also led the grid in mechanical failures (6). As a team, they won Driver of the Day 10 times. (No other team had more than 4)

What Dre said last year: "In this era, normally I'd applaud a team getting three wins, and 13 podiums, especially given they were the third best car most of the time this season. However, they also had 13 DNF's. Their upside is still fantastic and when they were on it, they were untouchable, but they were still a good half second off the top on numerous occasions. They're solid, but this was a stepback from 2016, and I think they're starting to waste their excellent drivers."

Repeat ad nauseum. Almost precisely, actually. 13 podiums as a team, 12 DNF's again. And this time, the reliability, REALLY bit them up the arse. The worst part was, not a single retirement came down to their power unit that they've always bitched about publicly. It was their own car that let them down. Just like last year, 2nd wasn't completely out of the question as a lot of points were left on their engineering desk.

Once again, their drivers (most of the time) were excellent, and they were excellent in the second half of the year, but by then, they had nothing to play for. If Red Bull's October could be taken to March, they'd be a title threat.

Not to get too tinfoil hat on us, but I wonder how much of that factored into Daniel Ricciardo's decision to leave them for Renault? We now know they're all in on Verstappen, who was excellent, but is nowhere near a world championship in the car he's in. They CANNOT keep having seasons like this one, where they're good on paper, but ultimately unfulfilling. Remember that, it becomes important later. 5/10

Daniel Ricciardo (6th Overall, 170 Points, 2 Poles, 2 Wins, DOTD x4) – The People's Champion is nearly impossible to score here. He had a brilliant start with an opportunist win at China (Including the fan voted pass of the year to win it), as well as a bit of good fortune at Monaco to hold off Sebastian. Ever since… he got beaten up by either his car, or Max himself. He lost 15-6 in Quali (A former Max weakness), and 8-3 in races they both finished. Combine that with a public departure by the summer break and Verstappen weathering his bad start to be 2nd best P4P by the end of the year, and 2018 will be a season to forget for one of the sport's best all-rounders. 6.5/10

Max Verstappen (4th Overall, 249 Points, 2 Wins, 11 Podiums, DOTD x6) – A tale of two seasons for Max. Before we all christen him the second coming of Christ, it's easy to forget his first half of the year was woeful for a man of his experience. Disastrous weekend in Bahrain, took Vettel out in China and ruined Monaco for himself in practice. But he was stunning after the break. A pair of wins, as well as dominating Mexico, five straight podiums to finish the year, and a run of form in the second half that only Lewis Hamilton could better. He's not quite the finished article yet, but he's close. And it's now his team. Welcome to the elite, Max. Enjoy your stay.
8/10
Scuderia Ferrari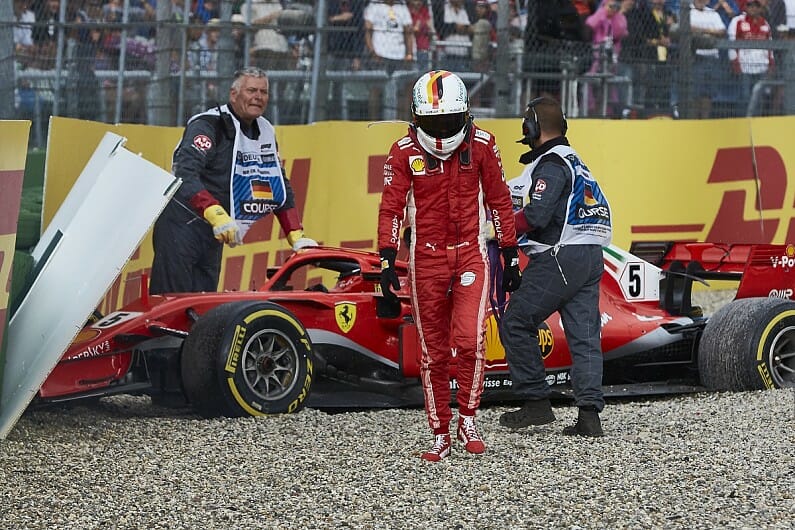 Constructor's Finish – 2nd (571 Points)
Best Finish – 1st (x6, Vettel with 5)
Biggest Strength – They finally had a cohesive team
Biggest Weakness – It cocked up and now they're blowing it up
Fun Facts: Vettel scores most wins and points in a season with Ferrari, Kimi had his best season with points since 2012, also set new record for time between first and last career poles and wins.

What I said last year: "Okay, they didn't win the title. They were never going to. But by any measure, this was the strongest year any team trying to beat Mercedes has had since the hybrid era began. Five wins, two of them 1-2 finishes, and a driver that lead the World Championship for 13 rounds. Did anyone really think that would happen this time last year? Because if you did, I want your lottery numbers."

Your entire perspective of Ferrari's season will depend on how cynical you want to be. On the one hand – This was, without a doubt, the strongest challenge anyone has given Mercedes since the hybrid era began. 6 wins, 6 pole positions, and it could have easily been a lot more had it not been for the genius of Lewis bailing Mercedes out in a car that many felt was faster.

The more cynical side of you who bought into the Ferrari hype-train would say they blew it after the summer break, only this time they were more responsible than last year, where it felt like pure coincidence after Singapore. Some of that will be on one of their drivers, some of that on the team's poor strategy calls in tight races.

Whatever your stance, I don't think I can call a 6 win, 6 poles, near 600 point season, bad. What I can say is, it's the 2nd straight year of what "could have been". Makes you wonder though… is blowing the team up NOW for an untested principal and Charles Leclerc the right move? We'll soon see. 8/10

Sebastian Vettel (Runner-Up, 320 Points, 5 Wins, 5 Poles, 12 Podiums, DOTD x3) – And that exact cynicism perspective could be applied to Ferrari's leading man. Again, the majority of the season, he was the only man in Lewis Hamilton's postcode. He had some outstanding drives too. Stunning in Bahrain to win in tricky circumstances. Brilliant to win it at the death on Mercedes home turf. Dominant in Belgium.

But he also blew a massive lead on home soil himself in Germany, he hit Bottas in France, and him chasing Ultra Instinct Hamilton led to him being on the losing side of multiple 50/50's, like in Italy, the Verstappen pass at Japan, or Lap 1 at COTA. He has to improve his opening lap conduct in 19'. You can't win a race on the opening corner, but you can sure as hell lose it.

It would be unfair to pin the entire season's disappointment on him, but he has to take his fair share of the blame in another Ferrari year with high upside, but so little end product. 8.5/10

Kimi Raikkonen (3rd Overall, 251 Points, 1 Win, 1 Pole, DOTD @ Monza) – It's a funny old world being Kimi. He's steadily gotten better year on year in the Ferrari hybrid era, and this was his best season yet. The one lap speed seems to have finally faded (Losing 17-4 in Quali), but 9-8 head-to-head in races is absolutely no disgrace. And to break the drought of winning and starting from pole this season after the Lotus days, was impressive.

Kimi was the consistent 2nd driver that Ferrari have needed him to be. Often out-performed Sebastian when the team needed the safe points most. Which of course, is why he's been dropped for Charles Leclerc. That would have been a justifiable move, 2 years ago. Now, in this run of form… waters are kind of murky now. I sincerely hope, Charles delivers, because they're going to look back at this movement if it doesn't go to plan. 8/10

Mercedes AMG Petronas Motorsport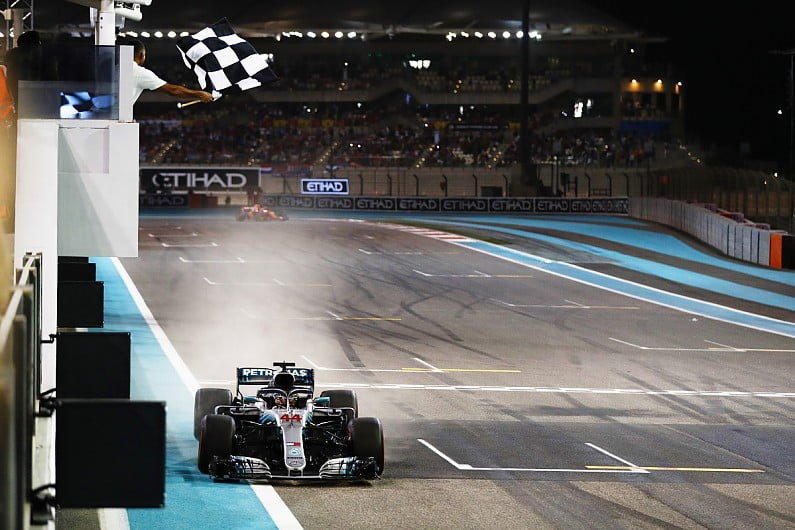 Constructor's Finish – Champions (655 Points)
Best Finish – 1st (Hamilton x11)
Biggest Strength: One of the greatest of all-time in your lead car
Biggest Weakness: His teammate, the Prancing Horse in the wing mirror
Fun Facts: Lewis Hamilton now has a 50%+ win and pole rate in the hybrid era. Bottas had the most second places this year of any driver to go winless in a season (7)

What Dre said last year: Yeah, they're still the best. Comfortably. Even with Sebastian's heroics, top to bottom, they're still comfortably the team to beat, despite not being quite as dominant as last year. Lewis Hamilton got it done when he needed too, and Val did what he needed to do as a clean-up guy. Their extra two-three tenths in qualifying really shone through as well, given the difficulties of passing in this era.

It's funny. There was a block from Canada to maybe Monza where Mercedes had never looked more vulnerable. Ferrari looked like the gap between them was eroding, and the extra engine power was swinging the title fight. Vettel puts it in the wall, Hamilton wins from 14th on the grid, and then wins 5 out of the next 6 to wrap the title up. Mercedes galvanised and never looked back.

If the title fight was a boxing match, Mercedes kept working the body shots and when Ferrari blocked low, they cashed in upstairs. And it helps that Lewis Hamilton had arguably his greatest ever season to take world title #5.

This was the weakest proverbial Mercedes in the hybrid era. They won 11 times and never really looked like they were going to lose. You win titles like these on your worst days, not your best ones, and that's why Mercedes are so damn good. They may need a bit more from Val next season if Ferrari hit their full potential, but I ask… are you betting against them next year? 9.5/10 (Dre's Team of the Year)
Lewis Hamilton (Champion, 408 Points, 11 Poles, 11 Wins, DOTD x3) – Simply put, Lewis Hamilton shut the door on the debate on who the best driver on the planet is. Sebastian's 2018 was the greatest challenge outside of his own doors in the hybrid era, and as mentioned, post-Germany, he was virtually unstoppable.

He didn't blink or crack. He maximised every chance he could get, and by the end of the year, he ran up the score into an 88 point #BEATEMDOWN. Killer GP's like Germany, Hungary and Singapore were hammer blows for Ferrari, and down the stretch, is where Lewis is at his imperious best. If we're not discussing Hamilton in the conversation of the very greatest this sport has ever seen, we should be. End of discussion. This is the first time I've ever scored someone a 10 for an individual season. I only save it for the truly transcedent. This was worthy of that. 10/10 (Dre's Driver of the Year)
Valtteri Bottas (5th Overall, 247 Points, 2 Poles, 8 Podiums) – The fun fact sums it all up. SEVEN-second places without winning is tragic for Val, especially in the context of the first half of this season.

Val was excellent in Bahrain, maybe 1 lap short of victory. China, the Safety Car came out at the worst possible time. Baku, the stewards didn't do their job properly with a chunk of debris on track. Taken out from a front row start in France. If a couple of these moments swing Val's way, it's a three-way title fight heading into the break.
It looked like those incidents did a number on Val's confidence. He went from a guy pushing Lewis hard weekend to weekend, to a guy who seemed to be phoning it in by season's end. The Russian team orders call was the cherry on top of a weekend where Val was genuinely the faster man.

It doesn't excuse some of his below-average driving towards the end of the season but it's hard not to have some level of empathy for the series of unfortunate events that led to a season where he's now entering 2019 on a hot-seat with Esteban Ocon waiting in the wings. It's a cruel life being the Mercedes 2nd driver, and I think Val's learning that the hard way. 7/10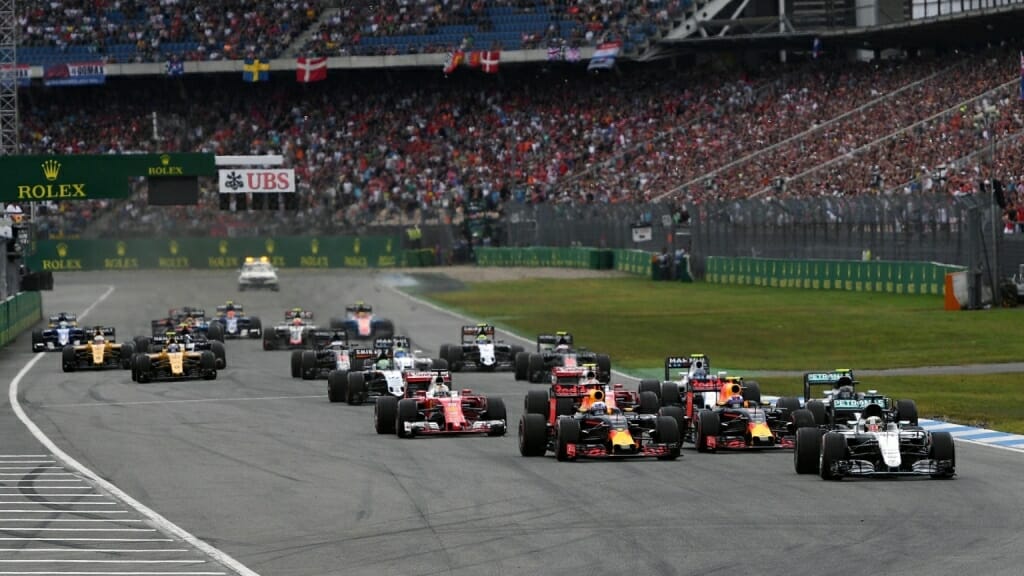 So, 2018 then. I'm not going to lie, I was pretty cynical heading into this one given 2017 felt like listening to Brian Tyler's F1 theme but then not having the beat drop at the end. 2018 probably should have felt the same given the Ferrari mid-season collapse. But it didn't.

This isn't a 14', a 16' or a 10' or a 12' from the V8's. But I did enjoy this season. It didn't have the one race that'll make you reach for the baby oil, but we had a good selection of 7-8/10 races that were enjoyable. Silverstone was probably the best of the bunch, but we had dramatic and enjoyable races in Bahrain, China, Monza, COTA, Austria and I'm sure there's a couple more you could throw in according to your own subjectivity.

The biggest alarm bell for me going forward is the competitive balance of the field. It sucks seeing the big three factory teams are constantly finishing races more than a minute ahead of the next nearest car. When the "Big Three" can spend 200-300m a year on car development knowing they'll make that back in advertising power, the independents are gonna die a slow death. No-one deep down wants to see McLaren and Williams fighting for 15th place.

If Liberty Media want to really improve the sport, that's where they need to be pushing. That and the overarching move to Pay TV stations, obviously.

2019 will be the most intriguing season of the hybrids yet, I think. It was hyped for years, but we finally got the driver shake up we all wanted to see as fans. Leclerc in red, Gasly in a darker shade of purple, Raikkonen at Sauber, and Ricciardo in yellow. It feels like the first stages of a true generational shift, with half the grid being under 26 going in. Lando Norris, George Russell, Alex Albon and the return of Antonio Giovinazzi is at worst, eyebrow raising. That alone will be fun to see how it all shakes out.

As always, it's been emotional. See you in March for the 2019 season preview. Sayonara!