And we're back! The first Motorsport weekend of the year that I actually give a crap about! And with #BikeLive getting the Viking burial treatment, I decided to bring back "Dre at the Races" for more Race Reviews in the biking landscape to go into 2019! And with World Superbikes starting up again with a heck of a lot of new hype with new rules, teams, factories, and a MotoGP insert with the number 19, now's a good time as ever to lay the magnifying glass on Philip Island, and there was certainly one running theme…

The Animal Unleashed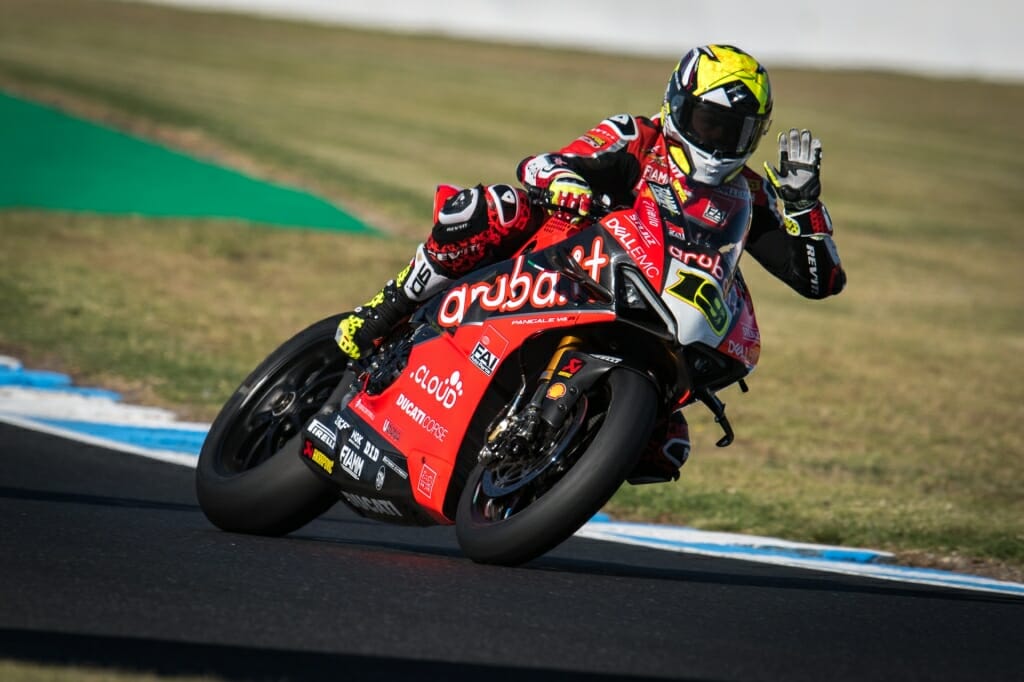 27 seconds. That was the combined winning margins for Alvaro Bautista by the end of both "official" races. Someone dust off the "SUPERBEATEMDOWN" hashtag, because it has a new holder.

There was a lot of excitement about Bautista in testing, and then again after the free practise dominance when he was the only man in the 29's in FP3, half a second ahead of Rea and Haslam. It cooled a bit given his relative inexperience with the Pirelli qualifier, but by Lap 3, the fight was over. Both times round. It was the perfect storm of dominance – Rea and Haslam fighting Toprak, Sykes and the Yamaha's, Bautista being brilliant around Philip Island (Did we forget the MotoGP stand-in 4th from just October?), and mastering the degrading tyres to the point where he never let up, even when the race settled down in the latter stages.

He didn't have it easy all the way through, the Superpole race I'll get to in a bit, but what a statement of intent that was from the new boy, and Ducati's new Panigale V4. Now, I'm not totally sold on this as the "Ninja Killer" just yet. Chaz Davies was down the order and still recovering from his collarbone surgery, and no other Ducati was really in the mix (Imagine if they had kept Xavi Fores somewhere?!), but it's impossible not to be impressed.

A Different Kawasaki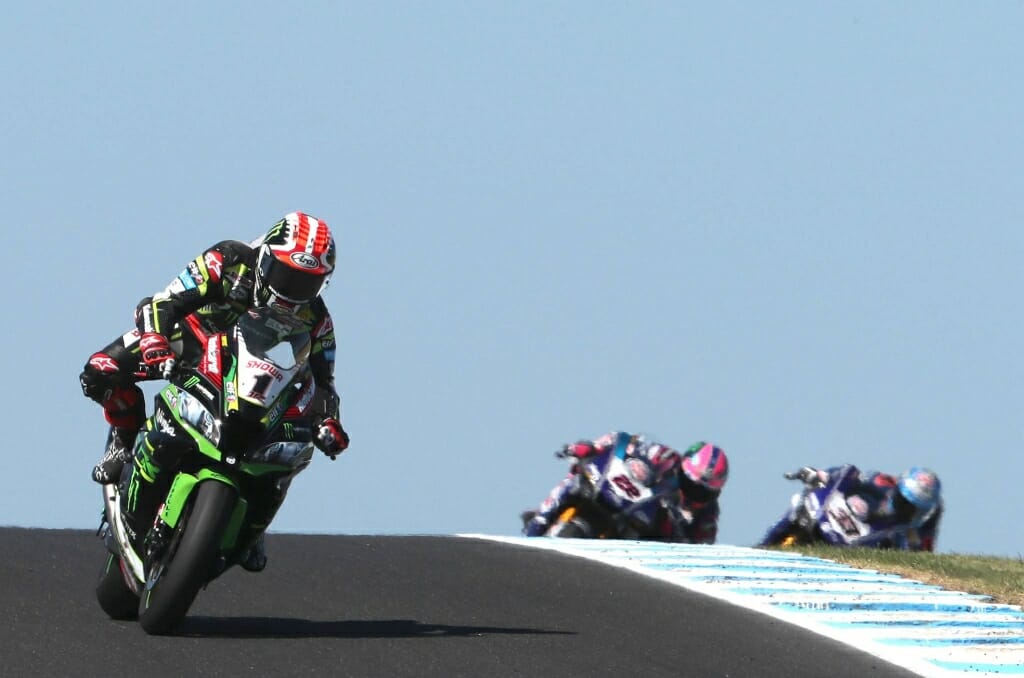 All things being said, Jonathan Rea probably won't be too disappointed with a triple set of 2nd places. He made it quite clear in interviews he wasn't at 100% due to the risk of blistering like he had last year, but you wouldn't have fooled me the way he rode in the Superpole race.

He had as much as a 5mph deficit in the speed trap in the Superpole race and was braking demonically late into the first sector to try and keep himself ahead. I've not seen Jonny work that hard to try and win a race in all the years he's been at Kawasaki. And it was awesome.

And despite his weekend not going to plan with that crash from 2nd in Race 1, Leon Haslam proved he's not going to be a pushover. No disrespect to Tom Sykes, but he sadly dropped off in terms of quality after the Brno clash. Haslam got in Jonny's grill right from the start and roughed him up a bit. That's very promising, and if anything, a great endorsement for what British Superbikes has done for him since his last run in the series.

Their infighting probably wasn't ideal in terms of hunting Bautista, but the winning margin was a little troubling. I suspect places like Assen and Aragon will be better long-term yardsticks, especially with more rev limits adjustments to come, and with Ducati's lack of consistency, I wouldn't be too worried for Team Green.. Yet.

Jury's Out On The New Format

Okay, so much has been made of the new format change in the series, with three races a weekend, the Superpole 10 lap sprint race on Sunday morning deciding Race 2's grid and whatnot… so what did I make of it now I've seen it in practice?

…It was fine.

I'm not fully convinced the excitement of the weekend was more down to the format change, or just the fact it's Philip Island. If it's more of the same sort of affair that Races 1 and 2 were, then I'm not really seeing the point, especially when the risk is only for a handful of points (12), when there's 50 up for grabs in the other two.

The Rea vs Bautista fight WAS the highlight of the weekend and it was great to see Rea at 100%, but I think the jury's still out on this one. Didn't like the 45 minutes of dead air between that and the Supersport race, that could probably do with some cleaning up in terms or organisation.

Although, I am glad the "reverse grid" format is dead. It didn't work and it did the one thing it wasn't meant to do – Make Chaz Davies and Jonathan Rea even stronger given their aggressive riding styles.

The good, the above average, and the ugly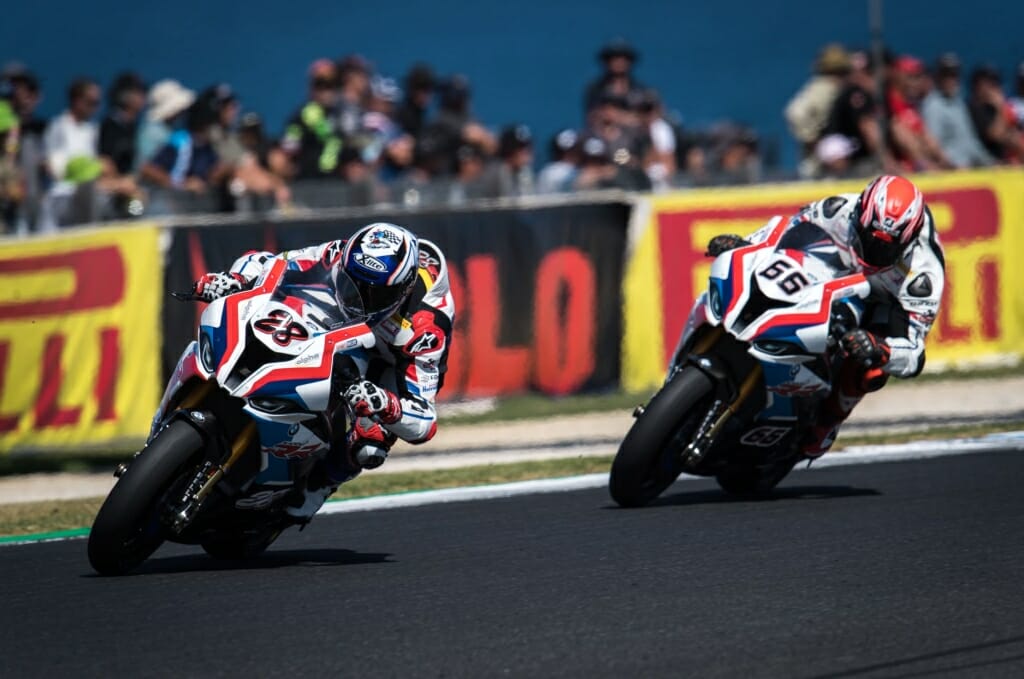 Again, a little bit pessimistic about this one as PI tends to be an equaliser for close running bikes but great to see Yamaha running with the established front runners right out of the box again, and with all four of their bikes in the Top 8. Class rookie Sandro Cortese in his first ever Superbike weekend running like he'd been here three seasons already. Yamaha has a very talented set of riders and I'm certain they'll be pushing for wins again this season.

Hard not to be impressed with BMW and the Shaun Muir collaboration so far too. Shaun himself said on the grid with British Eurosport's Charlie Hiscott that they were already above expectations for Sykes starting Race 1 from the second row. The only obvious weakness here for BMW though, seems to be a crippling lack of top-end speed, as riders like Toprak were able to pass Sykes on the home straight without even a slipstream. Something they can work on, but their chassis looks extremely promising and the speed is there. Tom Sykes ain't done yet.

As for Honda… yeesh. Of all the full-timers, stone dead last. In Race 1, Haslam dropped, remounted and still passed Kiyonari by the end of the race for the last point. Ouch. Kio's racing goose might be cooked at this level and that's sad from a guy who was challenging for a BSB title less than 4 years ago.

I think we all expected Leon Camier to be the leader of the team. But when he's on the grid talking about how the spec of the bike was from the Japanese Championship and saying that; "there's a lot of work to do", it makes you wonder about the size of the task HRC have on their plate. I miss Ten Kate.

Dre's Final Thoughts

I think seeing Australia and how it played out in real time was the shot in the arm that Superbikes BADLY needed after dealing with 50 shades of Jonathan Rea. There's another wave of hype in the air, and while a fair amount of it is a little on the premature, the series needs days like this especially given what's come before it. I think we're set for a good year, see in mid-March for Thailand.

PS: Want me to answer your question in a future Dre at the Races? Leave it in the comments, or message me on social media. It doesn't even have to be Motorsport related! Thanks for reading!