Part 1: https://www.motorsport101.com/dres-2018-f1-season-reviews-williams-toro-rosso-sauber/

Part 2 of our season review takes a look at Formula 1.5 and their midfield championship. Including Force India finally hitting the wall. Haas turning heel and hitting the pink panthers with a steel chair, McLaren stealing 6th place, and Renault doing… things. Let's break it down here in the second act of my season review!

Racing Point Force India F1 Team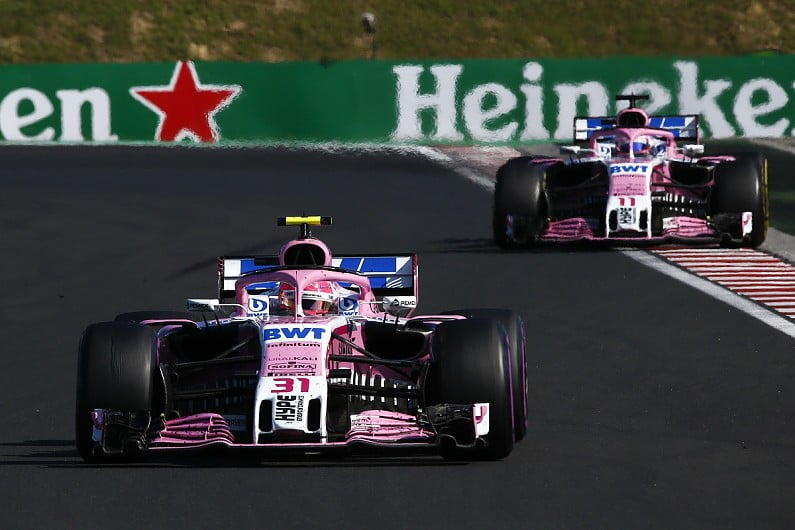 Constructors Finish – 7th (52 Points)
Best Finish – 3rd (Sergio Perez, Azerbaijan [The only podium from a team NOT in the Big 3])
Biggest Strength – They're still here
Biggest Weakness – They hit the wall, Esteban Ocon is gone
Fun Fact: If they didn't have to reset in Belgium, they would have had 111 points, good for 5th overall.

What I said last year: "The most beautiful thing about this team is, that they continue to defy expectations. If they can find another couple of tenths… who knows. A few sloppy handling moments like Canada, and getting the boys in line was tricky for them, but overall, the best team in F1 for me. Again."
Safe to say, this was a challenging year for Force India. If anything, Belgium was a microcosm of their season. Team bus logos being stripped, sponsors being covered, and desperate meetings to establish themselves as a brand new team after Checo took the wise move of… putting them in administration. No, really.

That same weekend, they lock out the second row in an astonishing qualifying session and had half of maybe THE iconic shot of the 2018 season when they sandwiched Lewis Hamilton and Sebastian Vettel at 200mph down the Kemmel Straight.

The wall was always going to come for this team of overachievers. But that's the thing I admire most about Force India. Even through extreme adversity, with jobs up in the air, they still found a way to perserve and were probably a couple of rounds late to catch McLaren and get back in the Top 6. The team deserves immense credit for that alone. More than anything else, I hope Racing Point can have a smooth year given all the changes going forward. 7/10
Sergio Perez (8th Overall, 62 Points, 1 Podium) – Stop me if you've heard this one before, but another solid season from the midfield veteran. The seventh in a row in the Top 10. Gotta be honest though, I think the podium padded his stats somewhat given his teammate who looked worse on paper, especially as Ocon DNF'ed at the same race. And when they clashed as teammates again, Perez came out of it slightly worse, still showing some hothead tendencies. But he's still rock solid and still an excellent marker for the midfield to beat. 6.5/10

Esteban Ocon (12th Overall, 49 Points) – One of the rare times I'll genuinely say that the scoreboards don't tell the full story. Believe it or not, Ocon laid the hammer on Perez when it mattered most. 16-5 better in Qualifying, and 9-5 up in races they both finished. Brazil and an unlapping going horribly wrong was really the only black mark against his name in an otherwise really strong 3rd season. At this point, it's hard to argue against him stepping up to a big boy seat. He's fast, he's consistent, he rarely makes mistakes, and has excellent raw speed. Which is of course why he's losing his job to Lance Stroll and he's a reserve driver for 2019. For f***'s sake. 7.5/10

McLaren F1 Team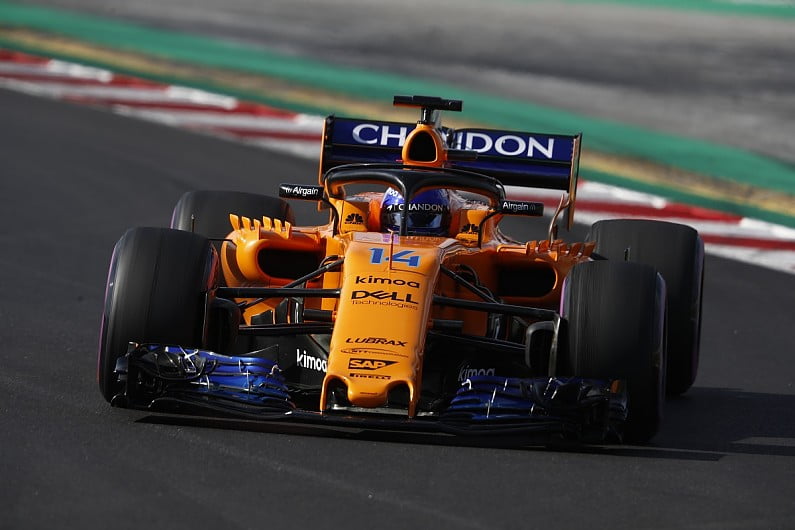 Constructors Finish – 6th?! (62 Points)
Best Finish – 5th (Fernando Alonso, Australia)
Biggest Strength – He just retired
Biggest Weakness – Poor engine, even worse management
Fun Fact: They scored 40 of their 62 points in the first five rounds. Fernando Alonso was second from last in laps completed (985), only Hulkenberg completing fewer (936).

What I said last year: "2018 is when I suspect that bubble will burst. All the deflection here has been the Honda power unit. They're getting Renault power next year, and I know every McHonda fan on earth was telling me how great their chassis is. So, with Red Bull running their units, anything less than Top 5's is going to be a crippling disappointment."

Oh dear. It all looked so promising heading into the winter break. McLaren were at one point, third in the WCC and looking like they were gonna enhance 2016 as their best season since switching off Mercedes power. Then Europe happened, and by mid-season, they were at the back.

Rumours of a damaged chassis harmed Stoffel Vandoorne's sophomore season, and for every bit of carrying Fernando Alonso had to do, there was another mechanical DNF, or a bit of bad luck, like Belgium.

What's more alarming is that this team is run like a mess. Now is the time for a global expansion into other series? Zak's no longer directly running the F1 team anymore, he dropped marketing fluff as justification to replace Stoffel for Lando Norris. Not a totally silly move, but one that reeked of desperation to cling onto a A+ prospect out of contract. And losing Fernando Alonso, whatever you think of him, is a blow for damn sure. Carlos Sainz is solid, but maybe not the top-tier future juggernaut we all thought he was… more on that in a bit.

From 40 points in the first 5 rounds, to just 3 finishes in the points out of the final 10 races. And that was with one of the undisputed greats in one seat. This could be the Williams story of 2019 going forward. When your own boss admits your car is worse than last years, alarm bells should be ringing. 4/10

Fernando Alonso (11th Overall, 50 Points, DOTD x2 – Australia and Abu Dhabi) – To be fair to Nando, 11th overall and a half-century of points in a car that trended down rapidly as the year went on isn't half bad. And beating your teammate 21-0 in qualifying is a heck of a coup, even if it's a little inflated. He did the very best he could with limited machinery and often papered over the cracks. It wasn't the happy ending many an F1 fan were hoping for, but he stood out in a crappy car and had another great season. He'll be missed. 8/10

Stoffel Vandoorne (16th Overall, 12 Points) – It's hard to really score Stoffel. Yes, he was outclassed by Fernando Alonso on paper, but as the latter himself pointed out, he was actually a lot closer than a lot of the numbers made out. He also had a damaged chassis that Alonso had to point out at Hockenheim. And bottom line is… he's Fernando. One of the 12 best ever or so. He was always going to be up against it. This would be a similar test to what Charles Leclerc may very well end up facing this upcoming 2019. It's a shame his seat was virtually collateral for Lando, because I think he deserved a team that was a better fit for his talent. Hopefully HWA in Formula E will take good care of… *checks results* … Oh. 5/10

Haas F1 Team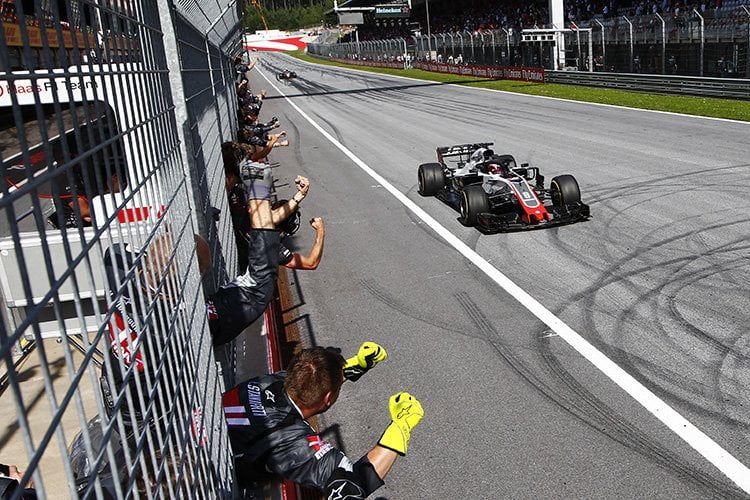 Constructor's Position – 5th (93 Points)
Best Finish – 4th (Romain Grosjean, Austria)
Biggest Strength: Big gains, K-Mag's development
Biggest Weakness: Bush league behaviour at times
Fun Fact: Career High points for both the team and Kevin Magnussen this season, Grosjean had 16 Q3 appearances this year, most of anyone outside the Top 6.

What Dre said last year: "It's not a good sign when team boss Gene is already talking about potential exit plans if they don't get better in 5 years, and it's hard to see where they do, with more factory teams on the rise. McLaren will probably be better next year… then what? Praying that Honda screws up Toro Rosso? Gene has the budget and two solid drivers, but he appears to still be half a step behind where they should be, a natural teething problem with any new team."

A very interesting year for America's Team. Now, I have to commend them first off. For a new team in just its 3rd year, to crack the Top 5 is an incredible achievement and something we'd probably appalaud more if this team was like the the majority of the grid – And be British. However, some silly mistakes often held them back from their true potential and a shot at 4th.

22 potentially lost points in Australia with TWO pit-stop errors. Grosjean spinning under a Safety Car in Baku, and of course, two silly disqualifications at Monza and COTA, that cost them points finishes.

Haas took the massive step forward I was hoping they would make, and if both drivers are firing at full cylinders next year, Renault should be the target. Burn the exit plan, America's Team is hopefully, here to stay. 8/10
Romain Grosjean (14th Overall, 37 Points) – A tale of two Grosjean's. At times, he was 2013 Grosjean, like that brilliant 4th in Austria, and the charge to 6th at Hockenheim. At other times, we had 2012 Grosjean, like Baku, and Silverstone where he took out Carlos Sainz. Still has excellent one-lap speed (Won the Quali fight with K-Mag 11-8), but a bit of a dodgy year for the Frenchman. He'll be under pressure again next year due to his teammates… breakout season. 6/10

Kevin Magnussen (9th Overall, 56 Points) – Let 2018 be known as the year that K-Mag finally put it altogether. Now, he still has some a-hole tendencies on track, like we got with Gasly at Baku and Leclerc in Japan and Catalunya FP1, but he was just solid across the board. Multiple Top 5's, 11 out of 21 races in the points and he became the solid overall team leader that Haas needed this year while Grosjean failed to score till Austria. 2018, proof that K-Mag belongs. 8/10

Renault Sport Formula One Team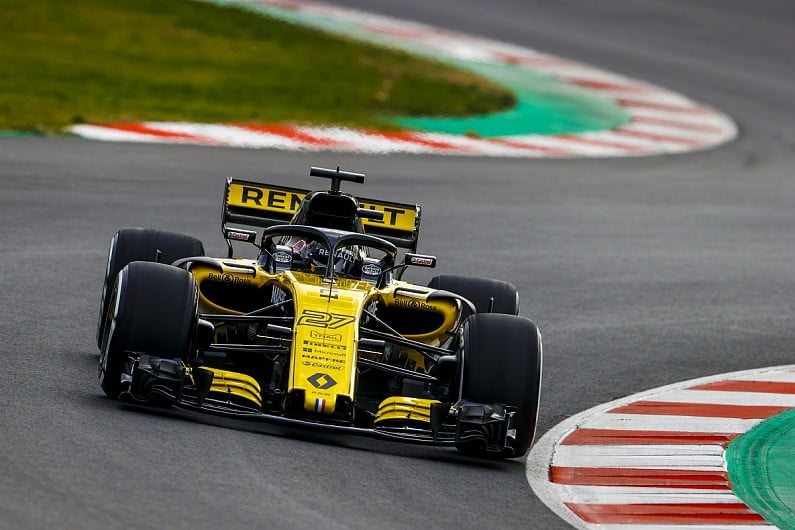 Constructors Finish – 4th (122 Points)
Best Finish – 5th (1 each, Hulkenberg in Germany, Sainz in Baku)
Biggest Strength – Ticking every box
Biggest Weakness – Lacking X-Factor till now?
Fun Fact: Most points for Renault since 2010, most for any Enstone entity since 2013, Carlos Sainz had 13 points finishes, the most of anyone outside the Top 6.

What Dre said last year: "They were comfortable running in the Top 6 on several occasions and if not for some patchy reliability in the latter part of the year, they could have had a pair of 4th places in the attrition heavy Singapore and Mexico rounds. They have the budgets, and now, they have one of the strongest driver line-ups in F1, one that many a factory could envy. The goodwill isn't going to be this strong in 2018."

Renault continue to tick all the boxes as their F1 resurgence enters year three. 8 points, to 57 last season, to 122 in 2018. They upgraded Jolyon Palmer for Carlos Sainz, who was the reliable second scorer they needed, and took Force India's mantle as best of the rest. Even had the 1.5 Champ in Nico Hulkenberg too.

However, that back of the head feeling says to me, that this was kind of expected from a Factory team desperate to expand and return to their Mid-2000's glory. None of their season was really surprising, or spectacular, like Perez's Baku podium. They got it done. I wonder if they can make gains on a VERY tough Top 6 though… taking one of their drivers sure as hell helps. 7/10

Nico Hulkenberg (7th Overall, 69 Points, Formula 1.5 Champion) – Arguably Hulk's best season yet, and winning that 1.5 "title" against a really stacked field IS impressive. And I said last year that Carlos Sainz was going to be a great barometer for where Hulk is and he came out convincingly on top; 13-8 in Quali and 7-4 in races they both finished. Hulk derailed a bigtime hype train. He was still a little sloppy at times, like in Baku, but Hulk absolutely can lead a team. I actually can't wait to see how he stacks up against Daniel Ricciardo next year. 8/10

Carlos Sainz Jr. (10th Overall, 53 Points) – Oh Carlos. He got a pass for the Toro Rosso toxicity when Max Verstappen was there, but this was a head-to-head he probably didn't want to lose. He was still solid for his first season with the team in a vacumn and an important contributor, but he has to be starting to get the upper hand in these matchups. Especially now at McLaren with a super-hyped prospect alongside. Solid, but unspectacular. 7/10

Check back soon for Part 3. Sorry Part 2 took so long, I overslept. Honest.