There wasn't a rhyme or reason for Motorsport 101 to contribute a shoddily-written preview of the DPi class field for this year's Rolex 24 Hours at Daytona International Speedway, but nevertheless, we're doing another one for the other all-Pro, manufacturer-backed class.
Grand Touring Endurance. GTE. The former GT2 class. But here it's called GTLM. And even before the formation of what IMSA is now, this was the must-watch class for those who wanted close racing with high-quality driving talent. And hey! It still is today!
There's only 9 cars in the GTLM class this year, but, good fortune and Balance of Performance willing, there's 9 potential class winners representing five different manufacturers. Let's take a look at all of them!
---
CORVETTE RACING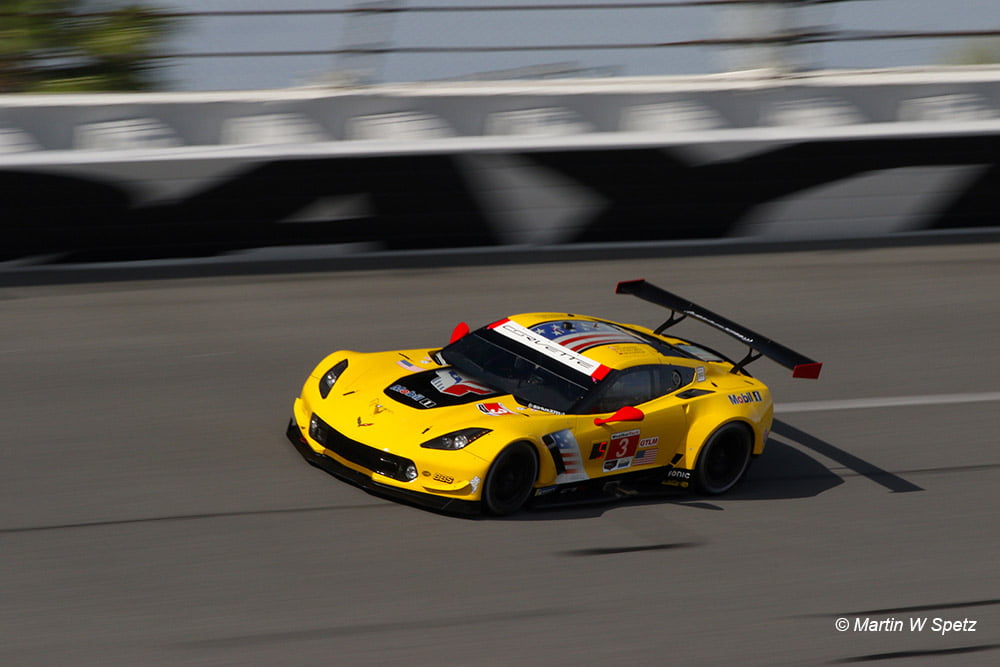 Antonio Garcia, Jan Magnussen, Mike Rockenfeller
For co-host emeritus Adam Johnson, this is your squad. Corvette Racing are a living endurance racing dynasty, one that has 20 years of history in their current guise. Even when they don't have the newest or the fastest car in the pack, their race experience pulls them through to the top.
This is the 6th and final year of factory racing service for the LT-engined C7.R. This number 3 of Garcia, Magnussen, and Rockenfeller didn't win a race all last year. But it won the IMSA GTLM Championship last year because of a string of 7 straight podiums, 8 out of the 11 races in total.
Garcia and Magnussen are celebrating their 10th anniversary as a driver pairing at Corvette Racing. They're the reigning back-to-back GTLM champs. They've won Le Mans together twice, Sebring three times, and Daytona in 2015. This is GTLM's Jordan & Scottie, with the rings and the race experience to back that up.
Rockenfeller just adds even more big-race experience to a team already brimming with it – an overall winner at Le Mans with Audi, an overall winner at Daytona in the old DP era, a DTM champion, and he's won Sebring with the team of "Nando's old karting mate" and "Kevin's dad".
Oh, yeah, and they were the fastest GTLM team in pre-season testing at the Jawn Before The Marathon Roar Before The 24.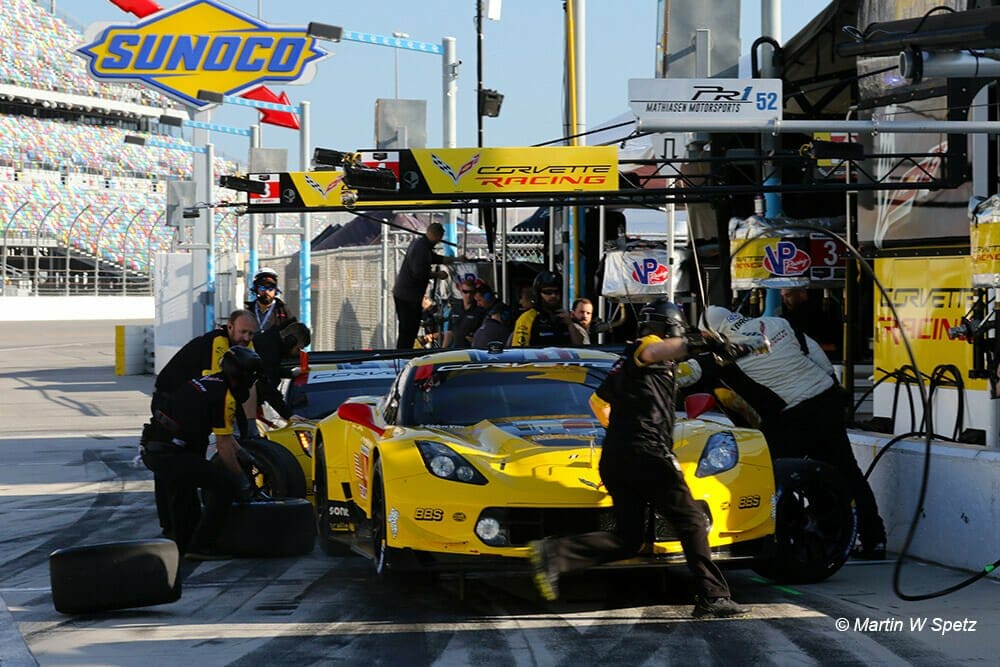 Oliver Gavin, Tommy Milner, Marcel Fässler
What's better to aficionados of traditional big-engined American muscle cars than one loud, booming, V8-powered Corvette race car? TWO loud, booming, V8-powered Corvette race cars! This is the one that won the class in a Corvette Racing 1-2 finish in 2016.
Tommy Milner is GM and Corvette Racing's American ace, a two-time class winner at Le Mans, and Oliver Gavin, who's been with this team since 2002 and won his class at Le Mans five times, might as well be an American citizen just from his exploits as a Corvette driver alone. They scored Corvette's only 2018 victory at Long Beach, but scored four podiums total and, like the 3 car, saw the chequered flag every single race. They won the season title in 2016
Already flush with a preposterously stupid wealth of endurance racing success and experience, Corvette Racing just cannot leave well enough alone and brought back Marcel Fässler, who formed one-third of endurance racing's greatest trio of the decade with Lotterer and Treluyer at Audi, winning Le Mans outright three out of four years from 2011 to 2014.
Six awesome drivers, four of which have combined for 13 titles and 113 race wins with Corvette alone. Two bright, extremely loud, golden yellow American missiles that have attracted fans the world over for two decades. This is every bit the dynasty of Audi in the 2000s, but the key difference? They're still doing this, winning trophies, and doing it damn well.
---
FORD CHIP GANASSI RACING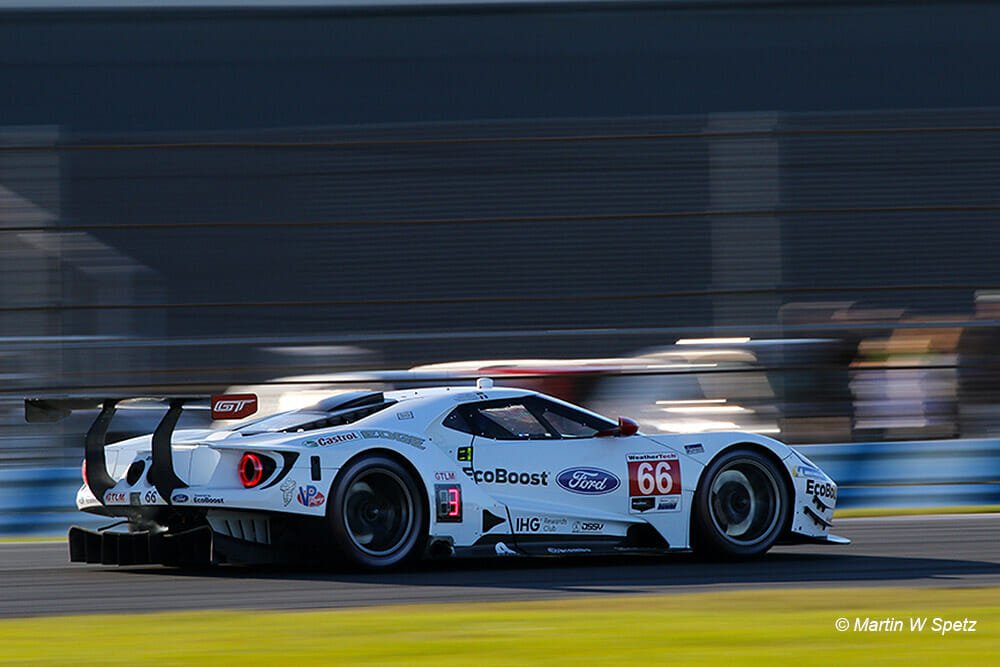 Joey Hand, Dirk Müller, Sebastien Bourdais
Who likes winners? Chip likes winners! He also likes winning this Rolex 24 at Daytona. His team won this race outright five times in the old Daytona Prototype era, as recently as 2015. And in the last two years, he's added two more GTLM class victories to an already staggering run of modern-day Rolex 24 success.
This is the car and crew that won the class in 2017, the car and crew that won Le Mans in 2016, and even though the Ford GT programme is really, really new, the drivers involved are really, really experienced.
Sacramento, California's Joey Hand has been a mainstay of series that IMSA can trace their lineage back to for over 15 years, an overall winner in 2011. Dirk Müller brings with him a 20+ year CV in sports car racing alone, enjoying his first success at the Rolex 24 way back in 1998 in a Porsche 911 GT1!
And, well, regular M101 listeners don't need a primer on Bourdais, the only man to win four straight American open-wheel titles, an overall winner at Daytona and Sebring, the most underrated all-time legend that American racing fans have been lucky enough to watch in the last 15+ years – and with another victory, Bourdais can add even more to his incredible legacy.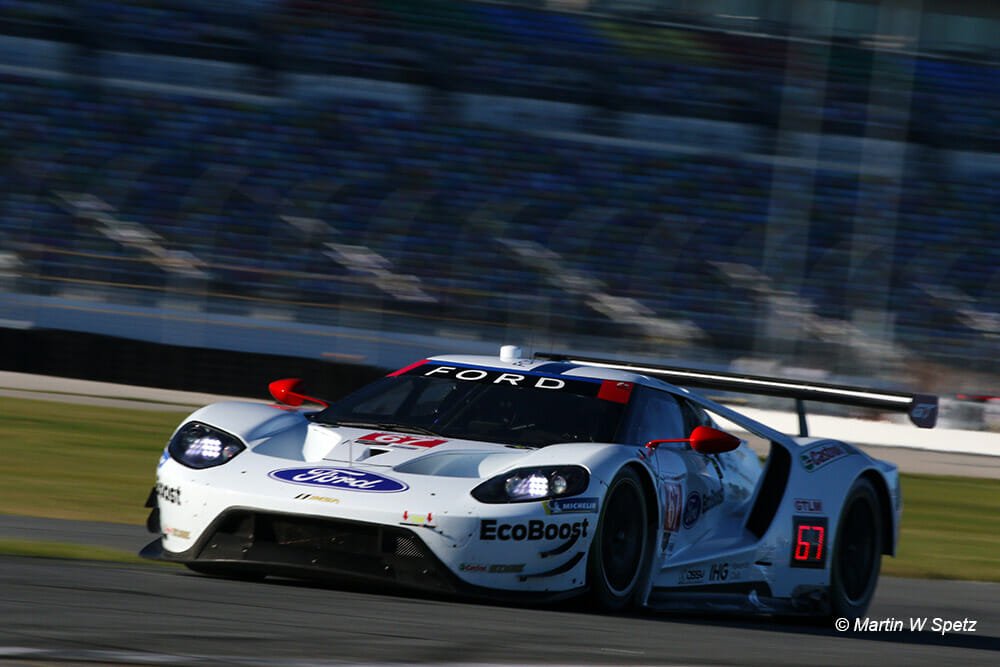 Richard Westbrook, Ryan Briscoe, Scott Dixon
This is the Ford that won the GTLM class last year, of course, and if not for back-to-back DNFs towards the end of the 2018 season, the team that maybe should have won the class championship – they did lead GTLM with three victories. And they still have all three drivers from the winning efforts.
There's the one name you surely know by now, and the one you might know, but if you're not an endurance racing junkie, Richard Westbrook, a known long-run maven with the gentlest right foot in GT racing, is the name you don't. The Essaxon helped give Ford their first major victory at Laguna Seca in 2016.
Briscoe, you might know, as a former Indy 500 pole sitter and multiple IndyCar Series race winner (last seen as James Hinchcliffe's super-sub), but in his new life as a Ford GT racing ace, has already enjoyed landmark success. And he's the only man that's won this race for both Ford, and for Corvette (2015).
Scott Dixon needs no introduction as the reigning five-time IndyCar Series champion, but I felt it important to remind you that Scott is here too, because Chip Ganassi is ruthless in pursuit of victory and Scott is very good at endurance racing – hell, he's already the master of the economy run in IndyCar, and at 38 years old, he still has another 5 years or more left of his prime.
CGR have the track record at Daytona and the personnel to take a hat trick of Daytona wins. They don't care if you like them. They're here to cash the cheque and put another trophy in the case.
---
BMW TEAM RLL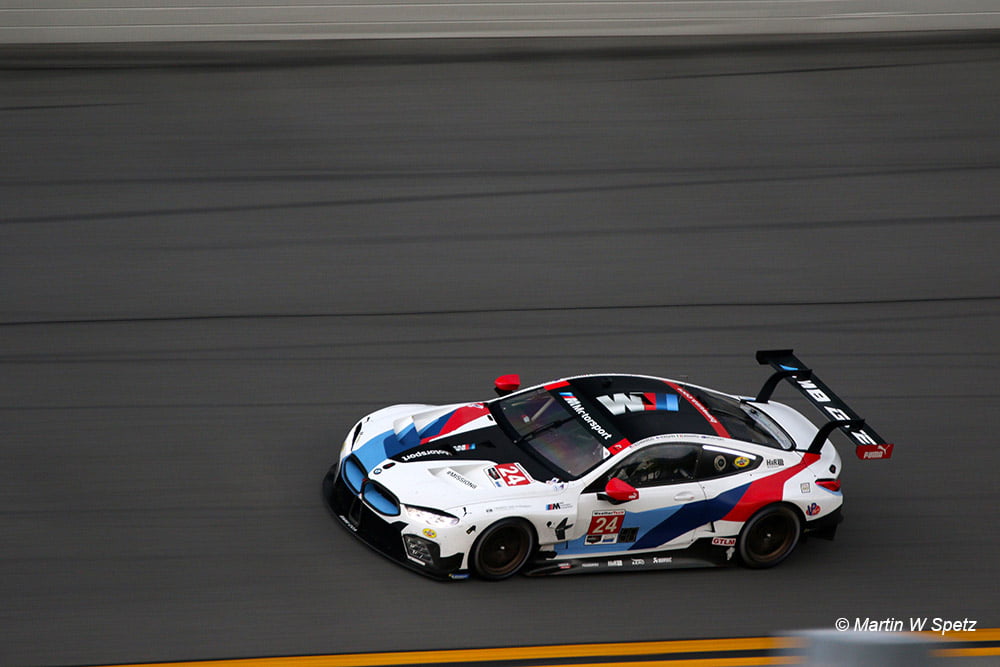 John Edwards, Jesse Krohn, Chaz Mostert, Alex Zanardi
Finally, we made it to the first of the BIG M8s. The biggest, largest, fuel-burningest boys in the Daytona garages. Their first Daytona running didn't go too well, but after a few wins on the IMSA circuit towards the end of the year, their shadow, just as everything else on the car does, looms large. And most likely you're here for this car because of one dude who's in it.
How could you not be happy to see Alex Zanardi on a race track in a big race? Even if he is 52, even if he is still trying to match the pace of his peers – it's four-time Paralympic Gold Medalist Alessandro Freakin' Zanardi. Not just a racing legend. A sports legend. A great guy. A driver respected by all of his peers and even by people who don't know anything about racing could find joy in Zanardi's life journey.
And the team around him ain't bad either: John Edwards, the third-most notorious John from the city of Louisville after Schnatter and Bois, has been with BMW's GT programme for a while. Jesse Krohn is a rising star in BMW, together they picked up a couple podiums in 2018.
And Chaz Mostert is there, winner of the greatest Bathurst 1000 ever, who along with his Supercars successes has also won for BMW in GT racing. Edwards, Krohn, Mostert – all of them are under 30, all of them are pretty dang quick.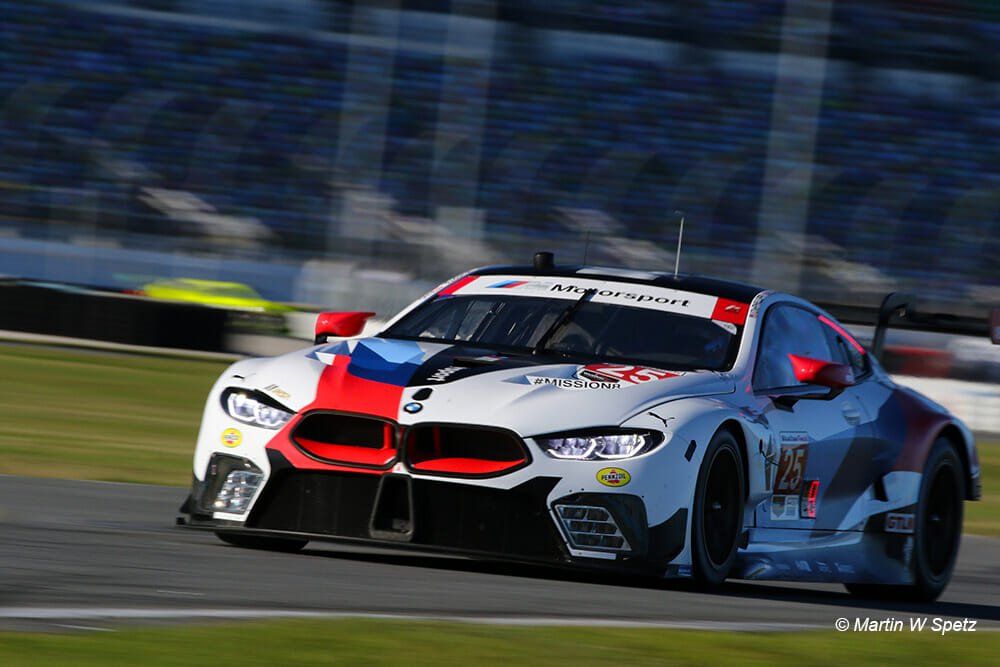 Connor de Philippi, Tom Blomqvist, Philipp Eng, Colton Herta
BIG M8 is a friend and a hero to the world. This BIG M8 won twice, at Virginia International Raceway and Laguna Seca – the first two wins for BIG M8.
American Connor de Philippi was a slam dunk hire in 2018 when he led a miraculous wet-weather comeback to win the Nürburgring 24 Hours for Audi. He's probably the best young American in GT racing. And now he has a new co-driver: Second-generation racer Tom Blomqvist, who's won in Formula 3 and DTM, and swaps places with Alexander Sims as Sims attacks Formula E for BMW.
From the DTM, Philipp Eng comes in with prior success in Porsche Carrera Cup cars, and there's a lot of excitement around the major sports car racing debut of 18-year-old IndyCar future star Colton Herta, the reigning Freedom 100 winner and, if developed correctly, a future Indy 500 winner.
Like last year, the BIG M8s don't look too terribly fast going into Daytona, but BoP is still to be adjusted, and there's a year of data into the car that didn't exist this time last year. Our Large Adult Automobiles will be a fan favourite in any case – the only BMW that I wouldn't mind cutting me off in traffic without using their turn signal.
---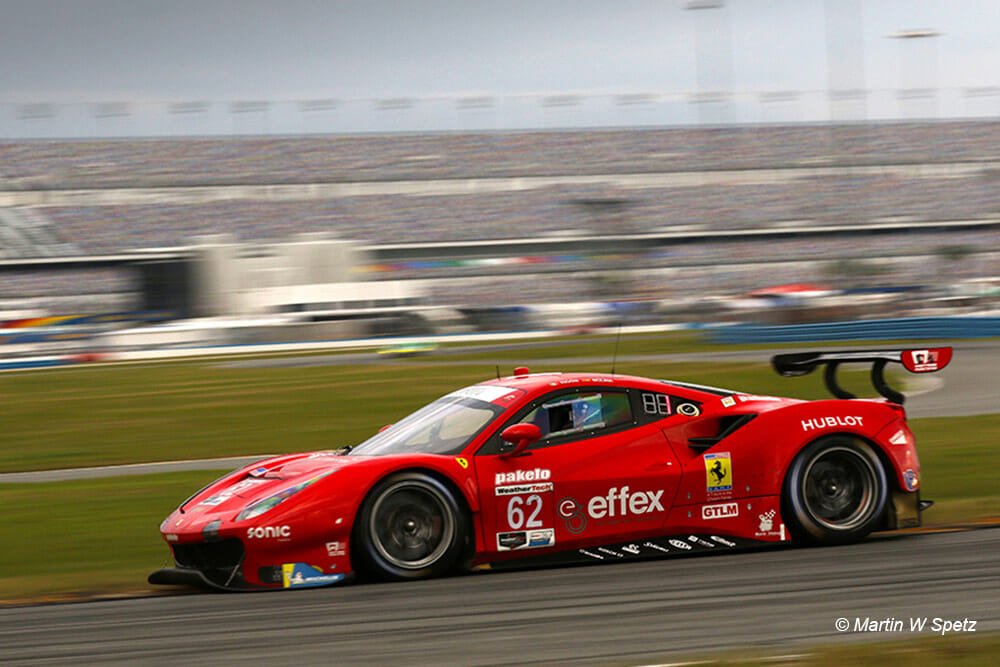 RISI COMPETIZIONE
Against full-factory efforts from GM, Ford, Porsche, and BMW, in strolls a lone Ferrari from Houston, Texas. Granted, Risi Competizione might be the closest thing to a recreation of the old North America Racing Team of Ferrari racing past, with years of winning pedigree to their name, peaking during the late 2000s in the American Le Mans Series of yesteryear.
Budgetary concerns mean they'll do this race, they'll do Sebring, and that'll be all for now. That's kind of a shame, because their Ferrari 488 GTE looks cool, and a full year of the drivers they've brought in would be great for IMSA's GTLM class.
For starters, their lineup is anchored by the reigning World Endurance GT Drivers' Champions, James Calado of Great Britain, and Alessandro Pier Guidi of Italy – the latter of whom has a class win at Daytona to his name already.
Davide Rigon is a longtime Ferrari man who's found his niche in sports cars for customer teams running the Prancing Horse, and Miguel Molina has arguably enjoyed more success in two years of GT cars than he did in more years than two in DTM with Audi. Ferrari have brought all their hired guns into this #62 Ferrari for Daytona, aiming to finally land Giuseppe Risi his first victory.
---
PORSCHE GT TEAM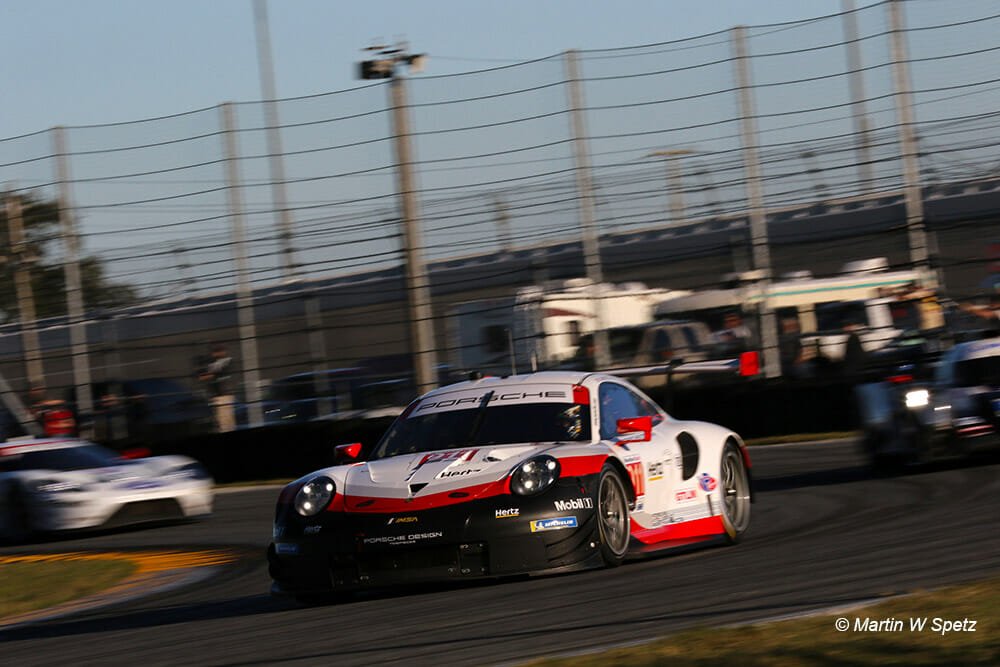 Patrick Pilet, Nick Tandy, Frédéric Makowiecki
The reigning Radio Show Ltd. co-drivers of the year for a reason: Pilet, Tandy, and Makowiecki took big-ticket race wins in 2018 – Nürburgring, Sebring, and Petit Le Mans. Half the IMSA Grand Slam and the biggest pro-am production car endurance race in the world.
We've made it to the Cam "The Picture" Buckley section of our field guide, with the shoutiest flat-six Porsche 911 RSRs looking decent going out of Porsche's awesome 70th anniversary year which also included a Le Mans win.
Tandy might be the biggest name commodity of the trio, his breakthrough year coming in 2015 when he won the 24 Hours of Le Mans on his premier class debut for Porsche. Speaking of drivers who are masters of economy runs, it's said he sweats fuel, which is highly dangerous, for everyone else in the field
The Mako Shark, finally back on his stride after a few lean years, might parlay this Porsche endurance specialist role into a return to the waters of Super GT with Nissan, and Pilet is a former IMSA GTLM Drivers' Champion, and co-authored a miracle overall win with Tandy in the 2015 Petit Le Mans – otherwise known as the greatest advertisement for Michelin rain tyres.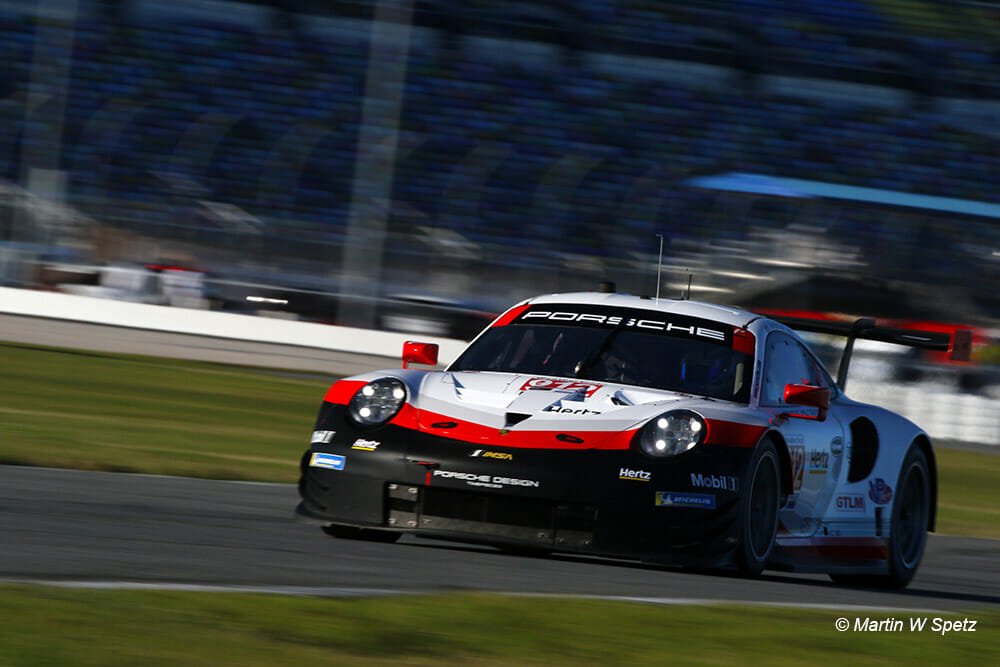 Earl Bamber, Laurens Vanthoor, Mathieu Jaminet
Earl Bamber and Laurens Vanthoor as a full-season driver duo is a cheat code. Bamber has won Le Mans overall twice and won the 2017 World Endurance Drivers' Championship in the farewell season for the Porsche 919 Hybrid in LMP1. He's "settled" for being one of Porsche's aces in one of the most competitive sports car racing categories on the planet.
Vanthoor enters as the reigning GTE Pro champion of the 24 Hours of Le Mans. He might have hated the new runoff at Le Mans, but he sure loved taking his first win at the Grand Prix d'Endurance and solidifying his place as the best GT driver under 30 for the last five or so years. Bamber and Vanthoor won last year at Mid-Ohio.
The third man is young Mathieu Jaminet. At 24 years old, Jaminet is a rapid-rising star who's been mighty quick in Supercup and mighty quick in GT cars for Porsche. A win at Daytona would be a career-making breakthrough for the Frenchman.
Rain or shine, old car or new, there's no debating Porsche's racing pedigree, and after the year they had in 2018 after winning Le Mans, Nürburgring, Sebring, Road America – why would they want to stop winning big races in 2019, starting with winning the one marquee race they didn't win last year?
Don't bother calling a winner in GTLM just yet, unless the winner is everyone following this class – that's even money.