Oh hey y'all. We should talk about the Rolex 24 Hours at Daytona on 26-27 January. We have a lot of interest from the listeners of Motorsport 101 to get more in-depth into this crown jewel in endurance racing, in the series that probably has the most upward momentum of any major sports car racing championship in the West.
If you're only going to follow one IMSA race this year, please let it be this one. The Daytona Prototype International (DPi) class is bigger and faster and stronger, too, in 2019, and there's plenty of new members of the DPi crew this year. It is now its own category separate from LMP2, the category that supplies the base chassis for what eventually gets made into DPi cars.
There's 11 DPis that showed up and like, half of them could be considered super teams, and at least one is a super-duper-team. 1 Nissan. 2 Mazdas. 2 Acuras. And 1,2,3,4,5,6 – SIX Cadillacs. There's seven former F1 drivers. There's eleven current and former IndyCar drivers. There's four overall Le Mans 24 Hours winning drivers….and one Rodney Sandstorm.
This is your guide to all eleven of those cars, and the drivers inside of them.
---
WHELEN ENGINEERING RACING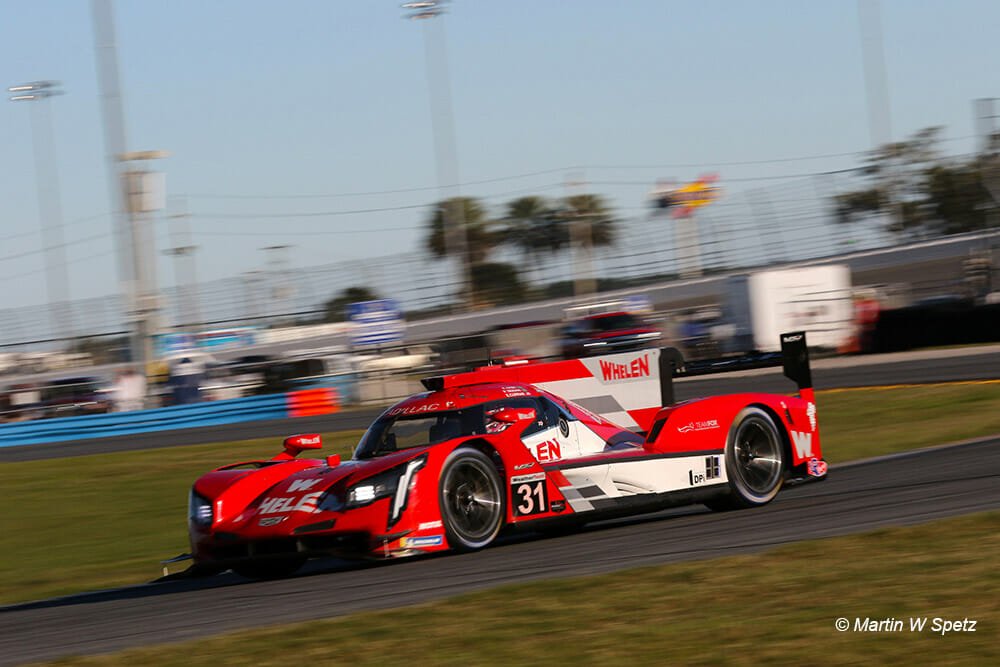 Felipe Nasr, Luis Felipe Derani, Eric Curran
This is one half of North Carolina-based Action Express Racing. This was the car that won the 2018 Prototype Class title, with undervalued two-year F1 veteran Felipe Nasr proving a great acquisition as he and AXR mainstay Eric Curran won once, scored five podiums, and finished every race. This was already a really good car.
And then they unleashed the Pipo. Luis Felipe Derani comes over from the shuttered Extreme Speed Motorsports (F is pressed for maximum respect and Tequila Patrón), a proven top talent in prototype racing, the winner of this race in 2016. Nasr and Derani are the best Brazilian striker combination since Ronaldo and Romario (or Ronaldo and Ronaldiñho, or Neymar and Neymar with a beard).
Just think about what Derani was able to do with a Nissan Onroak DPi that was behind the development curve of the Cadillac DPi V-Rs…then put that talent with the team that's won two of the last three premier class titles in IMSA, and with Nasr, who demonstrated that he probably deserved better in F1 after two mostly luckless years with Sauber at their lowest point.
Sarasota, Florida's Eric Curran is stepping back to endurance races only in 2019, and in his 12th Rolex 24, he wants to win it for the first time.
---
MUSTANG SAMPLING ENGINEERING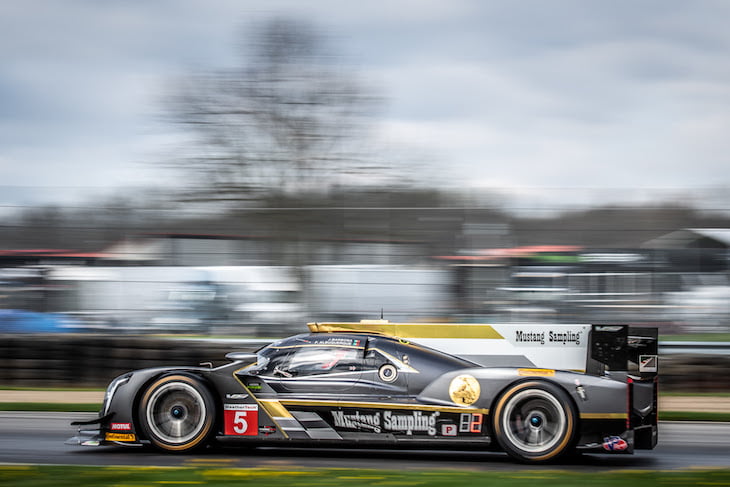 João Barbosa, Filipe Albuquerque, Christian Fittipaldi, Mike Conway
This is the other half of the AXR operation, the team that won last year's Rolex 24 Hours with a record 808 laps completed, a new distance record that should fall by the wayside again in 2019. Only the sister Whelen Engineering car was even in their ballpark for most of the race.
The Lusophone Connection of Barbosa, Albuquerque, and Fittipaldi remains intact for the 2019 defense of their victory, but this will mark Christian Fittipaldi's very last professional race after a 31-year automobile racing career that's wound through F1, IndyCar, NASCAR, and most recently IMSA, where he's won the Rolex 24 twice overall.
IMSA veteran Barbosa's won this event three times, and defending co-champion Albuquerque is one of the highest-rated prototype drivers around, twice a winner in IMSA and the European Le Mans Series in 2018.
Just to sweeten the pot, they added Mike Conway, who's won the last two WEC races at Fuji and Shanghai with Toyota, a prolific road-course mercenary in IndyCar through 2014, and already a known commodity at AXR having driven the last two races with the Whelen Engineering crew. They didn't need to drop Conweezy into the winning car to keep themselves in as one of the favourites, but it's awesome that they did.
---
ACURA TEAM PENSKE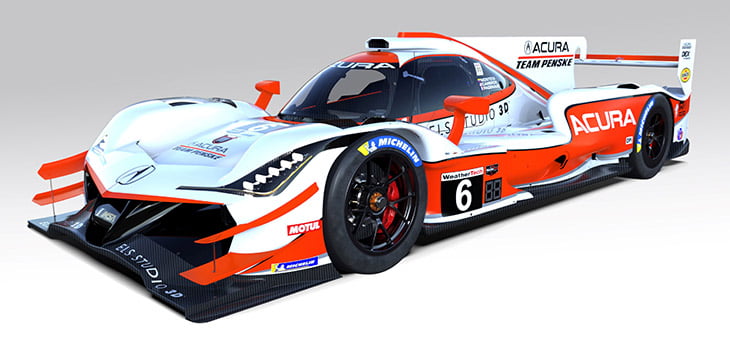 Dane Cameron, Juan Pablo Montoya, Simon Pagenaud
Team Penske is our favorite motorsport monolith, and while we usually love to root against the goliaths of the sporting world sometimes, Penske just makes it very hard to hate them. Their drivers are good, they're compelling personalities, and the Penske Games video series is instant social media gold every single episode.
This is the first of the two Acura ARX-05s done up in throwback liveries to commemorate the last Acura dynasty in IMSA, the Comptech Racing team of the early '90s. The #6 "only" took four podiums last season, which most teams would consider a very successful year, but not if you're Roger Penske. Glen Ellen, California's Dane Cameron is the name you don't know, but he's a former IMSA premier class champion with AXR and he's hungry for his first Daytona win.
You might know the other full-time #6 Acura driver…Juan Pablo Montoya, two-time Indy 500 winner, rookie CART World Series champion, Monaco Grand Prix winner, NASCAR mainstay in between his F1 run and his 2nd IndyCar run, and a driver with something to prove at age 44 in the twilight of his amazing career. JPM's won this race twice in the old Daytona Prototype era with Ganassi.
For this and the other endurance races, Penske recruited their French friend Pagenaud – who won a title in IMSA's forerunner, the American Le Mans Series, in addition to his 2016 IndyCar Series championship title.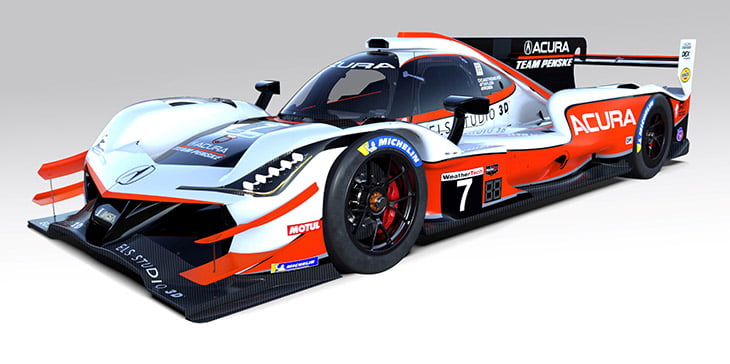 Hélio Castroneves, Ricky Taylor, Alexander Rossi
The other Acura ARX-05 "only" won the one race at Mid-Ohio last year and you'd have to feel like more wins are coming for Acura Team Penske, because they are your favorite motorsport juggernaut, especially with this lineup in the lucky number seven.
Contrary to popular belief, Hélio Castroneves is not retired, in fact, he's still kicking ass well into his mid-40s, he's one of the greatest Indy 500 champions, and it's said his hair is still looking alright.
But the young man who's been moving the needle in IMSA Prototype competition is Ricky Taylor – he may not be as fun on social media as his older brother Jordan, but he is a really, really damn quick driver, evidence proven in his breakout season of 2017, when the Super Taylor Bros. won five in a row and the series title.
Wait, did they really add IndyCar's new anti-hero Alexander Rossi too? The man coming off a breakout IndyCar campaign, 2nd in the championship, a former Indy 500 winner in his rookie year? And a driver with endurance racing experience at Daytona and Le Mans before? Holy shit this is awesome! Roger Penske is ruthless in his pursuit of victory, and you would thank him for wiping the floor with your favorite other team.
---
WAYNE TAYLOR RACING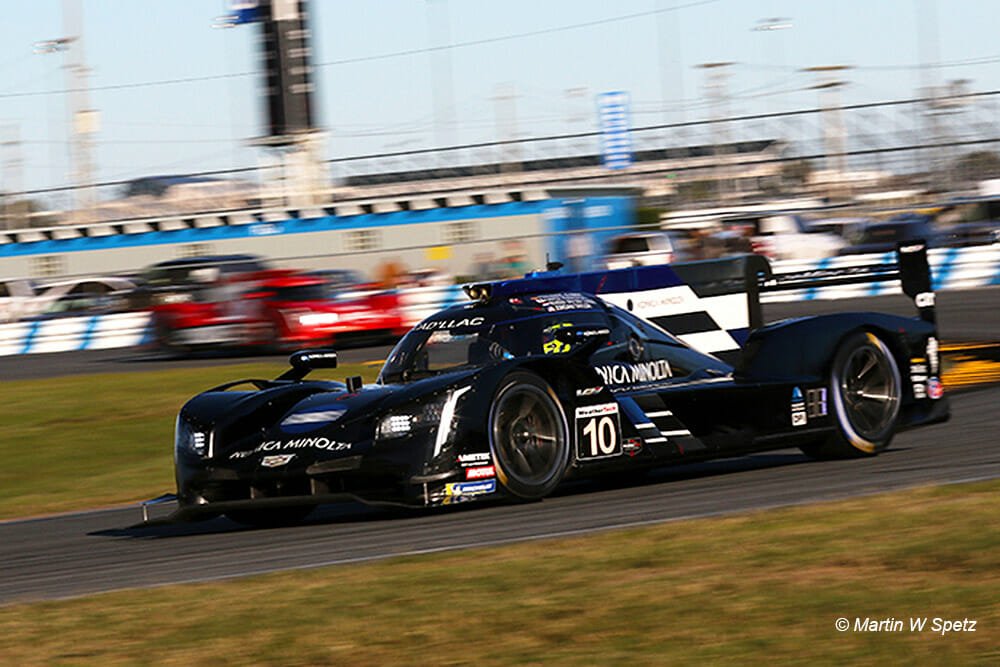 Jordan Taylor, Renger van der Zande, Fernando Alonso, Kamui Kobayashi
This is why you're here. The 2017 Rolex 24 and IMSA Prototype championship winning team. The winners of the most recent IMSA race, the Petit Le Mans at Road Atlanta, on a last-lap pass for the win.
If this team just showed up with Jordan Taylor and Renger van der Zande, they would be one of the odds-on favorites on paper. If they "only" came here with Taylor, a two-time IMSA premier class champion, a GTE Pro class winner at Le Mans, and easily one of the most engaging drivers in any form of motorsport.
If they "only" came with (to the tune of Give it Up by KC and the Sunshine Band) Renger van der Zande, van der Zande, Renger van der Zaaande…the master of the dramatic express mail overnight sends (see: The Pass II at Laguna Seca) and a top-tier prototype driver in IMSA. With just those two dudes, this team would absolutely wreck shit all race and all season.
Then they went and got a couple ringers for Daytona. F1 folk hero, winner of the last two WEC races, and Le Mans lap record holder Kamui Kobayashi is here from Toyota. And they also brought in the founder of a lifestyle clothing company named Fernando Alonso, who I'm assuming is coming in as a well-funded amateur driver.
Oh no, wait, there's the whole two-time F1 World Champion thing, reigning Le Mans 24 Hours winner, Indy 500 contender, global motorsport icon thing with Alonso too, not just the sweet, sweet Kimoa hats.
Yeah, this is probably the odds-on pick to win on paper if you just factor in the pure driving talent on board. They could dominate this race and win it by a seven-lap margin. They could also catch fire on the pace laps and not even start the race. Motorsport is fun!
---
JUNCOS RACING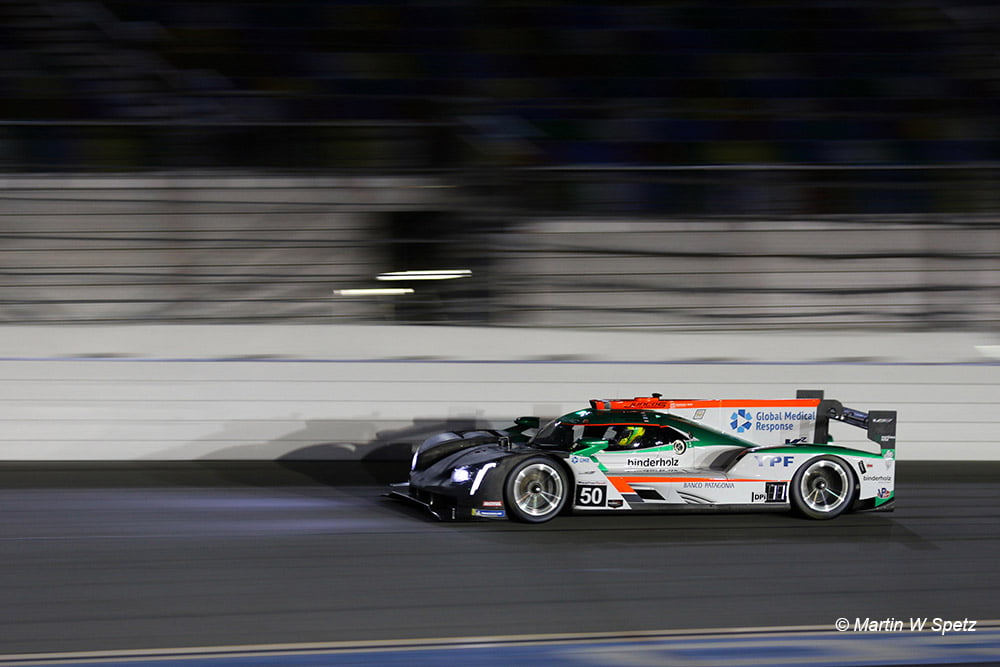 Will Owen, Rene Binder, Kyle Kaiser, Agustin Canapino
Ricardo Juncos started his team in 1997 with just $400 to his name. Then he went to gradually build a dynasty in the ranks of the Road To Indy, and now he has an IndyCar Series team and a DPi team in the IMSA WeatherTech Sports Car Championship. The Cadillac was a smart investment to get the programme off the ground.
For now, at least, Juncos Racing have just one full-time driver going into their first season in IMSA – but that's Will Owen, a known commodity at Juncos as a former USF2000 and Pro Mazda driver, who's been considered one of the best amateur prototype racers on the planet last year after success with United Autosport in the ELMS.
Kyle Kaiser is here as a former Indy Lights champion who also raced in the IndyCar Series with Juncos last year, including the Indy 500. Rene Binder also raced in IndyCar with Juncos and was a little less good than Kaiser, but this is new territory for both drivers, and they have the benefit of not having to do all the driving themselves
Agustin Canapino is the fun acquisition, as the reigning and three-time Turismo Carretera champion of Argentina, their equivalent of NASCAR Cup Series racing, making Canapino…the Argentine Joey Logano, perhaps? This team looks unassuming on paper, but with that car and Ricardo Juncos' determination, don't rule them out to pull a blinder at Daytona, which has a history of giving us a few upset winners, more than you can shake a GT2 class Porsche 911 beating a bunch of new and fragile Daytona Prototypes at.
---
CORE AUTOSPORT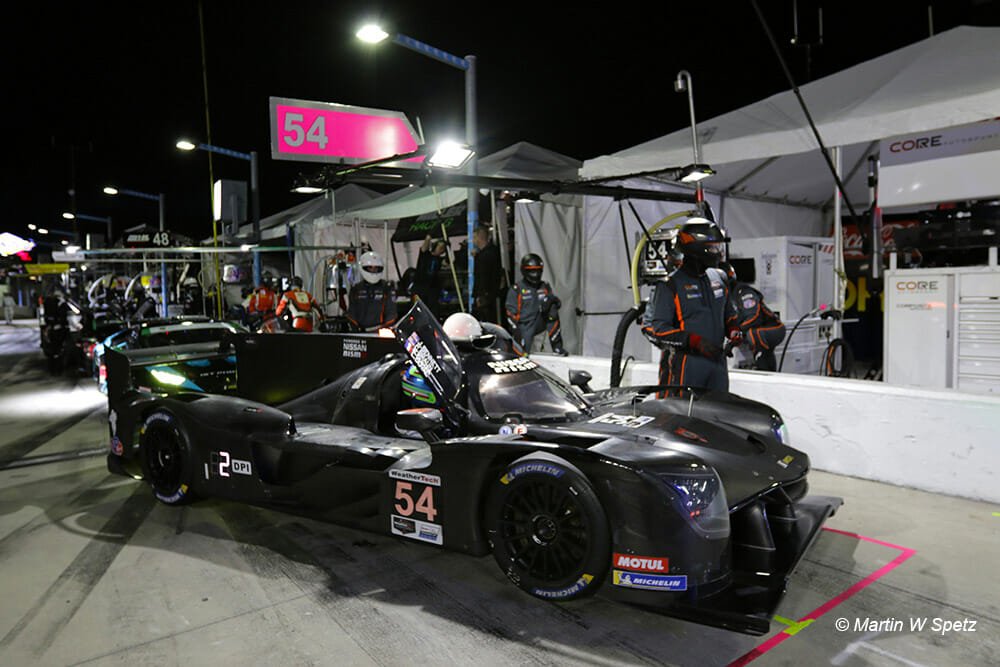 Jonathan Bennett, Colin Braun, Romain Dumas, Loïc Duval
When IMSA made the decision to split DPi from LMP2, it came as LMP2 runners CORE Autosport were in the midst of a season where they won two races and were putting the actual fear of God into the all-pro manufacturer DPi teams. It didn't seem fair that they'd then have to go into 2019 and just compete for sub-class prizes after they showed, actually, they're a genuinely good team outright.
So they decided they weren't going to just sit at the kid's table. A Nissan Ligier DPi became available to them and they secured a move back to the top class.
The regular pro-am duo of 53-year-old Kentucky-born businessman Bennett and once-upon-a-time NASCAR prospect turned prototype whiz from Texas Braun are back for the full season, and of course they brought the same backup with them that they had in last year's Daytona 24 Hours.
That'd be Romain Dumas, who's pretty much won every conceivable thing that has four wheels, engines, and scorekeeping – headlined by two Le Mans overall victories and a Pikes Peak Hill Climb record. And that would also be Loïc Duval, who like Dumas, is a product of the Unintentional Super GT Road To Le Mans, a race Duval won overall in 2013, a trophy he has stored next to his Super Formula title in 2009 and his Super GT title in 2010.
This is a very good organisation with a car that's gritted out some hard-fought wins the last two years – and you have to feel like more progress is on the way from the team that finished 3rd overall at Daytona last year.
---
MAZDA TEAM JOEST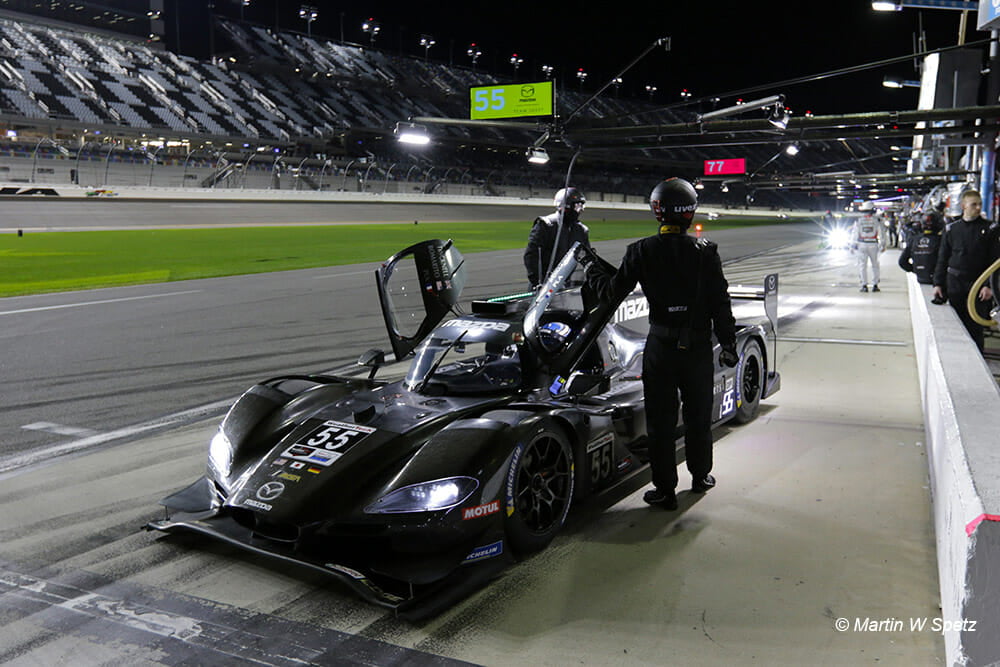 Jonathan Bomarito, Harry Tincknell, Olivier Pla
The story of Mazda's IMSA prototype adventures has been for years: Fun cars, fun driver lineups, no results. And a whole lot of SKYACTIV™. Then Team Joest, needing something to do with their time after Dieselgate led Audi to quit LMP1, took over the operation. There were struggles in 2018, but as the season went on, Mazda Team Joest looked more like a competitive programme and less like a novelty with SKYACTIV Technology™.
This is the first of their two cars, the car that scored a podium in the last race of 2018 at Road Atlanta, and maybe should have won at Laguna Seca.
The drivers from that team, Jonathan Bomarito and Harry Tincknell, are back this year. Bomarito helped SRT Motorsports win a GTLM title with the Viper before Chrysler decided to stop being fun, interesting, and appealing in any capacity. Tincknell is an LMP2 class winner at Le Mans, a multiple GTE class winner with Ford in the WEC, and a former Longboi Pilot and Survivor in 2015.
There's also another Ford GT driver on loan in prototype mainstay Olivier Pla, who took the win in the first-ever IMSA race I attended with Michael Shank Racing. This is already a really good car, and yet, they're being overshadowed from within their own camp.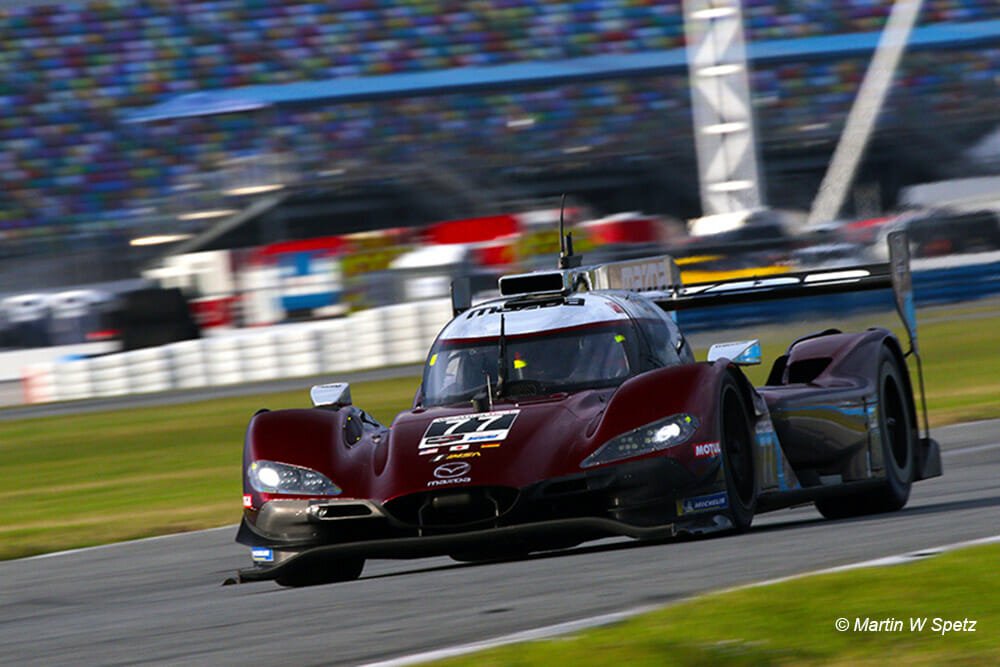 Oliver Jarvis, Tristan Nuñez, Timo Bernhard, René Rast
This is the Mazda everyone's talking about. The one that (unofficially) broke a track record that stood for 25 years in the pre-season tests. The one that has Leena Gade as chief engineer, architect behind the Lotterer-Treluyer-Fassler dynasty with Audi that is still the best trio since The Shield first showed up.
The one that already has Oliver Jarvis, a four-time Le Mans overall podium-getter, and his co-driver, 23-year-old Tristan Nuñez, who's been with Mazda since he was a teenager the lowest of their competitive lows, with SKYACTIV™ Technology. These two racked up two podiums last year, including a 2nd place at Petit Le Mans.
And then they went ahead and added René Rast, a DTM and Porsche Supercup champion who ended his 2018 season on a six-race winning streak, who's already won a Rolex 24 in the GT Daytona class, but now wants his first overall win.
And then they added Timo Bernhard, who has to his name: A record-tying five Nürburgring 24 Hour victories, two 24 Hours of Le Mans overall wins, two World Endurance Drivers' Championships, back-to-back ALMS LMP2 titles in the old Porsche RS Spyder of Team Penske, and a brand-spankin' new Nürburgring Nordschliefe lap record in the Porsche 919 Hybrid EVO.
Just in case anyone was wondering if Team Joest were serious about winning this race, a race that Mazda have never even finished as a prototype manufacturer, and socking their perennial IMSA bullies right in the damn jaw at Daytona. With, or without, the SKYACTIV™.
---
JDC-MILLER MOTORSPORTS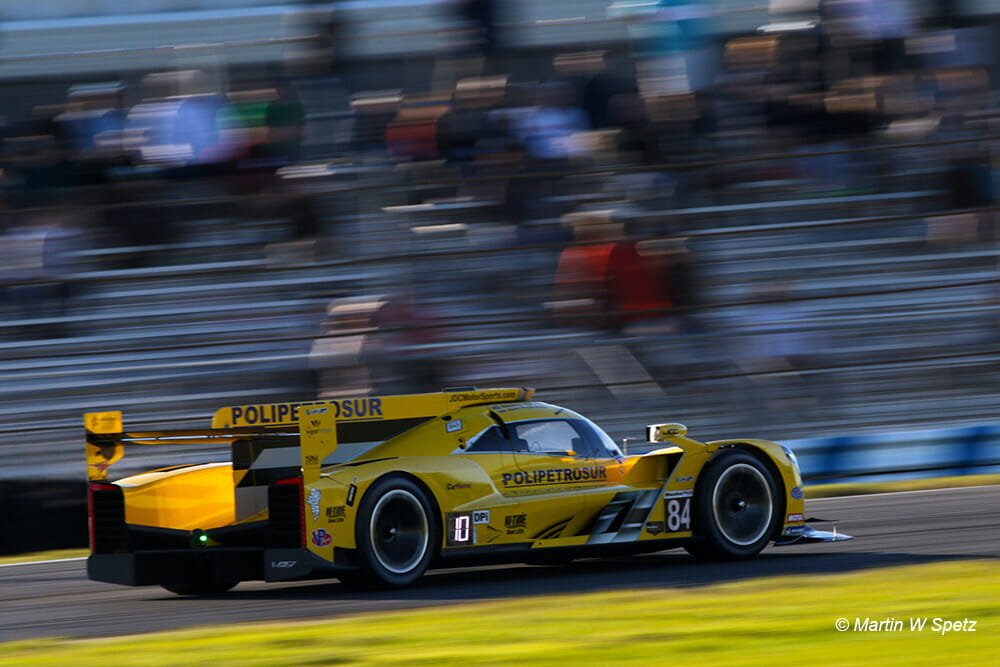 Stephen Simpson, Simon Trummer, Chris Miller, Juan Piedrahita
Minnesota-based JDC-Miller Motorsport might have to fill the void of "Team From Way The Fuck Away From All The Others That Does Awesome" that Furniture Row Racing left behind in NASCAR. They've done alright at that the last two years of the DPi/LMP2 era.
This is the former #99 "Red Dragon", now #84 "Banana Boat", and now a Cadillac DPi V-R instead of an Oreca 07. They have full-time driver Stephen Simpson, an amateur prototype driver who absolutely posterized Jordan Taylor and Juan Pablo Montoya at Watkins Glen. They have former F2 journeyman turned serviceable LMP2 runner Simon Trummer.
And for the endurance races, they have another open-wheel journeyman turning to sports cars, Juan Piedrahita, and the Miller behind the JDC-Miller, Chris Miller, who was part of that 6 Hours at the Glen victory with Simpson and another driver who's now in the other Cadillac.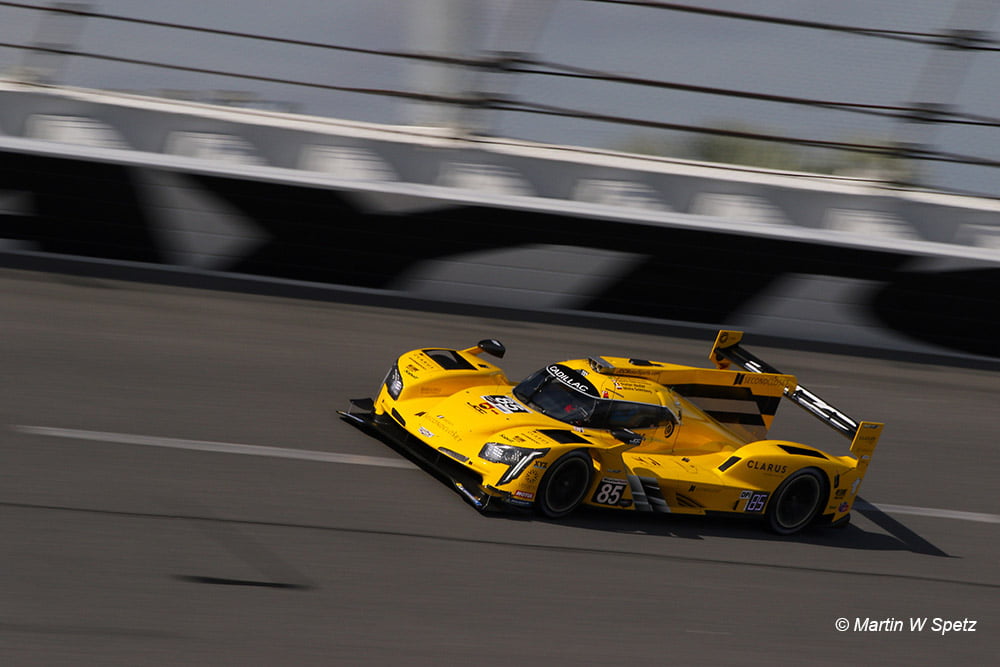 Misha Goikhberg, Tristan Vautier, Rubens Barrichello, Devlin DeFrancesco
There's that other Cadillac, the original "Banana Boat". And there's that other driver, Russian-born Canadian Misha Goikhberg, who's been one of the best amateur prototype runners in IMSA the last two years, improving each and every season.
And he's got three very good co-drivers to race with in the OGBB. First, JDC-Miller pulled a blinder by getting former Indy Lights champ and reigning Intercontinental GT Challenge champ Tristan Vautier to come over full-time. When he's dialed in, Vautier might be, pound-for-pound, the fastest man in IMSA's top class. The man nearly won his last IndyCar race to date at Texas Motor Speedway in 2017 before he got caught in a wreck!
For Daytona, they got 18-year-old Devlin DeFrancesco, an extremely undervalued Canadian single-seater prospect who might have pulled a trick in landing with this very competitive team, and also, they got F1's all-time iron man, Rubens Barrichello, who even as he approaches 50 isn't content to just coast into retirement age and take it easy. Not when he finished 2nd in this race three years ago.
JDC-Miller Motorsports seemingly have an island of misfit toys, but those toys have been building bombs that could obliterate the big hitters of the IMSA field.