Dre debates himself on Max Verstappen's past, present, and future…
Dre 1: Ah, shit. I knew this day would come?

Dre 2: Ah yes, the Max Verstappen long-form episode. How many people wearing orange right now are primed on Dre's social media ready to strike?

Dre 1: Let's see… going by impression count, and there is some margin of error here – About 16 million.

Dre 2: Please tell me you carried the 1?

Dre 1: That was before I carried the one.

Dre 2: Crap. Okay, so where do we start on this one? Shall we give the folks at home a preview into our season review section on him? How was his 2018 season in your eyes?

Dre 1: It was an excellent microcosm of Verstappen's career to date. A tale of two seasons. We saw both sides of the cliched coin that make us love and hate Max at the same time. He was rough as a mo'fo the first half of the year. Bahrain he tried a "Senna" move on Lewis and…

Dre 2: A "Senna" move?

Dre 1: A Senna move. Where he puts you in a position where you can choose whether or not you want to have the accident. Ayrton kinda made a career out of it. Sadly in Max's case, he took on the one guy who literally modelled himself after him – And that was Lewis Hamilton. Bahrain was a disaster.

Dre 2: So, we're going after the Verstappen stans and Senna's legacy? WE'RE GONNA DIE.

Dre 1: Got to be done, the good stuff comes later. China after he took Sebastian out but then actually apologised for it, I thought, could have been a sign of maturity that he may be turning the corner. Then he drives like an idiot in a needless fight with his teammate at Baku, somehow topping Turkey 2010.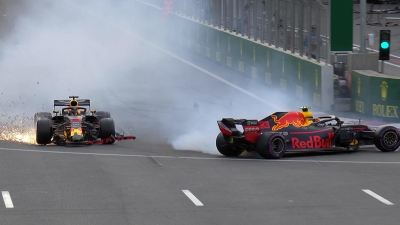 Dre 2: That was a doozy. Then you had Monaco, and a carbon copy of his FP3 crash in 2016, one that essentially ruined his weekend.
Dre 1: And his two of his three biggest screw-ups in that first half of the season, where races won… by his teammate, Daniel Ricciardo.

Dre 2: What's he up to anyway, besides selling shorts for £300 and woo'ing his army of fangirls?

Dre 1: Apparently he's massacring rabbits for their feet.

Dre 2: Makes sense. So what turned the corner for him you reckon?
Dre 1: Easy. Austria. Red Bull's first win on home soil. As much as it was a bit jammy, after the summer break, he was sensational.

Dre 2: 144 out of his 249 points for the season, came after the break in the last 9 races. Seven podiums, including five in a row to close the year, a win in Mexico, and one he was unlucky not to have in Brazil. Only Lewis Hamilton had more in that span, and we all know how ridiculous he was after Belgium. Seb didn't win again for christ sake.

Dre 1: Don't we know it.

Dre 2: Yeah, never gets mentioned. No doubt about it, he was phenomenal in the latter half. What that second half of 2018 was, was what we've always wanted to see from him. It's why so many have that belief in him to begin with. The right blend of aggression, combined with sensational outright race pace. When he's on it and the car is there, he's very hard to beat.

Dre 1: The ironic thing is, he did more to beat himself in Brazil than Ocon did in hitting him. Why was he trying to get by a lapped car so hard again?

Dre 2: Ego?

Dre 1: Ah, are we getting into the off track stuff here now?

Dre 2: Kind of an elephant in the room here, no? He actually threw hands on another driver in the back? Surely that's off-key?

Dre 1: I love it.

Dre 2: What?

Dre 1: I do. Look, you're talking to the host of a podcast where one of our headlining favourite segments is called "Fight Club", and where we laughed at the NBA's "Malice in the Palace". I love sports fights, and I still to this day will double down on this. A lot of people got uppity that day in Interlagos for what was playground shoving, and I don't know why?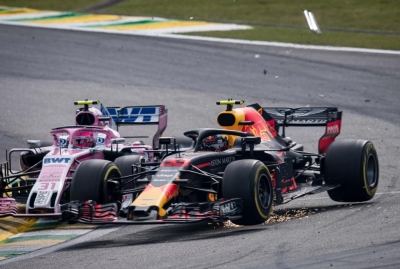 Dre 2: Formula 1 is LITERALLY an uppity playground that thinks it's above everything, why are you surprised? You were literally told you needed anger management for not taking that seriously, weren't you?

Dre 1: True story. By a prominent member of F1 Twitter no less. Doesn't make it any less frustrating though, but for different reasons. I actually… kinda feel sorry for him a bit?

Dre 2: Okay, this I need some explanation for?

Dre 1: Look, there's one very important distinction with Max Verstappen I think many of us seem to forget about him. He's 21. Most 21-year-olds are various degrees of a shithead. We all still want to be kids, then adulthood and responsibility slap you in the face if it hasn't done so already. And this isn't your normal 21 year old. He had a bigtime family name. His Dad is a proven shithead.
He was railroaded into Motorsport, because why the heck not, and he had factory F1 teams fighting over his signature from the time he was 15. Young men like us always think we're hot shit as teenagers, imagine having THAT much smoke being blown up your arse. And then actually having a spectacular rookie season, and becoming a factory driver at 18. EIGHTEEN. This was always going to happen.

Oh, and he drives for Red Bull, the worst team in the field for driver management. I mean, yikes.

Dre 2: It doesn't excuse xenophobic tendencies, mind.

Dre 1: Absolutely, not, and I'm glad many members of the F1 universe will always hold that against him. He walked into F1 with a realm of arrogance. I remember when he and Felipe Massa got into it originally, he brought up the Perez crash from Canada 2014 as a stick to beat him with. He's super-defensive, flippant, hostile, arrogant… Told you, he's every 21 year old who thinks they're the best thing to happen to the world since sliced bread. Annoyingly, as much as I hate to admit, I think both of us can relate to a lot of what Max is in F1's current landscape.

Dre 2: You know what's ironic about that, and this in general?

Dre 1: Go on…

Dre 2: He's exactly what F1 had been crying out for years ago. Look, we're Sebastian Vettel fans, right? Many of us in this post-millennial space wanted another Schumacher-esque dominant lead figure because F1 was boomin' but from a competitive standpoint, he papered over the cracks.

Sebastian was never going to be that guy. He hates the limelight so much he has an allergic reaction to social media. Lewis Hamilton HAS been that guy but he's 34 next week and has a ton of post-F1 potential. Max Verstappen is never winning awards for charisma or toeing the line, but he is passionate, fiery, is genuinely very entertaining off track, isn't afraid to shove a guy. He IS the modern-day equivalent of someone like Senna – That 80/90's picturesque image of what we all wanted racing drivers to be back then. Only modern.

Dre 1: I hear that. Love him or hate him, he's never, ever boring. He straight up dissed Valtteri Bottas this morning for crying out loud. As you said, he's never going to tick every box with fans, but that's exactly why he has the following he does. He's interesting, and he gets people talking. And that's kinda what the sport thrives off of. Whether we like it or not, the political fabric of F1 is every bit as, sometimes more entertaining than the sport itself.

Dre 2: And Max is ushering in the beginning of the end of this current F1 era. Think about it. Alonso's now gone. Kimi might be on his last contract. Lewis is 33.98, Seb 32 in July, hell, even Daniel Ricciardo, the face of the hybrid "wave" is 30 next year. Half of next year's grid is 25 or less. It's terrifying how Antonio Giovinazzi is the median. That came around quick. And Max is clearly the figurehead for this wave of guys behind him. Gasly, Leclerc, Norris, Russell, Albon… it goes on.

Dre 1: Just wait till he gets a car that can actually win him the title. That's gonna be scary.
Dre 2: Right? Max has barely scratched the surface and has got 15 more good years if he wants it. The one undeniable thing about Max has always been the talent.

Dre 1: That's why I named the post after Schrodinger. The concept of being more than one thing at once. He's brilliant, and yet he can be terrible. He's important to the very future of the sport, as much as he can also bring it into disrepute, or be a terrible example to the eyes of many. Reckless and OTT on track at times, but when he's on it, you marvel at just how good he can be. He's the past and the future of F1, rolled into one Dutch/Belgian lion. We may not like him all that much, but he's the embodiment of this sport's next great transition if you ask me.

Dre 2: And what the heck do you think that's going to be?

Dre 1: Memes, and Charles Leclerc think pieces.

Dre 2: Sounds great.

Dre 1: Oh, and by the way, on behalf of my twin, Merry Christmas and a Happy New Year to everyone who takes the time to read this shit. To be honest, it's not been the best year for written content, but we're really grateful you all still take the time out to hear what we have to say.

Dre 2: Precisely! Hope 2019 brings you peace, prosperity, and most importantly, Sebastian Vettel's 5th world title.

Dre 1: …And hopefully not 150 Verstappen burner accounts the moment I press "submit".

Dre 2: Is that why there's burning effigies and pitchforks outside?

Dre 1: Shit.