"F1 has a normal one. Again."
Why is being a Formula 1 fan the equivalent of that Antonio Conte Premier League meme where he asks for a regular day of Barclays even when he knows it'll never happen.
So much shit has gone down this season, that Mercedes completely dominated the weekend and it wasn't the main story. And that Esteban Ocon and Fernando Alonso had a huge dust-up and it was only the second-highest team orders controversy of the weekend! Charles Leclerc was put in a wall and finished FOURTH. Let's get into it before my head explodes.
Arise, King George The First
A confession, readers: I was wrong about George Russell. 
George crashed in Qualifying to cement his third place in the Sprint and started the race on pole. I love the quirks of a Sprint Weekend. But truthfully, there's no getting around it. George Russell was untouchable all weekend. Mercedes has absolutely made gains in the second half of the season, and in a weekend where Red Bull was on the back foot in terms of tyre wear, Mercedes cashed in for their first win of the season.
George Russell was flawless. With Red Bull so spooked by tyre wear they were the only competitive car to have Verstappen on the Medium tyre (Sorry, Nicholas), George bullied the Bull until Max cracked and gave up the lead. From there, he led pretty much from lights to flag. Yes, Max was out of the picture in the Grand Prix (More on that in a bit), but Perez was never a threat.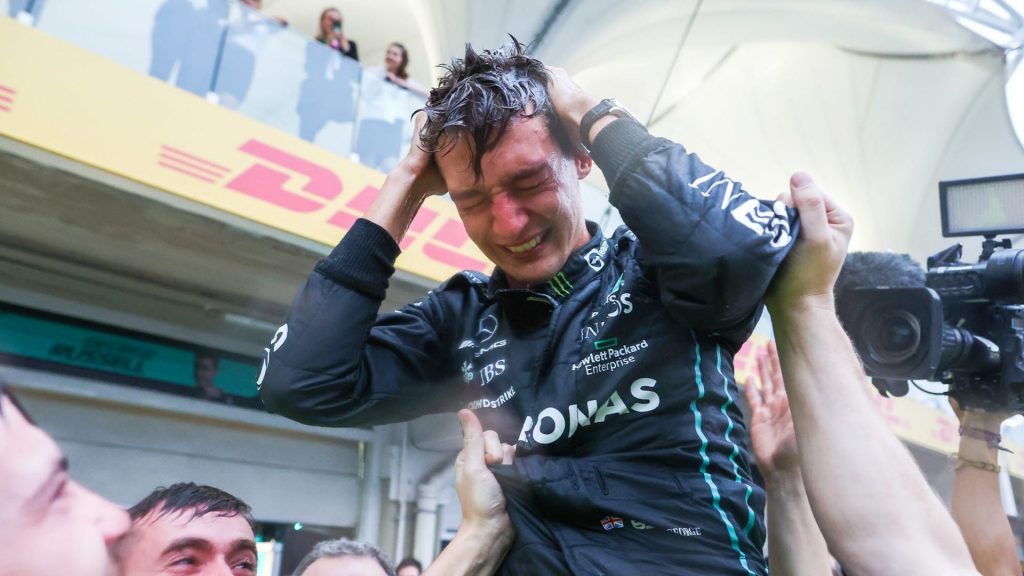 When the late Safety Car came out late on, we all thought about how hard Lewis Hamilton would try to win this for his second set of hometown fans. But it was a challenge that never came. Lewis just didn't have an answer for George in the end and actually won reasonably comfortably, Lewis was just unable to crack his teammate's DRS zone. 
The first Mercedes win of the season and it goes to George Russell, in a season where he is almost guaranteed to beat Lewis Hamilton over a calendar year, just the third person to do so in his 16-year career. First time asking. Yes, there's mitigation given Lewis was a guinea pig over the course of this season. But on any level, this is impressive and vindication to people like me who had doubts over just how good George could be after such a huge gamble. George Russell knows wheel. This won't be his last victory.
A Genuine Feel Good Moment
In this sport, it's hard to find genuine joy. Seriously. The last two years have been an absolute toil. I was meant to write this very post last night but my mental health was in the gutter, overwhelmed with the number of takes flying out about the next chapter of this piece. 
But then I remembered Friday.
Look, Haas can be a difficult team to root for, I know. They're probably about to drop Mick Schumacher for Nico Hulkenberg, a move about as inspiring as stepping in dog shit. They had to sign Nikita Mazepin to keep the lights on, and that was never going to do down well with people. Gunther Steiner has a cult following, but there are questions to be asked about his management style of rage, vibes, and busted doors. (And then branding that, but that's for a different day)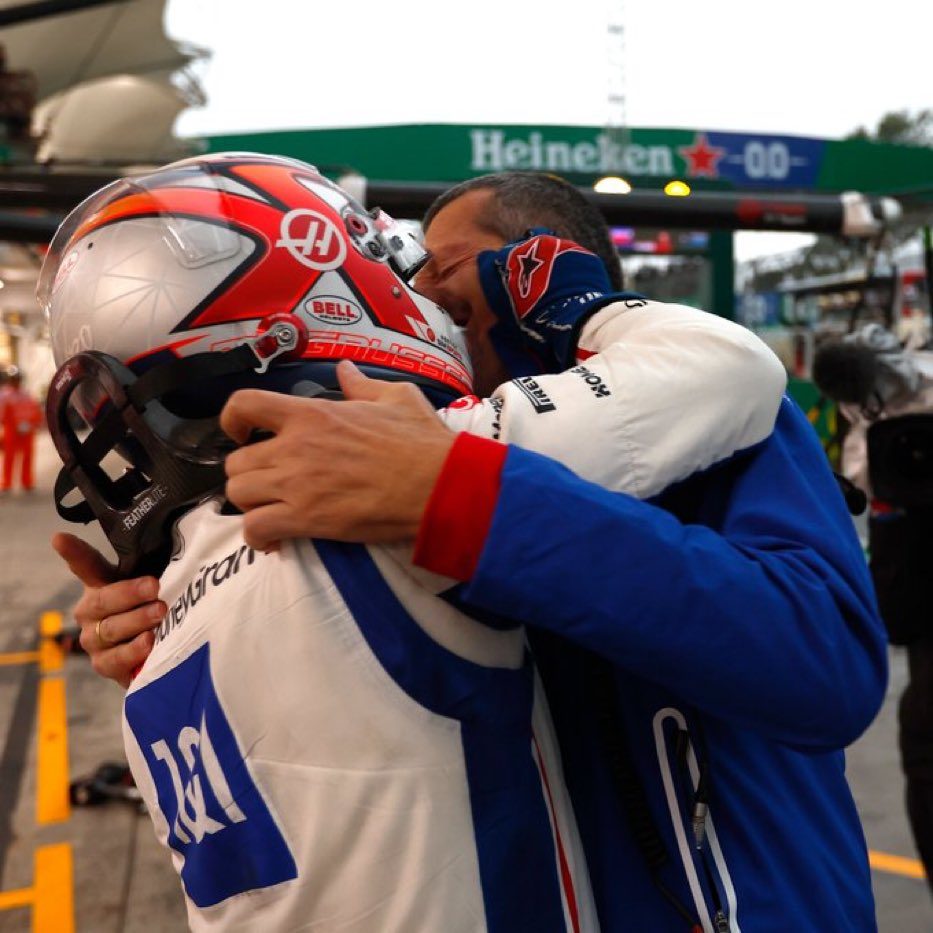 But Haas got their first pole position on Friday. Yeah, it was a bit jammy. Haas is at the front of the queue for the pitlane, he was first out on a track that was only going to get worse for track conditions. His banker lap was a smidge quicker than Verstappen, then George Russell beached his car at Turn 4. That brings out a red, the track gets worse, and K-Mag's a history-maker. 
Yes, the statisticians will go apeshit because Magnussen got the pole, then dropped to 8th for the actual race in the Sprint due to the inevitable nature of him driving arguably the sport's worst car. But in a sport where everything is scrutinised and genuine positive emotion is hard to come by… when you see Kevin Magnussen looking like he's about to hit the griddy on top of his car in a moment that forever put Haas in the history books… Who gives a shit about all the asterisks?
Haas is a tiny team relatively. 250-ish employees. No one on the grid has fewer resources, they probably have a fifth of what the big players have. And while their management has been rightly judged, there are a lot of incredibly hard-working people behind the scenes that don't ever get their flowers in such a brutal sport. This was their moment. And one of the highlights of a season where not much has actually felt like it's truly "mattered".
Beef History XL: Hamilton vs Verstappen 2
Hey SB Nation, you can have that one for free.
Did you miss the Hamilton vs Verstappen beef? We largely got a reprieve this season because Mercedes just hasn't been competitive for most of the year. But when Mercs had their golden chance to win something before the book is closed for 2022, Max Verstappen stuck his nose in where it might not have been needed. Literally.
For what it's worth, the letter of the law deems Max Verstappen to blame. In that sense, the stewards got it right. The onus is always on the attacking car to pass safely. And now with the changed rules on overtaking, you're not obligated to have racing room until you're lined up front wheel to the front wheel. That's about 80% of a car's length. That's a big ask and in my opinion, you're going to have a LOT of marginal calls like this one.
Hell, even the stewards admitted that Lewis should have taken responsibility and given Max a little more room, even if they deemed Verstappen wholly responsible. I agree, I think Lewis absolutely pinched Max a tad. Enough where I'd probably call that a wash. I don't think the stewards needed to get involved in this one, but if you're going to make a call, the book says Max. Fair enough.
It's becoming pretty clear at this point that these two race each other differently. Lewis, despite not being anywhere near on the same level of accountability between the pair, races Max harder than most. And Max returns the favour. We've seen Max duel with Charles and George Russell multiple times this year and while aggressive, the lines were never crossed. For what it's worth, I think this is fine. Fighting in Motorsport is always going to boil down to trust, and it's not going to be the same with everyone. And after multiple incidents that turned nasty between Max and Lewis, I get that they're going to side-eye each other. I would too.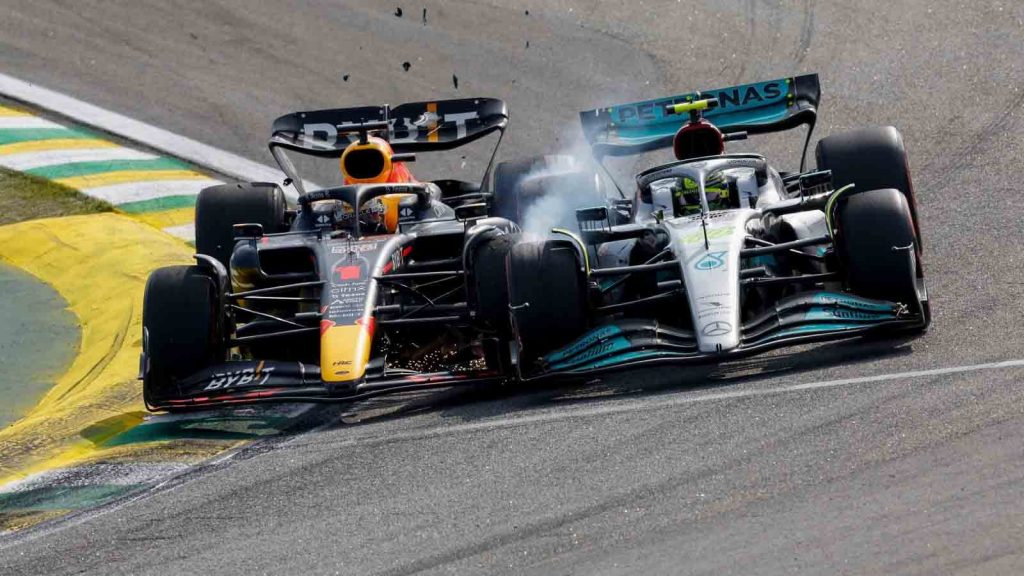 I said on Twitter yesterday, that Lewis made a conscious decision at some point in 2021, after being pushed out at Imola and Catalunya, that he wasn't going to back down in fights with Max anymore. Every major flashpoint that season that came afterward was an indirect result of that decision. Silverstone, Lewis sent it knowing it was his best shot at the win. It was a hail mary that missed. Monza, he knew he could pinch Max and put him in a "yield or crash" scenario. Max chose the latter. Brazil, Max ran Lewis out and let the stewards make the call. Saudi Arabia, same deal. Abu Dhabi, Lewis didn't give back a corner on a legal pass. Better stewarding probably wipes most of this out but to a degree, both parties knew what they were doing. 
I said it at Monza last year, another marginal clash similar to what we got yesterday, that this is what happens when you have two Ayrton Senna's on track against each other. It reminds me a lot of how the real Ayrton and Nigel Mansell got along, the latter telling Senna essentially: "If you wanna keep wrecking, that's on you because I will not back down".
Eventually, Ayrton got the message. For his own sake of self-preservation, I hope at one point, Max does the same. Thank goodness there was nothing else controversial this weeke-
Max Verstappen And The Old Team Orders Chestnut
Sergio Perez stuck on a pair of mediums at the end of the race, gave his position to Max Verstappen so he could try and pass Fernando Alonso in front of him. Red Bull told Max to give the position back if he couldn't get him. Max refused. In a fight for 6th. In a season where Red Bull has nothing worthwhile to play for. 
If you want the short answer as to what I think of it, read this paragraph:
This really isn't that deep, Sergio Perez has no leverage within that team and I think a lot of people who like Checo overvalue his role within this team in the grand scheme of things. Max Verstappen has the privilege to be a dick over this, and it's something we're just going to have to accept. Skip to the Lighting Round if you don't want to see anything more.
Still here? 
Alright, let's get into a little more detail here. Something we need to remember about all this is first and foremost, Sergio Perez has no leverage within Red Bull. He was signed when his career was in jeopardy after the Racing Point buyout for Sebastian Vettel. He was signed on a one-year deal, the "prove it" deal where Red Bull could just cut bait with him at any point if they wanted to go after someone else. And by now, it was pretty well established that Red Bull was Max's house. It literally drove Daniel Ricciardo out of the paint to the point where he wasn't prepared to win anymore. 
Sergio Perez claiming that "If he has two titles, it's thanks to me", is the definition of "Just saying shit." Yes, Perez played that block at Abu Dhabi brilliantly to cost Lewis Hamilton time. But it was always a race where Red Bull was on the back foot and had little chance of winning. Mercedes had the 1-stopper for the win in the bag until Latifi's spin with 6 laps to go. You know the rest.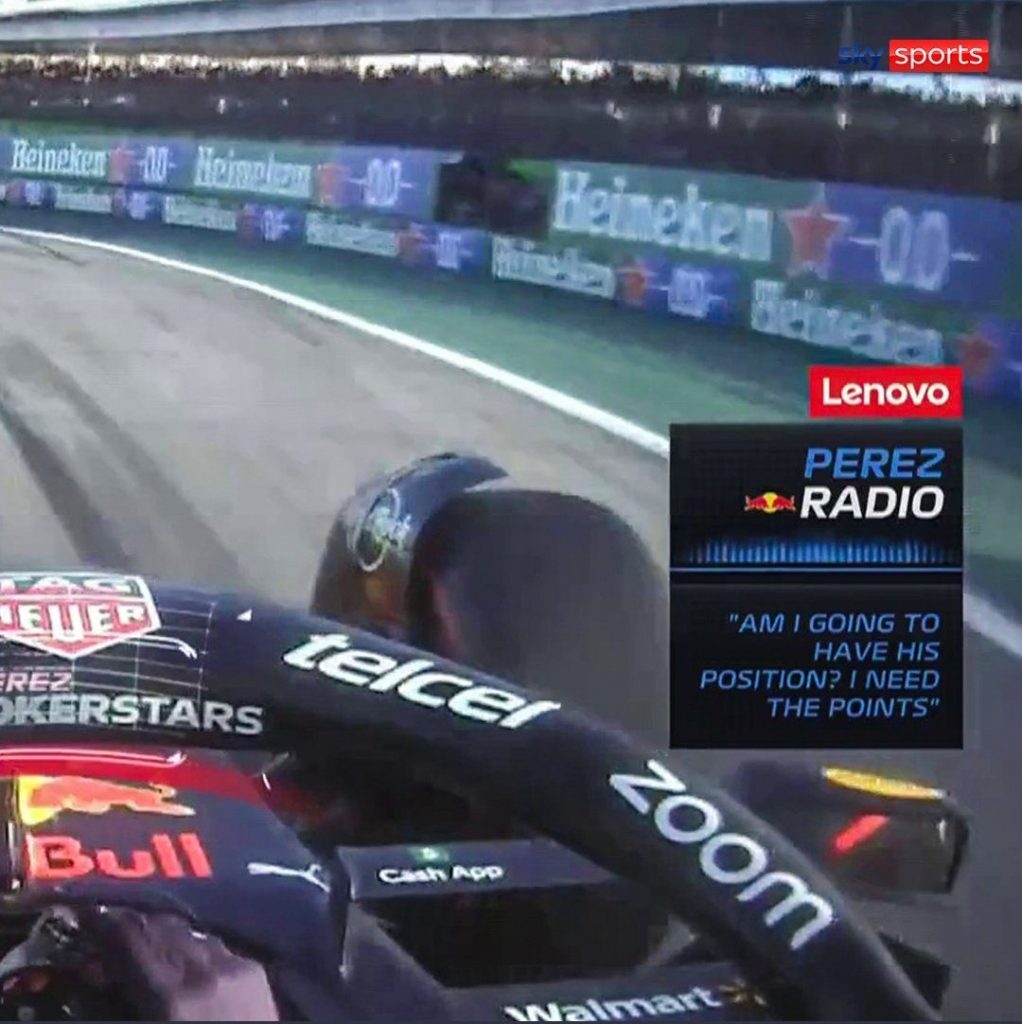 Perez has been a good #2 this year, but that's it… a Number 2. That's the unfortunate nature of driving for a top team. You have a much greater chance of being asked to step aside for the "Greater Good". I'm not sure how much of a contribution Perez has been to Max's second Championship when he's currently 139 points behind him. "Go off Queen!"
Perez was four seconds back on that final lap where Max was still within DRS range of Fernando Alonso. It's more understandable than you think that Max maybe shouldn't have been so quick to cough the place up. And even then, this huge moral circlejerk over 2nd in the Championship means very little besides pride, and a slightly bigger trophy at the FIA prize-giving gala at Christmas. You make your money in the Constructors, and unless you run a Twitter stan account, we don't gloss over the runners-up. 
As I said after Mexico (again), Max Verstappen will never get the benefit of the doubt from us in the social media space. There's too much water under that bridge. Especially when it's on the one subject that almost everyone in the sport agrees on – Team Orders suck. However, my stance on them has been unchanged for the last decade. You can't hate team orders as a concept, then also dunk on the dude who chooses to defy them.
Remember, you're reading the post of one of the longest-serving Sebastian Vettel fans on social media. I was right here during "Multi-21". Sure, the stakes were higher, but we absolutely clowned Seb for ignoring a team order going for the win against Mark Webber. Back then, we just didn't fuck with Seb like that. We didn't like how fast he shot into the main event picture in a world dominated by Hamilton and Alonso.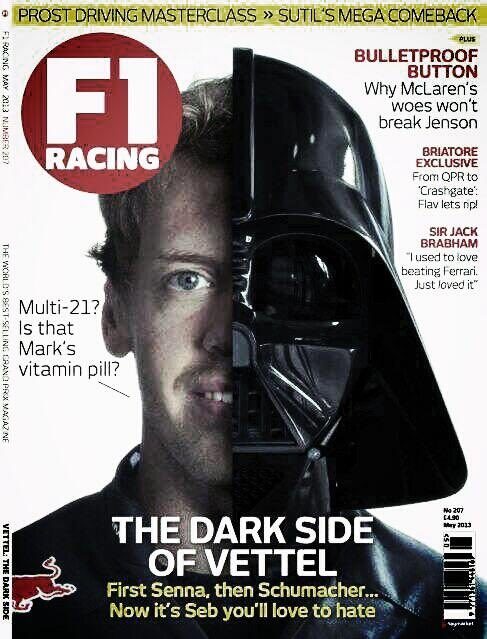 A lot of people were sympathetic towards Webber because he missed out in 2010, especially when he got screwed over by the management. As I pointed out on Twitter yesterday, we were so disgusted with Seb's antics (Which to be fair, were pretty ruthless given he broke a team order, won, then laid out an insincere apology because he took it back in China a week later), he was plastered on the front cover of F1 Racing magazine being compared to Darth Vader as the sport's new villain figure. An image the British media had already done a pretty good job of procuring themselves. 
The key difference here was that with Vettel, a good chunk of us rebelled against this perspective because the worst you could accuse Seb of in 2013 was being misogynistic in his interviews with women, and a finger point wrongly taken as arrogance over anything else.
Max Verstappen is, in my opinion, an unrepentant, ableist slur-dropping xenophobe who has consistently shown in his career that he thinks he's above criticism. There's a much, MUCH stronger argument you could make that what Max is getting now, is deserved. Shoutout to the lovely @RacingKate who mentioned this, but 44,000 people have unfollowed Max on Instagram since last night. I wonder how many of those people are Mexican, but it does how warped some of our perspectives are that not giving Sergio Perez a place back was where they drew the line.
Personally, I'm more surprised it took this long for so many people to realise. This is who he is. A lot of us on social media, justifiably, have spent the last two years as a minimum, telling the world how much of a douchebag he is. Then he acts like one, and then we're all shocked and appalled. Like I said on Twitter, it's like being surprised at how Siegfried and Roy's show ended. Both instances circled around the promotion of tigers. Funny that.
The cold reality of this situation here is that when you're an elite-level F1 driver, you have the privilege to reject a team order that someone in a lesser spot wouldn't be able to get away with. Sebastian Vettel did it, knowing the most he'd get by 2013 was a verbal bollocking. Because what are they going to do, fire a Triple World Champion and the best driver you've ever had? It's the same with Max Verstappen. He's made a huge contribution towards three championships and taken Red Bull back to the top of a mountain after eight years of Mercedes pulling their pants down. He's untouchable, and there's nothing anyone can do about that until he stops winning.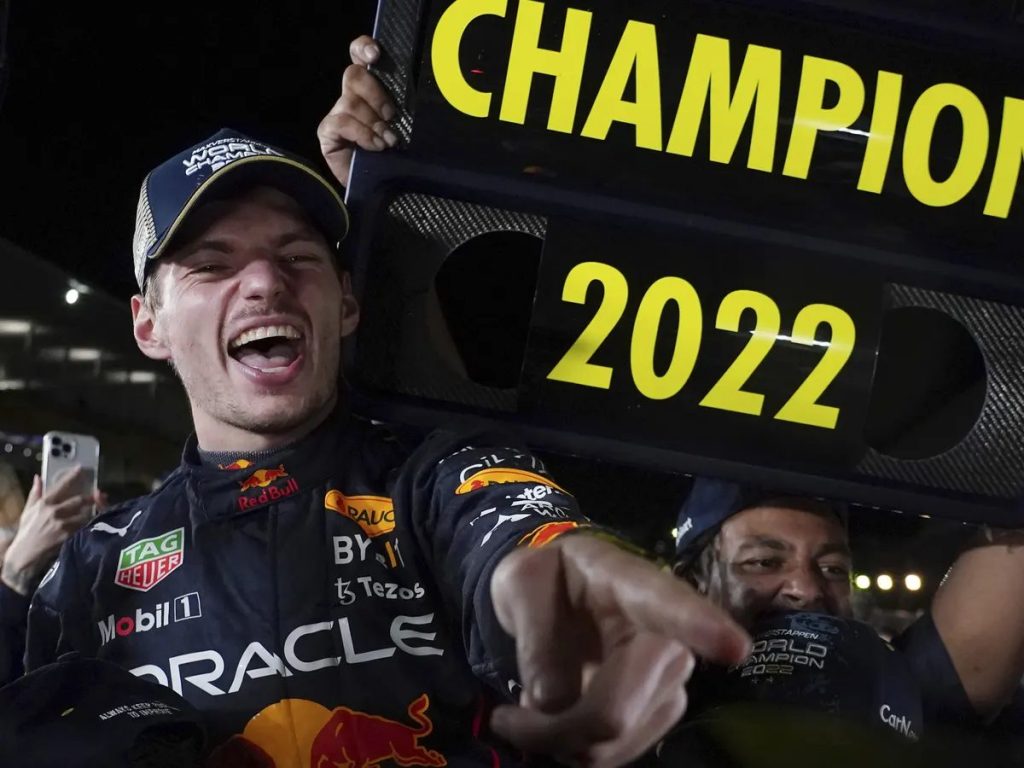 Yes, Formula 1 at its core, is a team sport. The priority should always be the team because that's where the money is made. But the very existence of team orders is down to the fact that everyone knows in the end, the driver has the monopoly and dictates the term of engagement. The teams have to protect themselves because when the lights turn green, no one can truly control their drivers. A team sport, completely dictated by the performance of just two individuals.
Earlier this year, Mick Schumacher had the audacity to ask teammate Kevin Magnussen to move aside in Austria because Mick was adamant he was faster. He was rejected and allegedly had a falling out in the Haas garage afterward. Some say this was the first inkling that he might be about to lose his job to Nico Hulkenberg. For Haas, Mick is expendable. We can't say the same for Red Bull and Max Verstappen. Collectively, they've turned many a career into roadkill and taken a fair amount of PR damage to even get to this point. This will be the consequence of their actions. I hope the two points were worth it. 
…Until he wins in Abu Dhabi this weekend and all is forgiven because our news cycles move so quickly; this season ends in six days' time, and we all have little else to talk about. 
The Really Not A Lightning Round (God, this is becoming a habit.)
PS: Don't forget, Charles Leclerc was screaming at Ferrari at the end to ask Carlos Sainz to give up a podium for the sake of his own push for second in the Championship and three extra points. He was turned down. Racing drivers are cold, selfish, and ruthless people. Team players like Valtteri Bottas are the exceptions, not the norm. It's what makes them who they are. Hell of a comeback from the Monaco man, and a good drive from Carlos on the day.
I barely even mentioned Alpine's own drama, with Fernando Alonso probably being on the receiving end of a harsh run out by his teammate Esteban Ocon. Alonso responded in the Sprint by accidentally but very accurately, driving into his teammate's rear on the home straight, resulting in a 5-second penalty. 
There was a funeral held for Alpine post-Sprint. Viking burial with Ocon's car on fire. So of course Fernando Alonso finished 5th and both cars got in the points to go +14 on McLaren and virtually seal 4th in the Constructors. The old boy can drive, it's hard to deny that.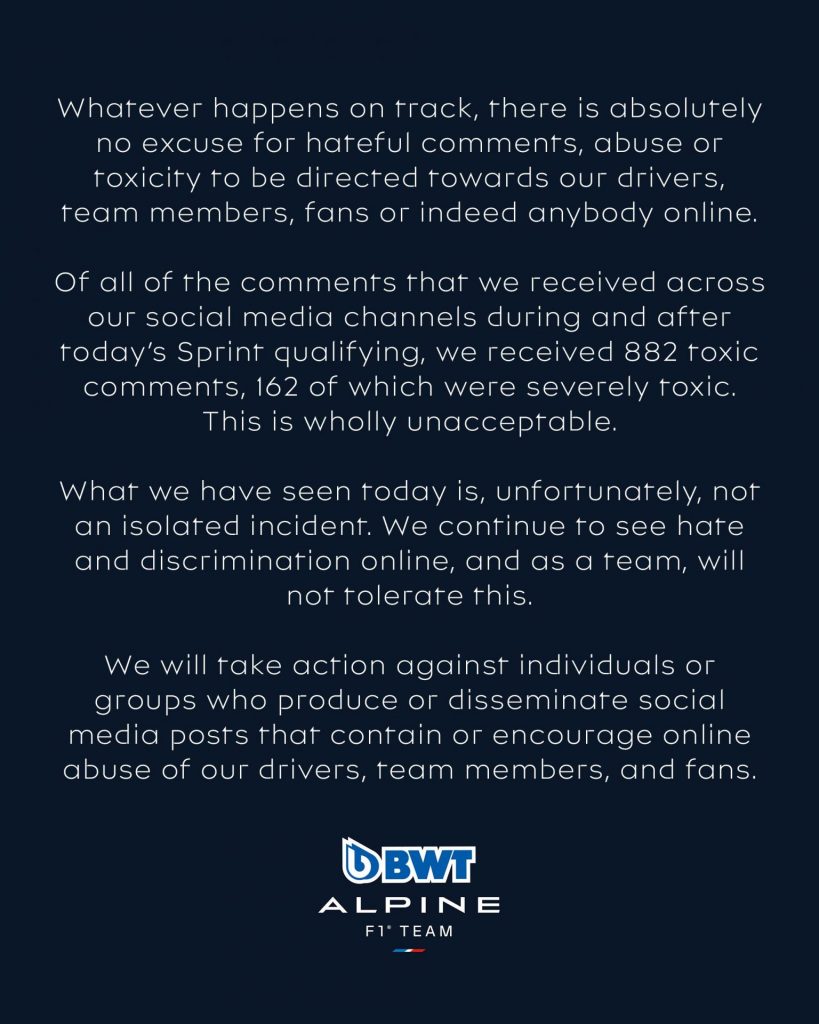 Of course, his fans went ballistic on Esteban Ocon's Instagram and the team's socials. And yes, Alpine had receipts. They're now using algorithms that intentionally target abusive words in messages and comments. Alonso has another subset of fans, like others, that go out of their way with racist, misogynistic abuse, that sadly, social media can't do much about. That in of itself is unsurprising, it's been this way for over a decade, it's just that as the user base grows, so does the amount of people paying attention. 
What continues to surprise me is just how concentrated it is. Soccer is the obvious comparison. But those sports have MASSIVE audiences worldwide. F1's audience has largely dwindled as channels move away from free-to-air. But F1 on social media has huge main character energy. There are fan accounts that barely know more than the average fan, who have 5, 10, 15, maybe even north of 40,000 followers, just for being fans of a driver and sharing shit in press releases. That's more followers than Joan Mir had when he won the MotoGP World Championship in 2020! Our relative clout is eyebrow-raising. We are our own internal circlejerk, slamming against the confines of our own niche sport. That alarms me.
What is it with Lando Norris and getting sick before a race weekend? Man's had more flu games than Michael Jordan. And with Ocon only managing 8th, Lando is now guaranteed to finish as "Best of the Rest" in the Championship, in 7th place, with only the Bulls, Mercs, and Ferraris in front. Putting Charles in the wall though? No Bueno. (Thanks to Daniel Monteiro for passing on the stat.)
Shoutout to teammate Daniel Ricciardo, who couldn't get away with another zero-percent pass twice in a row.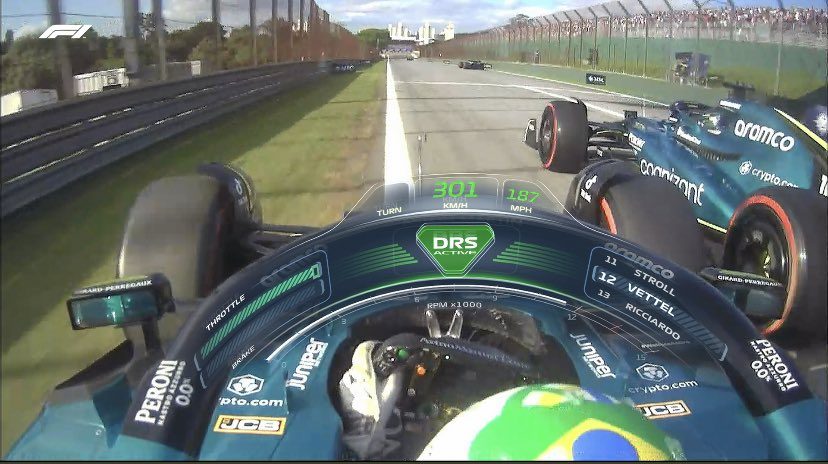 Lance Stroll ignoring Formula 2 I fear has done a number on his spatial awareness. Running his teammate onto the grass is the latest in a string of over-the-top defenses of position. Glad his penalty was upped to 10 seconds and three penalty points for straight-up dangerous driving. We shouldn't be boxing people out on straights. Ever. 
And yes, the Sprint race should be standalone, and we don't need a Saturday morning FP2. If Ross Brawn makes that happen, I think the Sprint goes down a lot easier.
Dre's Race Rating – 8/10 (Great): This was another great race that ticked just about every box. Plenty of passing, action, and drama, with some surprise twists. A first-time winner always goes down a little sweeter too. Secretly… I think these regulations are working. Brazil was barely in my Top 5 for races of the year and it was an 8/10. Says a lot about this season, the action has definitely improved. Sprint was probably the best we've had to date too. Thumbs up all around.
See you next time for Abu Dhabi, the season finale. It's going to be… emotional.