"One, is one too many."
I was born in 1992. I was barely 18 months old, when the tragic weekend of Imola 1994 took place, where the world of Motorsport was rocked, by the deaths of Ayrton Senna and Roland Ratzenberger. Too young for my own mind to comprehend, and I didn't understand the true magnitude and context of Senna's and Roland's passing, until watching the Asif Kapadia docufilm of the same name, and how much of a hero he was to those in sport, and in life.
I'm now 23. In that time, I've done a lot of growing up. Got a degree. Made some mediocre videos every once in a while. Met a few cool people. Fell in love with Motorsport. And fortunately, for 22 of those years, I hadn't witnessed a death in Formula 1, the sport I became infatuated with. That was until October 5th, 2014. On that day, Jules Bianchi's car failed, and he hit a tractor at 120mph, which at the time, was carrying the broken car of Adrian Sutil. We didn't know at the time, but this would be F1's first fatal accident, since that weekend in 94'.
As part of my love for Motorsport, I covered other series – IndyCar top of the list, this year being my first season watching. I applauded it for it's more laid-back attitude, it's personalities, and of course, it's tremendous racing. But then at Pocono Raceway, just 2 weeks ago, I saw Sage Karam's car disintegrate, and a piece of his car hit Justin Wilson in the head, killing him 36 hours later.
[fusion_builder_container hundred_percent="yes" overflow="visible"][fusion_builder_row][fusion_builder_column type="1_1″ background_position="left top" background_color="" border_size="" border_color="" border_style="solid" spacing="yes" background_image="" background_repeat="no-repeat" padding="" margin_top="0px" margin_bottom="0px" class="" id="" animation_type="" animation_speed="0.3″ animation_direction="left" hide_on_mobile="no" center_content="no" min_height="none"][fusion_imageframe lightbox="no" style="bottomshadow" bordercolor="" bordersize="0px" stylecolor="
" align="left" animation_type="fade" animation_direction="right" animation_speed="1″]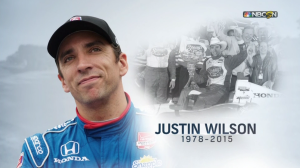 [/fusion_imageframe]I had gone my whole life without a major fatality. I had just seen two in the space of a year, and it was heartbreaking. Jules applauded as a future star, the Ferrari driver of the future, and Justin, one of the most genuine, and humble drivers in all of Motorsport, a role model for those on the autistic spectrum like myself, and a true gentleman. I'd never felt this way before when watching Motorsport, and in a perfect world, I wish I would never have to again.
Of course, we as fans came together to remember, celebrate their lives, and grieve, but at the same time, many a discussion has been made about the future of Motorsport safety, and where to go forward from here, after two horrific accidents. Many have brought up the notion of closed cockpits, protecting the driver's head, originally thrown out last year for being "too ugly" as described by Red Bull Racing's Christian Horner.
I'll touch on this briefly – I feel like solving Problem A, by using Solution B, will create, Problem C. Adding a closed cockpit adds a host of other problems. Such as reaction time. If a car's on fire, or upside down, how fast can it be removed, as opposed to normal cars today, where you must be out in 10 seconds as a test? Ask Niki Lauda after the Nurburgring in 76'. The use of explosives, like an aircraft ejector seat, is worrying for obvious reasons. Not to mention, drivers would be driving in very unsafe temperatures due to the cooling required. I mean, who would want to drive a racing car, a physical enough task on its own, in what's essentially, a greenhouse?
You'd have to have a complete redesign of an F1 car to incorporate air conditioning and cooling, and that takes years, not months. So while it's an unrealistic solution for now, I applaud the FIA for continuing to look into this, and I keep an open mind for future development. The FIA has the right attitude towards this. They know it's an issue, and have been testing various different canopies and cockpits for five years now. This is the attitude we should be adopting, and unlike what I so often see from driver's and fans alike.
[fusion_imageframe lightbox="no" style="bottomshadow" bordercolor="" bordersize="0px" stylecolor="
" align="left" animation_type="fade" animation_direction="right" animation_speed="1″]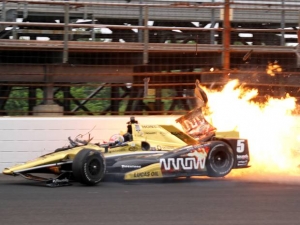 [/fusion_imageframe]I fear that we as an audience of hardcore Motorsport fans, have become content with where we are in terms of safety. Now, I'm not dissing our progress here. Imola 94' was the catalyst for change, and from then, to where we now is incredible. The HANS device alone has probably saved hundreds of lives without even realizing, and is one of the greatest things to ever happen to Motorsport. And it's innovation like that, which should be the inspiration to keep looking for solutions to improve. And to me, I feel that it's our own attitude towards Motorsport, that often holds us back.
Don't get me wrong, I know that there's always an element of danger to Motorsport, at any level above walking speed. And I know drivers like Sebastian Bourdais have spoken out in the past about Oval Racing in IndyCar and that we shouldn't pretend like what we're doing is safe, but I feel so many fans have the attitude of: "Well, it's either we make Motorsport pussified, or we just accept that someone will die every now and then?", and both options are not ideal, and I fear that many fans truly believe that only one of these forms can exist.
I was inspired to write this, due to a friend, and great broadcaster and journalist, Leo Parente, former host of /Shakedown on the DRIVE network, who said the following today on his Facebook page, in regards to a column talking about how "Motorsport will always be dangerous":
"I am sorry guys. I tried to read this. But, it just feels a bit too much like the 'acceptance' that Jackie Stewart faced before he led an uprising to change racing and minimize the unnecessary risks. And I am sorry, again. But, the injury / death count in the various IRL / IndyCar generation cars seems a bit high.
Yes, they all choose to race. Yes, it's dangerous. Yes, the media gets us closer to the racers…
But, just like when Jackie and his wife sat down one evening to make a very long list of their fellow racers that perished, the current list says 'acceptance' for the love of the sport is……..
Accepting unacceptable and unnecessary risk."
Can you blame him for thinking this, when IndyCar's had two deaths in the last 5 years, with James Hinchcliffe lucky to be alive, too?
[fusion_imageframe lightbox="no" style="bottomshadow" bordercolor="" bordersize="0px" stylecolor="
" align="left" animation_type="fade" animation_direction="right" animation_speed="1″]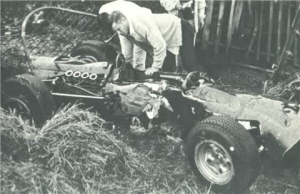 [/fusion_imageframe]Jackie's campaign for safety in Motorsport started nearly 50 years ago after the Belgian Grand Prix of 1966, a race where he crashed into a shed and had to wait an hour for an ambluance. And it's the same resistance now. Back then, promoters and fellow drivers balked at the extra potential costs, and the detraction of the sport's merit. Now, the detraction argument is the same today, only exaggerated ten-fold due to how much faster Motorsport and technology have taken us, where 230mph around Indianapolis is "slow". But Jackie's legacy is almost as much about his safety, as it was his three World Championships. And that's all the inspiration we should need.
I don't care what anyone tells me – Three deaths in 25 years of F1, is still three deaths too many. It's three deaths too many to the families of Roland. Of Ayrton. Of Jules. And now, Justin's wife, brother, and two young daughters. I watched Justin die live on television in front of my very eyes. The horror of a huge chunk of car smash Justin in the head, at over 210 miles per hour. If we have to compromise the speed element of the sport, or take a cut somewhere else, I'm all for it – Because I know I speak on behalf of so many aching drivers, fans and family members, when I say, I never, EVER, want to see that again.
There are many things we can learn from tragedy. So often, it makes us the people we are today. Drivers in Motorsport never want to take their foot off the gas pedal if they can help it. It always takes a tragedy for us to have a conversation like this. And for that reason alone, it doesn't mean we should do the same in regards to safety.[/fusion_builder_column][/fusion_builder_row][/fusion_builder_container]