This column is an open letter to F1's reigning World Champion, Lewis Hamilton. This is also a sequel to an open letter I wrote on an old website of mine, back in July 2013. If you want to see the original, you can do so Here. I hope you enjoy the read.
Dear Lewis,
Long time, no read. Been just over two years since I last wrote to you, and man, I've watched from afar in awe. Maybe you knew something I didn't when you signed that Mercedes contract at Singapore three years ago, but looking back, I would never have thought you and Mercedes would be here, a World Championship in hand, in one of the most dominant cars the sport has ever seen, with you, on the top of your game.
It's surreal to see you as the dominant Champion, but it's even more surreal to see you now as a human being, to the guy you was, even when I last wrote this letter, and that's kind of the reason why I'm writing this to you. Now, I know I sound like one of those lovers who can't bear to see that his man may have changed, but seriously, what has happened to you? In so many ways, you've changed, and in so many ways, you've stayed the same. And that's what worries me.
[fusion_builder_container hundred_percent="yes" overflow="visible"][fusion_builder_row][fusion_builder_column type="1_1″ background_position="left top" background_color="" border_size="" border_color="" border_style="solid" spacing="yes" background_image="" background_repeat="no-repeat" padding="" margin_top="0px" margin_bottom="0px" class="" id="" animation_type="" animation_speed="0.3″ animation_direction="left" hide_on_mobile="no" center_content="no" min_height="none"][fusion_imageframe lightbox="no" style="bottomshadow" bordercolor="" bordersize="0px" stylecolor="
" align="left" animation_type="fade" animation_direction="right" animation_speed="1″]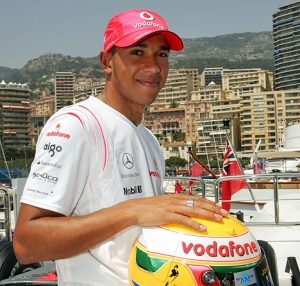 [/fusion_imageframe]I know I'm repeating myself a bit, but bear with me here. I still remember your debut year like it was yesterday. 2007. ITV were hailing you as the future of the sport, you were this humble, polite, bright faced young man from Stevenage, who was incredibly warm and likeable. You looked like a guy who didn't even realize how good you had it, and that made you endearing. You went on Top Gear, you were charming, funny, and I was sold. I was genuinely delighted you got the World Title you deserved, even if it was a year too late.
But when McLaren were no longer on top, I saw the cracks in the image you had portrayed. You separating from your Dad as your agent and switch of management was confusing. The reported story of you storming over to Red Bull after Canada 2011 and demanding Mark Webber's seat. You played the race card after Monaco in a sport that's 99% white. That 2011 season in general looked like something close to a mental breakdown. Your feud with former close friend Felipe Massa was awkward and frustrating, on and off the track. Your leaking of telemetry in 2012, and petulence over a Twitter follow from Jenson Button… It went on.
Was all that really you, Lewis? Was it McLaren that had a say in this? I understand if it was. Ron Dennis is clearly a man who sees himself running a brand, a mantra like you're trying to do now. Gotta be honest with you, in the paddock, you seemed really boring back then, and maybe that wasn't your fault. You look at their drivers more recently, and they were stuffy and corporate to a tee. Mika Hakkinen and David Coulthard were boring. Stoffel Vandoorne will probably be here in a couple of years and he is boring as sin. McLaren I suspect, aren't the guys leading the conga at the Christmas party. And Ron had influence on you from the time you were 10. You left the team at 26. 16 years, of basically having a second Dad? Was that all, really you? Or was it just the free-spirit character I'm seeing emerge now?
[fusion_imageframe lightbox="no" style="bottomshadow" bordercolor="" bordersize="0px" stylecolor="
" align="left" animation_type="fade" animation_direction="right" animation_speed="1″]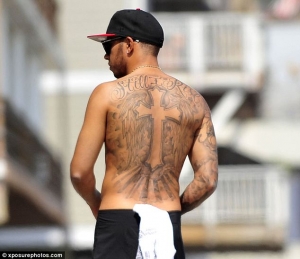 [/fusion_imageframe]The contrast is palpable between then, and now. It seems Mercedes were only ever tired of you cleaning up after Roscoe. Since then, they've let you off the chain… in fact, given the bling you carry these days, they probably just straight up gave it to you. Next thing you know, I'm seeing you emulate David Beckham's tattoo game, bling and blonde hair, like you've watched one-too-many Chris Brown videos. Thankfully, you haven't taken that impression all the way, but it's certainly raised an eyebrow, and not entirely for the right reasons.
Did you fall in the wrong crowd? Are you sure that Kanye West, and Rhianna are what's good for you? Because trust me, Kanye's no role model. We used to love his work as an artist, and as a passionate musician who loved his Mama. Now, he's the biggest egomaniac in pop culture today. He became the joke. I don't want to see you go the same way, and I only say this, because I think only now you're beginning to tap into your true potential, not as a racing driver, but as a human being and brand in general.
You talked to Sky at Monza about this recently in regards to being a "brand", inspired by Michael Schumacher. And if anything, I could relate a lot to what you were saying that day. It was the most honest and intelligent thing I'd heard from you in sometime. And I think you're right, I think F1 drivers are perceived to be a certain mold, terrified of upsetting their PR managers and upsetting the apple cart. Nobody warmed to Alain Prost for being a boring Champion, despite his brilliance. People get mad there isn't enough character's in F1, but when you start booty grinding in Barbados, you get slammed for that too. I'm glad you can see that bigger picture, and trust me, the sport badly needs a crossover star again.
I was watching the Athletics World Championships two weeks ago, and it made me realize just what a megastar Usain Bolt actually is, to the point where he single-handedly put Athletics back on the map. We had a ton of 100m Champions no-one cared about. Kim Collins, Tyson Gay, Justin Gatlin, etc. Then he came along and he's box office. People that don't normally give two shits, would get on the TV for him. That's the kind of megastar that can change a sport. You've seen them, I'm sure. Roger Federer, Tiger Woods, LeBron James, Valentino Rossi, Ronnie O'Sullivan, Michael Schumacher – Guys who transcended their fields and captured the world through the medium of sports.
[fusion_imageframe lightbox="no" style="bottomshadow" bordercolor="" bordersize="0px" stylecolor="
" align="left" animation_type="fade" animation_direction="right" animation_speed="1″]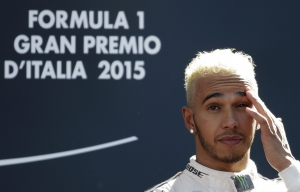 [/fusion_imageframe]You could be that next guy. I'm not even blowing smoke up your arse here, it's the goddamn truth. If a guy like Sebastian Vettel, normally quiet and private, was able to shake the boo's off in time, imagine what you could do, tapping into your marketing power and appeal. The way you're dominating F1 right now is amazing. Unlike anything we've seen since Schumi, even more so than Seb's recent Red Bull run.
Which makes it all the more irritating when you played the fool like you did last weekend. I do not understand how you could get that minute's silence for Justin Wilson so wrong. It's alarming, not only in the way you got that wrong, but also in the way you basically lied to your own Twitter followers about it, rather than take responsibility for it. Your actions summed up all my confusion for you as a human being. Your tweets regarding Justin were sincere, warming and gracious. Your immaturity and petulance when people very rightly called you out for your misconduct was not. You're a grown man of 30, Lewis. You shouldn't be this good at digging yourself into a hole, and as a guy who wants to root for you so bad, it's all the more frustrating.
Here's something you're going to have to get to grips with, here. You want to be a brand? You want to be at the top of the mountain and make this sport your own? There's a level of responsibility that comes with that, and whether you want to accept it or not, you're the biggest star in F1 right now, and I can see the crossover appeal. BBC SPOTY. Back-to-back GQ Sportsman of the Year awards. You being on Good Morning America. It's all coming up roses for you man…
…So don't ruin it for yourself and alienate your incredibly passionate and caring fanbase. Your brand might take damage it may never be able to repair. All I'm saying is, thank goodness you're winning, because if you weren't and Rosberg was in control of the title race, everyone would be asking a lot more questions. The British media are on your side, and you don't want them as an enemy, they're a fickle lot at the best of times. Luckily, they want you to keep doing this, it makes them more money.
Lewis my man, you're brilliant. Especially on track. You will have a greater career than Ayrton by the time it's all said and done. You can ride off into the sunset as the greatest British driver the sport's ever had. But please, don't ruin it for yourself. You may not need F1, but F1 needs you, a lot more than you probably think. Good luck for the rest of the season.
Your Guardian Angel,
Dre
(PS: Got Nicole's number? I'll settle for Kendall Jenner if needs must…)[/fusion_builder_column][/fusion_builder_row][/fusion_builder_container]