"Yes, a written post on Motorsport101. I'm as shocked as you are."
Okay, let's get this out of the way early – Jonathan Rea is a biking demon. If Broly from Dragonball Z had a vested interest in two wheels instead of wanting revenge on that crying baby he was born next to, 2018's World Superbike Season Review would be the end product.
For those unaware, Rea's 2018 was arguably the greatest in the history of WSBK. 17 wins, matching the single-season wins record. He became the most successful rider in the history of the series, taking his win total to a staggering 74. 22 podiums out of a possible 25 races, in a field where he had to start from Row 3 several times due to SBK's "reverse grid rule", and 11 straight wins to close the year.
In a season where Dorna went even further to bring Kawasaki down a peg with rev limits and concessions designed to balance the field, Jonny won the World Title by 189 points, the equivalent of having nearly 8 races in hand. There's very little argument left that he isn't the greatest World Superbike rider of them all after winning his fourth straight title, shrugging off Tom Sykes petulant rant and complaints from the sports own director for not being charismatic enough… By getting on BBC Breakfast and going viral for not owning a riding license. Oh, and he easily has the best title celebration of the last decade too:
It's 'Four of a Kind' for @jonathanrea! 🃏

What a way to celebrate your fourth straight #WorldSBK title! 😆#RE4Ch4MP #FrenchWorldSBK pic.twitter.com/BWPMGzmPx2

— Eurosport UK (@Eurosport_UK) September 29, 2018
Not bad for last years BBC Sports Personality of the Year runner-up, eh?
Now, don't worry, I've not come out of writing retirement just to wax lyrical over Jonny Rea. If you're reading this, you don't need my help where that's concerned. What I love about this, is the fact that this man's outrageous success is leading to more exciting changes with the series, and the competition itself heading into 2019 and beyond.
No greater example of this than the Ducati camp. First of all, a legitimate Top 12 rider on the planet in Alvaro Bautista, heading over from MotoGP's midfield. Philip Island and his substitute appearance for Jorge Lorenzo proved more than anything else, that he deserved better than being constantly a year behind on machinery. Now he can truly be a factory Ducati rider and flagship rider for a top-team in a series getting traction again. Oh, and that V4 Panigale, besides the easiest way of losing "No Nut November", is seemingly custom built to target racing, and the title itself. I mean, a 221bhp V4 on a road bike?! That revs to 16,500rpm?! And has friggin MotoGP-esque wings on it? You're fooling no-one here, Ducati. It's the biking version of the Ford RS200 before Group B got banned.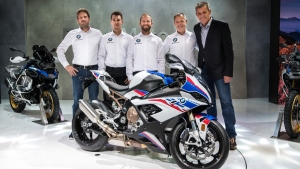 Then, there's BMW. They have one of the world's highest selling Superbikes in the S1000 RR. Regular listeners to #BikeLive will know I've been screaming at them to give their biking teams more support, given that some of the talents who have impressed on it have done so in spite of their machinery, not because of it. Take Christian Iddon and Peter Hickman in BSB, and Markus Reiterberger, the final European Superstock 1000 champion.
But now, seeing BMW unveil a brand new, reworked S1000 RR, and a partnership with Shaun Muir to create the BMW Motorrad Motorsport team, with Tom Sykes and the aforementioned Reiterberger joining the team. With FULL BMW backing. I may actually open The Church of Dre because my prayers were answered.
As much as it's easy to be critical of Sykes in the shadow of Rea's success, it's easy to forget the manufacturer owes a lot of thanks to the Yorkshireman for his contribution. A world title, half a point shy of another, the undisputed king of Superpole (48), and 34 wins in his 218 starts in green. Without his flag baring for the team (even though the difficult Loris Baz fallout), it might not have been such an appealing option for Jonny in the first place. Together, they made a near-unbeatable team, even with the difficulties towards the end of their time together. Four straight manufacturers titles are hard to argue against. I'm no psychologist, but the way the Kawasaki split happened, Sykes looked like the sort of guy who needed a new challenge, and this is precisely that.
And trust me, I lead the club in "stan"-ing for Markus Reiterberger, a guy who's always been successful with BMW's, from his Euro Stock 1000 title to scoring Top 6 finishes with Althea a couple of years ago before taking a year out for back surgery. And he's still only 24. There's a lot to be excited about here, and I can't wait to see a fully-backed BMW effort in 19' and beyond.
Speaking of Althea, they gave us the biggest curveball of the week, with a partnership with Moriwaki and… Honda. Racing. Corporation. Holy shit. HRC coming back to the series, and a team of Leon Camier and Ryuichi Kiyonari as well. Wow.
I really do rate Leon Camier. He did the work of the lord on a sub-standard MV Agusta and always felt like he was the perfect guy in the field to build an up and coming factory effort around, and Honda's needed it. They've struggled with the new Fireblade since its inception, struggling to crack the Top 8 regularly. Camier's had the potential to get there more often, but injuries have curtailed his first season in purple. If anything, Honda Europe's had more success in the British Superbike series, with Dan Linfoot and Jason O'Halloran making "Showdown" appearances and winning occasionally in their super-competitive field. But HRC being back and tired of being the weakest of the factory teams is massive for the series. And if Kiyonari's motivated and engaged, look out, he can be a miracle worker on a Honda.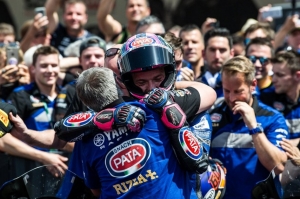 And I've barely even mentioned Yamaha, the greatest benefactors of the rev limit change. 2017 had them as podium fighters on occasion; to three race wins this season. In addition, Michael van der Mark has positioned himself as arguably Rea's biggest threat in the long term, an impressive 3rd in last year's championship. And they've now got another team coming up, with GRT, Yamaha backing also, and another impressive rider line-up in Marco Melandri and reigning 2-time World Champion, Sandro Cortese.
Says a lot about the state of the series when Eugene Laverty, Xavi Fores, Jordi Torres and Loris Baz, can't get seats. No shame on them – They're all brilliant riders, and yet I can't remember the time there's been such a buzz in the series. Not since Tom Sykes and Loris Baz went to war on Twitter, anyway.
And the greatest part of the last 800 words I've written… it all circles back to one thing. Trying to wrestle the mantle back off Jonathan Rea. From the series installing reverse grids to two more factories coming out of the doldrums to mount a challenge, to Ducati borrowing off their MotoGP prototype success to try and get back ahead. That's the beauty of it, his success is forcing the hands of everybody around him to do better.
Jonathan Rea is Broly, and he's whacked every Z-Fighter from pillar to post to get us to this point. It's Jonathan against the world, and somehow, he's winning. And the most amazing part of all is, he might be making the series better for it. Is it 2019 yet?