March 29th, 2015.
After undercutting both Mercedes' by being able to run 1-stop less, Sebastian Vettel wins the Malaysian Grand Prix, the 40th of his career; and the first for Ferrari in nearly two years.
It's a Grand Prix I've watched five times. Being the Internet's Sebastian Vettel fan, it was a whopper, but you probably already knew that. A rough end to the Red Bull era, Daniel Ricciardo's meteoric rise, Lewis Hamilton back in the promised land, it was pretty special. It felt like the start of a new chapter. Rosberg only one race earlier was joking about inviting Seb to technical meetings, and quickly had to eat humble pie.
And while Mercedes was still the juggernaut team in F1 at the time, for a brief moment, Seb lead that Ferrari team and gave many neutral viewers hope that someone would be coming for the throne. Ferrari for the last 30 years has loved having a showcase driver to spearhead their brand. Mansell, Schumacher, Raikkonen, Massa, Alonso, and now Vettel.
With that, a lot of Ferrari's fans remind me a lot of Real Madrid's. When you've been brought up on a [fusion_tooltip title="…Outside of Ferrari's 6 year run of success with Schumacher, there isn't as much to show for Ferrari as you think." class="" id="" placement="top" trigger="hover"]diet blip of success[/fusion_tooltip],  you clearly have a level of expectation. Just like how Madrid treated Vicente Del Bosque. Won two Champions League titles, then he was promptly sacked for not winning a third. And three years on from that magical first win in red, I think the mist of the same colour has descended on their self-appointed lord and saviour.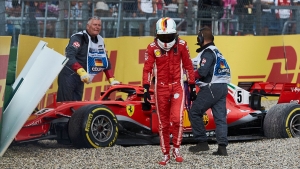 Now, this isn't a puff piece where I'm going to defend Seb like the average Twitter nuthugger. He absolutely has had a part to play in this season not going his way. Germany was obviously the biggest error, France was a bit silly, coming out worse in some hard 50/50's like Monza and Japan only compounded the problem. But theoretical pieces saying he cost the team 120+ points? Sure, and I'm marrying Jennifer Lawrence too.
And everyone with half a brain cell will tell you that Ferrari has a massive part to play in this too. From badly timed pitstops in Hungary and Singapore to reliability that put a dent in Raikkonen's season. This year more than ever, Ferrari has been put to the sword for weak strategy calls; this while competing with Mercedes, who themselves were known as the ones who bottled it when Hamilton and Rosberg went at it.
However, I also think it's very easy to forget just how much Sebastian has done for the team and the sport in recent years. It's been a theme of his career if you want to go one further. His coming of age year being overshadowed by Jenson's title in 09. The rises of social media conflicting with his meteoric success at the turn of the decade, to Multi 21 and the hypocrisy of booing the guy who broke the hated team orders… it goes on.
Sebastian has won 13 times since joining Ferrari, taking him to 52, and 3rd on the all-time wins list. Last season marked the first time a Mercedes has actually been beating in the championship. He's wedged open the door of vulnerability that Mercedes has only left ajar due to their dominance of the hybrid era, one where they've 73 out of the 99 races so far within it.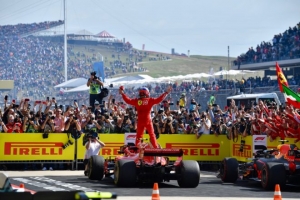 However… I can also see why the landscape is so confusing. What's happening on the other side of the Ferrari garage isn't helpful either. Kimi Raikkonen is one of F1's most popular drivers and has been in the middle of a tug of war all-season between himself, and his future replacement, Charles Leclerc. And Seb is starting to be used as a way of justifying his continued employment. For instance, it is true that Raikkonen has more podiums this season (12) than Seb's 11…
…But it's also a classic example of what happens when people want to bend statistics to tell their own story. Especially when you ignore the fact he's losing head-to-head in every other major category. An annoying trait when you realise Kimi's easily having his strongest season since 2012. He probably doesn't need comparisons while on the way out.
And there's Charles. He's the "shiny hood ornament" you buy on a car and regret it three weeks later. It's very easy to be excited about him and justifiably so. He's an A+ prospect, crushed GP2, and has had a string of top-tier performances for a Sauber team on the rise. Ferrari's youngest driver in 60 years. He's also carrying the legacy of his mentor Jules Bianchi, so there's got an emotional bond there as well. He's the new pair of Air Jordan XI's you can't help but buy when you know you should be saving for a new car, like the responsible adult you are.
Combine all of those factors, and you get an environment where the tide is starting to turn on Sebastian. Which I think sucks because there is no-one better on the table. No matter which way you slice it, I think your team leader is one of the six best F1 drivers in history. Charles is a tremendous talent, but with other great drivers like Bottas and Ricciardo before him, the scenario's have to be perfect for them to flourish. If it can get to this point, where Sebastian gets his licks on the interwebs for not bringing home the big one, it can happen to anyone.
…Okay, Fernando, you may have had a point. Maybe it's the prancing horse, and not you. Which is ironic, because right now I think a lot of people are looking at the German gift horse, right in the mouth.