Hey gang, Dre here. Thanks for reading my written work since coming back last week, the feedback's been mega and I'm really glad it's making a mark, even if you disagree.
Shoutout to Ally, a good friend of mine, who suggested that bringing back "Dre vs Dre" would be a cool idea. I agreed, so here's me, having a debate with… me. (It's basically "Good Morning Britain" at this point).
This time out, we talk about the rise of Marc Marquez era, his GOAT status, and the future of MotoGP with him in it. I personally think Dre 2 is a meanie.
---
Dre 1: So we're back.
Dre 2: Really? Where the hell were we for the last 2 and a half years?
Dre 1: Dre was too busy writing for YouTube, apparently. Thought he was the next Aarav or something. Turns out unless you're making 14 videos a day, you're only good for 300 subscribers. You can't even blag Eurogamer tickets with that following.
Dre 2: Figures as much. Right then, what's the topic this time around?
Dre 1: *checks a copy of MCN* …Apparently, this Marquez fella's pretty good isn't he?
Dre 2: *puts down Rossi flavoured can of Monster* …Yeah, he's alright. No Vale though.
Dre 1: Are we SURE about this now? Like, really sure? He's getting into that ballpark where we may have to have a serious conversation about this.
Dre 2: Really? You never heard Keith Huewen on BT Sport? He's the GOAT, he only mentions it 15 times a weekend!
Dre 1: *glares*
Dre 2: Okay, I'm listening, state your case. Because statistically, he's got some work to do. And we are numbers guys, no?
Dre 1: Yes, we are. But hear me out here. Marc Marquez has walked in and dominated MotoGP. He's now won 5 world titles in the 6 years of being in the top flight. In said top flight alone, 44 wins and 52 pole positions in 108 starts. In all classes, he has 70 wins, 5th on the all-time list. More than Casey Stoner, Jorge Lorenzo, Dani Pedrosa and Mick Doohan. And Jorge started his career 6 years earlier. Not to mention, he's still only 25. He is terrifying, and a stats guys wet dream. The fact he's now only two behind Vale must frighten you a little bit… Or are you like the man himself and are pretending like you don't care if he breaks your man's records?
Dre 2: Nah, it's not the records. I mean, Rossi's still playing catch-up to Agostini in some key areas there. It's funny, a lot of MotoGP and its legendary status is all wrapped around numbers. Rossi is 2nd in most major areas, and he's still largely considered the GOAT. Why is that?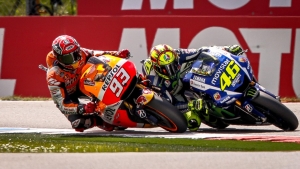 Dre 1: We're sports fans. We live in the moment and get hyped about the present, much more than we did 10-15 years ago, where we'd always glamorise the past. When Schumacher rose in the early 2000s, the comparison was always to Senna, who he never really got to race against properly. The rise of social media in sports has given birth to the era of instant gratification. We want short-term answers to long-term questions, and it leads to thinking pieces like this one where the writer thinks he's being "woke". Oh, and most of us weren't alive when Agostini raced. It helps.
Dre 2: True, but that leads me to what my counter was going to be. Rossi's legacy clearly goes way beyond the numbers. He's an icon.
Dre 1: Oh, here we go…
Dre 2: Look. Rossi came up in the early 2000s when MotoGP was still playing second fiddle to World Superbikes. Guys like Colin Edwards, Troy Bayliss and Carl Fogarty were still kings. Rossi came in, learned quickly, toppled Roberts, beat Biaggi and became an overnight phenom, not only due to dominating championships but also by being such a fantastic showman for the sport. You remember Rossi's celebrations, helmet designs and showmanship, just as much as many of his greatest performances. It's why every GP venue has a sea of yellow in it, because Rossi the brand, revolutionised MotoGP to the juggernaut it is today. The fact he's still an alien level talent at 39, cements it for me.
Dre 1: All valid points, fellow me. But I'd make the case that Marc Marquez has an X-Factor too, beyond the numbers.
Dre 2: Oh really?
Dre 1: Sure. Look, you'd be ignorant to disagree with what you've said above. Rossi brought MotoGP into the modern era and a lot of people owe him their cheques with the sport's growth. But I genuinely feel that Marc Marquez is the post-millennial "next guy" that will take the sport into the 2020s and beyond.
Just look at this year. A stunning amount of orange in Thailand, a breath of fresh air for the sport. Brilliant PR activities in Asia, a massive bike market. He's redefining what we know about bike racing. His lean angles. His ridiculous ability to save crashes on his knee and elbow, as no-one else can. Vale himself, as well as guys like Scott Redding, have tried to replicate his riding style due to how fast it is. He's incredible to watch out there, on his own, let alone in races. He does things like Australia 2015, where he can make up a second on a single lap.
Oh, and he's doing all of this in the most stacked era for MotoGP talent we've ever seen.
Dre 2: You don't rate Sete Gibernau?!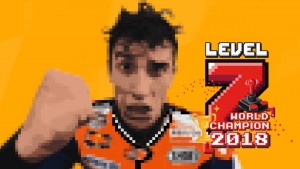 Dre 1: I do [fusion_tooltip title="Totally not over Jerez 2006 by the way." class="" id="" placement="top" trigger="hover"]very much[/fusion_tooltip]. But that's the thing… I'm not sure how good that level of opposition was? Max Biaggi was a great rider. Kerbstomped. Sete was decent. As was prime Melandri. Stoner was awesome but his Ducati faded badly after his first title. Lorenzo wasn't there yet, and Pedrosa's Honda wasn't competitive. When you look back at that, compared to the Marquez era now, with Lorenzo, Pedrosa, Rossi himself, all Hall of Famers, as well as future big names like Maverick Vinales, Dovi, another potential HOF'er, Alex Rins, etc, guys hailed to be "Marquez-stoppers"… He's crushed all of them in the same fashion. This is in a time when MotoGP was making all the videos talking up how stacked their fields had gotten:
Oh and… Your boy brought the sport into actual disrepute. Remember Sepang? And the fact Vale tried to go to the court of arbitration for sport?!
Dre 2: You're going THERE? Let's not pretend like Marc Marquez wasn't rough around the edges at one point. I think Wilaroit is stunning coming down from Philip Island where he was punted out of the solar system.
Dre 1: My man, we do realise Valentino Rossi basically wrote the modern rulebook on the block pass right? Is that not a legacy damager?
Dre 2: Honestly… Has it? I think via the point you mentioned, it's only galvanised his audience. People that know "the game" I reckon already knew Rossi had no problem bending the rules to try and win. Sepang 2015 only cemented that, kick or no kick.
Dre 1: It made MotoGP the territorial warfare that F1 has now.
Dre 2: And? Sports is fuelled by hate, but respect. As much as Rossi threw away that title due to orange-related mist, he only really galvanised his own fan base into riding further with him than they already did. You say legacy damager… how many big names flew down for Valencia in the end?
Dre 1: Martin Brundle isn't a big name.
Dre 2: The bank manager still calls him "sir".
Dre 1: Fair point. But isn't it crazy how the two times Vale actually HAD a title go down to the wire he blew it? 2006, lost to Toni Elias and then crashed in Valencia. 2015, led the title race through 16 of 18 rounds, blew it by getting into an OTT fight with Marquez when he didn't need to?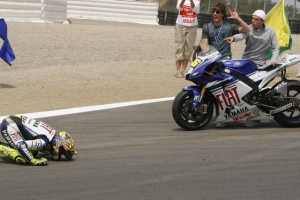 Dre 2: Yeah… I got nothing for you there. Amazing that Rossi has this mind-games like "aura" around him when he's actually "bottled it" more than most. Rossi likes the run up the score when he can. I'll give you this. It's hard to argue Marquez isn't in the Top 5 at this point, but what about the kicker in Rossi's legacy – The fact he won with two manufacturers?
Dre 1: Not gonna lie, it still scares me just how many titles he could have won if he stuck with Repsol Honda. He was even MORE dominant there. It's absolutely a fair claim, I think only 6 men ever have won GP's with more than one manufacturer, and being able to transition into another team and seamlessly bring them success too, was incredible. Marquez might have to jump over there if he absolutely wants to seal it. Even if the options are limited…
Dre 2: Yeah. There's no chance Yamaha ever sign him as long as Lin Jarvis is in charge… KTM?
Dre 1: Were you on the same bender Aki Ajo was on last weekend?
Dre 2: I'm serious. If they can find half a second, could Marquez bring enough to the table to get them into play? Apart from offering him more money than God?
Dre 1: …Maybe? MotoGP blew their collective loads at KTM's first season, we thought they'd be cracking the Top 6 by now, when it isn't as simple as that when everyone's made gains, like Suzuki for instance, minus their concessions. Ducati is the obvious big "free agent" signing spot, but they may tone that down given they finally have their true alien in Andrea Dovizioso…
Dre 2: …With Pecco Bagnaia waiting in the wings. If the form book is safe, Ducati is set for the next decade. Motorsport, the only sporting land where loyalty is more of a hinder than a help.
Dre 1: Okay, we've been at this for 3 days now, let's wrap this up. I don't think either of us is going to budge, but is it fair to say we're both dealing with Top 3 talents here?
Dre 2: Rossi, Marquez and Agostini probably have 3 of the 4 "Mount Rushmore" spots now, yes. If anything, they're both very similar and their careers mirror each other in a lot of ways. Both were young prodigies. Rossi re-wrote what we knew about bike racing, showmanship and competition at the highest level. Marquez changed the game when he got there too, using the same techniques Rossi did. And Rossi himself changed his style and gambled on moving on from Jerry and Honda over time, to forge his legacy, and keep himself as the alien he is today. And while they'll probably never be on each other's Christmas Card lists, I think deep down, there's definitely a mutual respect there. I don't think either would be the riders they are today if it wasn't for each other.
Dre 1: Couldn't have put it better myself.